One of the most celebrated buildings in America, Frank Lloyd Wright's Fallingwater sits just 3½ hours from DC, in the Laurel Highlands of southwestern Pennsylvania. The house's majesty is partly due to the surrounding woods, rivers, and mountains, all of which Wright made the most of. Yet despite being a region of untamed beauty, the area isn't touristy. Sure, whitewater paddlers and rafters come from around the world to tackle the Youghiogheny River, and restaurateurs were sourcing food from local farms and rivers before the phrase "farm to table" sprouted on menus everywhere. But the vibe, like the attractions, is natural and inviting.
What to Do
Wright's masterpiece, Fallingwater (1491 Mill Run Rd., Mill Run; 724-329-8501) sits atop a thundering 30-foot waterfall in the Bear Run Nature Reserve, the house's terraces hovering in the air and its stairs descending to the falls. Wright believed that "a building should appear to grow easily from its site and be shaped to harmonize with its surroundings." Fallingwater is a perfect example. Visitors can tour the grounds and the residence—designed for a wealthy Pittsburgh family in 1936—to learn how the structure was built and the challenges of maintaining it today.
Just down the road is another Wright-designed dwelling, Kentuck Knob (723 Kentuck Rd., Chalk Hill; 724-329-1901). Though less well known, Kentuck Knob was one of Wright's "Usonian" homes, an eco-friendly and affordable prototype intended to house the masses in 1950s suburban America. The residence sits on a mountaintop and is landscaped with modern sculptures by artists such as Claes Oldenburg. Touring both houses helps to understand the architect's mission: to design buildings "expressed in organic simplicity."
 Spring's chilly snowmelt is when the Youghiogheny River is at its most thrilling. 
Ohiopyle Trading Post & River Tours
(4 Negley St., Ohiopyle; 724-329-1450) has rafting guides to help navigate the Class III to V rapids. It also rents Trek bikes to cycle the nine-mile paved trail between the towns of Ohiopyle and Confluence, a rails-to-trails path that's part of the 150-mile Great Allegheny Passage. Kiosks along the way describe life on the frontier.
Where to Shop
Don't miss the Fallingwater Museum Store (724-329-8501), a cache of jewelry, pottery, books, and homegoods inspired by Wright's designs. Need new hiking boots? In downtown Ohiopyle, outfitters sell outdoor gear alongside antiques and locally produced jams.
Where to Stay
Seven miles from Ohiopyle, Nemacolin Woodlands Resort (1001 Lafayette Dr., Farmington; 866-344-6957) has a variety of accommodations, from Falling Rock, a posh boutique hotel, to budget-friendly townhouses that sleep six. The resort's Adventure Center, open to guests and non-guests, is an adrenaline junkie's dream: There's a high-flying ropes course, a 50-foot bungee jump, and a 60-mile-an-hour racing zipline. You can take a "safari tour" through Nemacolin's wildlife preserve (which includes some very vocal lions), ride a horse through the lush forest, or steer a Jeep Rubicon over boulders and rivers of mud at the Off-Road Driving Academy. There are art and wine classes, a Holistic Healing Center for acupuncture and meditation, and a terrific spa.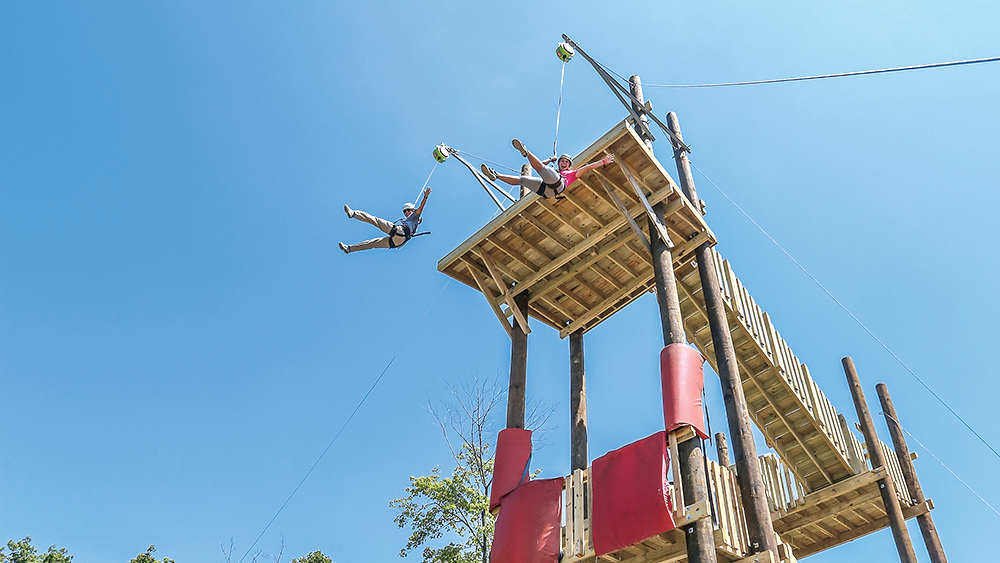 Where to Eat
In Ohiopyle's laid-back taverns, everyone dresses casually and kids are welcome. Ohiopyle House Cafe (144 Grant St.; 724-329-1122) serves tasty sandwiches with chips made to order. Falls City Restaurant & Pub (112 Garrett St.; 724-329-3000), at the Laurel Highlands Hiking Trail's terminus, is Ohiopyle's favorite hang-out for a reason: The beer selection rivals that of any craft-brew-centric restaurant in Washington.
Charming Bittersweet Café (205 Farmington-Ohiopyle Rd., Farmington; 724-329-4411) offers a seasonal selection of pies and buttery cookies. Nemacolin's Lautrec (866-344-6957) is for special occasions; chef Kristin Butterworth's restaurant earned five stars from Forbes Travel Guide. Also at Nemacolin, guests can enjoy panoramic views and a menu focused on seafood and steak at Aqueous (866-344-6957).

Along the Way
Within an hour and a half:
Stop at Maryland's Monocacy National Battlefield Visitor Center (5201 Urbana Pike, Frederick; 301-662-3515) to learn about the Civil War clash that kept Confederate soldiers from marching on Washington. You can stretch your legs on a one-mile loop hike past a gristmill and the Monocacy River.
Two and a Half Hours In:
The historic town of Cumberland, Maryland, is a good place to stop for coffee and a bite. Café Mark/Jennifer's Desserts (37 Baltimore St.; 301-759-0276) is a cozy cafe and bakery serving breakfast and lunch. Before getting back on the highway, take a peek at George Washington's Headquarters (38 Greene St.; 301-777-5132). While fighting the French and Indian War, the young general bunked in this log cabin; later, he slept there as President during the Whiskey Rebellion.
Three Hours In:
The Laurel Highlands Falls Area Visitor Center (124 Main St., Ohiopyle; 724-329-8591) has a spacious deck overlooking the Youghiogheny River's 18-foot-high waterfall. In-side the building are floor-to-ceiling windows with exhibits illustrating the region's landmarks, animal species, and history. From here, you can walk down to the river gorge or reach the Great Allegheny Passage Trail, designed for pedestrians and bicyclists.
This article appears in the March 2017 issue of Washingtonian.