Chef Frank Ruta cooked in the White House under Jimmy Carter, Ronald Reagan, and George H. W. Bush. In his new gig at French-American restaurant Mirabelle, he'll be back into the dining orbits of the "power crowd" yet again.
The fine dining spot from restaurateur Hakan Ilhan (L'Hommage Bistro Francais, Ottoman Taverna, Al Dente, and others) opens for lunch on March 20, just a block from the the White House. Prime real estate for power dining aside, its high-profile chefs—including pastry chef Aggie Chin, who worked with Ruta at the Grill Room and Palena—will likely make it a culinary powerhouse. 
Ilhan is looking to lure lobbyists and lawmakers, and he expects having Republicans in power will be good for business. He claims Republicans dine out more—"and they have more disposable income."
"From the business point of view, I think having the Trump administration is an asset," Ilhan says. "Personal views are different."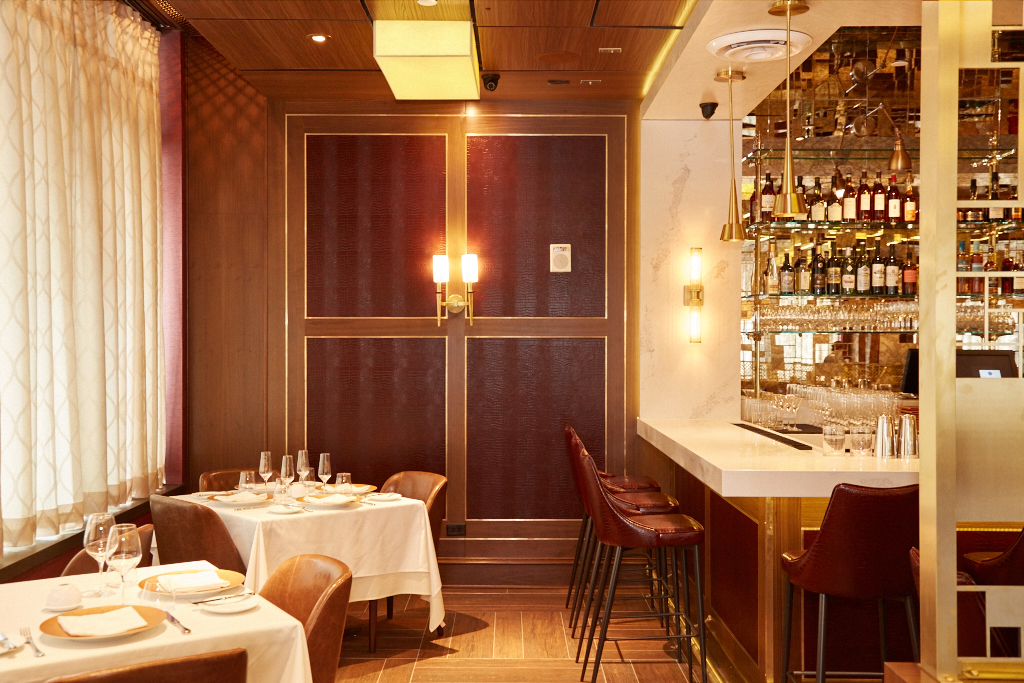 In particular, Ilhan is hoping the restaurant will be "the powerhouse for breakfast meetings" (watch out, Four Seasons) when it eventually expands its hours to include mornings. (Stay tuned for dinner and breakfast in the coming weeks.)
The breakfast spread will include a mix of French and American pastries such as croissants, pain au chocolat, kouign-amann, and scones, as well as favorites of Chin and Ruta, like savory oatmeal, house-made granola, and sausages.
For lunch, expect sandwiches, entree salads, and plates like bouillabaisse or veal tongue. One of the highlights, however, will likely be Ruta's burger—a staple he's been famous for since his days at Palena. The signature dish will still contain a dry-aged beef patty, and key house-made components (the bun, fresh mayonnaise). Mirabelle's version riffs on French onion soup with Madeira-caramelized onions and cave-aged gruyere cheese. Guests can order it "wet," which means a red wine sauce is ladled on top.
When dinner launches in the next few weeks, Ruta will serve a four-or five-course tasting menu for around $100. (The exact pricing hasn't been finalized.) "It's not going to be a four hour procession of plates," he says. Unlike the regular à la carte menu, which might be updated every month or so, the prix-fixe lineup will change weekly.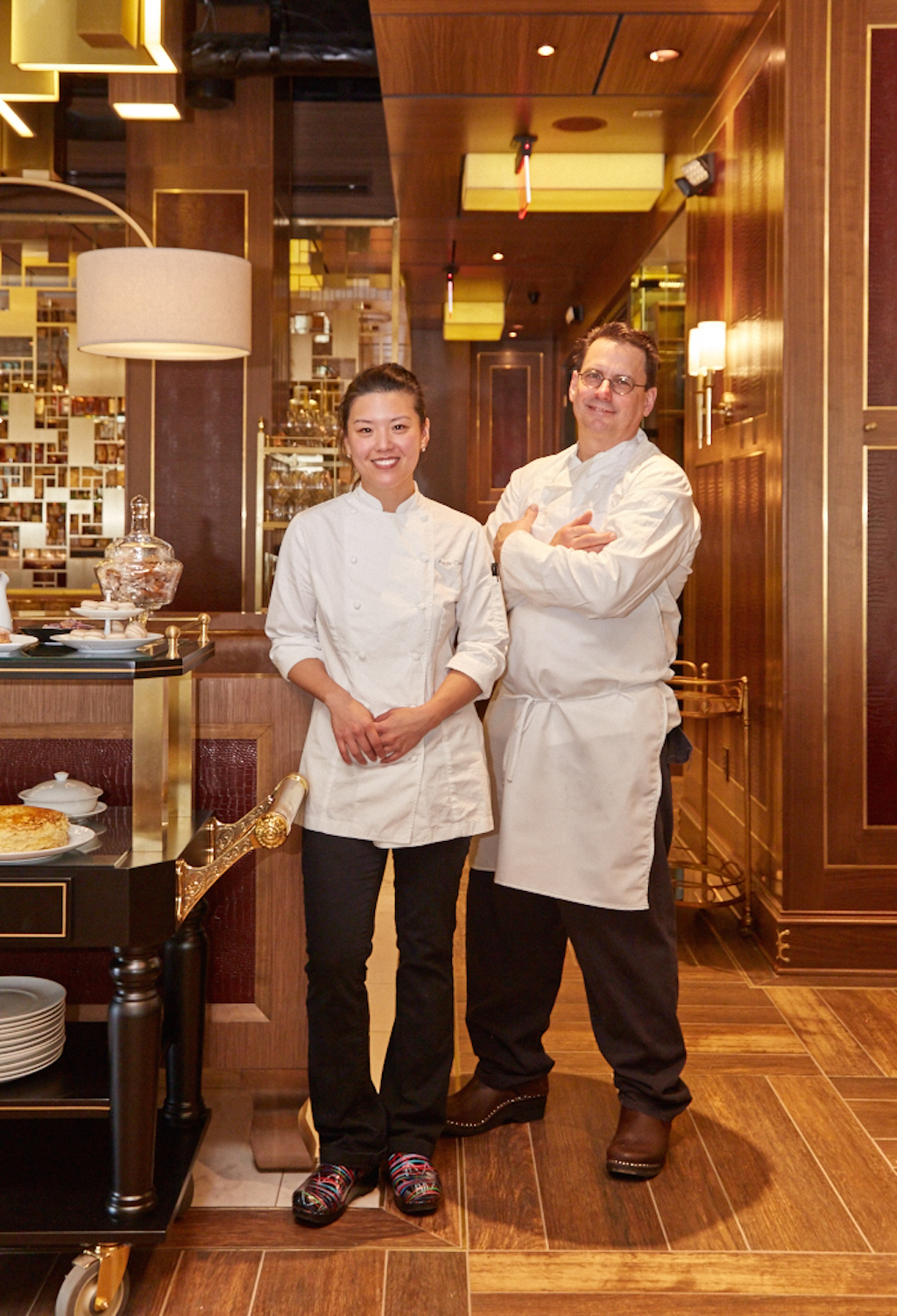 Most of the desserts are based on classic French recipes—some Chin hasn't touched since culinary school. In each case, she adds her own spin. Her take on a Paris-Brest, for example, contains peanut cream instead of hazelnut in the airy pastry, and her version of mille crêpes cake incorporates sesame and yuzu. "It's kind of like PB&J, but kind of Asian," Chin says of the layered dessert.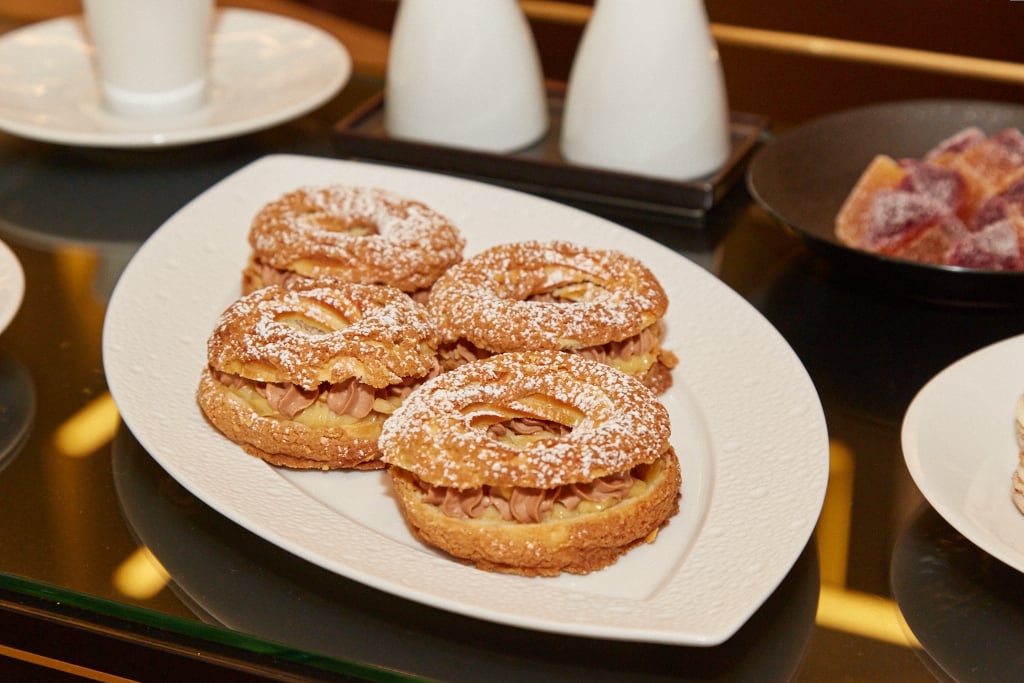 A riff on a Gâteau Basque (a classic cherry-almond cake) contains a jam made out of mirabelle plums, the restaurant's namesake. One downside: the small, yellowish French plums are actually banned from import to the US in fresh or frozen form. Chin can get a puree, though, and is looking to find a domestic grower. In fact, the team hopes to convince the landlord to replace the existing flora out front with mirabelle trees.
During lunch, the desserts will be displayed on a cart inspired by the restaurants Chin and Ruta visited during a trip to France last fall. While the cart won't roll around, it will be placed prominently in the dining room. In the evenings it will transform into a cheese cart, and composed desserts will come from the kitchen.
Another cart—yes, Mirabelle loves its carts—will stock French armagnac, calvados (an apple brandy from Normandy), and eau de vie (clear fruit brandies).
"There's a lot of focus in higher end restaurants on: what is the fanciest bottle we can have?" says service and wine director Jennifer Knowles, who previously worked at Plume in the Jefferson Hotel and Inn at Little Washington. Often times, that's brandy that's overpriced because of its fancy box or bottle. But for the same price, Knowles says, the restaurant can buy a case of "artisanal, small production, vintage" armagnac, calvados, or eau de vie instead.
"We weren't trying to be different. We were just trying to offer something that we didn't see had a place that we really love," Knowles says.
Aside from the cart, Mirabelle will also source a custom absinthe fountain. Around ten different absinthes will be served in Parisian absinthe glasses with gold absinthe spoons and sugar cubes. Cocktails will also highlight French spirits.
Knowles is joined by sommelier Jaren Keller (an alum of Chicago's famed Alinea, Range, and The French Laundry) in curating the 350-label French and American wine list. Guests can splurge on older and rare vintages, or sample widely from a list of about 30 wines by the glass.
The only thing missing from a restaurant so close to the Trump White House? Steak.
"I'm sure he'll find something good if he comes here," Ruta says of the President. Mirabelle does offer a Wagyu flank steak sandwich and Provencal-style beef stew for lunch.
And yes, there will be Ketchup—what appears to be Trump's preferred condiment. "We'll have to get some Ketchup, only because I like Ketchup," Ruta says. "But I don't put it on my well-done steak."
Mirabelle. 900 16th St., NW. 202-506-3833. Open 11:30 am to 2:30 pm Monday through Friday to start. Breakfast, dinner, and Sunday brunch coming soon.