Long before he was making pulled pork and smoked wings at Smoke and Barrel, chef Logan McGear cooked Italian food in his home state of Arkansas. Rosario Patti, a Sicilian native who passed away in 2009, was his mentor.
McGear is now paying tribute to his former boss with an Italian-American restaurant named Rosario, which opened Monday in Adams Morgan. The eatery, located in the former Libertine space, also comes from Smoke and Barrel owner John Andrade.
Some of the dishes are inspired by Patti's recipes as well, including a rigatoni sauce with mortadella, pancetta, and mushrooms. The rest of the menu is made up of classics and dishes McGear has been making at home for years. Among the highlights are house-made pastas and a leg of Shenandoah Valley lamb with pistachio pesto and pickled fennel that can feed two-to-three for $62. But McGear's favorite dish is the duck confit carbonara. He cures egg yolk, and then shaves it atop the spaghetti "like an egg yolk bottarga."
You'll also find fried calamari, osso bucco, and a pork cheek risotto with green apple. As with Smoke and Barrel, which offers a number of vegan items, McGear caters to non-meat-eaters too: marsala and parmigiana can both be made with vegan chicken.
Desserts range from traditional (tiramisu) to less so (cherry-fernet gelato).
A limited selection of wines are, of course, Italian. And cocktails include lighter aperitifs and bitter-edged drinks. Every month, the bar will prepare a different aged negroni for two served in a seven-ounce bottle. The goal is to eventually pour a whole range of different negroni "vintages."
Still to come: Andrade wants to convert a backroom, currently used for storage, into its own cocktail bar tentatively called the Santo Room after Patti's husband, Santo Sacco. Plans are still at least a year away.
The team initially hoped to have Sacco at the opening of Rosario, but the timing didn't work out with the restaurant's delays.
"He's going to eventually make it out here," McGear says.
Take a look at the food menu below: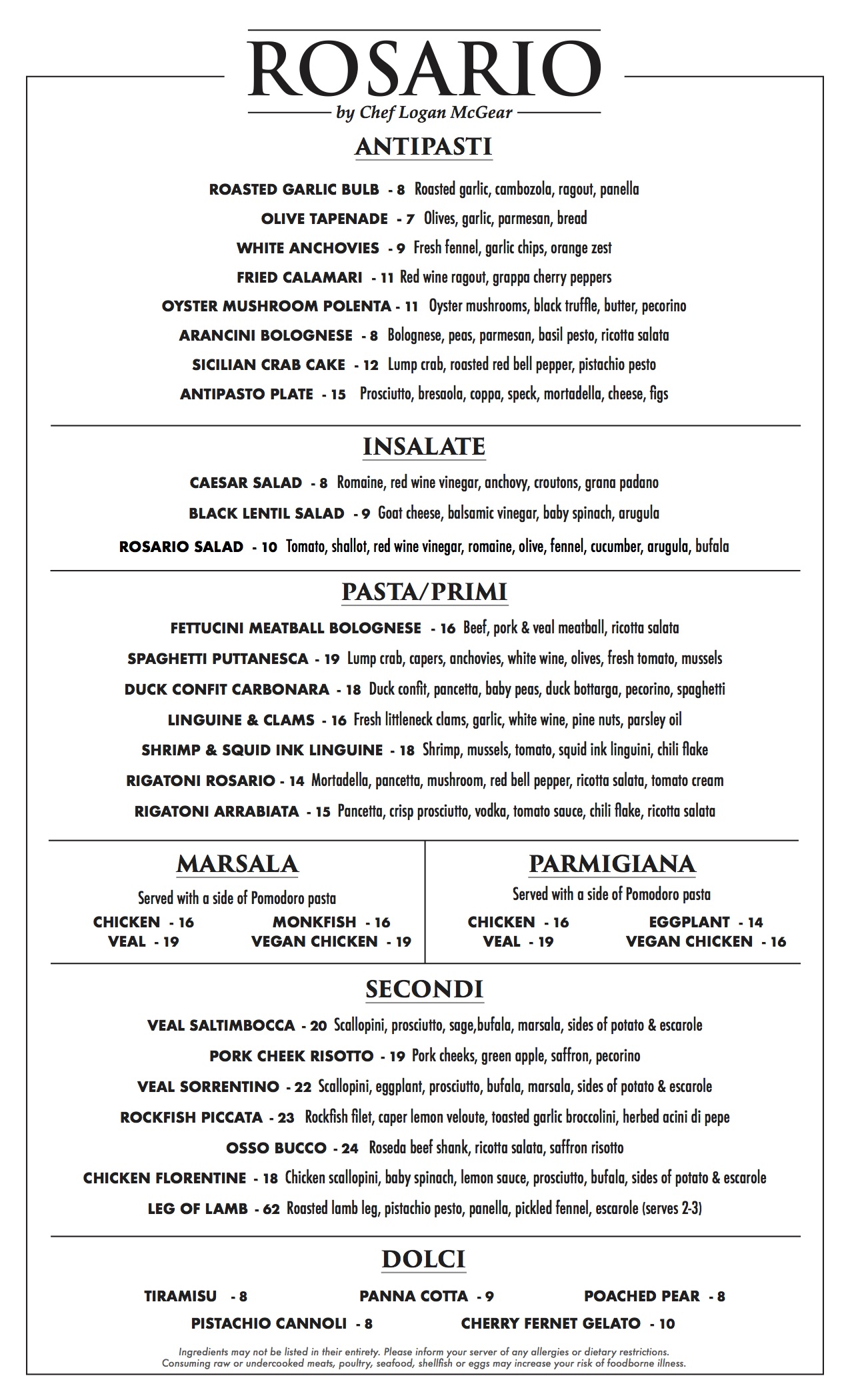 Rosario. 2435 18th St., NW.