Nationals Park gets better every year when it comes to food, beer, and other drinks. Traditionalists can always get a cold brew and a ballpark dog, but fans will also find more collaborations with local chefs and vendors that bring specialty sandwiches, dumplings, gyros, gelato, and—new this season—cocktails made with locally made spirits.
Also new for fans is the launch of a Nationals mobile app, which will allow users to order food and drinks directly through their phones, skip concession lines, and get special deals. A list of participating kiosks will be announced in the coming weeks. In the meantime, the app is already available for ticket purchases and sharing, entrance to the stadium, and other functions.
Here's our rundown of the fresh food and drink options to look for this season, as well as our ongoing favorites.
A full list of all the Nationals Park concessions is available here.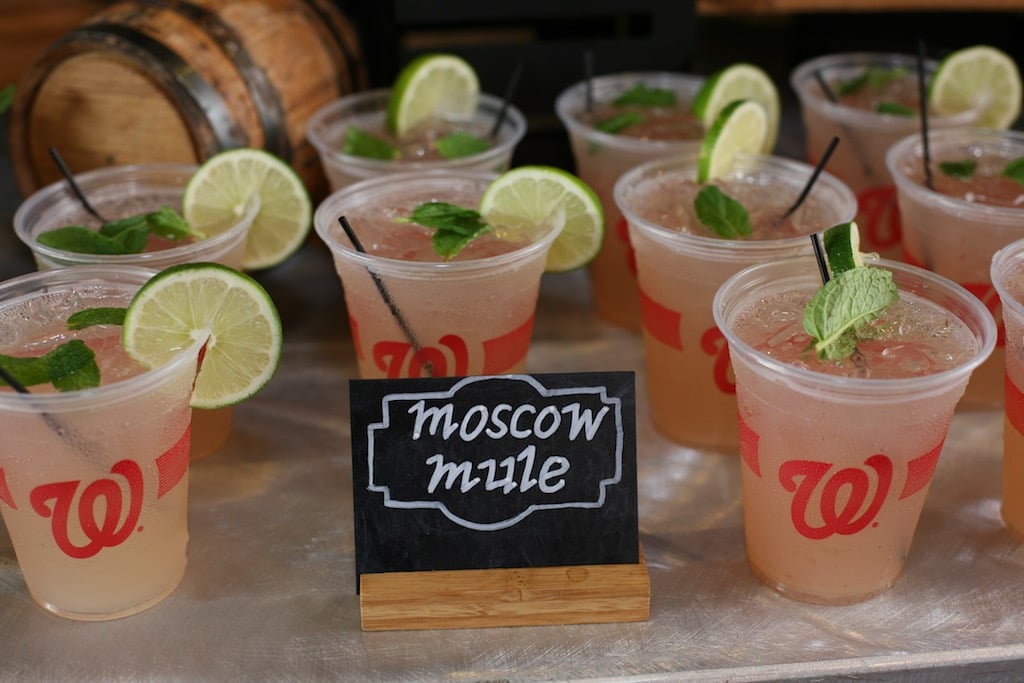 New to the Game
See. You. Tater. (Section 106)
Taking over the former Shawafel spot is this stall—which gets its name from MASN announcer Bob Carpenter's home-run call—dedicated to crispy tater tots and wings. Tot-towers come loaded in flavors like Chesapeake Bay with crab queso, grilled corn, and fresh crab meat, or Backyard BBQ smothered in pulled pork, macaroni and cheese, barbecue sauce, and crispy onions. Fans can also pick from five styles of wings, including classic Buffalo (also a tot style) and Old Bay.
On Rye (Section 114) 
Previously located in the Norfolk Southern Club, this popular kiosk brings its ice cream-babka sandwiches to the general public. Owner Ilyse Fishman (also behind the Penn Quarter sandwich shop) stuffs slices of Jewish coffee cake with Dolci Gelati vanilla gelato. New to the lineup are gelato push pops in flavors like bourbon-cinnamon, and black-and-white cookie.
Distilleries of the DMV (Sections 112 and 135)
Just as the Nats brought in local breweries with District Drafts (see below), the team partnered with a variety of distilleries around Washington for specialty draft cocktails. The kegged drinks will rotate throughout the season. A refreshing option for opening day is a Moscow mule spiked with One Eight Distilling's vodka made in Ivy City.
Devils Backbone Left Field Lodge (Section 301)
The Virginia craft brewery—which was acquired by Anheuser-Busch last year—adds a new bar and picnic area to the stadium. In addition to their staple beers, the brewers teamed up with the Nats for an exclusive brew dubbed Earned Run Ale. The easy-drinking session pale ale is relatively low-alcohol (i.e. 4.2% ABV, close to Bud Light) so fans can cool off with a few.
Rum Runners (Center Field Plaza)
Bartenders muddle away at this new cocktail cart, which serves classic mojitos with rum, mint, seltzer, and lime juice. Variations include a Nats-red mojito with strawberries, another with pineapple, and a dark rum variety.
New eats at the Budweiser Brew House (Center Field Plaza)
The bar formerly known as the Red Porch serves a number of trendy new menu items. Look for bao buns stuffed with pork belly and picked vegetables; kung pao Brussels sprouts; oversize pretzels dunked in beer cheese; and fried chicken n' waffles crowned with a thick slab of bacon. For the health-conscious, there's also a fresh berry salad and Mediterranean dips.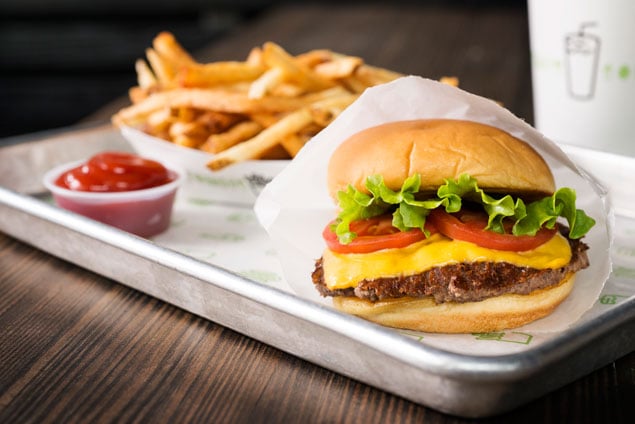 Ongoing All-Stars
Haute Dogs and Fries (Section 106)
A longtime favorite on our annual Cheap Eats list, this local hot dog purveyor based in Alexandria dishes up snappy franks with creative toppings; past winners include Chicago dogs and Vietnamese-style banh mi.
Boardwalk Fries (Section 106)
Long, crispy fries and chicken tenders come with a variety of dipping sauces such as Buffalo and barbecue.
Ben's Chili Bowl (Sections 110, 141)
A spinoff of the U Street icon, this kiosk dishes up the DC specialty: a chili-cheese half-smoke. We've had better dogs in the stadium, but their chili-cheese fries are great for soaking up beer beyond the seventh inning.
Dolci Gelati (Sections 112, 136)
Cool off during the peak playing season with treats from this local shop. Sweet tooths will also find their gelato in On Rye's gelato-babka sandwiches and push pops (Section 114).
Goose Island Pub (Section 113)
Fans can still catch views of the game while grabbing a cold beer at this bar.
Virginia Country Kitchen (Section 114)
Crumbly biscuits with fried chicken or country ham and Virginia beers are the focus of this Old Dominion stall. There's a new chicken-fried steak sandwich for this season.
District Drafts (Sections 119, 129, 139, 223, 310)
Despite the collaboration with Anheuser-Busch as the official beer sponsor, these local beer kiosks are alive and well. Look for brewers like 3 Stars, DC Brau, Port City, and more.
Throwin' Cheese (Section 130)
A stand dedicated to all things cheesy, fans will find a selection of tasty grilled cheese sandwiches and mac n' cheese (order both, no judgement).
G Sandwich by Mike Isabella (section 136)
The stadium spinoff of Mike Isabella's 14th Street sandwich shop serves Italian-American classics like Italian hoagies and chicken parm. Look for Sandwich Madness Specials throughout the season designed by local media figures with a culinary flare, including me, with the home-opener special: the Un-PHO-Gettable Dip with roasted pork, Sriracha-lime vinaigrette, hoisin, and pho broth for dunking.
El Verano Taqueria (Section 233)
This Mexican spot offers tacos, salads, and nachos with slow-cooked meats like green mole chicken and carnitas (plus a roasted veggie option). We particularly like the elote, corn on the cob brushed with mayo and rolled in cotija cheese and chilis.
Shake Shack (Section 240)
There's almost always a line, which can take a full inning (or two). On the other hand, a double Shackburger, crinkle fries, and a frozen concrete is one of the best meals in the Park. We also like the garden dogs.
The Budweiser Terrace (Section 242)
This lofty bar near Shake Shack can yield great views of the action if you snag one of the standing-only bar tables. Beers go for just $5 during happy hour, which runs from the time the Park opens on game day until 30 minutes before the first pitch.
Kapnos at the Park (Section 301)
Mike Isabella's Greek kiosk, a spinoff of three Kapnos restaurants, dishes up gyros including falafel, crispy chicken, and new loukoniko sausage variety with roasted peppers.
Catchfly by Mike Isabella (Section 301)
New items at this Southern-style spot include smoked brisket, pulled pork, and mac and cheese. There's also a Nashville hot chicken sandwich (which isn't too spicy).
Pinch Dumplings (Section 302)
Pinch makes from-scratch Chinese dumplings—steamed or fried—filled with beef, chicken, and veggies. A side of tangy Asian slaw or fried peanuts makes it a light meal.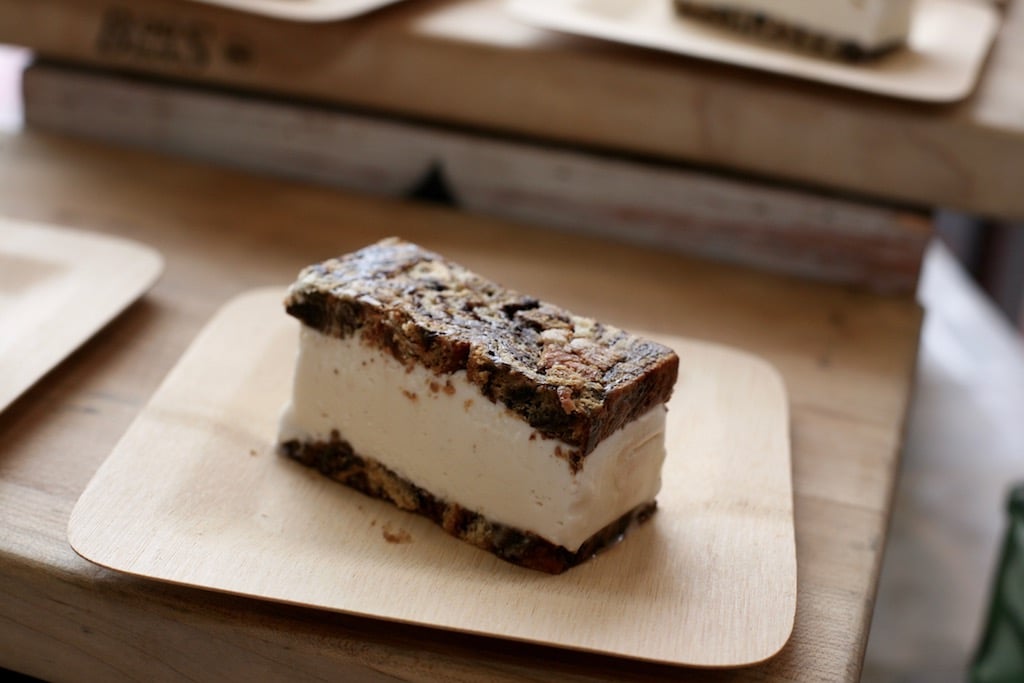 Great for Allergies/Dietary Restrictions
Field of Greens (Section 136)
There are a number of meatless dishes around the Park. Dedicated herbivores can go all-in at this kiosk, which serves veggie cheesesteaks, mushroom sandwiches, and for the brave, vegan crab cakes.
Gluten-Free Grill (Center Field Plaza)
Grab a cold, gluten-free beer (or wine) alongside a number of food options, including hot dogs, loaded nachos, and a pulled pork sandwich—all celiac-friendly.
Kosher Grill (Section 142)
Maryland-based Max's serves kosher shawarma, falafel, hot dogs, and sausages—plus knishes and beer (note: it's closed on Shabbat).