Are all white people born racist?
That's the central question driving the play Smart People, a production that opens at Arena Stage later this week. Set against the backdrop of Barack Obama's 2008 election, the play follows four Harvard graduates—a young African-American actor, an African-American surgical intern, a Chinese-Japanese-American psychology professor, and a white neuropsychiatrist—as they interrogate ideas of race and identity.
The characters slip in and out of each other's lives, but they all interact with the a hypothesis floated by the white neuroscientist: that white racism is hardwired, not learned. As they consider his bold premise, they discover personal blind spots and obstacles around race that even "smart people" can't avoid. The result is a humanizing and at times, humorous, look at implicit bias in American society. 
Seema Sueko, Arena Stage's new deputy artistic director, is making her Arena directing debut with the play, which was written by Lydia R. Diamond. About a year ago, Sueko started reaching out to psychologists, professors, neuroscientists, and other experts in Washington to make sure she was getting the play's details right. "My question is always, 'What do I need to make this play artistically excellent?'" she says.
Since the play was inspired by an academic paper outlining the possible genetic origins of racial stereotyping, the script is very nuanced. Sueko realized she had to learn everything from how an EEG machine works to what it means to be a surgical fellow at a teaching hospital in Cambridge. "Instead of just researching and finding answers through articles or books, we find answers through the community," she says. "This is a city of experts…and what I've discovered just in my few months here and by reaching out for this play is people are generous with sharing their expertise." 
This approach is part of what Sueko calls "consensus organizing," which involves building stakes in pockets of communities. She developed the approach while leading a small theater in San Diego. The goal is to partner with community groups that could benefit from participating in the play and in-turn help Sueko build an engaged audience.
For Smart People, Sueko partnered with the University of Maryland's Brain and Behavior Initiative, which brings together engineers, neuroscientists, and psychologists to foster collaboration in brain and behavior research on its campus. Because the content of the play overlaps with the initiative's mission, it's using Arena as a space for panel discussions and social gatherings. It also bought 200 tickets to the show so students could see it.
Sueko also connected with dozens of individual doctors throughout the play's development. Stephen Keith, a local pediatrician who's worked in pharmaceuticals and biotechnology, consulted on a small but important detail in the play: how to make suturing look realistic. He led a workshop with Sueko, two of the actors, and several props people in an Arena rehearsal room, demonstrating the technique and motion of stitching someone up.
"Knowing that there were going to be physicians and other health care providers in the audience, you don't want to do something that looks phony," he says.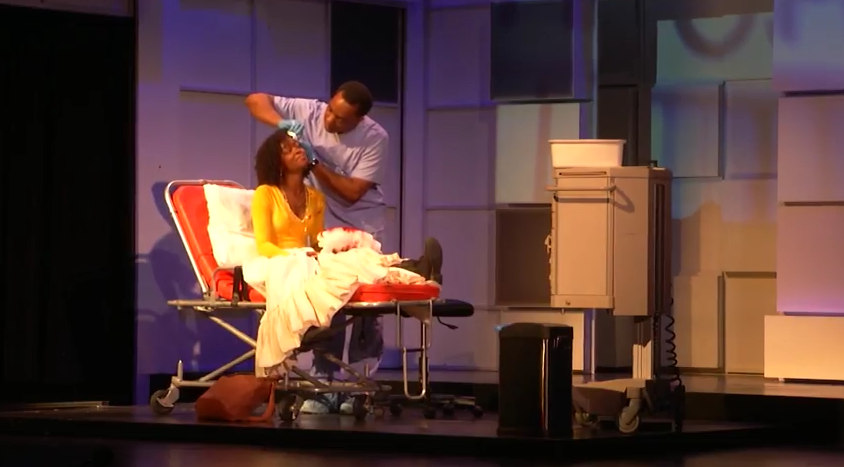 Other experts offered more personal insight into what it's like being a person of color in academia and medicine. Tiffany Townsend, an African-American psychologist who runs the Office of Ethnic Minority Affairs at the American Psychological Association, told Sueko about the obstacles she faced as a woman of color teaching at two prestigious and mostly white universities: Penn State and Georgetown. She said she was looked down upon by students and professors for her race and gender.
While Keith's expertise contributed to the technical success of Smart People, insights like Townsend's helped Sueko make the characters more realistic and relatable.
Townsend also worked with Sueko to organize a "Psychology Day" at Arena Stage to bring together doctors in the field to have an open discussion about race. For a field that coined the terms implicit bias and micro-aggressions, she says it has a long way to go until it fully embraces diversity. 
Out of 77 experts that Sueko reached out to in the past year, more than 40 ended up offering some level of support or consultation. Without that support, Sueko says the play would not be nearly as dynamic.
"The goal is to make it a really robust and lively experience that is stimulating the brain but also opening the heart and the gut and bringing our audience forward and into the world of the play," she says.
Smart People runs from April 14 to May 14.