A new drive-through restaurant is opening in DC—and no, it's not a Wendy's! When Mason Dixie Biscuit Co. debuts its first brick-and-mortar restaurant on Bladensburg Road, Northeast on Saturday, it will be the only homegrown, non-chain restaurant in the District where you can pull up and order from your car.
"We're all about individual, different space and not just becoming another cookie-cutter commercial development," says co-founder Ayeshah Abuelhiga. Plus, the space—which, as it turns out, was once a Wendy's—isn't far from Union Kitchen, where Mason Dixie currently produces biscuits for wholesale.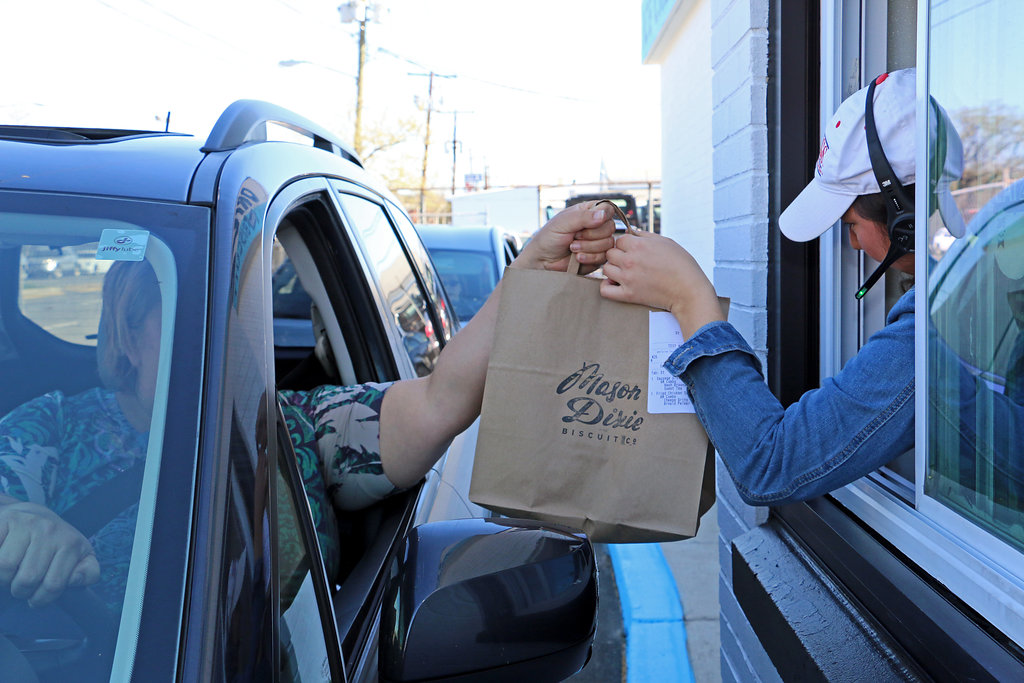 At the new location, chef Jason Gehring (previously of Astro Doughnuts & Fried Chicken) will be able to serve an expanded menu from what's available at Mason Dixie's Union Market stall. In the mornings, look for classic egg and cheese biscuit sandwiches with optional meats like sausage, bacon, and ham, as well as sides (i.e. hash browns, cheddar grits). There's even a sausage-gravy bowl topped with a fried egg.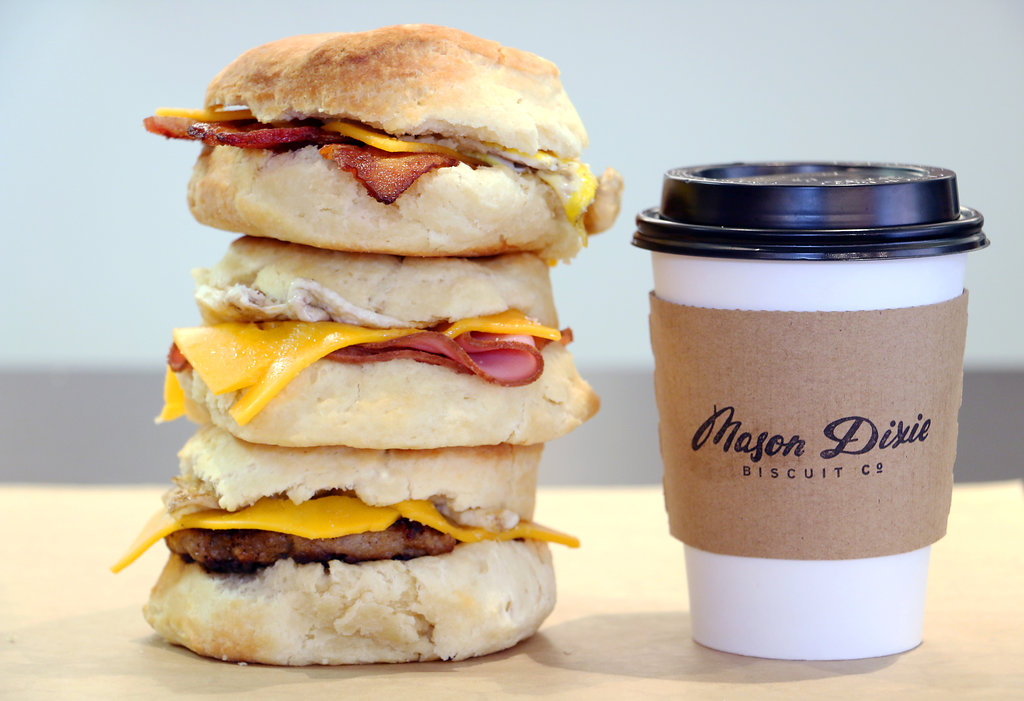 After 11 a.m. on weekdays and 3 p.m. on weekends, the restaurant will switch to an afternoon menu with buttermilk-brined fried chicken, hearty sandwiches (pulled pork, fried chicken club), and a couple salads. (Stay tuned for more vegetarian options down the line.) Throughout the day, you'll also be able to get Mason Dixie's top-seller: a fried chicken biscuit sandwich with Benton's bacon, honey, and hot sauce. Kids meals are available, too.
Mason Dixie has partnered with fellow Union Kitchen producer Milk Cult to supply ice cream, ice cream sandwiches, and milkshakes. The "Cultshakes" come in strawberry, vanilla, and chocolate, but more exotic flavors will be available as specials. There's also drip coffee and cold-brew from Blanchard's roasting company in Richmond. And if you really want to live it up, you can get a nitro-affogato—coffee with a scoop of vanilla ice cream.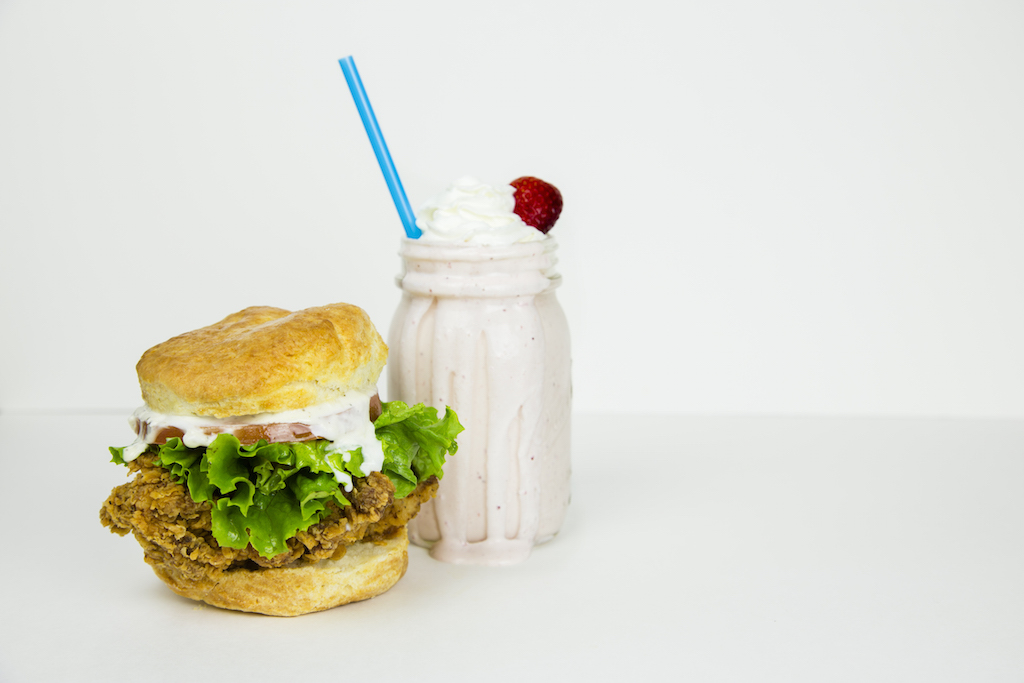 When Mason Dixie opens at 9 a.m. on Saturday, the first 100 customers will receive a card for one free breakfast sandwich every day for 90 days. Meanwhile, Mason Dixie has partnered with Lyft to give people 20-percent off rides to and from the restaurant when they use the code "MDBC" on April 15 or 16. (Seriously, only in DC would people pay someone to drive them to a drive-through.)
The car-less can also opt to eat in an indoor dining area. The window-wrapped space has a 1950s vibe with laminate tables and vintage mint green, blue, and white chairs that came from a former laundromat.
The drive-through is just the beginning of Mason Dixie's expansion. They're also building a 10,000-square-foot biscuit factory in Ivy City with a neighboring restaurant and tasting room where people can sample the goods after a tour. The still-unnamed flagship restaurant will be more upscale than Mason Dixie's drive-through. As Abuelhiga describes it, it will be "a fun way for us to explore creativity in Southern cuisine." The factory is slated to open in late fall.
Meanwhile, Mason Dixie will open another kind of restaurant at 1615 L St., NW early next year. The cafe-style Southern eatery will serve  sandwiches, salads, soups, more pastries, and include a small market.
"We're trying to tier the concepts so that we have more applicability as we expand," Abuelhiga says. "In areas where we can provide a drive-through, we're going to. And in places like downtown urban centers, we want to be able to still have an identity but amp up the options more suitable for a working environment."
Mason Dixie Biscuit Co. 2301 Bladensburg Rd., NE
Check out the opening menu below: