Even before Montgomery County natives Jeff Halpern and Elliot Spaisman turned ten, they had a ritual down pat. After every hockey game the two would head to Montgomery Donuts, a small, family-run shop beloved by many. It was the only proper way to celebrate a win, or to mourn a loss. Though "MoDo" has since shut down, Halpern and Spaisman hope to build their own legendary fried dough empire with Astro Doughnuts & Fried Chicken.
The original shop on G Street opened in April of 2013. It immediately drew loyal fans, spurring the birth of the Astro Doughnuts food truck. A second Astro Doughnuts shop is slated to open in Falls Church next week, barring any last-minute delays. The Leesburg Pike storefront will be a little bigger than the original, but not by much–and the cozy, slightly industrial feel will remain as well.
"It's not like we had doughnut posters on our walls growing up," says Halpern, "but it's a neat twist on what was always our food for thought after games."
The duo have been close friends since childhood, but eventually ventured off on different paths: Halpern played professional ice hockey for 12 teams, including the Washington Capitals and the New York Rangers; Spaisman was in the antique business.
Regardless of where their careers took them, the duo always wanted to go into the food business. Their original idea was a Sweetgreen-style salad shop. Hoping to play on a more exciting palate, they settled on something much sweeter: a store that sells fried dough in flavors like Nutella and maple-bacon, and where customers can grab crispy chicken-doughnut sandwiches.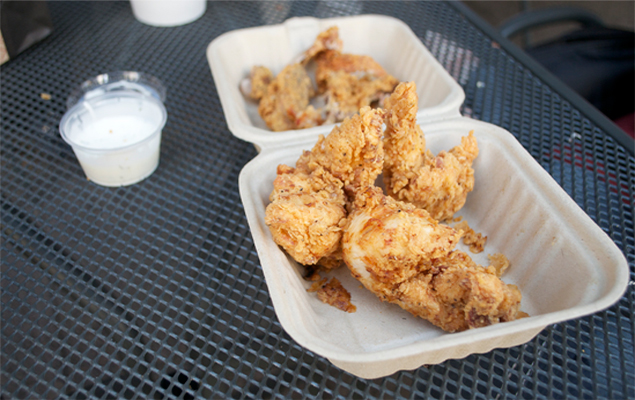 The new shop in Falls Church will be a little more family-oriented, Spaisman says, providing larger portions of fried chicken and more sides, including tater-tots. The new branch will also offer egg sandwiches in the morning.
"We just thought it was perfect," Spaisman says, "Two classic foods that needed a little face lift."
Not exactly the dishes of choice for professional hockey players, but for the rest of us, it will do just fine.
Astro Doughnuts & Fried Chicken (Falls Church). 7511 Leesburg Pike, Falls Church.