Where to Eat
1. Chester River Wine & Cheese
Pick out your picnic provisions—imported cheeses, salamis, antipasti, and bottles of wine—from this gourmet shop and spread a blanket by the river. Don't forget a scoop of gelato for dessert. 117 S. Cross St.; 443-282-0220.
2. Evergrain Bread Co.
Since opening shop in 2010, owner/baker Douglas Rae has single-handedly introduced the Eastern Shore to proper croissants. In addition to heavenly baked goods and breads, Evergrain serves sandwiches plus coffee from Ceremony Coffee Roasters in Annapolis. 201–203 High St.; 410-778-3333.
3. Lemon Leaf Cafe
A tasty selection of salads, soups (try the cream of crab), and sandwiches makes this cozy spot a favorite destination for lunch. If you arrive in time for breakfast, order the flannel cakes, a cross between crepes and pancakes, served with house-made apricot syrup. 337 High St.; 443-282-0004.
4. Luisa's Cucina Italiana
Locals love Luisa's Italian specialties and pizzas, prepared with ingredients from area farms. A family from Naples runs the restaurant, so you know the penne caprese and veal piccata are the real deal. 849 Washington Ave.; 410-778-5360.
5. Uncle Charlie's Bistro
It's about a mile from downtown—and not much to look at from outside—but Uncle Charlie's scores high marks for its crabcake sandwiches, thick burgers, and seafood entrées, such as shrimp and grits, cioppino, and shrimp scampi. Regulars know to save room for a scoop of house-made bourbon-and-bacon ice cream. 834-B High St.; 410-778-3663.
Where to Shop
1. The Bookplate
You could easily get lost among the stacks of new and used books at this town favorite, which specializes in local and regional titles (as well as Iberian pottery, thus the "plate" in its name). The shop also hosts a revolving list of literary events, concerts, and, like any good independent bookstore, a friendly cat, Keke. 112 S. Cross St.; 410-778-4167.
2. Chestertown Electric
Owner David Hoatson, a retired military engineer, has assembled a retro-cool inventory of antique desk fans, vintage light bulbs, and early-20th-century lamps. The store/electrical-repair shop is open only Fridays from 5 to 7 and Saturdays 11 to 1, but you can call Hoatson to arrange to stop by another time. 324 Cannon St.; 410-778-0313.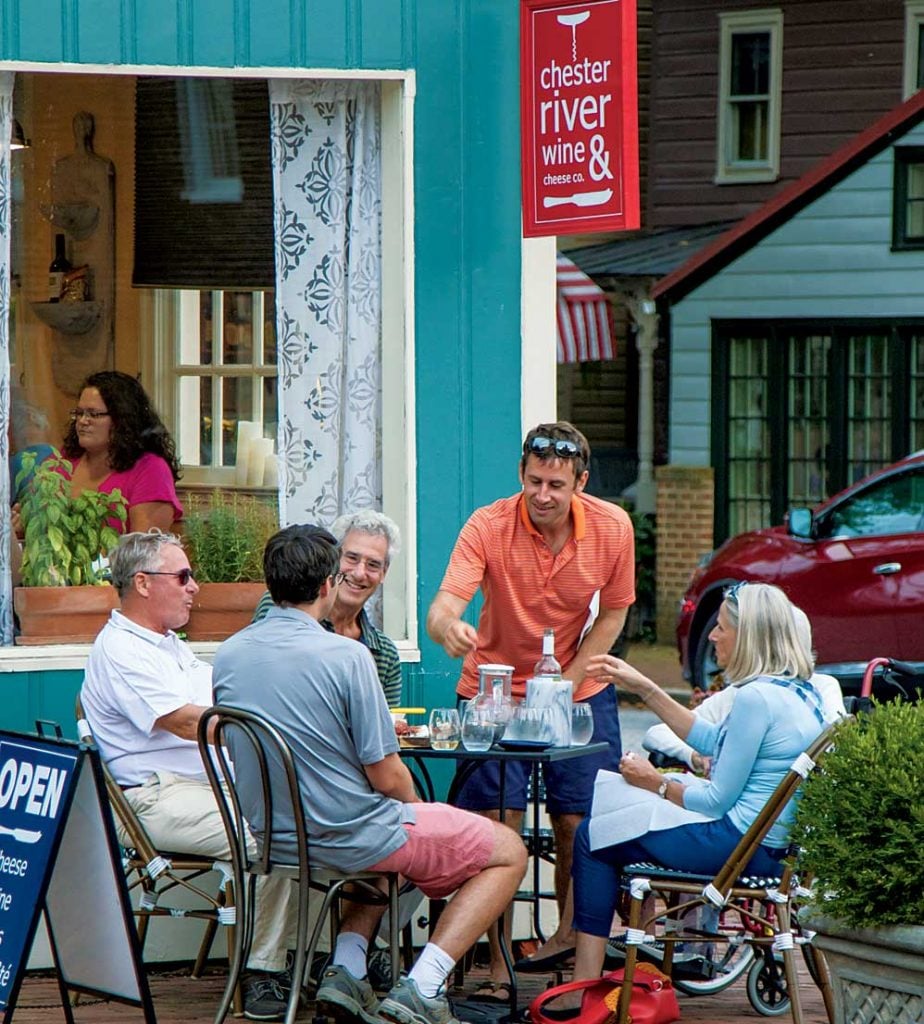 3. Create
This newish gallery brings together the work of six of Chestertown's best-known artists: Robert Ortiz (furniture), Rob Glebe (metalwork), Patti and Dave Hegland (glass), Marilee Schumann (pottery), and Faith Wilson (mixed media). Curated by local gallery owner Carla Massoni, Create also includes works by guest artists from around the country. 113 S. Cross St.; 410-870-9808.
4. She She on High
The original "she's" of this new shop are owner Chris Tilghman and former owner Katie Daulton, who have assembled an eminently browsable blend of home goods and gift items, including cotton floor mats with funky patterns, painted wooden tables, and striking stemware you won't find anywhere else in town. 321 High St.; 410-778-9000.
What to Do
1. Chester River Packet Company
A great way to get out on the water is aboard the River Packet, a 1920s-style, 65-foot yacht that sails Thursday through Sunday. Evening cruises include a buffet and bar; Sunday excursions mean brunch accompanies the river views. From $20 for adults. Reservations required. 410-635-0321.
2. Chestertown Farmers Market
Kent County remains largely agricultural, so you know the produce at this busy Saturday-morning market is fresh. In addition to myriad vegetables, you'll find local cheese, lamb, grass-fed beef, and even antioxidant-rich aronia berries, plus some 20 artisans selling their wares. Open 8 to noon. High and Cross sts. at Fountain Park.
3. Garfield Center for the Arts
This grand old movie house opened in 1928 before going dark in the early '90s. These days, it hosts a mix of plays, open-mike nights, and live music. This season's Roots Series celebrates early rock, blues, R&B, bluegrass, and folk with three upcoming concerts. See garfieldcenter.org for a schedule. 210 High St.; 410-810-2060.
4. Schooner Sultana
During two-hour public sails on the Chester River, passengers can hoist sails or man the helm of this 1768 schooner replica. Along the way, Captain Michael Fiorentino and his mates relay historic information about the boat and the ecology of the river. Remember to cover your ears when the crew fires the cannon. Tickets $30. 410-778-5954.
This article appears in the April 2017 issue of Washingtonian.