Gazing upward is rewarded in famous buildings such as the Sistine Chapel, Istanbul's Blue Mosque, and DC's own Union Station. Not so much in most private homes, where bland drywall—or worse yet, the popcorn ceiling—reigns.
But designers and builders, who often refer to the ceiling as the fifth wall, say that's quickly changing. Whether updating an old house or building one from the ground up, they say more clients are recognizing that the ceiling can be the perfect place to add character or an unexpected flourish. "If you ignore the ceiling, you lose a full canvas of possibilities," says architect Jim Rill, whose firm specializes in both new construction and remodels around Washington.
Given today's seemingly universal devotion to open floor plans, the ceiling can also be a tool for dividing a space without many walls. For instance, maybe a lower ceiling delineates the dining area while rustic beams punctuate the living room. Though open to each other, the different areas feel like distinct rooms.
Depending on the method you choose, adding visual interest overhead can cost a little or a lot. Here are some popular options.
Paint: $400 and Up
For homeowners who don't want to get too daring, decorators often turn ceilings a soft pastel. But designer Annie Elliott of Bossy Color says that just using a darker shade of off-white can make a noticeable difference in a room. She suggests creamy ivories, such as Benjamin Moore's Acadia White or Clunch by Farrow & Ball, on both trim and ceiling. Elliott cautions that color behaves differently on ceilings than on walls—so paint your samples right onto the ceiling to choose the best one.
Decorator Kelley Proxmire loves lacquers, which are much more reflective than high-gloss paint. It can take six coats to achieve the right depth and shine, so this option is pricier than using typical interior paint.
"Often I use a pale sky blue that is my own variation of Benjamin Moore's Breath of Fresh Air," Proxmire says. "In the past few years, my clients and I have become much more bold. . . . I've hired artists to do graphic border designs."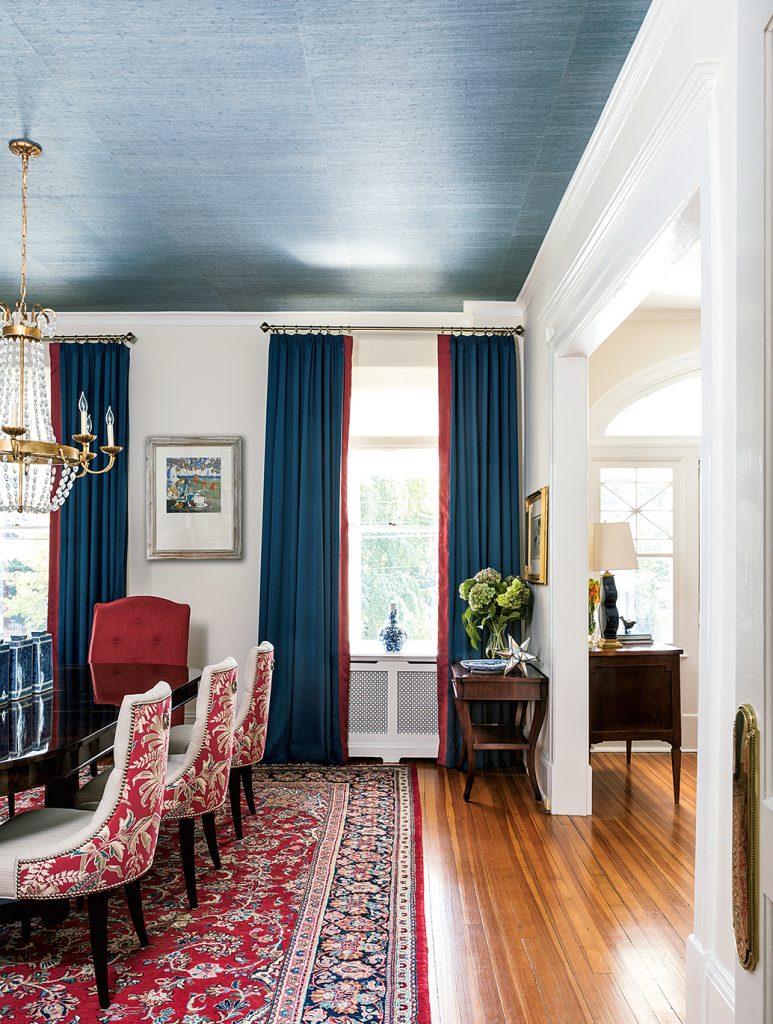 Paper or Fabric: $1,000 and Up
If you visited last year's DC Design House—the fundraiser where a different designer decorates each space—you may recall the dining room's shimmering silver ceiling. It was the work of interior decorator Jonathan Senner, who created the effect with a wallpaper by Schumacher called Glass Paneling. Senner chose it for the metallic finish "reminiscent of antiqued glass" and "the way it reflected both the light of the chandeliers and the natural light from outdoors." He says adding wallpaper overhead in large rooms is a way to bring down the visual scale and make a space feel more comfortable.
Designer Marika Meyer recently used fabric as a solution for an oddly angled, sloping ceiling in a client's sunroom. Rather than downplay the ceiling, she covered it with a bold, warm-toned pattern: "Counterintuitively, I drew attention to the flaws, but as intended, people who enter the room see an interesting pattern rather than a problem."
Moldings and More: $1,600 and Up
"In new homes, we typically try to incorporate distinctive ceiling treatments to highlight important rooms," says Luke Olson, project manager at GTM Architects. One treatment is what he calls a "double drywall reveal," the process of layering a band of thicker drywall around the perimeter to create "a subtler version of a tray ceiling." The result is a cleaner, more modern look than decorative moldings and costs about $1,600 in an average-size room. For more traditional aesthetics, he says full-on tray ceilings with crown molding remain a popular choice.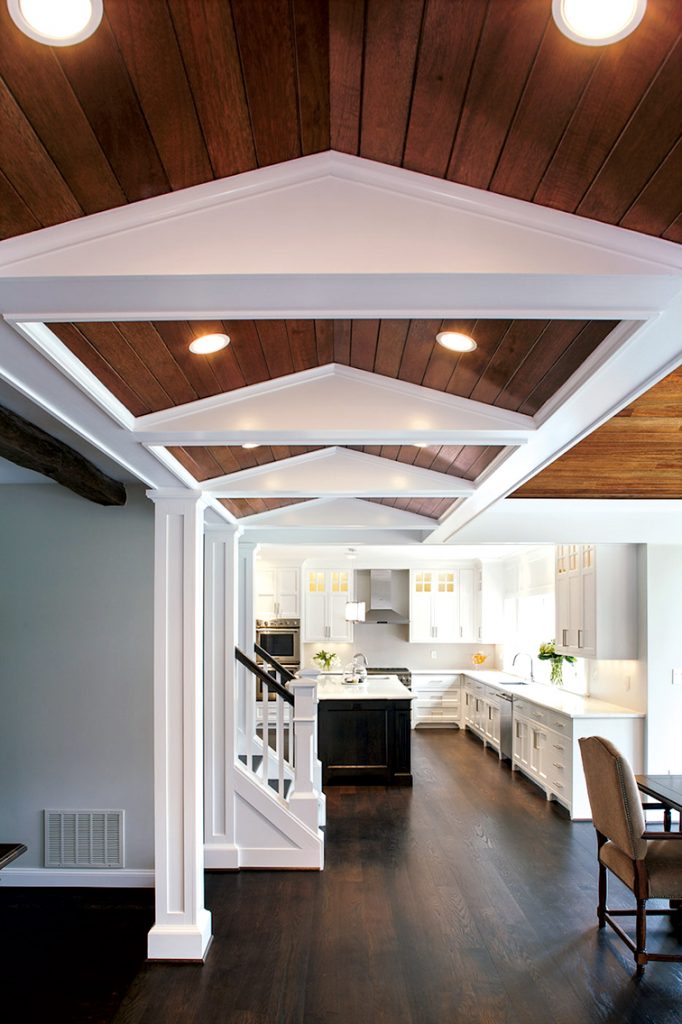 Beams and More: $3,600 and Up
As more homeowners gravitate toward industrial- or farmhouse-inspired looks, exposed-wood beams are increasingly desirable. For an average-size, 12-by-14-foot space, installing them usually starts around $3,600. But if you want genuine, salvaged barnwood, expect to pay closer to $6,000.
Of course, ceiling architecture—like any other part of a house—can get as complicated as a client wants. Designer and builder Anthony Wilder describes a recent project's "lantern roof," which involved a two-tiered ceiling with a layer of transom windows between the tiers. When light streams through the windows, he says, it "enlivens the room dramatically with different layers and shadow lines. It's especially gorgeous at night."
The price for something like that? At least $130,000.
Price estimates account for materials and installation and are based on an average-size (12-by-14-foot) space.
This article appears in the May 2017 issue of Washingtonian.