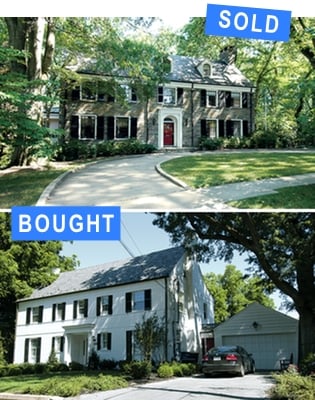 IN DC
Journalist Tucker Carlson and his wife, Susan, traded houses. The couple sold a six-bedroom, eight-bath Colonial in Kent for $4 million. It has a heated pool, six fireplaces, and an in-law suite. Less than a mile away, also in Kent, they bought a seven-bedroom, six-bath Colonial for $2 million. The new house has a two-car garage and an au pair suite. The former host of CNN's Crossfire and MSNBC's Tucker, Carlson is cofounder and editor of the online news site the Daily Caller.
Longtime local banker Robert Pincus and his wife, Roxanne Little, sold a three-bedroom, five-bath condominium along the Georgetown waterfront for $3.3 million. The condo—which carries a monthly fee of more than $4,000—has 2,700 square feet of outdoor terraces with views of the Potomac River and the Kennedy Center. Vice chair of Bethesda-based EagleBank, Pincus is former head of DC National Bank and Franklin National Bank, which was bought by BB&T in 1999.
Lawyer David Webb bought a three-bedroom, four-bath house on Chain Bridge Road in Kent for $3 million. Built in 1936, it sits on more than an acre. Webb is senior managing director for the real-estate firm Cassidy Turley.
FCC chairman Julius Genachowski sold a seven-bedroom, four-bath house on Porter Street in Cleveland Park for $1.8 million. It has an in-law suite with two bedrooms and parking for four cars. Genachowski has led the FCC since June 2009.
Fox News Channel's Bret Baier and his wife, Amy, bought a house on Dunmore Lane in DC's Berkley neighborhood for $1.2 million. A former Fox News White House correspondent, Baier hosts Special Report With Bret Baier.
Lawyer Linda Singer and her husband, Joseph Sternlieb, sold a five-bedroom, five-bath Colonial on Brandywine Street in Forest Hills for $950,000. The former attorney general for the District of Columbia, Singer is a partner at Cohen Milstein Sellers & Toll.
IN VIRGINIA
Barbara Allbritton bought a 2,650-square-foot condo in Rossyln's Turnberry Tower condominium for $2.4 million. The building has a 24-hour concierge, valet parking, and an indoor pool. Allbritton is the wife of longtime Washington businessman Joe Allbritton, former head of Riggs National Bank. The couple's son, media mogul Robert Allbritton, owns Channel 7 and NewsChannel 8 and publishes Politico.
Washington Wizards play-by-play announcer Steve Buckhantz bought a four-bedroom, five-bath Colonial in Oak Hill for just over $1 million. On more than an acre, it has a pool and two-story foyer. Buckhantz has been the television voice of the Wizards for 14 years.
This article appears in the August 2011 issue of The Washingtonian.

Subscribe to Washingtonian
Follow Washingtonian on Twitter
More>> Open House Blog | Homes | Real Estate