Marijuana users searching for companionship no longer have to fear being judged by prospective mates: High There! is an app that connects people based on a variety of criteria, including consumption preferences. Like to vape? Find a boo who's into that too. Prefer edibles? Swipe to find a buddy who knows how to craft the perfect weed butter.
Darren Roberts, who's originally from Potomac, created the app. "Family and friends were turning to cannabis for medical reasons and social reasons, but there was a really a stigma associated with [it]," he says. "We really felt there was an opportunity to connect the cannabis community. When you're in the community you're accepted, there's no judgment. Right off the bat, people you're meeting realize cannabis plays some role in your life."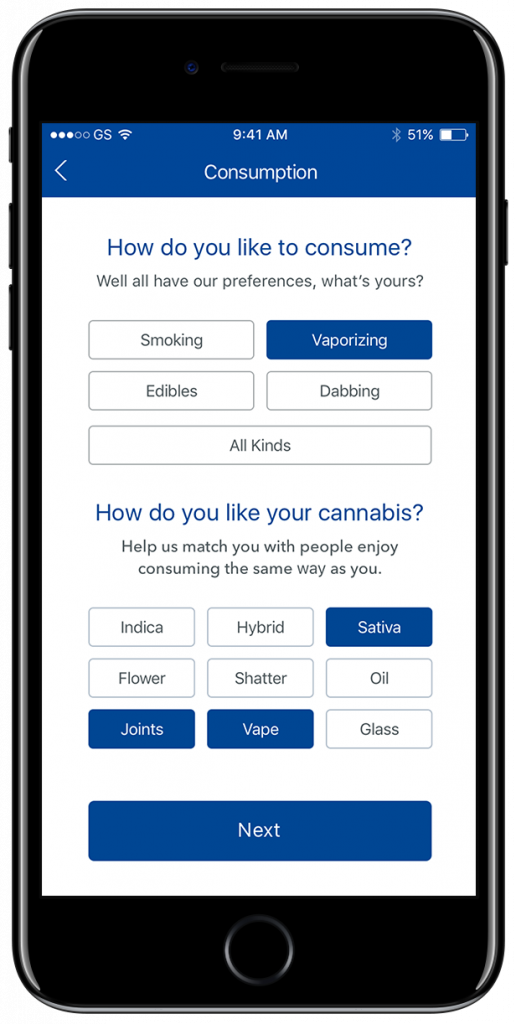 Roberts and his partner Kenny Frisman launched the app two years ago in Denver and have since expanded globally. They say they have around 300,000 users. The response has been overwhelmingly positive and they've already seen couples who have gotten engaged after meeting on the app. Roberts says DC's market for marijuana-related products has shot up, and he's excited to be back home working on his marketing campaign.
"Based on the legalization recently in DC and it being an area that's really growing on the cannabis side, and being from here–it's nice to bring this community to DC," Roberts says. "I find as legalization increases, people are tending to become more comfortable."
In order to refine their matches, users can indicate whether they prefer to smoke, vaporize, eat edibles, or dab. There are other options to select too, like strains of marijuana and preferred location for consuming it. If you have a thing for munching special brownies in the sunshine, you're probably not alone. Prefer to smoke sativa on your roof? Swipe your way to a fellow altophile.
"There are people who won't go near an edible, and there are individuals who don't like smoking," Roberts says. "The more you can define specifically what people are interested in, the more likely they are to match."
The majority of app users skew millennial and their preferences recreational, but there are also a lot of veterans and others using marijuana for medical reasons, as well as older individuals. Many are on the app not for dating and romance, but just to make new friends. Roberts says despite stereotypes of weed being a "guy thing," there are plenty of women, as well as gay people.
Last year Mic published an article investigating the security of High There!, consulting with a cyber-security company that said the app's security was on the level of a "student project." They warned that anyone with minimal computer skills could gain access to basic information about users, including when and where a user was smoking.
High There! chief marketing officer Rosie Mattio says the company knows of no security issues within the app. No user's location has ever been compromised, Mattio says, no data has been shared, and no law enforcement has ever "been on the app trolling."
"If people are worried their employer might check their Facebook page, they might not want to talk about their cannabis consumption," Mattio says. "High There gives them the outlet to be in a stigma-free environment where they can meet up with other like-minded individuals."