Americans love Costco. We love it because beyond the obvious cost savings of buying bundles of toilet paper (the retailer's best-selling product), the mega-retailer is the pinnacle of consistency. There will always be dirt cheap deals, like the $1.50 hot dog and drink combo, which hasn't increased since 1985. There will always be samples doled out by cheery, hairnet-clad ladies. There will always be jovial cashiers, who get paid an average wage of $21 an hour. In states like Virginia, there will always be racks of wine—Costco sells more than $1 billion dollars of wine each year, and is the biggest importer of French varietals in the country.
The Crystal City Costco, though, is unlike most other Costcos I've been to (some will argue it's in Pentagon City, but my Uber driver, Alfonso, was adamant that this is incorrect, and what he says goes). For starters, it doesn't face a highway or sit near a shopping plaza—it's plunked right in the middle of a tree-lined city block. And there's an adjacent Costco parking garage, which, like so much of Crystal City, is very tall. It towers over the actual retail part of the store, which sits stoutly below like a red-roofed Ponderosa.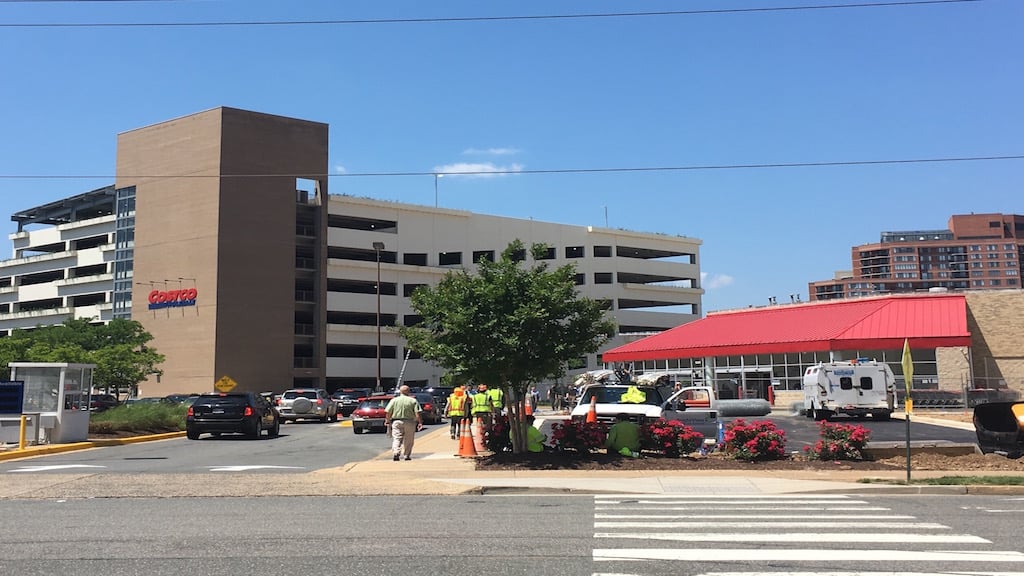 A former local told me once that the Crystal City Costco is the busiest Costco in the world. This is, of course, not true (it's actually Iwilei, Oahu), but he then mentioned one reason this particular Virginian Costco might feel buzzier than the average store: because of its relationship with the State Department, which sends officials there in droves.
An employee confirmed that the State Department has a Costco corporate account, but added, "I can't talk about it. You'll have to speak with a manager." The manager on duty told me she couldn't speak outside of a formal corporate meeting.
Doomsday preparation jokes aside, the government does have a longstanding relationship with the mega-retailer, where foreign diplomats can buy and ship goods overseas ahead of two-year tours. And as it turns out, the State Department even highlights its relationship with the retailer on its website, going so far as to give some sound advice to anyone who might think there's special treatment involved: "Costco does not accept faxed orders. Customers must come to the store to pull the items and go to the check-out counter. It is advisable to bring your Costco purchases home and to have them packed from there."
There is one thing that will affect all Crystal City shoppers in the future, State or otherwise: due to proposed redevelopment, Crystal City will lose its Costco in 2050. While this will surely affect the State Department's shopping budget, those truly impacted will be the loyal employees, like Mark Mines, who has worked at the Crystal City Costco for 16 years. He says he loves it. Why? "There's no recidivism. People [employees] don't leave and come back."