A guide to the newest places to eat and drink.
Get ready to channel your inner Daenerys Targaryen at DC's most popular pop-up bars this summer. Game of Thrones will be the next big theme from the team that brought you Miracle on Seventh Street (the Christmas Bar) and the cherry blossom/Super Mario Bros. bar. Derek Brown and Angie Fetherston's Drink Company will transform its trio of Shaw establishments—Mockingbird Hill, Southern Efficiency, Eat the Rich—into King's Landing from June 21 to Aug. 27. The show itself premieres July 16.
Each space will represent different fictional realms. Once you get past the inevitably long lines (don't try to bribe your way in), you will enter through Eat the Rich, ahem, the Red Keep. The King's Landing castle will be decked out in banners from various houses. You can take photos in front of House Bolton's flayed cross, or head to the Throne Room in the back of the bar with—yes—a legit throne.
From there, you'll enter into Southern Efficiency, which will become the Hall of Faces. The faces of the staff, friends, and other community neighbors were cast in plaster and will hang on the walls.
The front bar at Mockingbird Hill will become home to the North and a large weirwood tree. In the back, the room that was the Hanukkah Hangout and Bowser's Castle in previous pop-ups will be converted into the City of Meereen (or "fire bar")—complete with a dragon mural and a huge dragon sculpture coming from the ceiling.
Drink Company's special projects director Matt Fox and manager Adriana Salame Aspiazu brought in a number of local artists to design and build different components of the space. A lot of mini details you'll have to wait and see.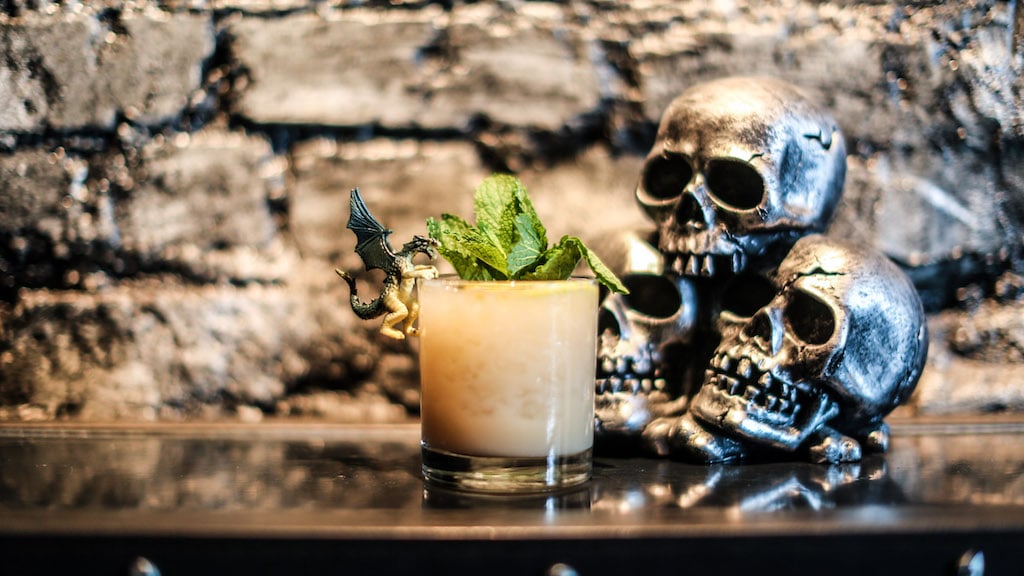 The theme carries through to the cocktails, too. The Imp's Delight—which uses two fortified wines—imagines what Tyrion Lannister might drink. Meanwhile, a tequila and grapefruit tonic drink dubbed Shame comes with a little bell—a nod to Cersei Lannister's "walk of atonement." The garnish game gets even better with a mini dragon hanging off the side of the Dracarys, a sherry mai tai with salt named after Daenerys's call to the dragons. While there's no fire on that cocktail, you will find some burnt star anise on the Dothraquiri. "When making a Game of Thrones bar, there has to be an element of fire, for sure," says senior bar manager Paul Taylor.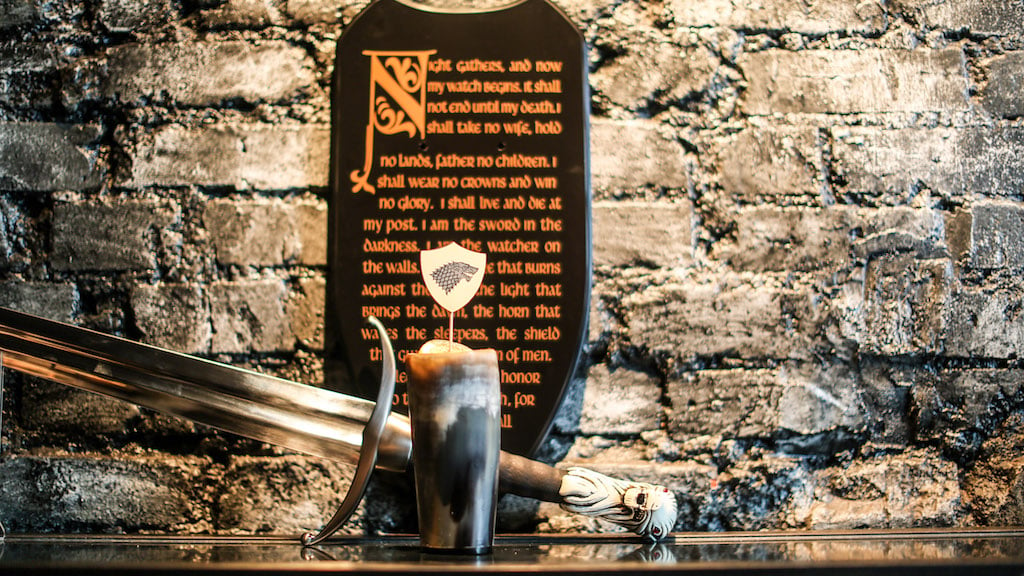 Two cocktails come with special glassware that will require you to temporarily give up your ID. (Thieves will pay the iron price.) The North Remembers, a Scotch-based take on the pina colada, will be served in a mug made out of a horn. Another tiki drink called The Lady Mormont is served in a honey bear glass (she's the Lady of Bear Island, remember?).
Cocktails will cost between $13 and $15. (And remember, a Lannister always pays his bar tab.) If you're more of a Bronn type who prefers a frosty ale, the bar has partnered with Ommegang to supply the brewery's Game of Thrones beers on draft.
Like the Red Wedding, there's not going to be a lot of eating. (But not because everyone gets slaughtered!) Rather, the team decided food service was slowing down everything else, so this time, they'll just offer some snacks like spiced nuts and beef jerky.
The show's soundtrack will play in the background, and bartenders will wear costumes. (We hear some staff have already ordered their helmets and armor.) Patrons are also encouraged to dress up—just remember to leave your swords, dragon's glass, wildfire, and other weapons at home.
One thing that the Game of Thones bar won't have: screenings of Game of Thrones. Fans know that a crowded, loud bar is not the ideal place to watch such a nuanced show. And so, the bar will close early at 7 PM on Sunday nights, so everyone, including staff, can go home and watch it.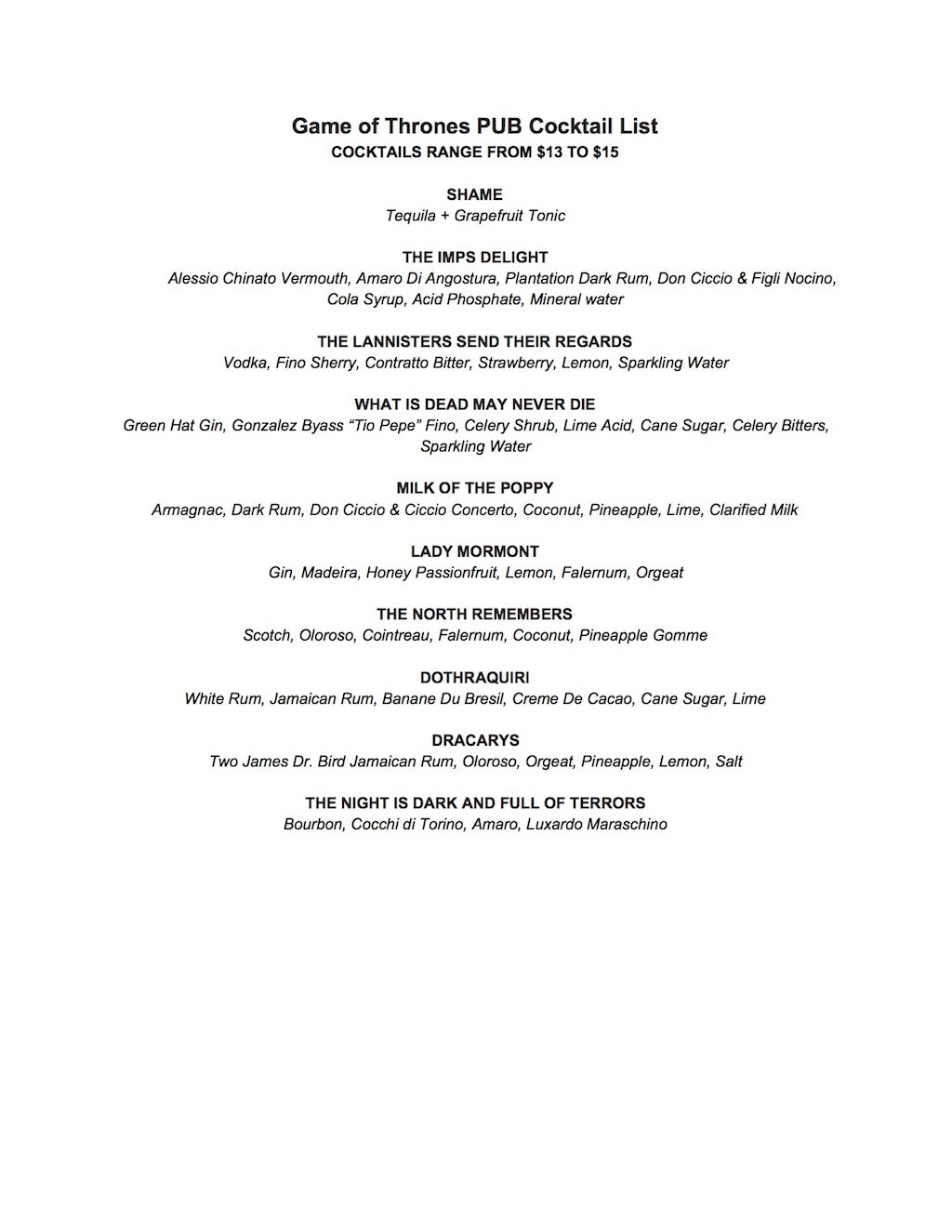 Game of Thones Pop-Up Bar. 1839-1843 7th St., NW. Open June 21 through August 27, Monday through Thursday from 5 PM to 12:30 AM, Friday and Saturday from 5 PM to 1:30 AM, and Sunday from 1 to 7 PM.