Miracle on Seventh Street (a.k.a. the Christmas Bar) opens Friday at 5 p.m., and unlike last year, the pop-up isn't contained to an elf-size space. Derek Brown and his team are spreading holiday cheer over three neighboring Shaw watering holes—Mockingbird Hill, Southern Efficiency, and Eat the Rich—all of which serve the same food and drink menu.
This is the same team behind the much-lauded Columbia Room, so while the drinks are fun n' festive, you'll find a level of expertise that extends beyond spiked cocoa—though $5 nog shots and cold Bud and Stella are available for unfussy drinkers. A lineup of $13 cocktails includes whimsical combinations like the Elf-inspired "Francisco, That's Fun to Say," with mezcal, chocolate, and a homemade chartreuse marshmallow. A few hits from last year make a comeback on the menu, including "Gretchen, Stop Trying to Make Fetch Happen" with sweet sherry, dry curaçao, spiced cranberry syrup, and bubbly. All drinks are served in decorative barware, which patrons can take home for $5 to $10.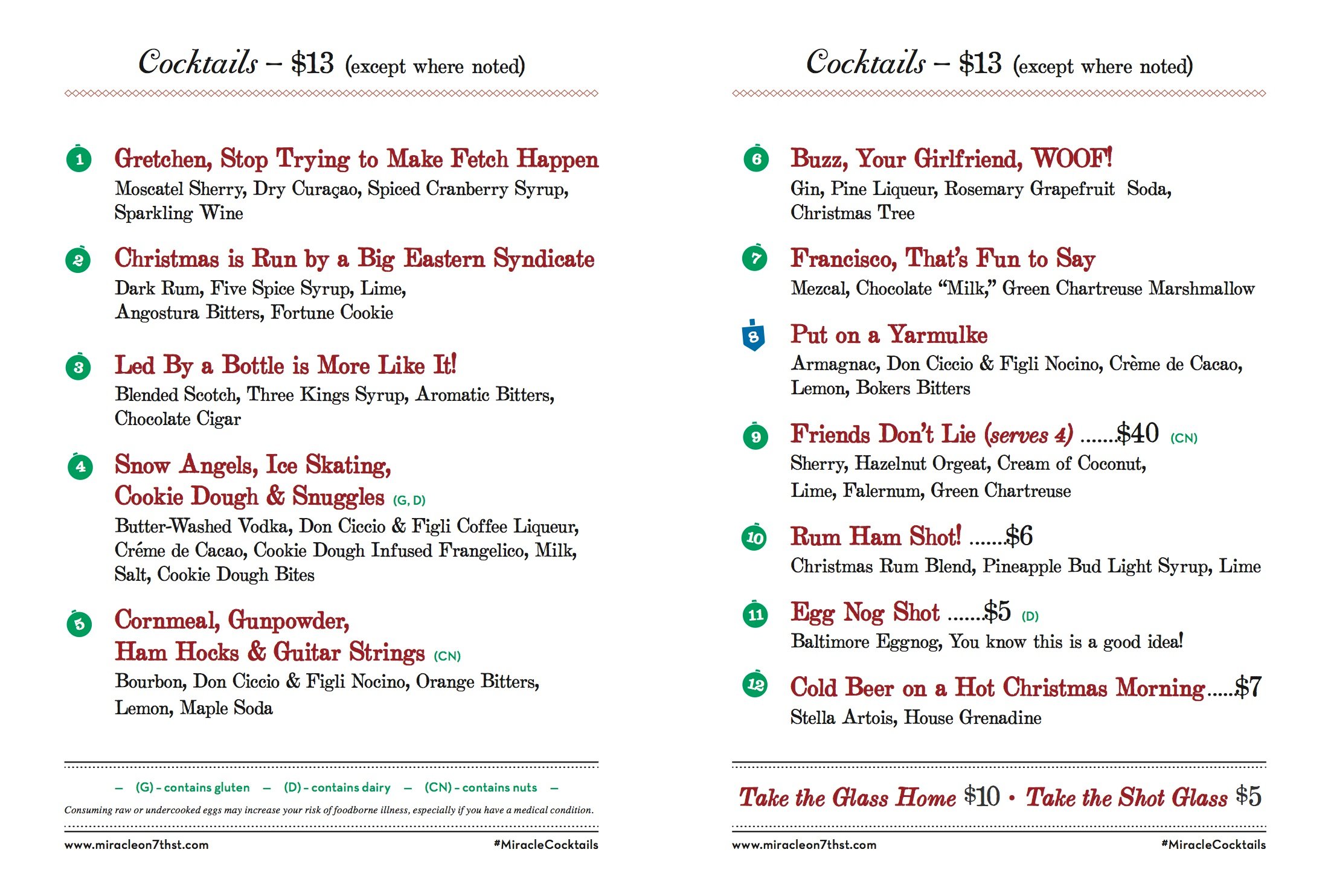 It's not a nightly holiday party without an indulgent spread. Chef Evan Scarlatelli dreamed up a lengthier food menu this year, including snacks, sandwiches, and sweets. Some dishes fall in the winter comfort category (i.e. chicken noodle soup, grilled cheese), while others are geared towards the holidays; no one can resist Schweddy Balls, made with smoked gouda and cranberry-tomato sauce. Also: a Thanksgiving sandwich decked out with oyster stuffing.

Christmas comes but once a year, but the Christmas Bar is open every night through New Year's Eve.
Miracle on Seventh Street. Open nightly, Sunday through Thursday, 5 p.m. to 12:30 a.m; Friday and Saturday, 5 p.m. through1:30 a.m.