We have hit peak yoga collaboration with this one, you guys. You might have thought you'd seen it all with yoga at the Kennedy Center, yoga while drinking beer, or yoga in a cemetery, but you were wrong. And here to prove you just how wrong you were is Beth Wolfe, the queen of yoga combinations. While Wolfe specializes in trauma-informed yoga for those experiencing PTSD, she also teaches "unique yoga experiences," including—yep, you guessed it—goat yoga.
What, pray tell, is goat yoga? Sadly, it doesn't involve teaching yoga to goats. It does, however, involve heading to the Little Goat Farm at the Lake in Nokesville, Virginia, a dairy farm with goats and alpacas owned by Susanne Marsh. Participants are invited to spread out their yoga mats in the grass overlooking the lake, and while Wolfe teaches, the animals wander through and come close for a nuzzle. Sometimes, the baby goats will climb into participants' laps, says Wolfe, or jump up on their backs. And according to Marsh, one shampoo-loving alpaca likes to sniff participants with fragrant hair.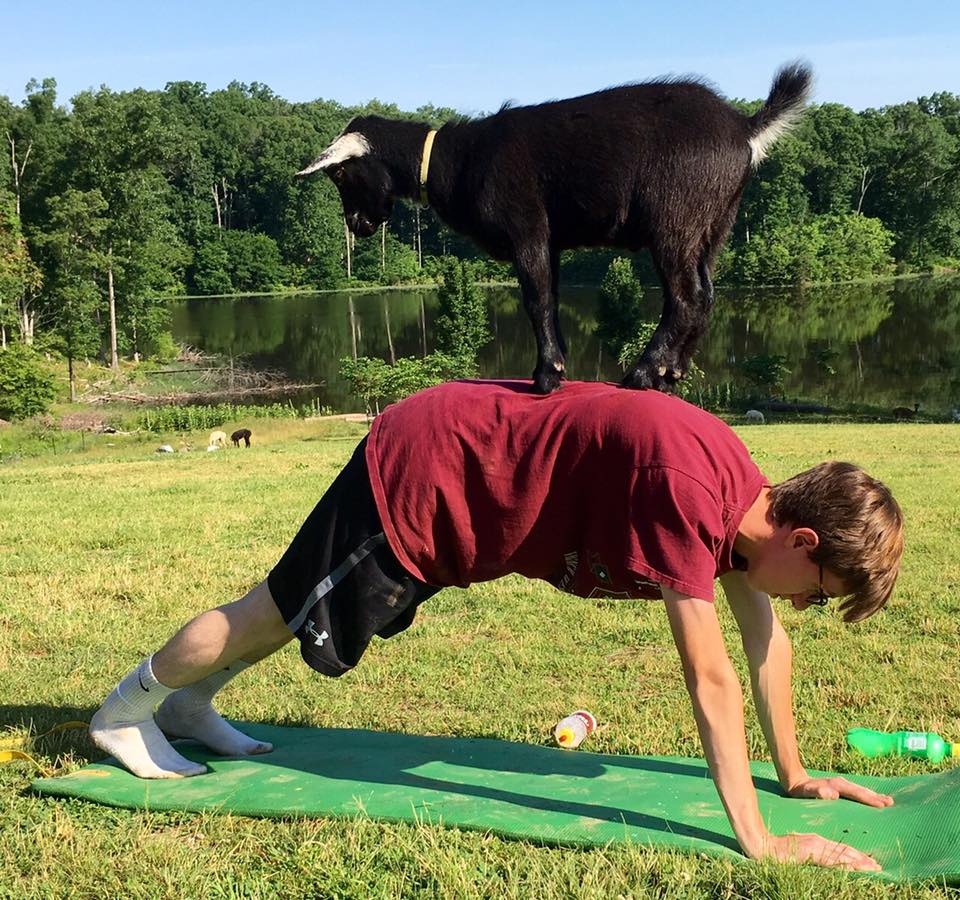 While some might see the idea of combining goats and yoga as nothing but an absurd marketing ploy, Wolfe isn't really bothered by it. Rather, she sees the unusual experiences she creates around yoga as a way to introduce more people to the practice who wouldn't normally try it.
"[I'm] exposing more people to yoga, letting people know that yoga isn't just for fit, bendy people," says Wolfe. 
As for those concerned for the wellbeing of the animals, Marsh says that the goats love it.
"I don't know who it benefits more—I think really more the goats than the people," says Marsh. "[The goats are] very social."
The next goat yoga class on the schedule is July 15, at 6:30 PM, and the $30 tickets can be purchased on Eventbrite. While goat yoga might be one of the most interesting yoga classes Wolfe teaches, she keeps up a regular calendar of unique combinations. For example, there's her Kitten Yoga class, which she teaches in collaboration at the Animal Welfare League of Arlington (find upcoming classes and tickets here). Then there's her Yin & Gin class, her Vino & Vinyasa class, and her "Beersana" class.
Wolfe also has plans to teach at the National Building Museum's Hive installation this summer. The classes will take place inside the Hive structures, which Wolfe says have room for around 80 yoga mats. The first class will take place on July 16, and the $20 tickets can be purchased on Eventbrite.
While Wolfe says that some have criticized her for her yoga collaborations—traditional yoga doesn't really include beer and kitten cuddling—she just sees the classes she teaches as being more accessible.
"I'm not advocating not following the traditional tenants of yoga," says Wolfe. "This can be a doorway for people, and I feel like if you're being judgmental about who can and cannot practice yoga, you're really going against the ultimate purpose of the practice."