There's one thing that obviously hasn't changed about Lynda Carter in the nearly 40 years since she first donned Wonder Woman's costume: her shimmering blue eyes. At a Library of Congress event, she fixed those eyes on an audience member who has risen from her seat to ask a question. The woman was in full Wonder Woman garb, complete with a tiara and bracelets.
"My son passed away two years ago," the woman said. "He was a Batman fanatic who had graduated high school, and I'm obviously a Wonder Woman fanatic."
The woman went on to say that one of the last memories she had of her son was going to Starbucks, which writes customers' names on cups to keep track of orders. She ordered for herself and her son, asking the baristas to put the names Wonder Woman and Batman on their respective cups, and now keeps a photo of the two of them holding their drinks in a shadow box.
"I just wanted to tell you thank you so much from the bottom of my heart," the woman says, her voice cracking into sobs. "I love you. I traveled far just to be this close to you."
Carter jumped out of her seat with arms outstretched, asking the woman to come onstage for a hug. Her warmth is the very essence of Wonder Woman.
The event was part of "Library of Awesome," a week in which the library exhibited its vast comic book collection, and culminated with Librarian of Congress Carla Hayden interviewing Carter in a packed Coolidge Auditorium that included fans like Representative Debbie Wasserman Schultz.
Carter and Hayden sat in armchairs separated by a replica vintage television set showing the logo of the 1970s Wonder Woman television series that made Carter a star.
"It is really interesting that after all these years, Wonder Woman has come full circle and she's still so relevant," Carter said.
Carter might have been playing down her old character's importance. Debuting in All-Star Comics No. 8 in 1941, Wonder Woman grew into a cultural icon for comics geeks and non-fans alike. She's revolutionary not simply because of her gender, but because she's a female superhero with muscles, brainpower, and compassion. She leaps off the comic book panels and holds her own with Superman and Batman in the current cinematic world created for DC Comics characters. This year's cinematic adaptation, directed by Patty Jenkins and starring Gal Gadot as Diana, Princess of Themyscira, has sparkled as the lone uplifting moment in the otherwise grim cinematic universe DC Comics characters currently inhabit.
Carter said she told Jenkins that Wonder Woman would make a billion dollars at the box office. It's raked in $570 million so far. But other than that early phone call, Carter kept her distance during production, skipping trailers and interviews, but joining Jenkins and Gadot for the movie's premiere.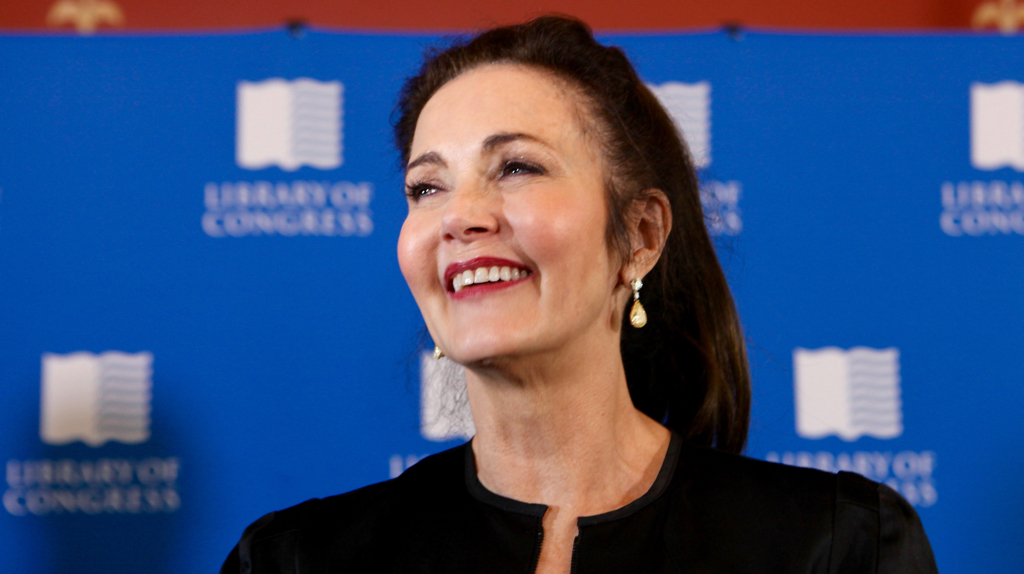 "I was taken up," Carter said, pointing to the ceiling. "Because of the essence of the character for so many of us. It's about something, it's about who we are as people, defending what's right, being mama bears, and those things we hold so dear."
In 2017, a Wonder Woman solo film seems like Hollywood catching up with the times. But it was considered a huge risk when Carter played her on a the mid-'70s television series.
"I was in Hollywood during a time where there were no women in television," Carter said. "They did not think that a woman could hold up a series, they did not think that women would tune in to watch an hourlong show with a woman as the lead. They also said to me, 'Women are going to hate you so get ready.'"
Carter scoffed at that last statement as a woman in the crowd shouted, "I love you!" The biggest issue, Carter said, was the stunt double. In the first season, Carter's double was a man.
"The first time I got on set, this guy had chest hairs coming out the top of the costume," she says. When Carter brought up the obvious issue with this at the time, she was assured that the camera would be so far away that no one could be able to tell her double was a man. Naturally, that wasn't good enough for Carter and with the show, she helped fuel the movement for women to be doubled by other women. She went on to be doubled by legendary stuntwoman Jeannie Epper, who later became the president of the Stuntwomen's Association of Motion Pictures.
These days, Carter, who lives in Potomac, spends more time singing and rowing with the Potomac Boat Club than acting. She's reconnected with the DC Comics universe with a supporting role as the President of the United States on the CW's Supergirl series. But she'll never fully move on from the role of Wonder Woman. In the eyes of many, that's who Carter always will be. She shaped one generation with her portrayal of Wonder Woman, and Gadot may go on shape another.
"I'm an old girl now, but until my dying day, I will never stop fighting for the idea of Wonder Woman," Carter said. "The idea of intellect and strength and courage. If my life means anything, it's that I give you the gift of curiosity about the world around you, tapping into your own intellect and courage."
As their talk ended, Carter presented Hayden with an original copy of Jenkins's Wonder Woman script to add to the Library of Congress. She gave Hayden a big hug and kissed her atop the head. There were audible sniffles, and eyes could be seen watering even in the darkness of the auditorium.