The newly-opened Continental Beer Garden feels like a colorful oasis in otherwise concrete-heavy Rosslyn, sandwiched between high-rise apartment buildings and corporate offices. That's exactly why owner and longtime DC restaurateur, Curt Large, decided to put it there.
The neighborhood needed an outdoor spot for drinking and socializing—a spot that would cater to the happy hour crowd that hangs out at Continental Modern Pool Lounge next door. A beer garden with lawn games and satisfying eats was an obvious solution.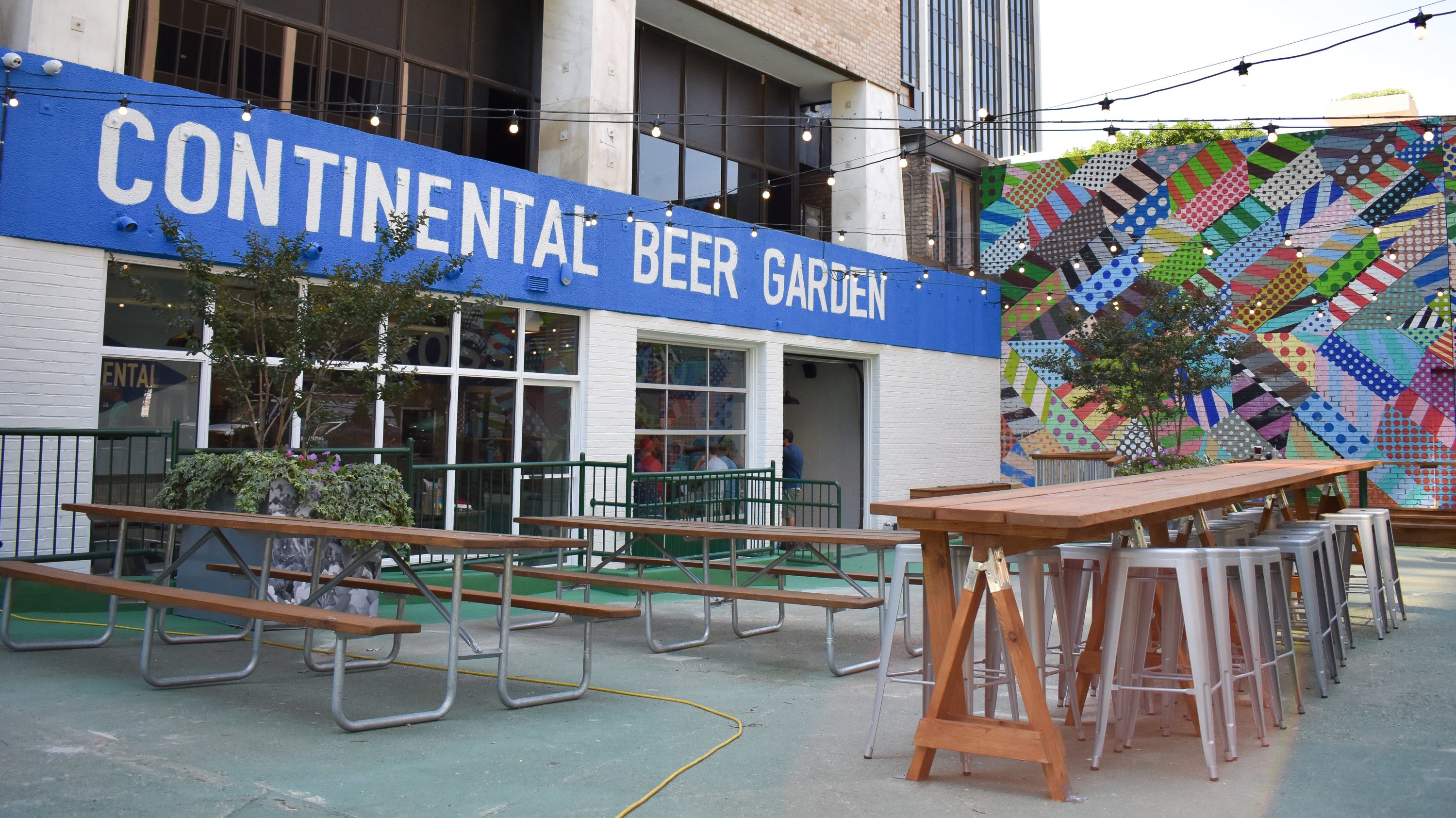 The newly-opened spot boasts several Virginia craft beers, and a few traditional German Weihenstephaners on tap (priced from $6 to $7). The bar also pours moderately-priced wines ($8) and sangria, punches, and slushies for $9. Groups can take advantages of pitchers of beer ($20 to $23). If you head over during happy hour—4 to 7 PM Tuesday through Saturday—draft beers, cans, and glasses of wine are $2 off.
Although the drinks might seem like the main attraction, it's a good idea to come hungry. The menu, designed by Smoked & Stacked chef/owner Marjorie Meek-Bradley, is full of shareable bar snacks—many with a twist. Instead of the typical spinach-artichoke dip you'll find kale-artichoke dip, and in lieu of hotdogs, Meek-Bradley designed sausages served in pretzel rolls (the lineup may seem familiar to Roofers Union in Adams Morgan, where Large is a partner and Meek-Bradley a former chef). A selection of grilled skewers over basil-quinoa salad makes for a healthier option.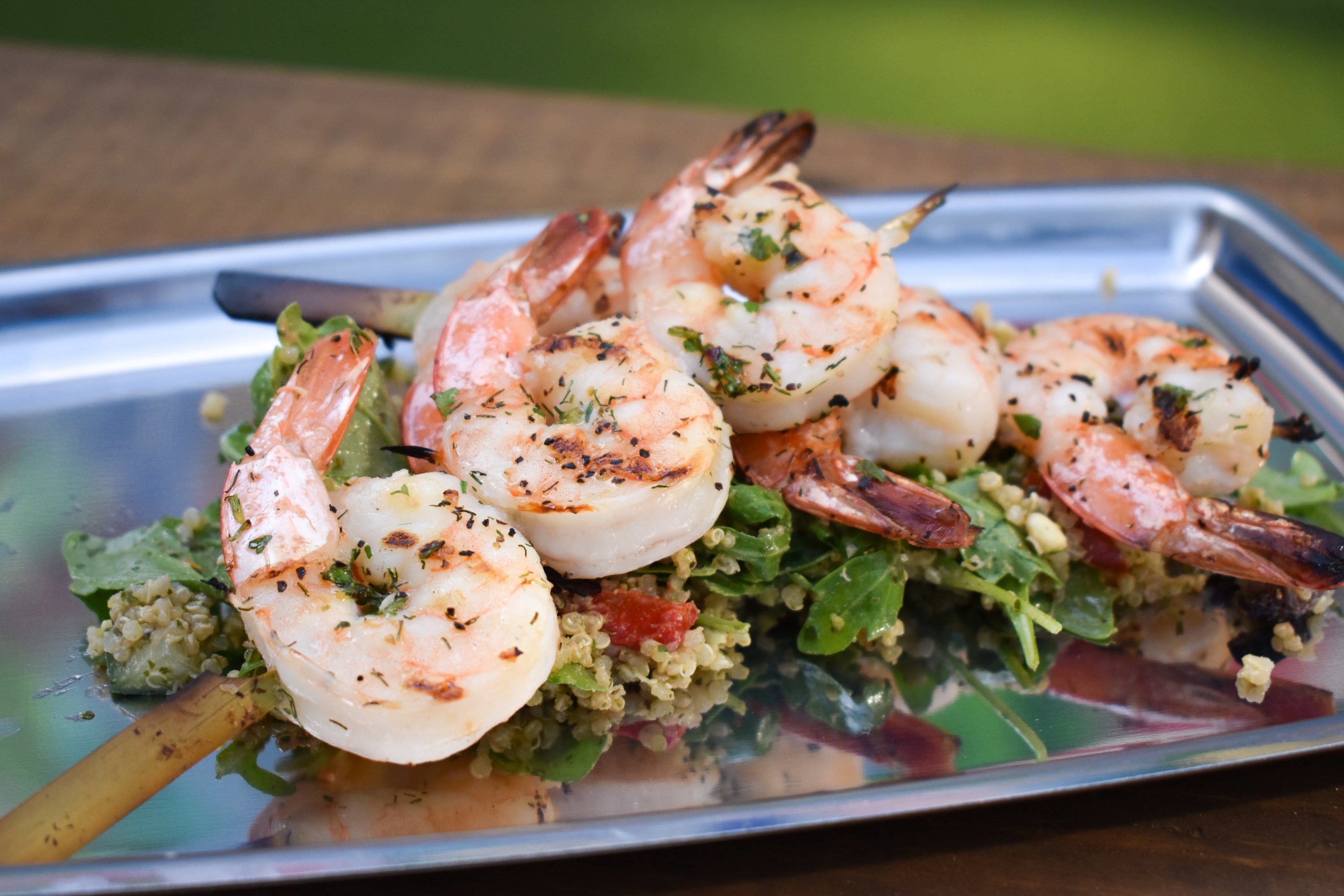 The idea for the beer garden developed over time. Originally Large envisioned a bare-bones outdoor venture. "Something simple with containers, like The Bullpen so that it could open quickly as a pop-up," he says. The state of Virginia has food and alcohol regulations prohibiting that approach, so Large decided to convert an old service station into 1,000 square feet of kitchen and interior restaurant space. Just outside, there's another 4,000 square feet of space for guests, surrounded by Myrtle trees and covered in string lights. Next to the picnic tables, you'll find two full-sized bocce courts and cornhole.
The games were a key component for Large, who worked with Geoff Dawson and Mark Handwerger on their gaming bars in DC, including Buffalo Billiards and Bedrock Billiards—all spots combining drinking with entertainment like pool and skeeball. "When I started on the beer garden, I knew I wanted to replicate that model of a fun place to go, where there's good food, good drinks, and also an activity," says Large.
As of now, Continental Beer Garden is open Tuesdays through Saturdays from 3:30 PM to 11 PM. Large says the initial response has been so great, he's thinking of adding brunch, too, and consulting Meek-Bradley on the menu. In that case, Continental will become the only place in Rosslyn where you can brunch and bocce.
Continental Beer Garden. 1911 North Fort Meyer Dr., Rosslyn; 703-465-7675