With some 11,000 French expats living around Washington, Bastille Day (Friday, July 14th) is a big celebration in DC. Commemorate the birth of the French Republic with Champagne-fueled parties, foie gras-filled menus, free beer (yes, free beer), wine tastings, and more. Note that some of the events run for multiple days and into the weekend. 
1001 Pennsylvania Ave., NW
Late chef Michel Richard's French restaurant will feature a Bastille menu throughout the week starting Tuesday, with food and wine pairings each night. Plates include French specialties such as foie gras, grilled loup de mer, and duck leg confit ($11 to $32).  On Friday, the $48 prix-fixe menu includes gougères (cheese puffs) and fricassé d'escargots (sauteed snails), a lamb chop with kale and yogurt cumin sauce, and Paris-Brest for dessert. Wine pairings are an additional $24.   
502 H St., NE
Two words: free beer. On Friday, this H Street French spot will offer deals on drinks favored by Francophiles: free Kronenbourg from 6 to 8 pm, and $3 pastis (a liquor-flavored apéritif) all night. Guests will get a free baguette to munch on the way home.
1601 14th St., NW
A French favorite among Washingtonians and expats alike, this 14th Street destination will host festivities throughout Bastille Day on Friday with café service starting at 10:30 am. For young guests, there will be face painting and balloons, as well as live accordion music and a mime. For adults, there will be a variety of Saint Germaine cocktails. Don't miss the glacé cart, featuring the frozen French specialty made with custard and egg yolks–pastry chef Fabrice Bendano will offer flavors such as coconut and baba au rhum.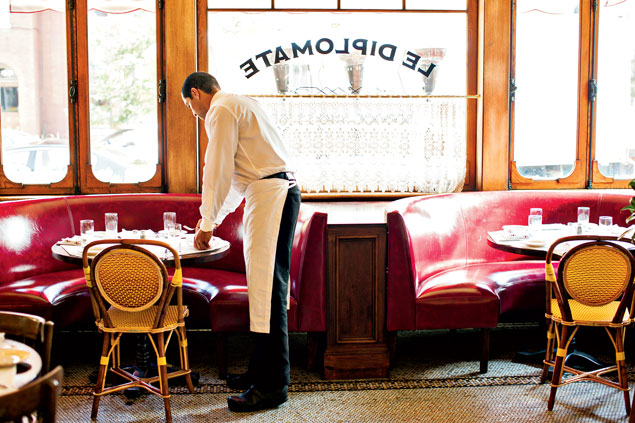 8296 Glass Alley #110, Fairfax
On Friday, indulge in free French treats by chef Jennifer Carroll at her Mosaic District restaurant from 4:30-6:30 pm, with additional food and drink specials available throughout the night.
606 N Fayette St., Alexandria
Christophe and Michelle Poteaux's Old Town brasserie will celebrate "liberté, égalité, et fraternité" on Friday with a $35 prix-fixe menu and $20 wine list from 4 to 10 pm. Featured classics include moules frites, grilled lamb, and cream puffs for dessert. The menu is available all through French Restaurant Week, which runs Tuesday to Sunday. 
1401 Pennsylvania Ave., NW
The Willard Intercontinental's bistro hosts a soiree with traditional French dishes starting at 4:30 pm on Friday. Guests can enjoy a crêpe station run by pastry chef Jason Jiminez and a Grey Goose bar offering cocktails on the Terrace until 10 pm. A violinist will play from 5 to 8 pm.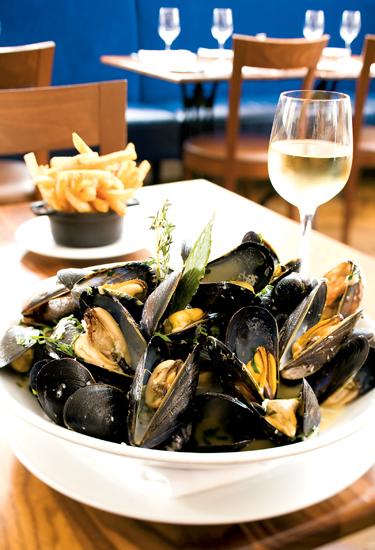 2941 Fairview Park Dr, Falls Church
On Friday and Saturday, chef Bertrand Chemel of 2941 will present a $90 prix-fixe menu with seasonal dishes such as lentil and summer truffle, aioli provençale, and gnocchi Parisienne. Wine pairings are priced at $70.  
1337 11 St., NW
The Bird invites Bastille Day revelers to storm its rooftop free of charge on Friday starting at 7 pm. Rosé wine and food is priced at $5, but the restaurant will let you eat cake–it's free throughout the night. Register in advance on Eventbrite.
2810 Pennsylvania Ave., NW
On Friday, Georgetown's ENO wine bar will serve $20 flights of French wine with chenin blanc, rosé, and tannat-cabernet among the sips. Other French wines will be priced from $11 to $45. You can order a selection of fromage for $14, with the addition of cured meats for $24. Hours are 4 pm to midnight.
1738 Connecticut Ave., NW
You can dine on escargot, french onion soup, or a classic Steak BDC with french fries at the DuPont restaurant from 7-9 pm. There will be a DJ starting at 11 pm, and you can much on late-night sandwiches until 1:30 am. Baguettes filled with Camembert cheese, Merguez sausage, and pâté will keep you well-fed throughout the night.
4101 Reservoir Rd., NW
Although you need a French passport to get into the Bastille Day celebration that the embassy hosts each year for DC-based expats, all Washingtonians are welcome to the Comité Tricolore's fundraiser on Saturday. This year, the event is New Orleans-themed, with participating chefs serving cajun classics such as Bourbon Street spiced chicken, fish cakes, and shrimp and grits. Don Vappie and a creole jazz quintet will play as guests arrive, and a DJ will finish the night. Tickets start at $95, and $175 will buy you admission into a VIP reception. Laissez les bons temps rouler!