Chicken liver and sweetbreads are commonplace on menus these days, but The Pig is exploring offal at the next level. The Logan Circle restaurant is living up to its reputation as a "nose to tail" establishment with a special five-course tasting menu, which starts with a pig brain and goat cheese panna cotta, and finishes with a pig-blood-spiked Mexican chocolate cake. 
The theme of the prix-fixe is "Pig Meets Goat," and it's available through August 6th. Chef Nuvee Netayavichitr sources products from both animals from Pipe Dreams Dairy in Pennsylvania, where farmers feed the whey that's produced during cheesemaking to the pigs they raise on the side. We asked Netayavichitr about his inspiration for the unusual dishes and menu—and to our surprise, he's changed our mind about eating blood and brains (for the better).
First things first: What do pig brains taste like?
It's a similar taste to veal brains, if you've had those before. I've heard that pig brains taste like liver, but I don't like liver, and I like pig brains. In restaurants, it's about making something that sounds weird approachable. If I didn't tell you there were brains in the panna cotta dish, you might not even realize they were there. The main point was more about the texture: when you're eating it, you get the creamy panna cotta and the crunchy crostini all in one bite.
The Pig prides itself on using all parts of the animal, but brains aren't on your normal menu. How did you get the idea to use them?
I'm from Thailand, and it's normal there to use all of the pig, including the brains, so it didn't seem strange to me. It's really just another organ meat. Because of its creamy texture, I figured it would work well mixed with the goat cheese in a panna cotta [typically a pudding-like dessert]. Also, when I was preparing the menu, I wanted to start at the top of the pig and work my way down, so that's why you get the pig brain first and then the course with pig head next, and so on.
Pig-and-goat theme aside, how would you normally prepare pig brains?
I'd treat it like sweetbreads: poach it, cover it in flour, egg, and breadcrumbs, and fry it up, so it's crispy on the outside and creamy on the inside. Then I'd pair it with a sweet-and-sour sauce and some pickled blueberries or peaches.
Would you consider putting brains on the regular menu?
Yeah. For the last tasting menu, I made pig brain and shrimp wontons, so it's a really versatile ingredient. With the fall coming up, I think I might try a savory pig brain and butternut squash creme brûlée served as an appetizer with bread to dip in it.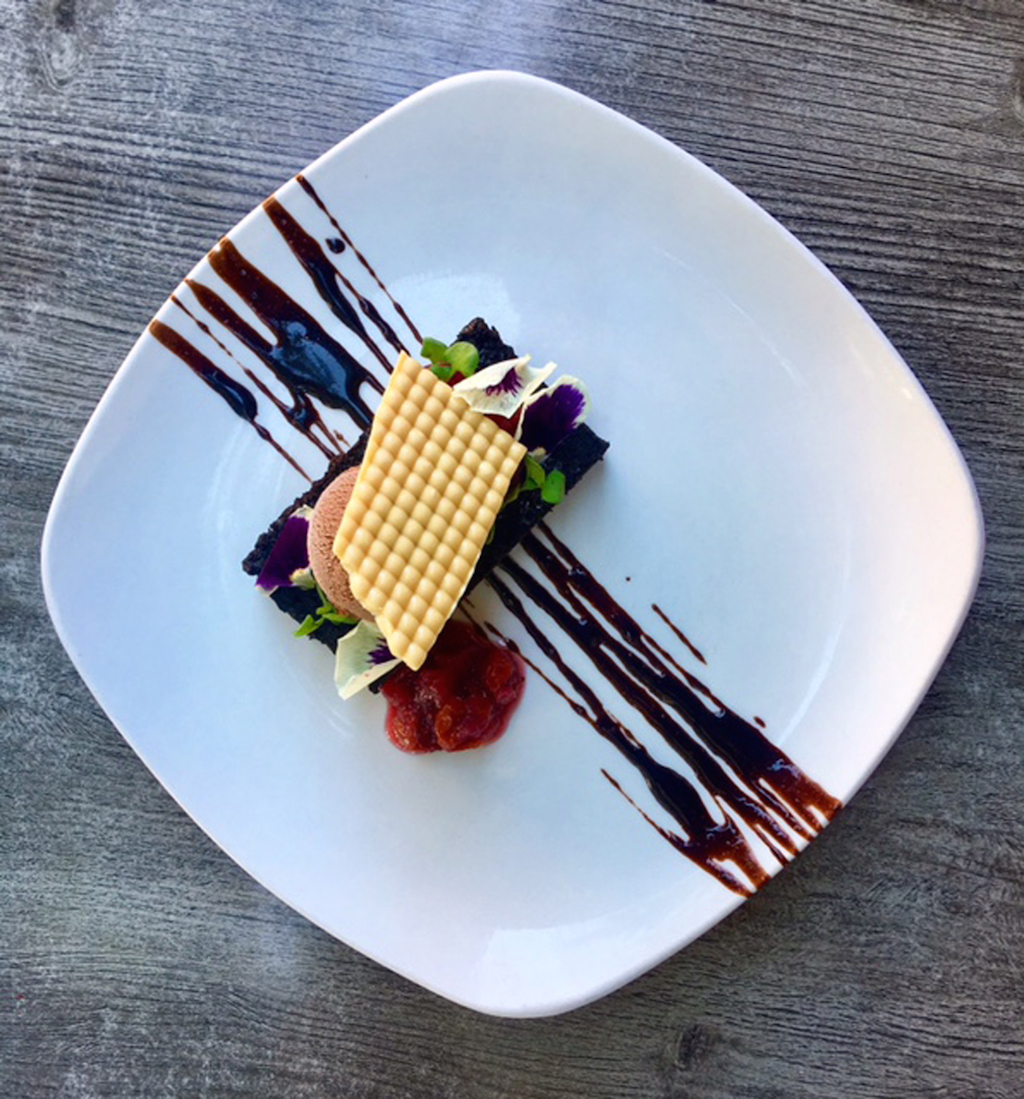 Where did the idea come from to incorporate pig blood into a Mexican chocolate cake?
Like I said, we have a commitment to using all parts of the pig—and the farmers who we get the pigs from usually supply us with the blood, too. The thing with blood is that it acts like eggs when you use it in a dessert. You can whip it up just like eggs and even make a meringue out of it. So with the chocolate cake, I was thinking Mexican spices like cayenne and cinnamon, and some vanilla, too, because without that, the cake would have an iron taste from the blood.
So this cake won't taste like blood, right?
No, it won't. We're using high-end Valrhona semi-sweet chocolate, plus orange zest, and all those spices, too, so you won't get any of that iron flavor. The blood was just used to replace the egg components in the cake.
Any final recommendations for guests who might be scared to eat brains or blood?
I'd just recommend trying to forget that it's brains or blood! Just eat it and taste it for what it is. My goal here was utilizing 100 percent of the pig, but I also tried to keep the menu approachable and create dishes that actually taste good.