Over the course of 2017, protesters have become a Sunday-morning staple on an otherwise pleasant corner of Old Town Alexandria. The bile isn't aimed at the chocolate shop, the hair salon, or any of the other boutiques in the pedestrian-friendly spot. Rather, they're focusing on the guy who works upstairs: Richard Spencer, the radical-right leader known for having delivered a "Hail Trump" speech featuring Nazi-style salutes before Inauguration Day.
"We'd like to get him out of town," says Jonathan Krall of Grassroots Alexandria, which organizes the protests. But it turns out that getting rid of a white supremacist isn't easy. Alexandria's rental nondiscrimination laws don't explicitly cover ideology, as DC's do, but that may not have mattered. Fatana Barak, the agent who leased the space to Spencer, says she had no idea who he was when he looked for a rental. Once activists began demanding his ouster, Barak says, he had a duly signed lease.
Others have sought help from public officials. That's a nonstarter, according to Alexandria vice mayor Justin Wilson. "Clearly we're disappointed. [But] we cannot kick someone out who has unpopular views."
Thus, seven months into the protests, a number of Spencer critics think it might be better if the campaign wound down. "Protesting is not going to make him leave," says Jen Walker, a real-estate agent whose anti-hate fliers can be seen in the neighborhood. "I think he gets off on it. I think he gets fuel from it."
Rather than hurting Spencer, Walker fears, the protests harm shopkeepers who had been unaware of his presence. "All of a sudden [protesters] were blocking all four corners of the street," says Kim Putens, owner of Bloomers, a nearby women's undergarment shop. "They were standing in front of our store, blocking the doorway." David Hoover, a member of Old Town's Christ Church who regularly attends the protests, says critics miss the point: "Part of our strategy is to let people know [Spencer's] here. Every time we demonstrate, there are people who walk by who don't know who he is. My goal is to be sure that we've named evil as evil. It is evil what he believes."
Lost in the confusion is a more basic question: Why would Spencer, when he relocated from Montana, choose to pitch his tent in a deep-blue city whose diverse population is 51 percent minority? The answer is quite basic, actually. "It's just a nice place," he says. Spencer thinks Old Town is beautiful. He likes the restaurants. He likes "how it feels—the whole look."
Which is precisely what the locals feel he's tarnishing.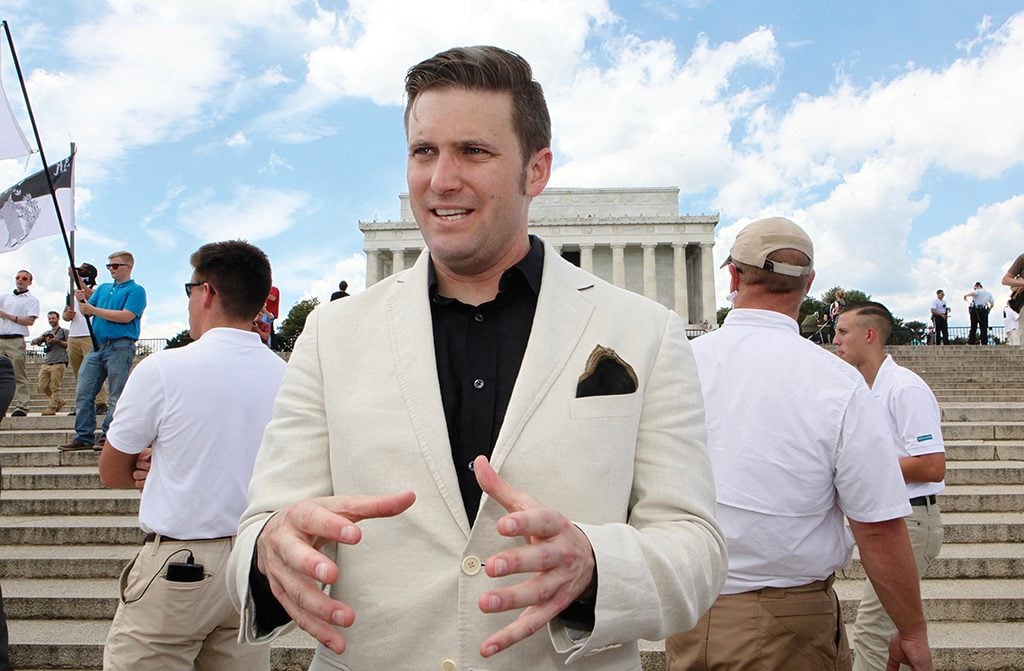 This article appears in the August 2017 issue of Washingtonian.