Budgeted: $45,000.
Spent: $42,000.
Time estimated: Four months.
Time it took: Three months.
By the time I stepped inside the neglected Glen Echo cottage I'd entered on a whim with my real-estate agent in December, I'd watched enough HGTV to know the house had serious potential. Its elderly owner had died, and his family wanted to unload it. Within weeks, I was at the closing table, praying to the fixer-upper gods: Please, Chip and Joanna, give me strength.
The first phase in devising a new kitchen footprint was to demolish a good chunk of the first floor and enclose the porch for more square-footage. By February, the drywall was hung and it was time for the fun part: actually creating the space. I called friends whose homes I admired, asking for names—and ballpark prices—of their kitchen designers. I was floored. The numbers, well into the tens of thousands, not including materials and labor, seemed insane. I knew I had just bought property cheek by jowl with Bethesda, land of imported Italian marble and Viking appliances, but I felt like just because I lived where I lived, the estimates reflected an assumption about my budget.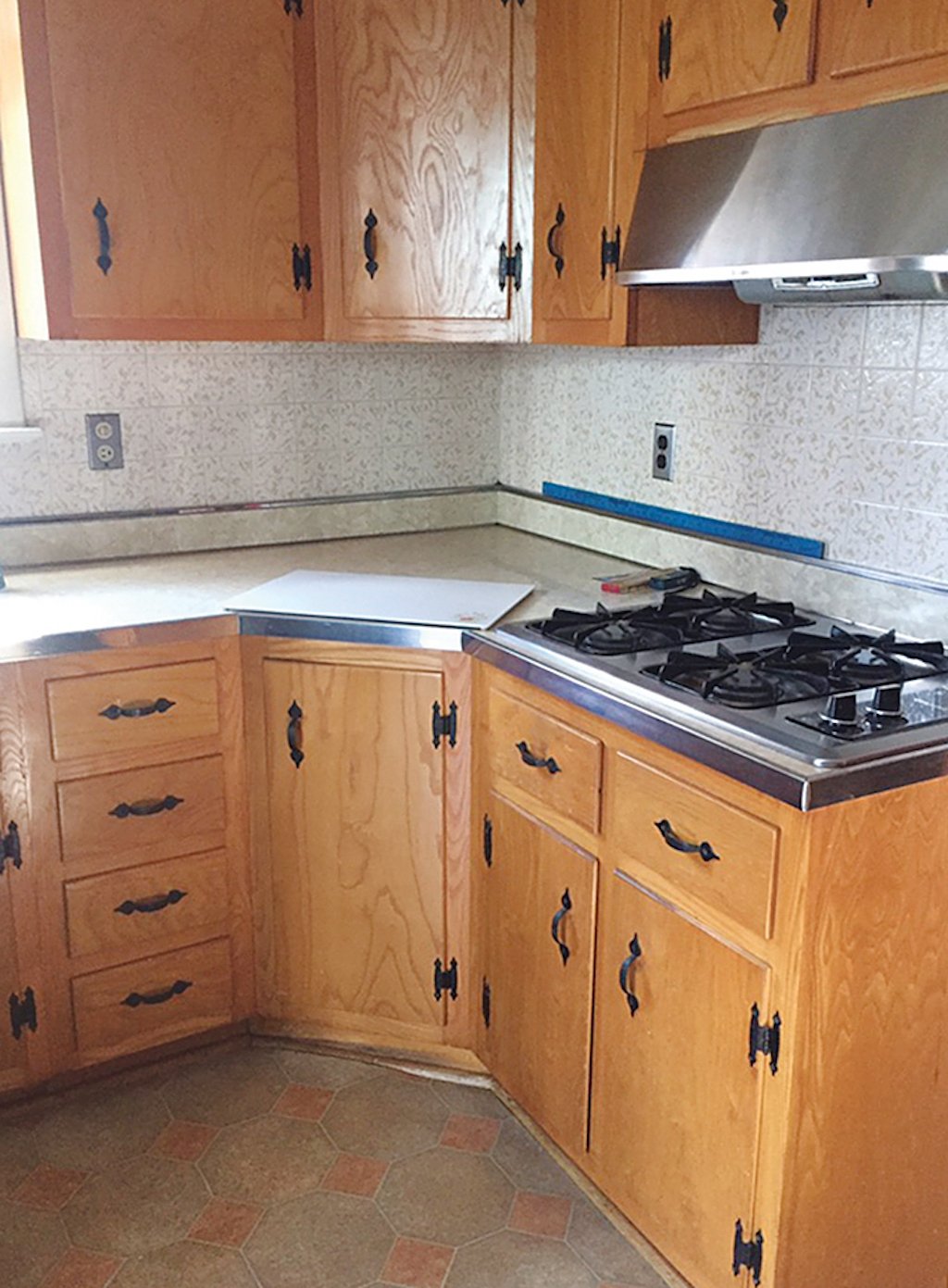 There was no chance I was paying for a pro. For all the home-improvement shows I'd watched, interior-design blogs I'd stalked, and Pinterest boards I'd curated, surely I could figure out how to design my own dream kitchen. I would, however, need a general contractor—I have a demanding day job, and I'm not crazy. I found Sam Razjooyan, with Masterpiece Remodeling, who was looking to do something different. I think I had him when I said I wanted to stain the hardwood floors blue and use bold tiles. Our objective was to save (and save and save) and still bring my vision to life.
I came up with a basic layout after I spent a night roaming around the open space, moving sheets of paper on the floor with words like "peninsula" and "dishwasher" written on them. Instead of paying someone to tell me where these things should go, I just put them in the spots that made sense to me. There were minor issues that I tackled with Razjooyan, such as closing over a window so the stove and vent could fit and pulling plumbing to the island for the farm sink. When I wound up with a random open space above the fridge, I decided to fill it with my cookbooks, arranged by color—a tip from an old issue of Domino magazine.
One big lesson I learned is that your contractor's relationships with his employees and subcontractors is crucial. Razjooyan's relationships not only spared us drama—they also saved us dollars. A few days in and my dog, Coco, was waiting patiently for the daily crew of three to four lovely workers who were a constant presence for three months. (I soon came to understand they were feeding her their lunch leftovers.)
The handful of times Razjooyan and I had trouble getting on the same page with a design element, he would just text me his question and I would text back a picture of what I was thinking. There were hiccups, of course—the cabinets took longer than expected, and that blue-stained floor was at first a bit too aqua. But the biggest roadblock was learning to trust myself, the way a designer would. I wanted a whole wall of subway tile, yes, but in a herringbone pattern with dark-gray grout and gold trim. I liked white quartz countertops, sure, but I also wanted a bigger workspace with butcher block. Every time I thought, Is this going to look okay?, I convinced myself it would and forged ahead.
I also got comfortable with bargain-hunting. Razjooyan and I found various parts of my kitchen through wholesalers, eBay, and Ikea. Three months later—much sooner than a lot of my friends predicted—I'm officially cooking in my kitchen. I'm also back to Pinning and DVRing HGTV, as I plot the upstairs bedroom and bathroom makeovers to come.
Where I Saved:
Cabinets: I went with stock cabinets from KraftMaid in "Midnight" color, totaling $11,000.
Subway tile The entire wall cost $300 at Home Depot. My contractor used his "professional" account at the big-box store to get extra savings.
Peninsula tile "Liria Negro" cement tiles weren't exactly cheap, but I found them on sale at the Tile Shop for $13.99 a square foot. Because they cover a relatively small area, they totaled about $370.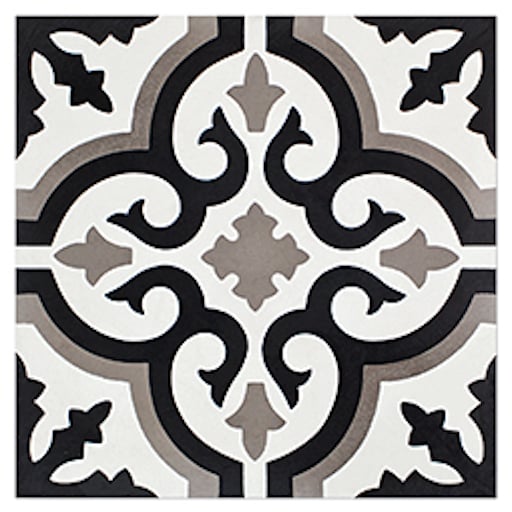 Open shelving The "Lack" shelves from Ikea cost $19.99 apiece.
Lighting
The eight-inch globe pendants were $135 for a set of two at West Elm.
Rug
The five-by-seven-inch Bosphorus "Katrina" rug was $109 at RugsUSA.com.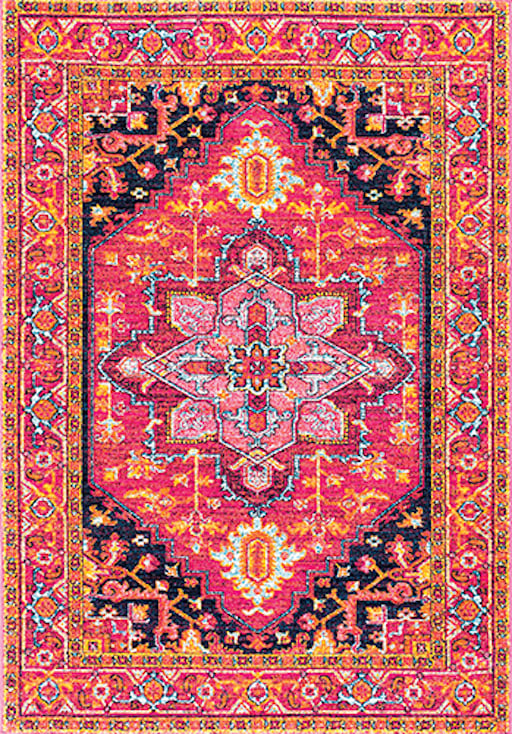 Items on eBay
My microwave, range hood, brass drawer handles and accents, built-in trash can, and stainless-steel farm sink all came from the auction site.
Kate Bennett is a White House reporter for CNN and coauthor of CNN Politics Cover/Line newsletter. On Twitter, she's @katebennett_dc.
This article appears in the August 2017 issue of Washingtonian.