Is James Alex Fields, Jr. the man in these photographs, shot hours before a car plowed into protesters opposing a white-supremacist gathering in Charlottesville?
Fields, identified by the Washington Post as a 20-year old from Ohio, is the man charged with second-degree murder in the attack. Police released a mugshot late Saturday. He's scheduled to be arraigned on Monday.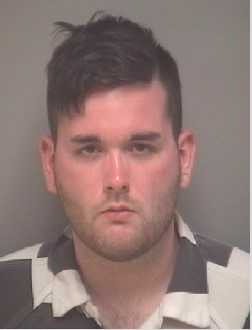 Photographer Evy Mages was steps away when a Dodge Challenger plowed into the crowd, killing one person and injuring 19. Hours earlier, she'd been photographing radical-right activists on the streets of Charlottesville, where they'd gathered for a rally dubbed Unite the Right.
Among a group carrying shields was a young man who looks a lot like the jailhouse photo of Fields.