It was a Friday night, and Peter Chang was quietly surveying Q, his soaring Bethesda dining room, in a dark-blue golf shirt. If you know anything about the legend of Peter Chang, you know this is a very big deal.
Just over ten years ago, Chang had become a near-mythic figure on the culinary scene, first locally, then farther afield. He'd arrived in Washington from Beijing in 2001 to run the kitchen at the Chinese ambassador's residence. After two years, he went on to cook at places around Northern Virginia—China Star in Fairfax, Tempt Asian Cafe in Alexandria. Then, seemingly as soon as his cooking had earned a glowing review, he would ghost on the restaurant. The New Yorker's Calvin Trillin dedicated upward of 3,000 words to the "Changians" who obsessively chased the chef and his famous cumin lamb chops from Virginia to Tennessee to Georgia, all the while wondering what he was running from. Fear of success? Bad business deals? Immigration woes?
According to his daughter, Lydia Zhang, it was the last of those: He was undocumented. (He and his wife have since been permitted to live and work in the US legally.) But it was also his refusal to work for restaurateurs who didn't share his vision. "He'd rather have his freedom," Zhang said.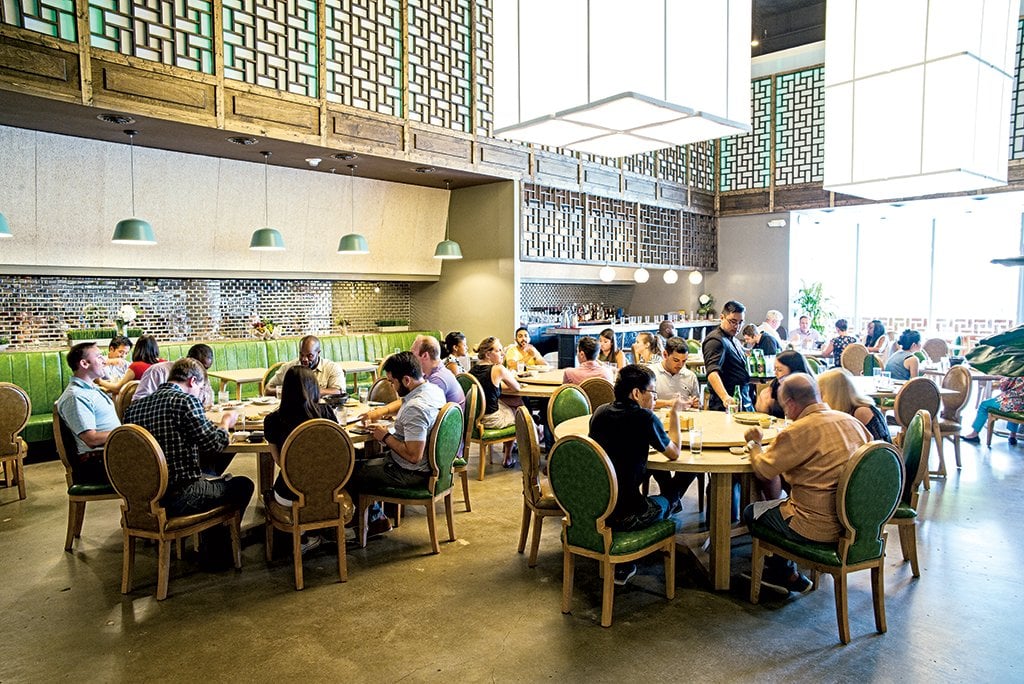 The last few years have been more settled for Chang, thanks to a partnership with a restaurateur named Gen Lee. The uncompromising chef and the business-savvy Lee have built a small empire of low-key Peter Chang restaurants in strip malls throughout Virginia and in Rockville.
Q, though, is quite a departure from the other restaurants. The 5,000-square-foot jade-green-accented dining room feels grand, despite its office-building address, and is rife with elegant touches (smooth chopsticks imported from China, dramatic serving dishes). Most important, Chang wants to shake many customers of their expectations about what a Chinese restaurant in an American suburb should be. The new eatery is neither cheap nor especially accommodating—entrées are in the $20 range and often won't leave you with tons of leftovers. There's no sesame beef or General Tso's here, as there are at Chang's more casual spots.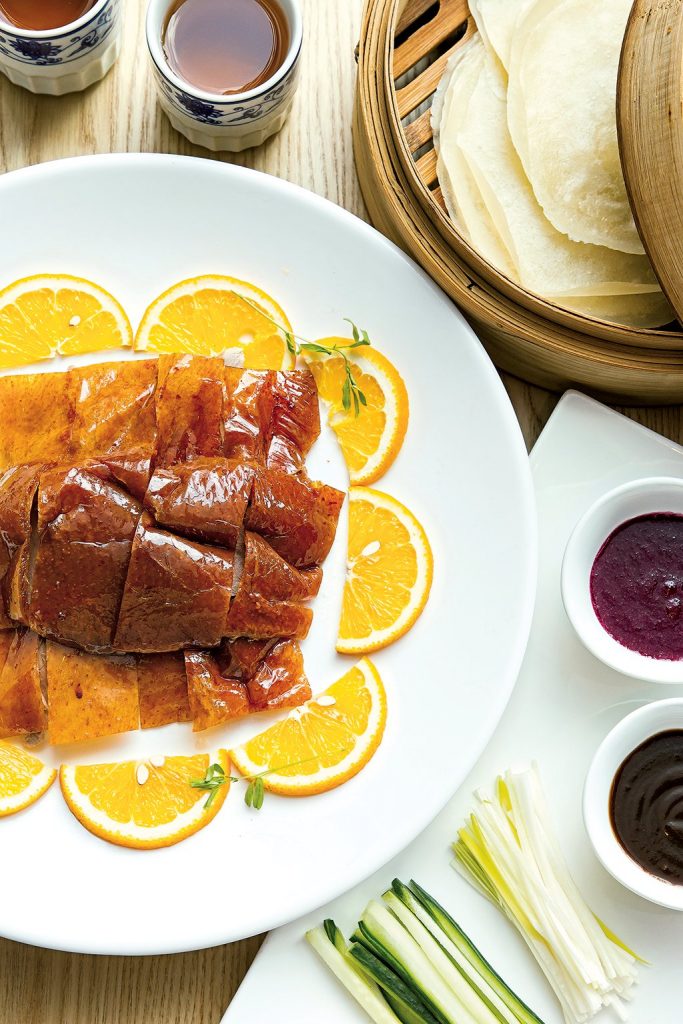 Instead, diners will find far more memorable creations made with fresh, not frozen, ingredients. Many of the dishes that made Chang famous still wow. There are the fabulous spears of dry-fried eggplant, which look like French fries but boast wonderfully creamy interiors. (The vegetables are coated with flour, then deep-fried, then stir-fried with spices both numbing and aromatic.) A similar technique is used on the bamboo fish, a heap of perfectly crunchy filets of flounder tossed with plenty of cilantro. And you can't visit and not get the fish rolls—yep, also fried and featuring plenty of cilantro—which resemble slender spring rolls but are filled with minced flounder and served with a sweet dipping sauce. (Credit for those goes to Chang's wife, Lisa, also a trained chef.) One fried item to skip: the coral snapper, scored and deep-fried, then smothered in sticky-sweet sauce. Its chaotic tendrils look a little like a clown's wig and taste mostly of batter, not fish.
Despite the Szechuan influence of many dishes, chili addicts won't be pushed too far. A bubbling pot of mapo tofu was curiously shy on Szechuan numbing spices—even a little bland. A plate of Szechuan-style Kung Pao chicken with asparagus and peanuts only playfully singed the tongue. Meanwhile, the tame-sounding kumquat beef, featuring wondrously rich tenderloin marinated in the citrus juice, was blasted with black pepper.
Yellow curry, more warming than incendiary, makes a showing in many of the best dishes. It's in the background of a tangy mushroom stew Chang created for a dinner at New York's James Beard House—he's invited there every year—and in the mix of handmade noodles and threads of zucchini known as Summer Squash Emerald Noodle, inspired by a zucchini salad daughter Lydia had at a coffee shop. Scallion bubble pancakes, puffed up like birthday balloons, also arrive with a pleasant curry dipping sauce.
Chang hasn't been as well known for his Cantonese-influenced dishes, but you won't want to miss his dim sum chef's offerings. If you hit Q for lunch, try them in a sampler, a grid-like array of lovely dumplings, fritters, and the showstopper, a sweet, custardy egg-yolk bao. (The weekend dim sum lineup, with translucent-skinned shrimp dumplings and terrific rice noodles with beef, is similarly rewarding.) Only one dumpling plate—dubbed Joyful Pyramid Dumplings, a $16 quartet with various fillings—left me feeling underwhelmed and a little stiffed.
Chang's Peking duck can be a bit inconsistent—the skin might be beautifully crackling and bronze one day, flabby another—but when it's on point, as it was most of the five times I ordered it, it's the best in the area. He clearly prizes the dish, served both whole and in appetizer portions; he even ordered a special oven to roast the marinated ducks throughout the day, and he makes all of their accoutrements, including the filament-like pancakes. Sure, you can swipe it with the dark hoisin sauce you'll find at every other joint, but then there's a Changian touch you won't see anywhere else: a swipe of magenta paste made from garlic, honey, and rose petals.
It's yet another brilliant stroke that also acts as a affirmative answer to the question newcomers are still asking: "So this Peter Chang guy, is he worth the hype?"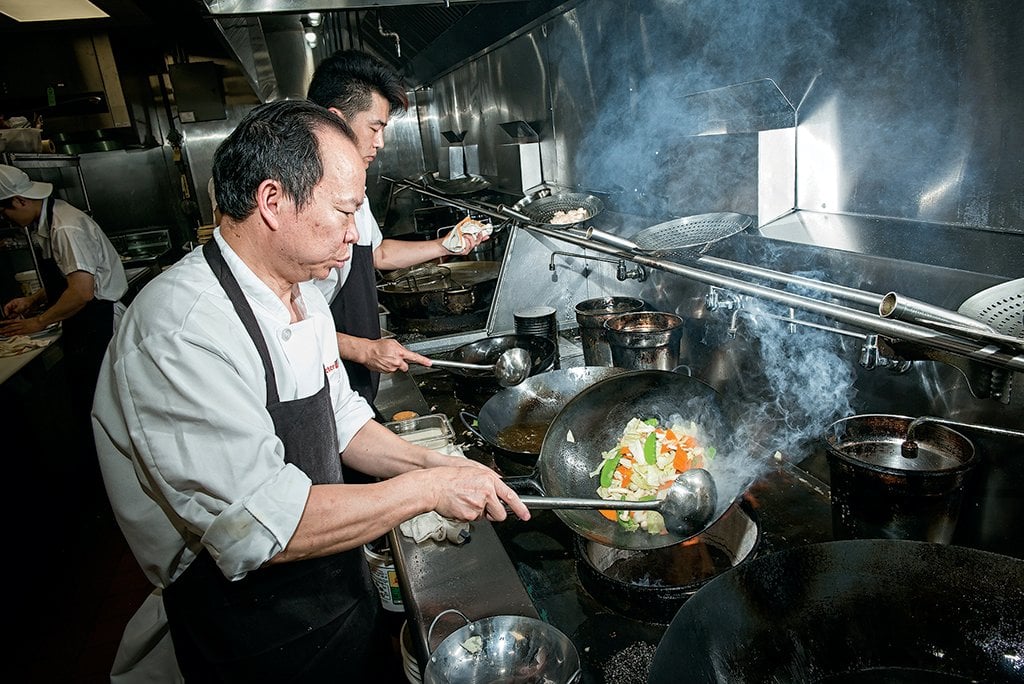 Q by Peter Chang
4500 East-West Hwy., Bethesda; 240-800-3722
Open daily for lunch and dinner.
Neighborhood: Downtown Bethesda.
Dress: Despite the refined surroundings, most folks are in office gear or jeans.
Noise level: Surprisingly quiet and contained, given the sky-high space.
Best dishes: Dim sum sampler; scallion bubble pancake; cilantro fish rolls; bamboo fish; cumin lamb chops; summer-squash emerald noodles; hot and numbing beef noodles; Kung Pao chicken; kumquat beef; mushroom stew; Peking duck.
Price range: Starters $4 to $16, entrées $15 to $30.
What the stars mean: ★★★★ exceptional; ★★★ excellent; ★★ very good; ★ good.
This article appears in the October 2017 issue of Washingtonian.
---