If you've walked by Union Market in the past few weeks, you may have noticed the chalkboards outside the entrance asking passers-by to offer a kind thought, leave a compliment for a stranger, or write up something they learned that day. Responses ran the gamut from funny and endearing to loving and sincere: "You have exactly the same number of super powers as Batman," "You're better at parallel parking than you think," and "Replace the 'love of power' with the 'power of love.'"
The chalkboards were Union Market's way of sparking conversation about kindness in the days leading up to Instagram's #KindComments campaign. Reflecting the app's goal to "become the most inclusive online platform," according to Instagram policy manager Karina Newton, the campaign rolled out new app features—one lets users block offensive comments, another makes it possible to anonymously flag live videos of those who look like they need help or mental health support, which automatically sends an encouraging message to their account.
To extend the campaign beyond the app itself, Instagram is installing inspiring #KindComments murals around the world—and Union Market is one of four U.S. locations selected to receive one. Designed by local artist Dallas Clayton, the mural will be unveiled at a launch event on Wednesday, October 11. The hope is that those who walk by the colorful wall will stop and snap a picture, then share their #KindComments portrait on Instagram.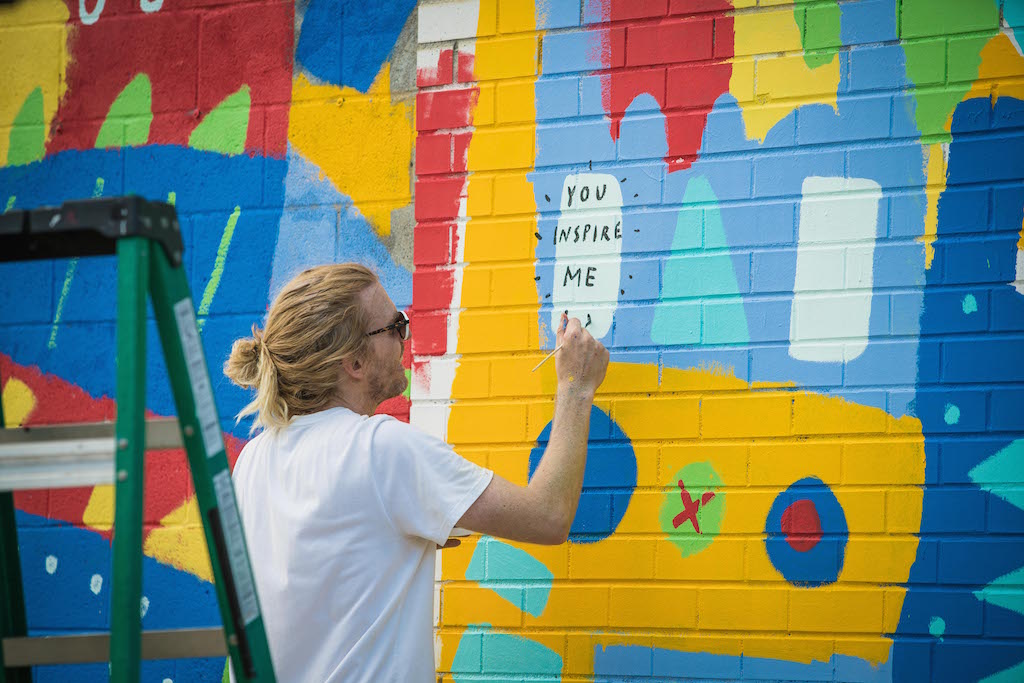 No stranger to Instagram (or photogenic murals, for that matter), Union Market might seem like an obvious choice off the bat—but it was a more compelling reason that initially drove Instagram reps to DC's foremost culinary incubator.
"Over 80 percent of Instagram users follow a small business," says Newton, "and Union Market is really a central gathering place for those businesses in DC." 
The #KindComments campaign is meant not only to encourage positive commentary on individual photos, but to engage that same generous spirit when it comes to entrepreneurs using Instagram to promote their businesses. That's why DC's iteration of the campaign includes a business mentorship program: Instagram paired two young, DC-based entrepreneurs who started their businesses on the app with established small-business owners in similar fields. DC high-school student Julia Chon, who started an animal-illustration business, will be paired with Jess Melaragni, a 16-year-old artist in England who's designed art for beach towels, shirts, and phone cases. And DC high-school student Olivia Trice, who founded a custom crochet-wear company, will be paired with Shadé Akanbi, owner of a Brooklyn-based clothing line that uses textiles from artisans around the world.
Chon and Trice will both be at the launch event on Wednesday, along with Clayton, Instagram chief operating officer Marne Levine, and Congressman Scott Peters (an avid Instagram user). Union Market's director of strategy Jennifer Maguire Isham worked with Instagram to ensure the event reflects the campaign's small-business angle: local businesses Cotton & Reed, B. Doughnut, and TaKorean will be providing food and drink, and DC-based band Twenty20 will take care of the live music.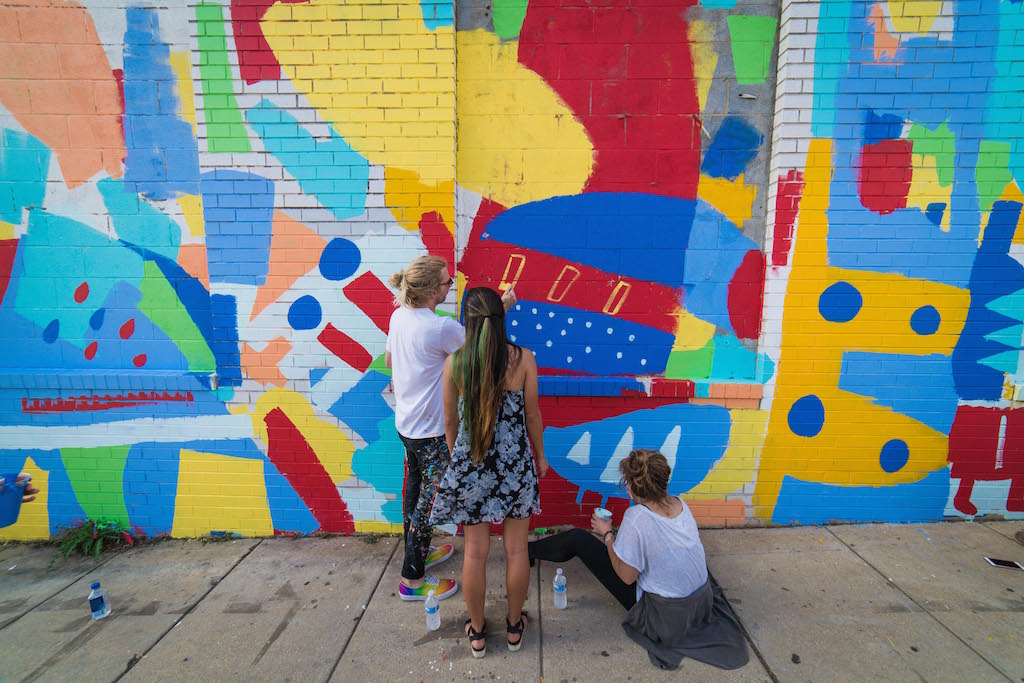 As for the mural itself? The idea is that it evokes conversation about kindness—both in real life and via Instagram photos—long after the launch event is over. "We've seen how images create empathy and promote understanding on Instagram," Newton says, "and we've also seen people around the world taking pictures in front of street art, so it was those two ideas together that inspired the #KindComments murals in the first place."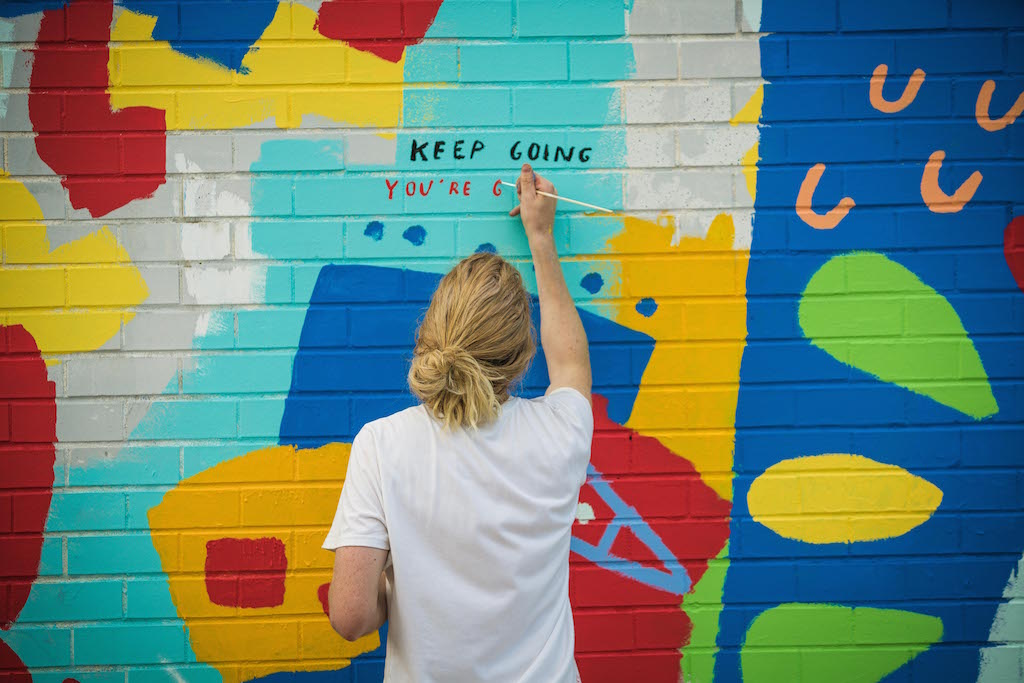 In designing DC's mural, Clayton incorporated some of Union Market's positive chalkboard commentary (above, he writes "Keep Going, You're Great"), creating a piece with a message as uplifting as its bright colors. DC is also the only city included in the Instagram campaign to enlist the help of local students in the painting of the mural—specifically students from the nearby KIPP school who walk past the wall every day.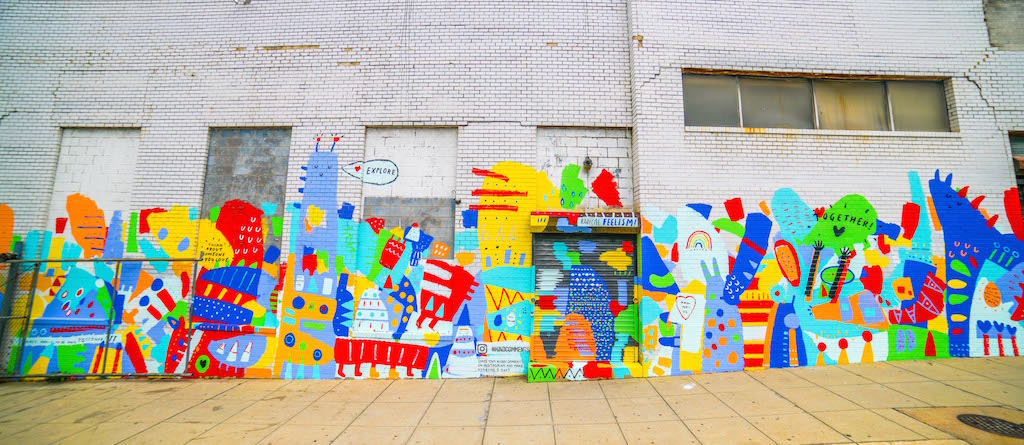 The #KindComments mural launch event is at Union Market (1309 5th St., NE) on October 11 at 3 PM.