One of the most ambitious restaurants slated for the Wharf is here: Del Mar, the luxe Spanish spot from Fiola Mare restaurateurs Maria and chef Fabio Trabocchi. The Southwest waterfront dining room, which pays tribute to Maria's native Mallorca, opens for dinner tonight.
The husband-and-wife owners have proven that they don't do anything casually. (Even their more dressed-down ventures, Casa Luca and Sfoglina, adhere to a Trabocchian level of polish and indulgence.) Del Mar may be their most elaborate project yet, partly due to scope and size. Once all is said and done, the restaurant will span nearly 240 seats, including a second-floor event space with its own terrace, bar, and catering kitchen (open to the public on certain nights); an al fresco cafe and bar in a nearby piazza; and cabanas by the water. (The latter two are slated for next spring).
Expect custom-made everything. A team of interior designers from Barcelona spent over two months in DC transforming new construction into a modern-Mediterranean escape, while Maria worked with a Miami-based fashion team to design chic uniforms for the staff.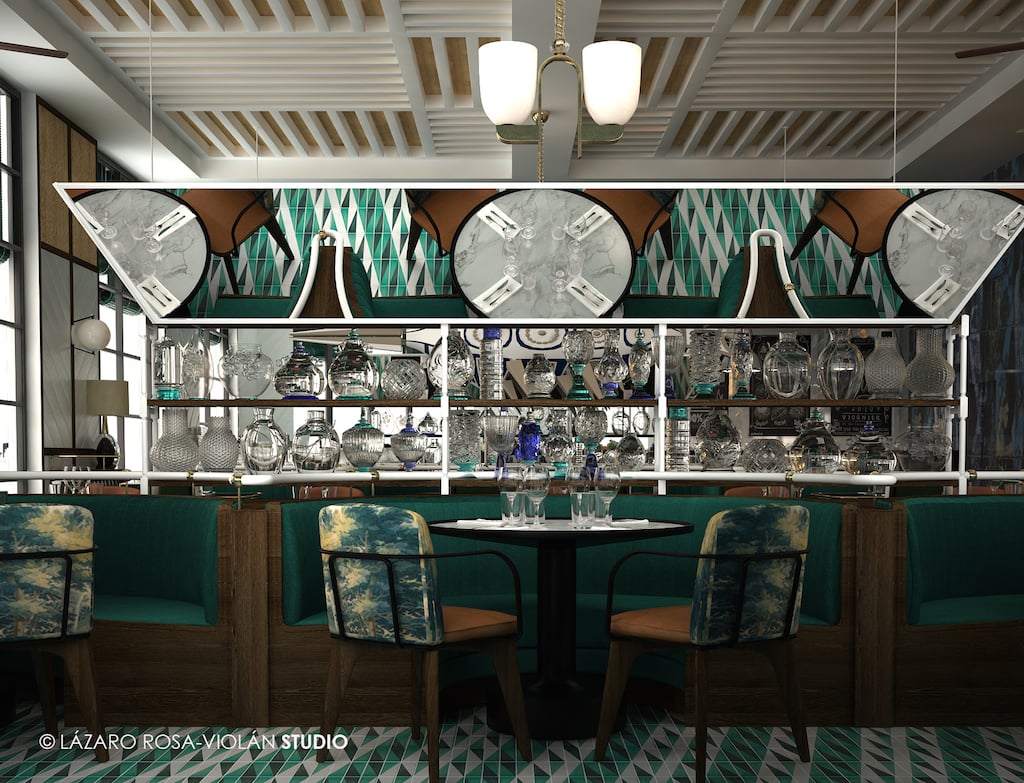 Like at Fiola Mare, seafood stars on the menu—especially delicacies like red prawns from Palamós (the oceanic equivalent of Spain's sought-after Iberian pigs), or Mediterranean spiny lobster. The latter is incorporated into caldereta de langosta, a Mallorcan seafood stew that's typically consumed family-style from an earthenware dish. At Del Mar, the stew is served table-side, and the clay vessel is carried back to the kitchen. Chefs then soft-scramble eggs inside the pot to catch all the extra lobster flavor. A charcoal Josper oven also produces grilled seafood to evoke the rustic flavors of eating by the sea.
Sharing is encouraged across the board, whether raw bar plateaus, pans of paella—prepared in a special oven for socarrat, perfectly-caramelized rice at the bottom—or tapas. Small plates fall into two categories: modern and classic. The former includes dishes like ensaladilla rusa (potato-tuna salad) reimagined with avocado, salmon roe, and mayonnaise foam. Twists on more traditional tapas come through luxury ingredients, such as head-on Spanish prawns al ajillo, or tortilla Espanola crowned with add-ons like shaved jamon or caviar. Fabio says warm weather will bring more dishes from southern and coastal Spain, while the kitchen will shift its focus to heartier northern fare in the winter.
Del Mar is new territory for the Italian chef, whose built a national reputation—and growing restaurant empire—on cooking from his home country of Italy. Still, he says it feels familiar.
"I've been part of my extended Spanish family for over 20 years," says Fabio. "Spanish cuisine is well ingrained into my DNA."
Del Mar de Fabio Trabocchi. 791 Wharf St., SW; 202-525-1402. Open for happy hour (bar only) and dinner.