This summer, SplashCycle, an underwater "aquacycling" class, started leading workouts in the pool on the rooftop of Dupont's Embassy Row Hotel. But now that summer has come to a close (or at least, that's what they keep telling us) and temperatures are dipping (are they though?), the classes have moved indoors. Now hosted at the Watergate Hotel's Argentta Spa, the classes take place in the spa's swanky tiled pool.
What, exactly, is aquacycling? So glad you asked. Aquacycling involves sitting on a stationary bike that's submerged in water, using the water for resistance as you pedal. The best part? If you're used to sweating through your shirt in SoulCycle, no one will be able to tell your perspiration from pool water in an aquacycling class.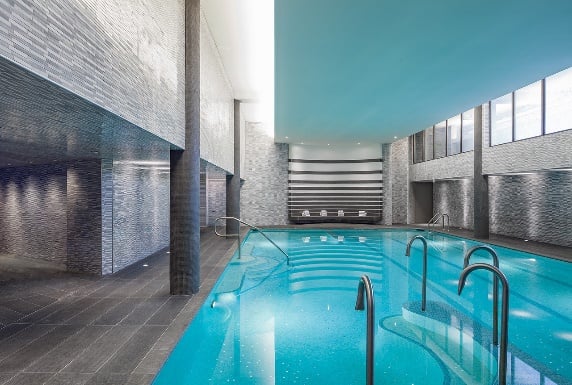 SplashCycle's new Watergate schedule includes classes on Mondays at 6:30 and 7:30 PM; Tuesdays at 7 AM, 8 AM, 6 PM, and 7 PM; Wednesdays at 6:30 and 7:30 PM; Thursdays at 7 and 8 AM; and Saturdays and Sundays at 9:30 and 10:30 AM. Individual classes cost $30, but in addition to the class, the ticket price gets you into Argentta Spa for the day to enjoy its whirlpool, sauna, gym, and steam room.
Ready to give it a try? On Thursday, October 26, SplashCycle is celebrating their Watergate launch with discounted classes. The $20 class fee gets you a glass of prosecco in addition to one session of SplashCycle. RSVP on SplashCycle's website to attend.