Mike Isabella bounds into a private room at his downtown Spanish-Moroccan restaurant, Arroz, dressed all in black and radiating relaxed energy. It's lunchtime, and the place is in full rush mode—even behind a closed door, you can hear the dull clatter of patrons digging into their salt-cod croquetas and fried-chicken bocadillos.
But as busy as Arroz is, it's nothing compared with everything else Isabella has going on. Since opening his first restaurant, Graffiato, in 2011, the New Jersey native has dramatically expand-ed his Washington-area culinary empire. He owns more than a dozen local restaurants, including Fairfax's Requin Brasserie and four locations of Greek-focused Kapnos, along with a catering business and several food stalls at Reagan National Airport and Nationals Park.
Now the restaurateur is unveiling his highest-profile projects yet: the fine-dining destination Requin, which is one of the Wharf's key initial offerings, and Isabella Eatery, a 41,000-square-foot food hall that's set to debut inside Tysons Galleria.
How is he handling it all? "I'm running fast!" he says. "I don't know if anything in my life will ever be as busy as this year." But despite his over-programmed schedule and ever-spiking stress levels, Isabella took time to talk about how he got here and where his business might be heading.
Before you opened your first restaurant, when you were head chef of José Andrés's Zaytinya, you appeared on Top Chef. Part of the reason you got eliminated is that the judges thought you were too arrogant. How has that cocky, New Jersey–ish personality gone over in Washington, which has a pretty different style?
Well, I don't look at it as cocky. I'm sarcastic. Where I grew up, there was a lot of smack talking, and if you don't know me, you might not get that it's a joke.
Did I come off as arrogant? I did. When I left the show, I was bitter about it, but it was very humbling to see myself on TV and grow from that. I needed to grow up. I don't want people to walk into my restaurants and be like, "You're a jerk!" when they don't even know who I am.
On the other hand, having that kind of self-confidence must have helped get you here.   
During Obama's inauguration in 2009, [cookbook author] Joan Nathan threw a party for celebrity chefs. I was working at Zaytinya, and they asked me to cater the event. I brought a charcoal spit and put it outside in the snow and spit-roasted a goat over the fire. Tom [Colicchio, head judge on Top Chef] comes out and starts talking to me—we were just laughing and joking. Then I said, "You know, I respect you a lot, but I'm a little disappointed in your show. You have a bunch of people on there who can't cook for shit, and I've worked my ass off for multiple James Beard chefs and restaurateurs. It's disrespectful to people like us who are busting our butts. You need to get some talent on there."
He started laughing. And then the next week, I got the phone call.
Being on that show raised your profile enormously. Not long after, you opened Graffiato.  
I didn't really have any money. I threw some tables and chairs and a wood oven in there, and I'm like, "I'm going to make it work. I'm going to be here cooking every day. I'm going to make sure people like my food." And there was a line out the door.
I felt like it helped change DC's food scene. It's like, you don't need to spend [a ton of money] to open up a restaurant like Central or Zaytinya or Rosa Mexicano, all those big brands. You can serve good food in an up-and-coming neighborhood, and you're going to get the support of the people around you. Word of mouth is how you build your business.
There are a lot of restaurants like Graffiato now, whether they're Italian, American, Filipino—small restaurants where the chef's in the kitchen, they didn't put a lot of money in there, but it's awesome food and a fun time.
Of course, now you are a big brand opening huge places that cost millions of dollars. Do you feel like something has been lost in that transition?
No, I think you can have a little bit of everything. We have our little ramen shop in Virginia [Yona] and our little cantina serving tacos in Virginia [Pepita] and our pizza shop [Graffiato]. And we want to do some new things—a high-end French restaurant in the Wharf and a beautiful food emporium.
Now that you own so many places, you can't spend too much time in any one of them. When you walk into one of your restaurants, what are you on the lookout for? What kinds of things drive you nuts as an owner? 
I'm livid right now that my umbrellas aren't up outside. A tree is kind of blocking the Arroz sign. I still don't have the permits for my patio, but I'm like, just put the umbrellas out so people can see that there's a restaurant here!
But yeah, every time I'm in my restaurants, I walk into the bathrooms, make sure they're clean. I walk behind the bar, into the kitchen, talk to them, see what's going on. I just want it the way I want it. I feel like I've earned that—to know what I want and what works.
You'll stand there and inspect the food before the kitchen sends it out? 
Yeah, they hate when I do that. Anything could not be right: too much pasta in the bowl, not enough sauce, sauce is too dry, plate didn't get wiped—a lot of things. It's all details. I could walk by the dining room and see that there's no water in someone's glass, and I'll go call the server.
Well, I actually have a peeve about one of your restaurants.  
Okay . . . .
Kapnos Kouzina in Bethesda is so loud that I feel like I can't even have a conversation.
You know, it was even louder when we opened, and then I covered half of the ceiling with sound paneling. Sometimes on busy nights, it is a little bit loud. We've talked about it. I just haven't gotten around to paneling more. But it's not going to help that much more. It's the size of the space and the floors and the glass. It's disappointing, because you're not the only person who tells me that. It's sad that there's not a lot I can do at this moment, and that steers people away.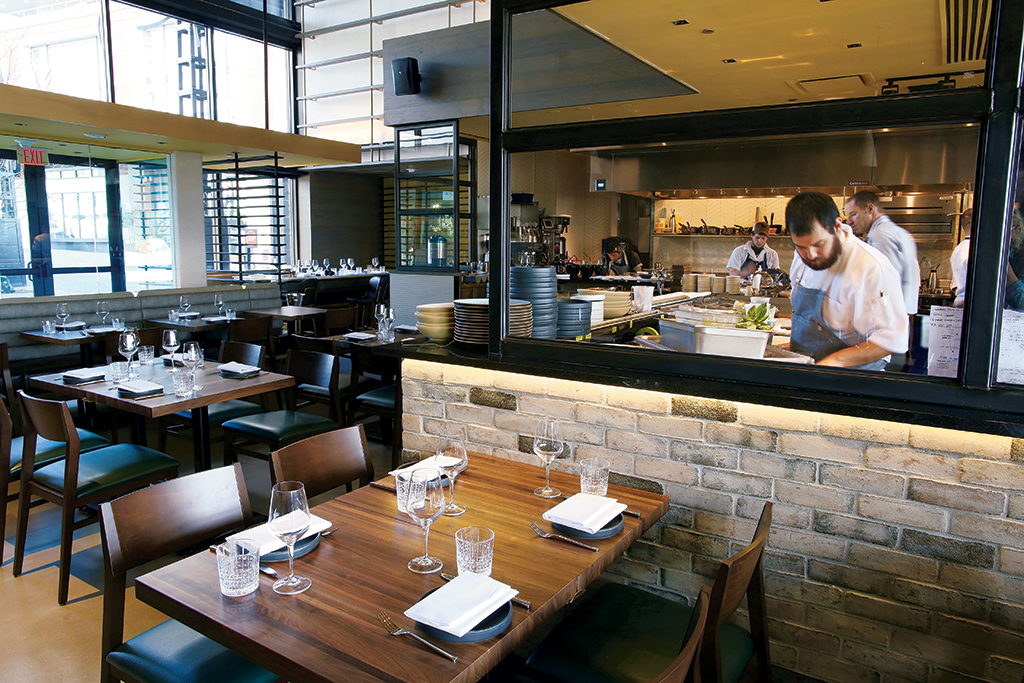 How does it feel when you get that kind of negative feedback? Does it make you angry when people criticize places that you've put so much effort into?
Everyone has their opinions. It's the same thing as eating a piece of pizza—every place thinks it makes a better pizza than the next. But not everything's an opinion. Certain things are facts. Being too loud at Kapnos Kouzina on a busy night is a fact.
You've built an unusually big restaurant operation in an unusually short time. Where does that drive come from?
I always wanted to be the best, you know? When I was six years old, I was a high-energy kid and used to harass everybody, and my grandmother pulled me into the kitchen and had me start rolling meatballs, picking parsley, peeling garlic. I loved it. After high school, I putzed around for a bit and then finally went to culinary school.
I always told myself this is the only thing I want to do in my life, and I have to be good at it—because if it doesn't work out, what am I going to do? I can't become a doctor or lawyer or go to college, any of that stuff.
But lots of chefs put that kind of effort into just one or two spots and find it very fulfilling. Why is that not enough for you? [Long pause] I don't know. I mean, certain people grow up wanting to be a movie star. Who wouldn't want to be Robert De Niro or Al Pacino? It's a great feeling. Opening places is a lot of work, but I would get bored if I didn't do it.
Where do you take your business now?
I don't have that answer. We have nothing on the board right now. I have to get through this year—this is a very big year! I'm definitely going to take a break.
Do you hit a limit on what you can do in Washington at some point?
Yeah, I think we're pretty close. I do feel like I am running out of real estate. I don't want to compete against myself. I could probably do one or two things down the road if the right space came about in the right area, but I'm not looking. I probably have one project left in DC. I think there's some room here and there in Maryland.
I go through spurts where I'm like, "I'm done, I'm done, I'm done." Then things slow down a bit and get on track and I'm like, "Okay, what's next?"
This article appears in the December 2017 issue of Washingtonian.