This year has been a boom time for hipster Asian spots (Chiko, the Block) and big-restaurateur productions (Mike Isabella's Tysons Galleria food-court takeover, the clones and spinoffs at the Wharf). But it hasn't seen many character-heavy, personality-driven dining rooms—the kind of places that give a food scene real vibrancy. One prominent exception: Bresca, the first solo project from former Ripple chef Ryan Ratino.
During the month I spent eating at Bresca about once a week, I actually started dreaming about it. Maybe that's not so out-there—the detail-obsessed Ratino has crammed his little world with trippy touches. You drink honey-tinted gin cocktails out of glass bees, and the secret-garden-like space is backed by a wall of real moss. Vintage French prints painted over with animals in striped suits hang on the deep-blue walls. If Ratino ever wants to peace out on the chef life, he has a future in design. (He says his investors would often ask him, "Are you Googling plates again?")
But let's hope he doesn't. The 27-year-old Ohio native is one of the most interesting rising talents on the scene. Ratino's career has taken him from the Playboy Mansion ("lots of salads with Wishbone dressing") to a Todd English dining room in Orlando (where he had the resources and creative freedom to experiment and experiment) to L'Auberge Provençale in rural Virginia, which taught him to forage and get to know local farmers (he now grows about 75 percent of Bresca's herbs on the restaurant's roof). Seven months after the chef landed at Cleveland Park's Ripple, the restaurant folded and he ventured out on his own.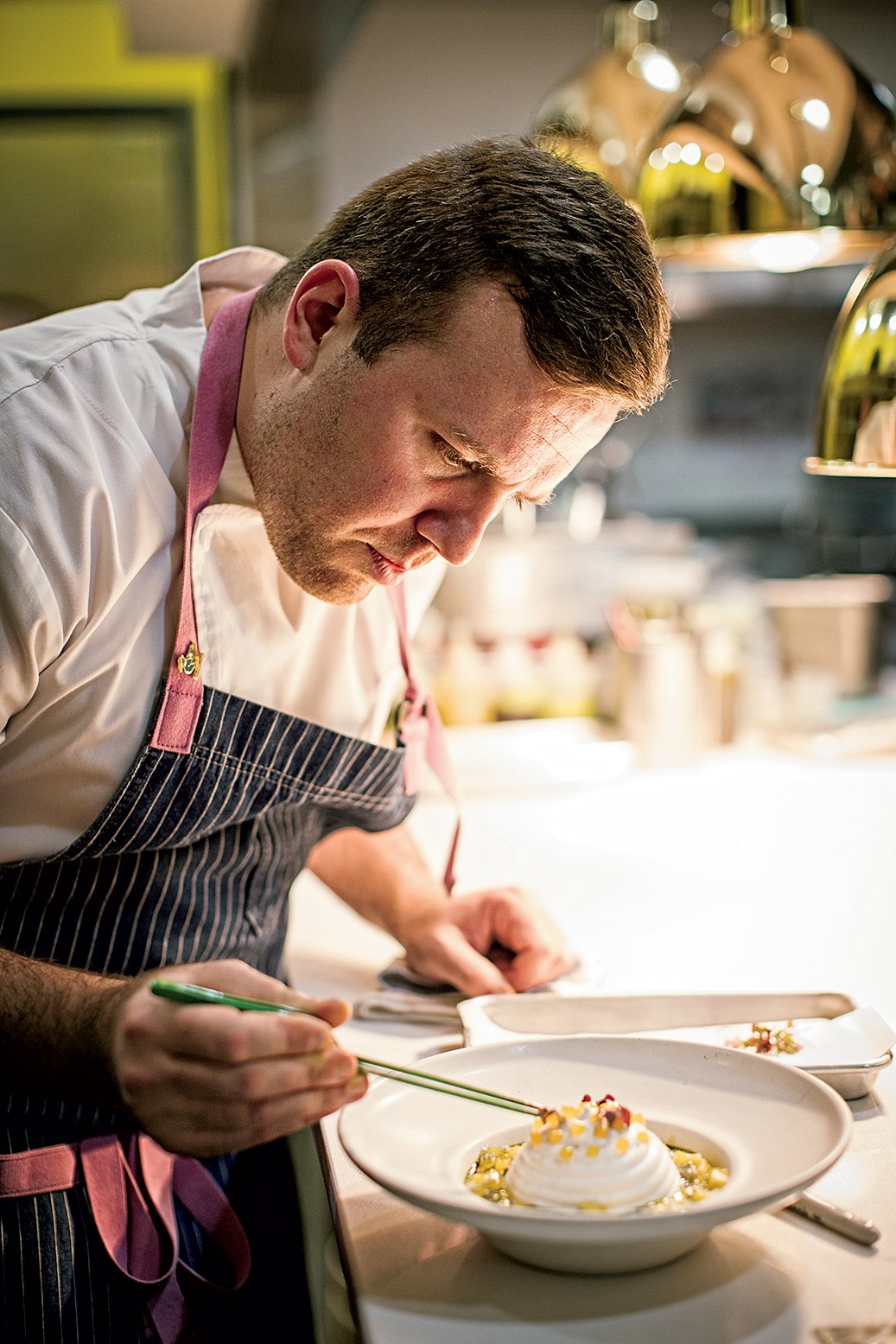 On Bresca's quirky menu, he mixes dashes of the Midwest with Spanish surrealism and French luxe. Cake pops live next to crémeux. And although the menu includes a $68 steak, it comes with a name that shrugs off stuffiness: "Old a** entrecôte." Ratino dry-ages the rib eye himself for no fewer than 65 days. (That's way longer than many steakhouses bother to do, if you're keeping score.)
The processes behind many of his dishes can be astoundingly complex. Ratino says he always has steak and potatoes on his menus so that his dad feels comfortable eating in a fancy restaurant. But that simple-looking entrecôte, presented on an ornate silver tray, gets its intense savoriness from three separate sears, marinations in soy and in mirin, a rest in a bath of emulsified melted butter inside a sous-vide machine, and a brushing of "umami paste," made from a bunch of mushrooms, seaweed, onions, sherry, and soy sauce. On the side: a beautifully bronze pavé of paper-thin potatoes that have been fried in the steak's rendered fat, a buttery dish of mushrooms and onions, and a wedge salad ladled with the best Green Goddess dressing you've ever tasted.
Elsewhere, you'll have the most fun dabbling amid the appetizers. The "foie gras PB&J" might conjure memories of the cloyingly playful comfort-food menus of the early 2000s, but Ratino's creation is a marvel—cubes of cured duck liver meticulously arranged with dabs of Concord-grape jelly. The server lifts up the plate to reveal a hidden bowl of perfect, warm madeleines underneath. You might be similarly skeptical of a pairing of Olde Salt oysters with a foam of Earl Grey tea and vinegar. Don't be. The salty-sweet quartet even made a convert of one of my bivalve-phobic friends. Buckwheat pancakes might be the kitchen's least favorite dish to make—"We go through 250 pancakes to get five good orders," Ratino says—but again, load up. The blini-like rye-scented rounds pair beautifully with a slathering of parsley-root ice cream and smoked trout roe. And both a painterly pineapple-and-carrot salad and a slice of dark and dense rye bread piled with pastrami-spiced beets are reasons in themselves for vegetarians to pay a visit.
At times, though, it seems that Ratino has trouble getting out of his head—and into the actual experience of what it's like to eat his food. Order a starter of radishes and you're met with a dish of oily red bulbs. To the side, there's a bouquet of greens tied with string, along with an eggshell-shaped dish of that superior Green Goddess dressing. How to approach it? Pick up the radishes—which have been compressed with sugar, salt, and olive oil and stuffed with seaweed-laced butter—and they nearly slip out of your fingers. Try to cut them? Good luck. And is the dressing for the greens or the radishes? The components are tasty enough, but the cutesy presentation ultimately doesn't make a lot of sense. It doesn't help that servers tend to drop off dishes without any explanation.
The kitchen also has consistency issues—one night's uni linguine was overcooked and unbearably salty; on another try, it was fabulous. (The other pasta, a chestnut agnolotti with braised rabbit, was a hit both times I sampled it.) A few of the larger plates were forgettable. A chicken breast wrapped with house-made Ibérico-ham bologna tasted over-brined, while a filet of barramundi made an odd match with the flavors of Caesar salad.
Still, Ratino might be the hardest-working chef in a notoriously backbreaking business. He handles dessert, too! (Go for the hive of meringue hiding ripples of passionfruit and basil oil.) And Bresca is one of the most fascinating restaurants to hit Washington in a long time. It might not be perfect, but I can't stop daydreaming about going back.
Bresca
1906 14th St., NW; 202-518-7926
Open Tuesday through Sunday for dinner.
Neighborhood: 14th Street corridor.
Dress: The spiffy setting should inspire you at least to dress up your jeans.
Noise level: Like a loud cocktail party.
Best dishes: Foie gras PB&J; pastrami beets; buckwheat pancakes and trout roe; pineapple-and-carrot salad; oysters and tea; chestnut agnolotti; entrecôte; tropical ambrosia.
Price range: Snacks and salads $7 to $25, pastas and large plates $19 to $68 (steak for two).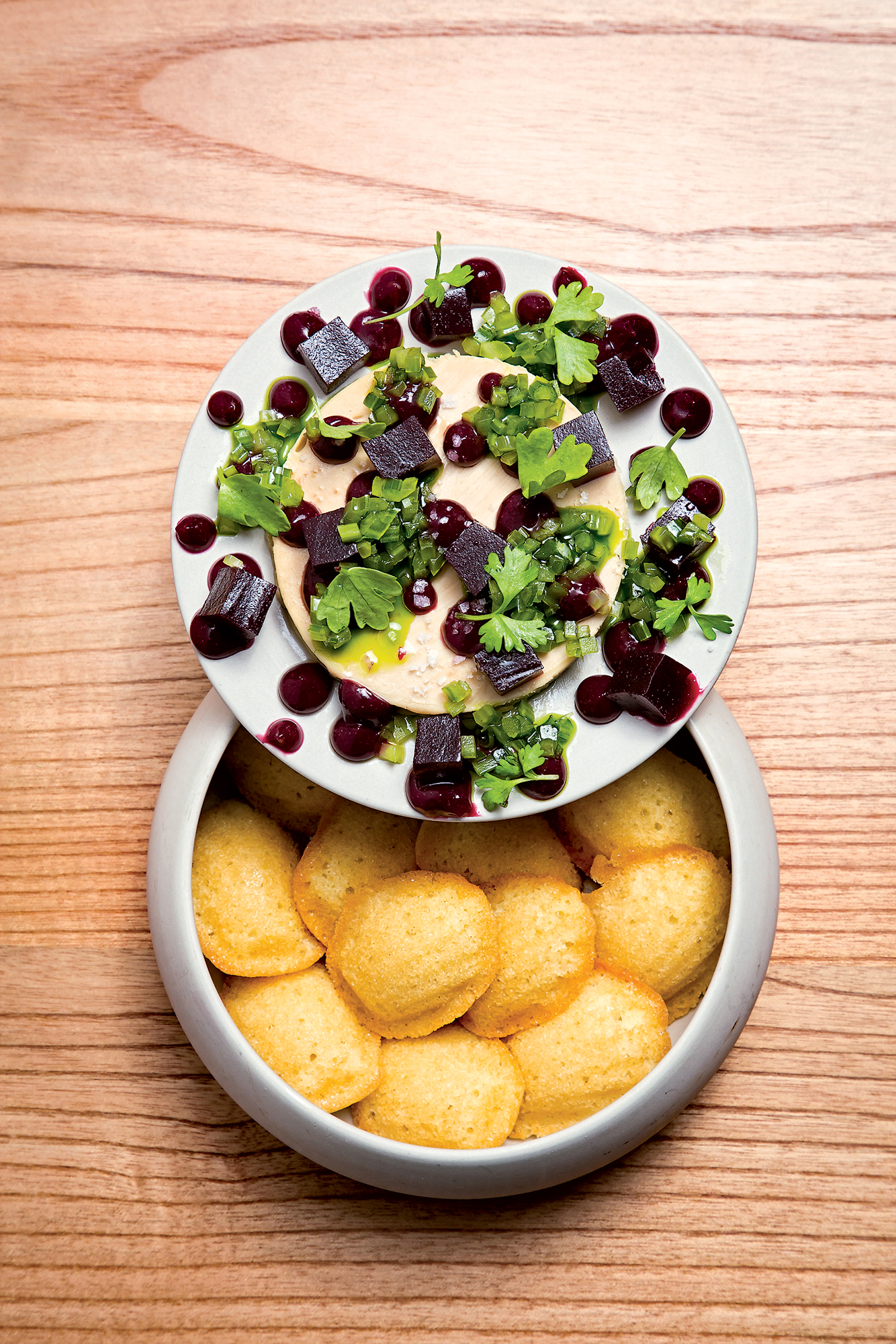 This article appears in the December 2017 issue of Washingtonian.
---