Not a single bookstore opened east of the Anacostia River for more than 20 years. That streak ended last month when Derrick and Ramunda Young opened MahoganyBooks, specializing in  literature that they hope reflects their community's diversity.
The Youngs first launched MahoganyBooks as a niche online retailer ten years ago, working out of a one-bedroom apartment in Alexandria. They had both been working in digital commerce, but wanted to pivot to a business they felt more connected to—for the couple, this meant selling books by and for people of the African diaspora.
"Our concern was telling a broad story of the African American experience," says Derrick, who got his start working at Karibu Books when he was a student at Bowie State University. Karibu, a beloved book retailer with a focus on black literature, did business in the DC area for 15 years before shutting its doors in 2008. During his time working at Karibu, Derrick was exposed to writers like Ayei Kwei Armah and Huey P. Newton, and read books that left an indelible mark on his identity.
As a student at Langston University in Oklahoma, Ramunda was similarly shaped by the literature around her. "Going to an HBCU, I had never been in an area surrounded by that many black books," she says, citing works like Sister Souljah's No Disrespect and Anthony McCall's Makes Me Wanna Holler as favorites.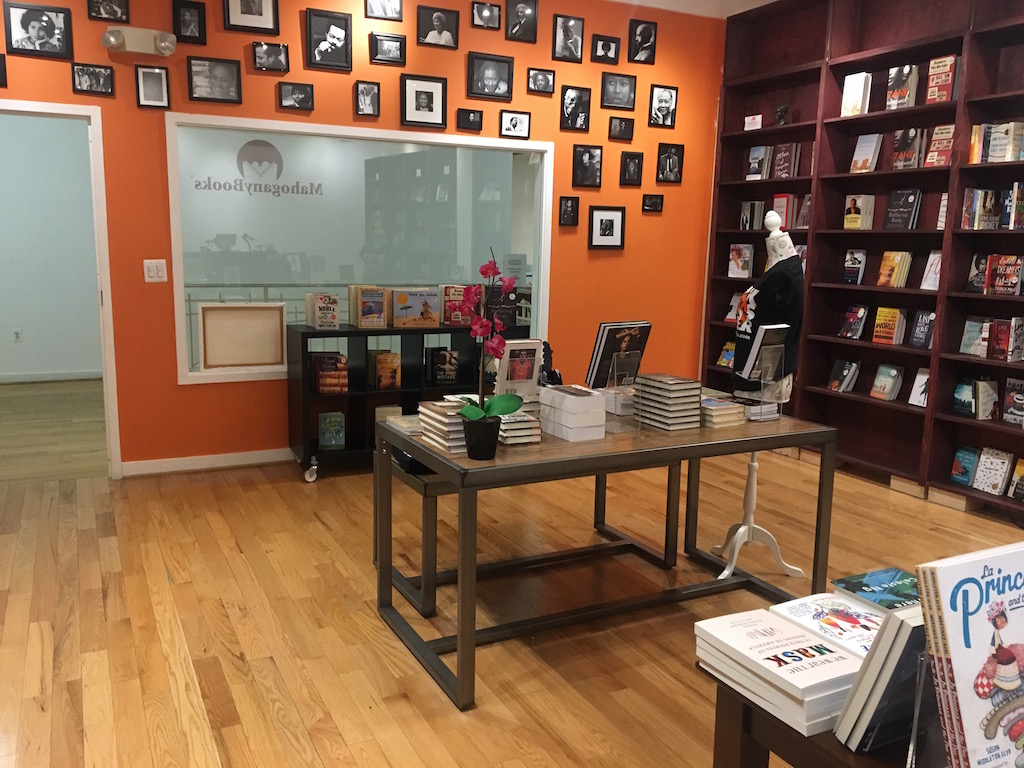 Over the years, the Youngs have curated a collection of titles that address various facets of the black experience. With their new brick-and-mortar outpost, which is located inside the Anacostia Arts Center, they're hoping to fill a void that was left with the closure of bookstores like Karibu. On the shelves, customers will find both popular titles—Ralph Ellison's Invisible Man, Chimimanda Ngozi Adichi's Americanah—as well as works by up-and-coming authors such as Stephanie Watts and Yewande Omotoso. Over the years, the Youngs have formed relationships with publishers that focus on the African diaspora, such as Black Classic Press, which is owned by William Coates, father of Atlantic writer Ta-Nehisi Coates.
The Youngs settled on Anacostia because the saw a void to fill in the community. There is a dearth of bookstores in the area, and only about 20 percent of middle schoolers in Ward 8 read at their grade level. This is part of the reason the Youngs are focused on building up their collection of children and young adult literature, offering books including Rita Williams-Garcia's One Crazy Summer and comic-book titles like Marvel's Black Panther, for which the younger Coates has written recent issues. 
"People come in here and say, wow, I've been looking for books with my kids' faces on it," Ramunda says. "And to know that we can provide books with their kids faces on it…this helps with kids' self-esteem, identity, self-love."  
By reading the books on their store's shelves, Derrick hopes young African-American students will be exposed to a broader history than what they're taught in school. "When we start out the black experience as slaves, already we're stunted—and we don't talk about Timbuktu, we don't talk about Mansa Musa, we don't talk about this great expansive history," he says. (Mansa Musa, who ruled Mali in the 14th Century, is considered by some to be the richest person in history).  
MahoganyBooks's new store also has a shelf of literature curated by Duende District Bookstore, another local bookseller that promotes writers of color.
Now that MahoganyBooks' physical store is open, the Youngs are eager to carve out their place in the community. They hope it will not just be a place where locals stop in to find holiday or birthday gifts, but also a spot where they can linger and talk with one another. "The experience we want our customers to have is getting lost in the bookstore," Derrick says. "That excites me."
MahoganyBooks, 1231 Good Hope Road, SE.