Avocado toast might get all the attention, but it's not the only game in town (even if it is EVERYWHERE). Plus: it can ruin your future and make you homeless. Anyway! Chefs are upgrading toast in all sorts of other fancy, fun ways. Here are some of our favorites in the DC-area—and no, none of them come with unicorn colors, either.
Uni toast at Himitsu
828 Upshur St., NW
Chef Kevin Tien grew up eating eggs with toast for breakfast. He's given the dish an upscale Japanese twist with this "egg on egg on egg" creation. Toasted brioche is first covered with French-style soft-scrambled eggs finished with crème fraîche, then finished with Santa Barbara sea urchin and house-cured Alaskan king salmon roe. The exact flavors may change, but Tien plans to keep the uni toast as a menu staple.
Lobster toast at the Dabney Cellar
1222 9th St., NW
The new subterranean wine bar from the Dabney team features hams, cheeses, and a raw bar with perfectly shucked oysters and dreamy crudos. One of our favorite treats is the lobster toast. Cape May lobster is tossed with onion soubise, brown butter, and lemon, then bedded on house-made brioche bread.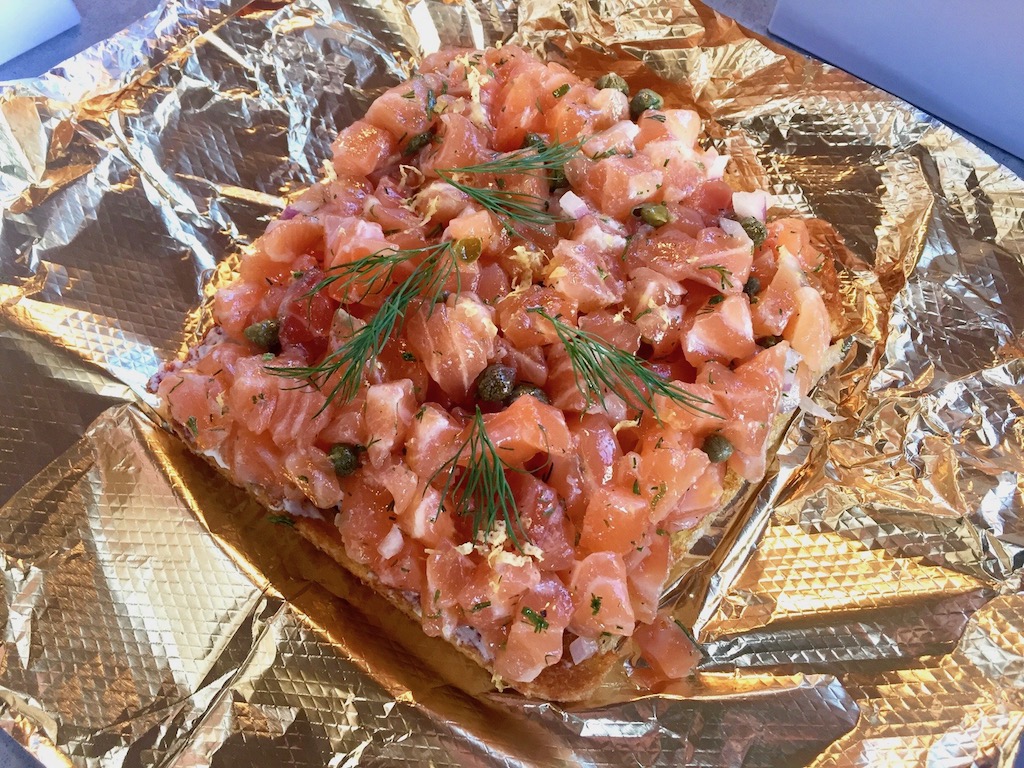 Gravlax and sourdough at Little Pearl
921 Pennsylvania Ave., SE
A bagel might seem like the natural platform for gravlax and crème fraîche, but this sourdough toast is so much more elegant. Capers, dill, and red onion pull together the classic deli flavors, but it gets some extra oomf from a layer of pickled fennel. The cured salmon is piled on so generously you can't see the crust. Bonus: if you get the toast to go, it's wrapped with golden foil in a present-like box.
Seasonal toasts at Tail Up Goat
1827 Adams Mill Rd., NW
Chef Jon Sybert's menu changes so frequently that it's hard to recommend just one of his homemade bread dishes. Our recent favorite: a warm red fife bialy crowned with creme fraiche, trout roe, pickled fennel, and crème fraiche. Expect a similarly creative combination of ingredients, textures, and flavors across the board.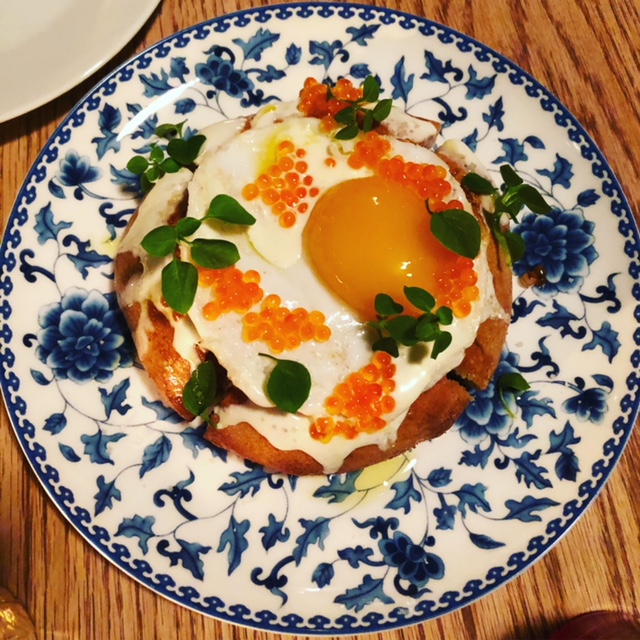 Snail and mushroom toast at Green Pig Bistro
1025 N. Filmore St., Arlington
It's listed under "snacks," but we could easily make a meal of chef Scot Harlan's specialty toast. It isn't Insta-friendly like all of those "smashed avocado" creations—so much brown on brown!—but the comforting blend of escargots and button mushrooms in a luscious cream sauce more than makes up for aesthetics.
PB&S Toast at A Baked Joint
440 K St., NW
This Mt. Vernon Triangle bakery/cafe offers a large and diverse number of toasts, from a simple buttered sourdough to quinoa-turmeric bread spread with yoghurt and za'atar. One of our favorites is a pullman-style loaf that's toasted and topped with homemade peanut butter, Sriracha, and fresh cilantro.