When the Wharf debuted in October—all cobblestone streets and twinkling string lights—only a handful of its slated restaurants opened along with it. And while there are still kinks to be worked out (spotty cell-phone service, pricey parking, and often full garages), it has emerged as one of the city's most exciting places to dine. Here's a look at three of the development's most ambitious high-profile debuts.
791 Wharf St., SW; 202-525-1402
It's hard to think of Del Mar as anything but the crown jewel of the Wharf. The gorgeously lit, glass-and-painted-tile space is as elegant as one of the silk scarves favored by Maria Trabocchi, who owns the place with her chef husband Fabio. Until now, the pair have created restaurants—including Fiola, Fiola Mare, and Casa Luca—that celebrate Fabio's Italian heritage. Del Mar is inspired by Maria's homeland, the island of Mallorca in Spain.
If you've ever eaten in a Trabocchi establishment, you know that no matter how low-key tapas can sound, laid-back is not exactly something Fabio and Maria do. (Even their "casual" Van Ness pasta house, Sfoglina, feels like a place where you should sit up straight.) Although the couple hails from elsewhere, they're Washingtonians to the core—she glides from table to table with a politician's ease and familiarity. Every detail has been fretted over, from the imported blue-and-white plates to the server uniforms Maria helped design. Meanwhile, check out the battalion of staffers hovering with Secret Service–like earpieces.
If the prices seem eye-popping—$98 for paella?!—you could argue that you get what you pay for. That paella has been cooked on a range built just for that dish, and the creamy bomba rice is loaded with impeccable lobster, mussels, calamari, and prawns. It can feed two generously, four if you front-load your meal with plenty of small plates. Either way, it's a dish worthy of a celebration. So, too, the lavish seafood platters, served on ornate silver octopus stands and brimming with sparklingly fresh langoustines—mine were sweeter than lobsters—and icy-cold oysters, among other shellfish. You could add a couple of glasses of Champagne and call it a very happy day.
But there's so much worth ordering on Del Mar's menu that it's tempting to go the grazing route: Ruby slices of sweet, nutty Ibérico ham fanned around a candle, which helps bring out the fat's flavors (seriously, they think of everything), and paired with freshly baked cristal bread. Glistening folds of raw tuna accented with artichokes and tangy apple aïoli. Gambas al ajillo that taste more like just-plucked shrimp than the garlicky olive oil. (At most restaurants, it's the opposite.) A rustic skillet of paprika-red smoked potatoes topped with lobster. This is some of the most luxurious, transportive food in Washington right now.
Then there's dessert. Should you go for the sugared churros oozing with chocolate-and-hazelnut filling? Or the horchata-flavored soft-serve? Tough call. If you must choose one, make it the flan—sweetened, according to a server, the way Maria likes it, with maple syrup and a bit of sugar and laden with a slice of blood orange.
The Trabocchis' ambitions here (their largest restaurant to date) are very grand. And their obsessiveness has paid off. At least in these early days, Del Mar feels—and tastes—like it could be their biggest hit yet. Very expensive.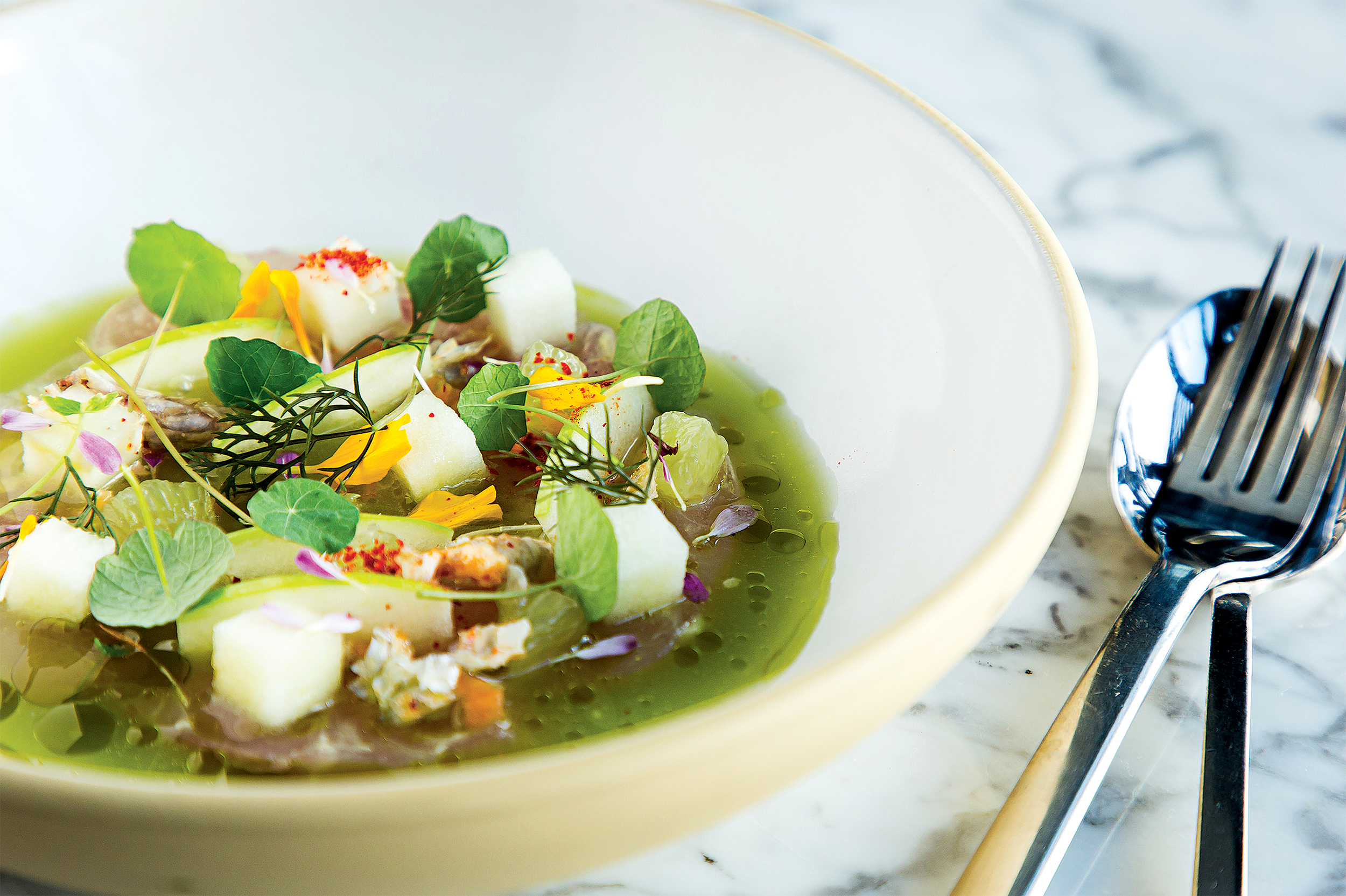 100 District Sq., SW; 202-827-8380
Chef/restaurateur Mike Isabella has always lent a slightly bro-y, drunk-food-dreams approach to the cuisines he's tackled. At Graffiato, that means fried-calamari pizza and roasted chicken with pepperoni sauce. At his considerably more refined Spanish spot, Arroz, foie gras still gets paired with a doughnut. Now, at Requin, he and chef Michael Rafidi—who is doing double duty handling the kitchens here and at Arroz—take a wide-angle view of French cuisine. The menu encompasses everything from bistro classics (a terrific onion soup packed with oxtail) to Escoffier luxuries (a $52 lobster Thermidor that gets a little kick from Espelette pepper and pairs beautifully with a glass of Châteauneuf-du-Pape blanc) to more modern creations like a vibrant snapper sashimi.
It's hard to imagine paying for bread when such unabashedly rich fare awaits, but shell out the four bucks for a house-made baguette sided with maître d' butter—if only to sop up traces of orange-scented sauce that accompanies a duck breast, or the mushroom consommé that gilds a plate of ricotta-and-Parmesan-laced gnocchi. Escargots are reimagined as hors d'ouevre–size croissants, brushed in fabulously herby Chartreuse butter and filled with duck-confit-soaked Burgundy snails. And Rafidi does the late chef Judy Rogers proud with his rendition of her famed Zuni Café roast chicken served over torn bread—France by way of San Francisco.
Still, some dishes can veer into too-much territory—the pommes beignets spilling Muenster cheese come to mind, as does a relentlessly hearty quail en croûte. But Rafidi has emerged as one of the scene's most exciting talents, and few chefs seem to be having as much fun as Isabella—even when he's not taking shots and selfies with one of the Real Housewives of Potomac in the corner of Requin's dining room. Expensive.
801 Wharf St., SW; 202-878-8566
Kwame Onwuachi—the chef behind the biggest restaurant flame-out of 2017, DC's Shaw Bijou—is back in action. Although he has traded a beautifully appointed Shaw rowhouse dining room for a generic hotel-restaurant setting, it's safe to say his food will win more fans here. And not just because he isn't charging close to $500 a head anymore.
One of Onwuachi's many strengths is pulling together flavors from all stages of his life, refining them just enough, and making them work in concert with one another. Fried Brussels sprouts tossed with a West African spice blend turns out to be a vegetarian riff on Nigerian street food. (The sumptuous tomato-and-onion soubise that arrives with it shows the chef's classical French training at the Culinary Institute of America). Goat roti might not have the in-your-face flavors you'd find at an island joint, but the curry is haunting in its own way, and the folds of flatbread are hard to put down. It's a dish that emerged from Onwuachi's earliest food memory, courtesy of his grandmother. A cheeseburger gets its piquancy from house-made jerk bacon and is also plenty gooey, thanks to both yellow and white American cheese. The menu's standout, though, is a plate of peel-and-eat shrimp sauced in a reduction of orange juice, beer, Worcestershire, and what tastes like a billion spices. It was ripped out of Onwuachi's New Orleans-based mom's recipe book, save for the batons of freshly baked brioche dolloped with aïoli.
That everything works so well together is lucky—because all your dishes, no matter how many you order, are likely to come out at once. "It's the way I like to eat," Onwuachi says. "A big table full of food." Even so, six sizable plates for two people had me wishing they had divided it up even a little. And if I could do it over again, I'd leave off a crudité platter that couldn't compete with the other dishes' bolder flavors. Expensive.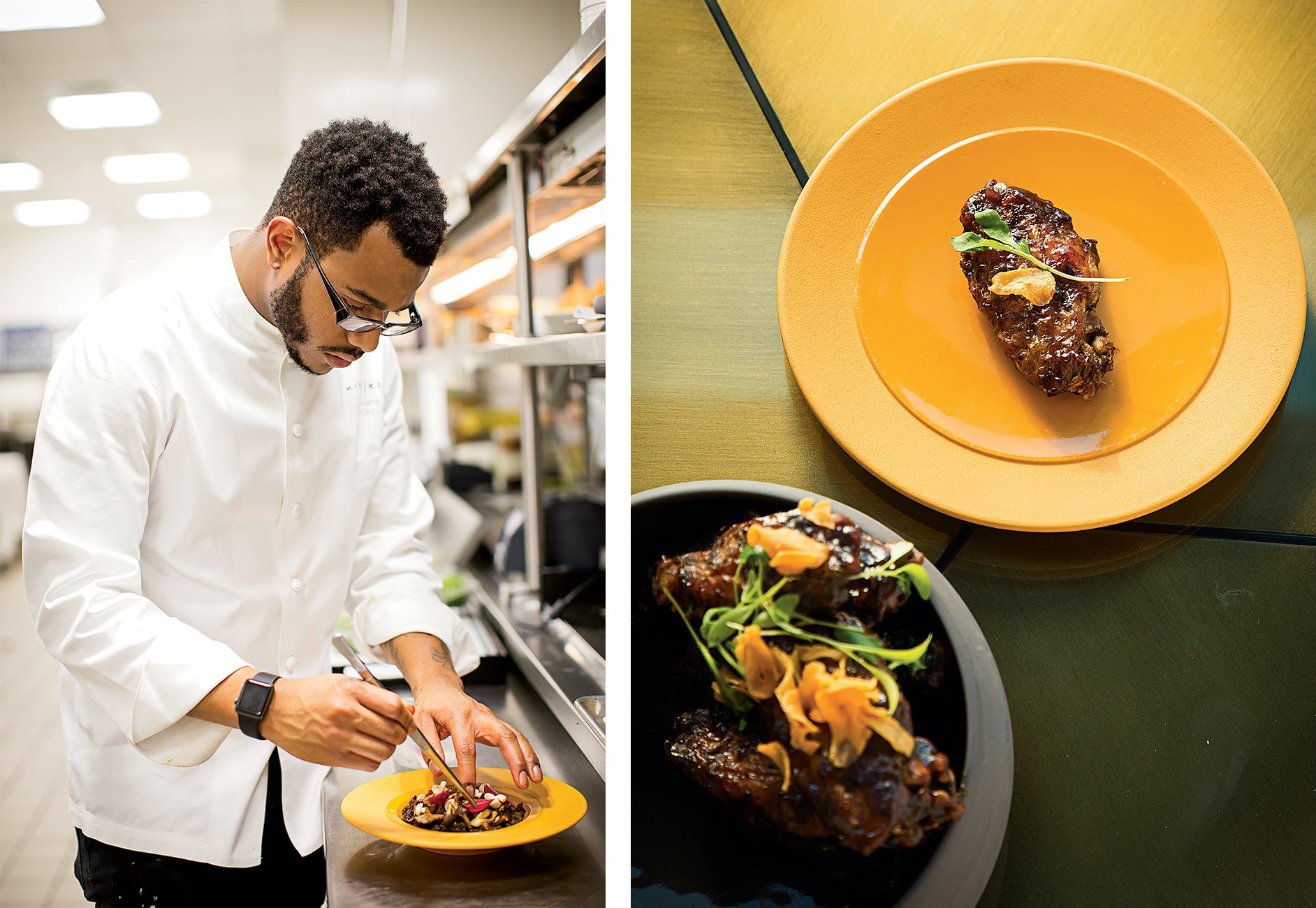 This article appears in the January 2018 issue of Washingtonian.