Since opening in 2015, Bluejacket's bottle shop has only sold, well, bottles. But the Navy Yard brewery is finally funneling its IPAs and lagers into cans beginning March 2.
To start, the brewery will release one new canned beer each week beginning at noon on Fridays. Eventually, it will release as many as three beers weekly, but in limited quantities.
"It's not going to be like you walk into Bluejacket and we have 10 different cans of 10 different beers available at all times. We just don't have the production levels to do that," says Beer Director Greg Engert. More importantly, the small batches in constant rotation—at least 100 cases each week— will allow the brewery to emphasize what's freshest.
"Even in 2018, I'm shocked by how much old beer I see on the shelves," Engert says. "Nothing tastes better than day-old IPA from a can."
The first beer available in cans will likely be Bluejacket's most popular: a Citra IPA called Lost Weekend. "It's the beer that made us dream of canning our beers," Engert says. "People have been asking for it in cans for years." A four-pack of 16-ounce cans will go for $15. Future beers will likely range from $12 to $18.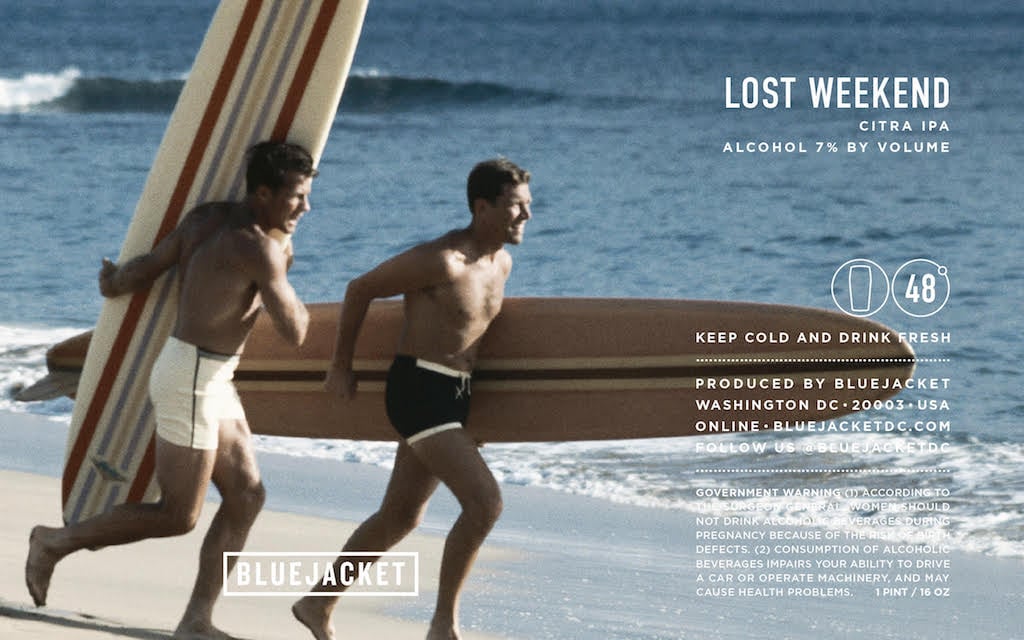 Other favorites—Forbidden Planet kölsch, Mexican Radio spiced stout—will make cameos in cans too. But the new packaging will also be a vehicle for more experimental, or spontaneous brews. If a new IPA comes to mind, for example, the brewers want to be able to throw it quickly on the canning schedule. Every Monday, Bluejacket will announce what it will be canning for that Friday.
The shop will still sell its 750-mL bottles, but for the most part, they'll be reserved for Belgian-style and barrel-aged brews. Lagers, pilsners, and other "low-alcohol, crushable" beers will migrate to cans, along with hoppy and fruity sour beers.
Engert says the relatively recent ability to get smaller shipments of cans more frequently made it possible for the brewery to package in a way it couldn't previously.  And unlike most breweries, they have an in-house design director to create can art on the fly. Kris Mullins, who's responsible for the look of Neighborhood Restaurant Group's logos and menus, is already working on around a dozen adhesive label designs.
There are no current plans to sell cans beyond the bottle shop—not even at other NRG establishments (Birch & Barley, Hazel, the Partisan, to name a few). Engert says they'd rather control the distribution in-house to make sure beers are handled properly and sold quickly.
"We want people to come down to Bluejacket, pick it up, and know how fresh it is," he says.