1. Kelela
9:30 Club, March 1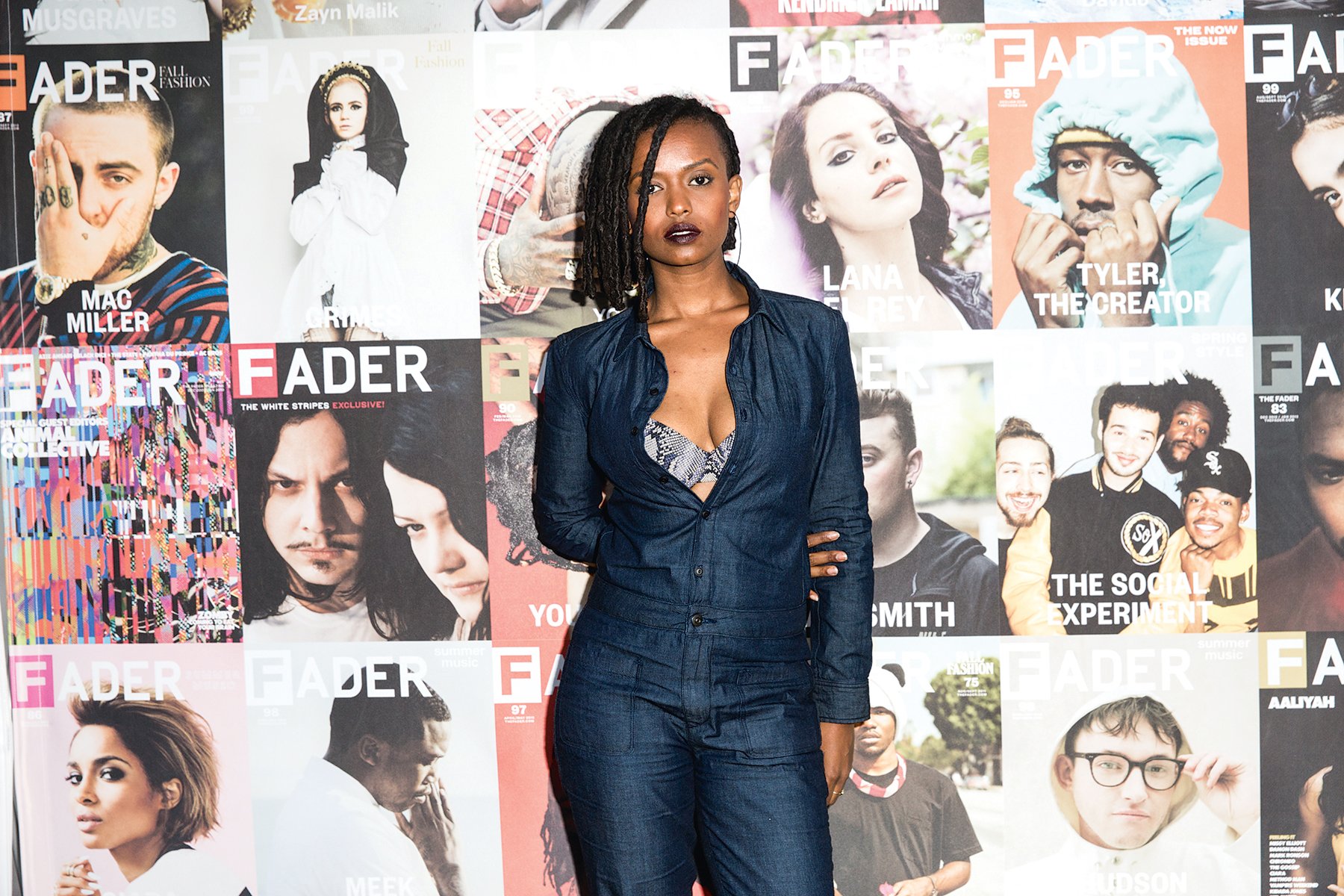 Hails from: Gaithersburg.
Sounds like: A blend of soft vocals, sensual songwriting, and synth-layered tracks. The budding R&B star has previously collaborated with Solange and the xx.
Latest work: Her debut album, Take Me Apart, came out last year and was named 2017's fourth-best by Pitchfork.
Onstage: Sultry confidence tinged with vulnerability. At one previous DC show, she joked about being nervous because her mom was in the audience. $30.
2."Sally Mann: A Thousand Crossings"
National Gallery of Art, March 4–May 28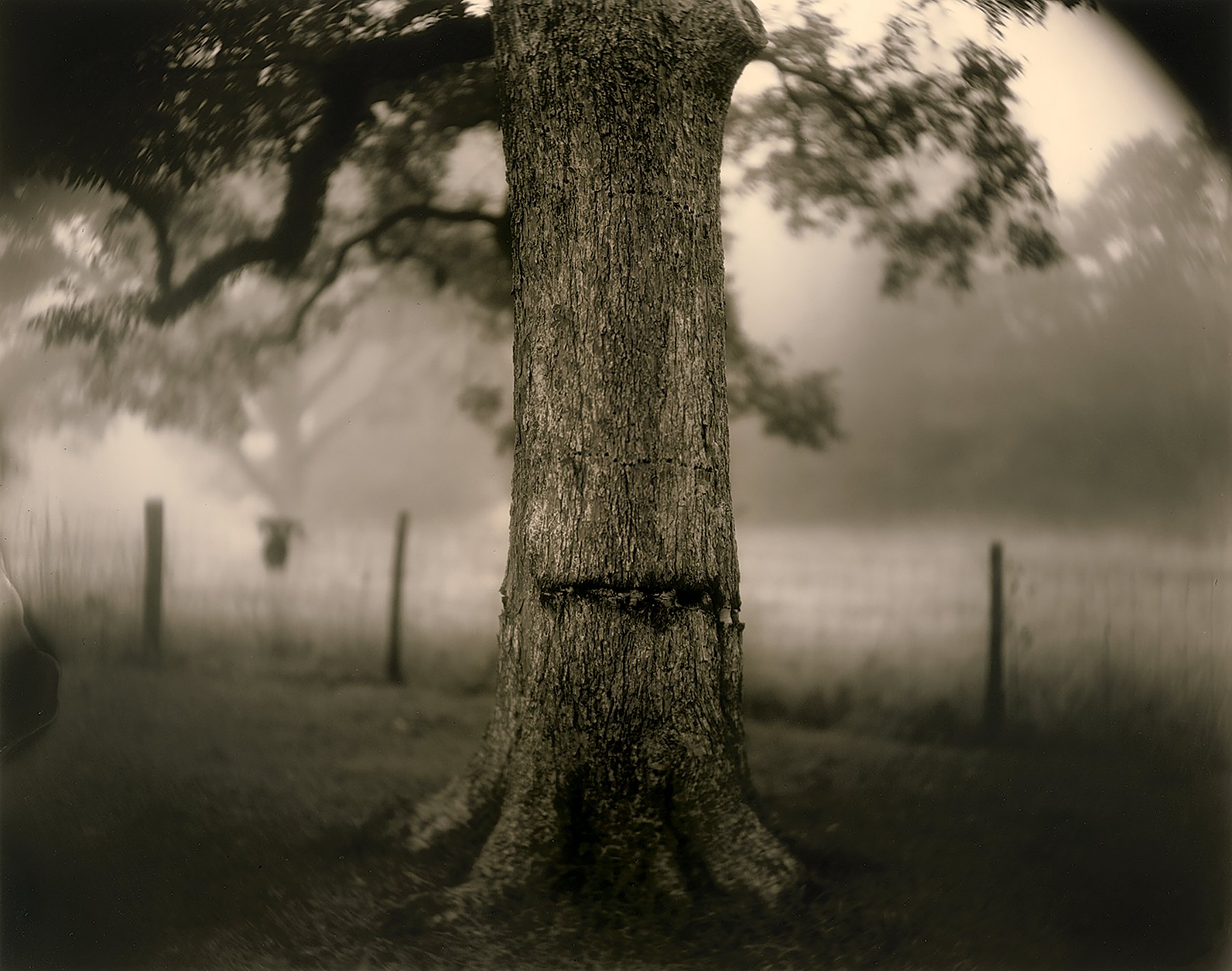 What does the American South look like? It's an impossible question, of course, bu t this collection of more than 100 images by renowned Lexington, Virginia, photographer Sally Mann—many never previously seen in a museum—offers one small part of the answer. Mann's work is often hauntingly vivid, as in one photo (above) that captures a stately old tree. Its beauty is unmistakable even though it's been permanently marred by a deep gash. Free.
3. Taylor Mac: A 24-Decade History of Popular Music (Abridged)
Kennedy Center, March 6
In 2016, New York performance artist Taylor Mac won accolades for an insanely ambitious 24-hour show that tracked the history of American music via old songs, original compositions, and gasp-inducing outfits. With Mac now bringing a chopped-down version to DC ($39 to $119), we talked to him and his costume designer, known as Machine Dazzle.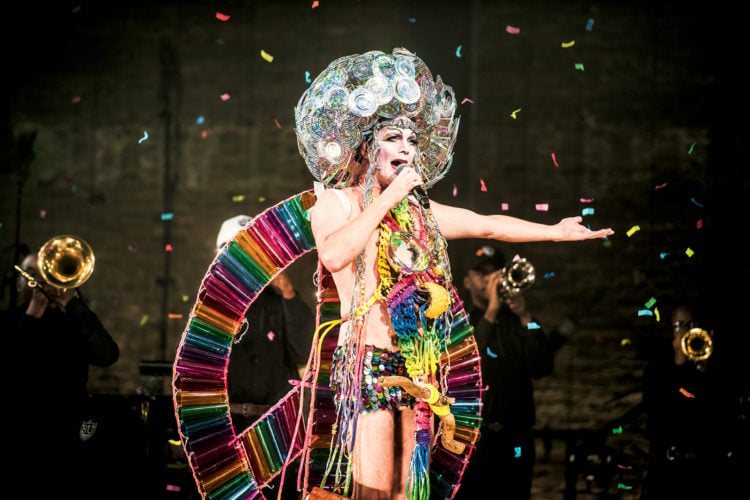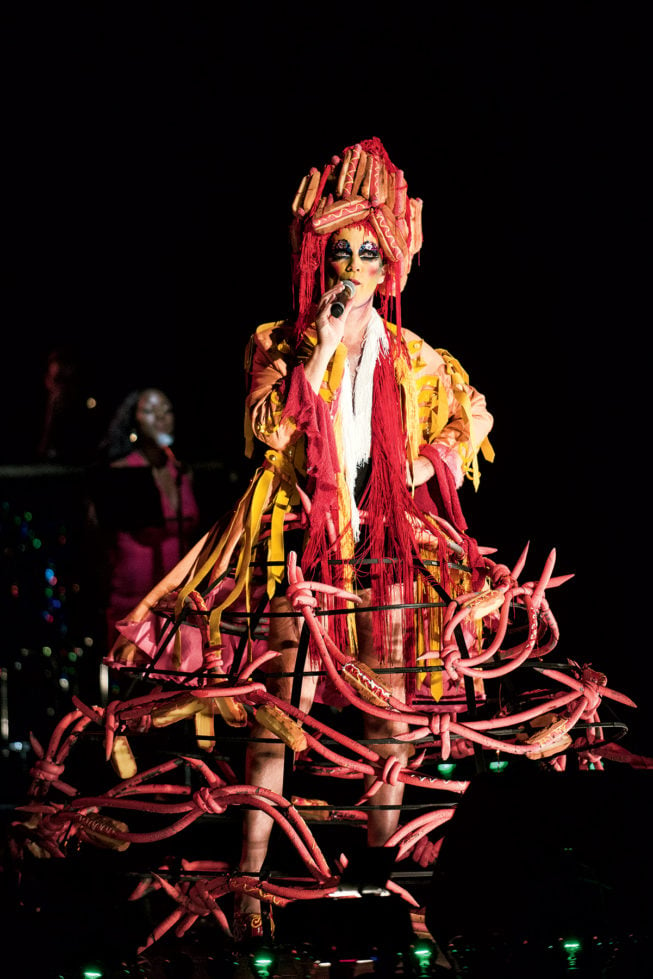 This costume (left), which incorporates clock hands and a weather vane, was meant to evoke the Underground Railroad. "I wanted to use elements of time and direction and give a nod to migration in symbolic ways," says Dazzle. "I was really just being poetic. I was thinking about migration and freedom."
The imagery here (center) is more direct—especially that big peace sign. Mac's hat is intended to call to mind suits worn by the moon-landing astronauts. "I call this a space 'fro," says Dazzle. "A spacey-future-helmet-hairdo kind of thing."
Most people don't immediately associate the Civil War with hot dogs, but Dazzle decided to avoid the obvious by pairing wieners—which became popular around that time—with a barbed-wire skirt (right). "What I love about the costumes is that they're metaphors," says Mac. "They're really art pieces that I just happen to get to hang out in."
4. Cornelius
9:30 Club, March 7
Over the course of a 20-plus-year career, Japanese eccentric Cornelius has crafted albums of warped indie rock, cooked up left-field remixes for the likes of Beck and Moby, and, with last year's Mellow Waves, veered toward ambient pop that draws equally from Steve Reich and '60s French music. Live, Cornelius is known for the precision of his band and for visuals that bubble and dissolve like the kooky grooves they accompany. $25.
5. Sisters First: Stories From Our Wild and Wonderful Life by Jenna Bush Hager and Barbara Pierce Bush
Warner Theatre, March 7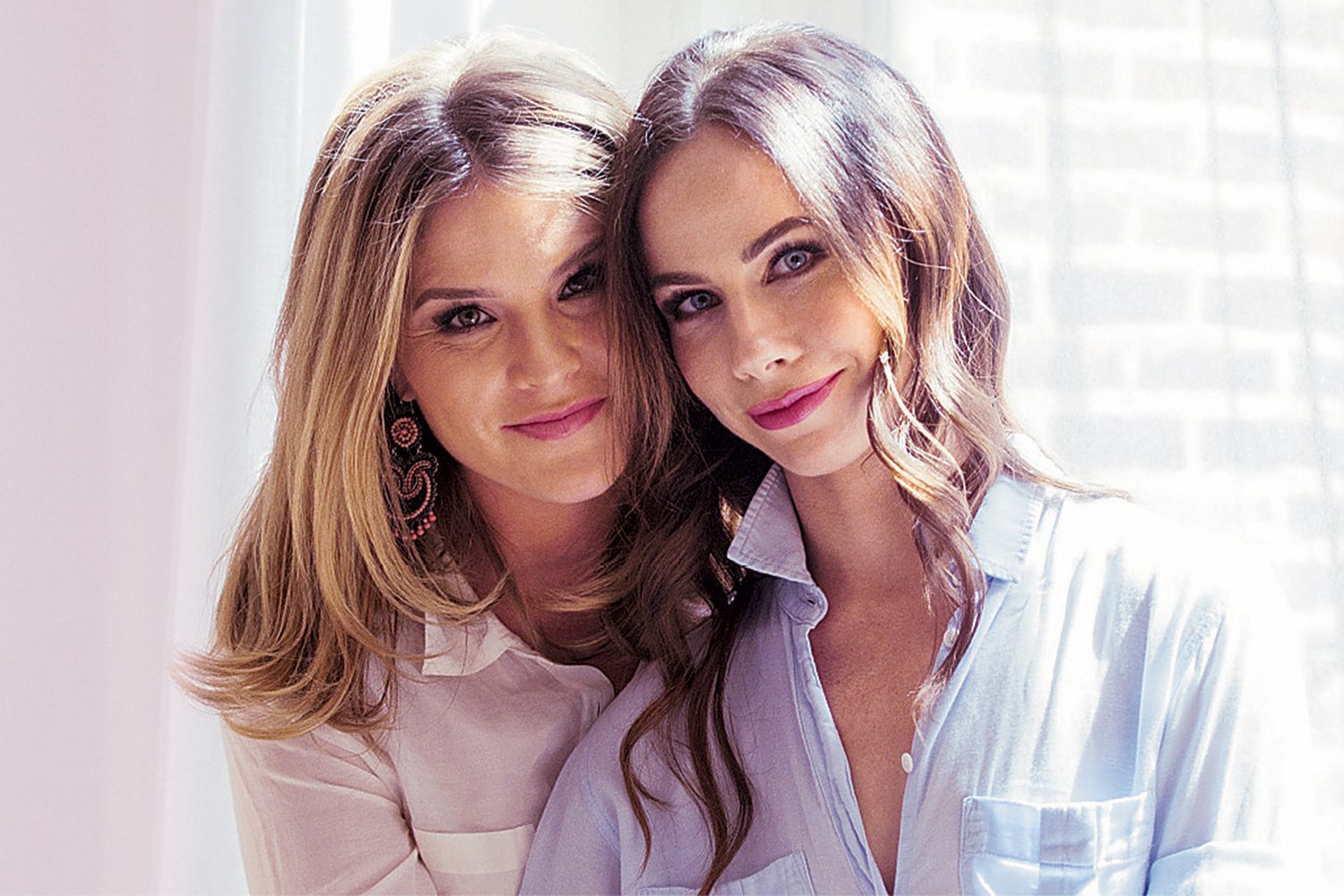 George W. Bush's daughters haven't lived in Washington for years, but this month finds them in town again to promote their bestselling cowritten memoir ($43 to $148). We asked for some of their favorite local spots.
Jenna:
"When we were little, our mom would take us to all of the monuments and museums. Later, when I lived in DC after college and was teaching [at a charter school], I would run there almost every day."
"We're both readers, and it's a great bookstore. They have so many events for the community."
"My husband and I went to a lot of live music at the 9:30 Club. It's great because it's so small. I think we saw the National there."
Barbara:
"As an adult, I've loved going to the National Portrait Gallery and the National Museum of African-American History & Culture. I love the architect of that museum [David Adjaye]. I got to meet him in New York."
"Jenna and I are sort of early-to-bedders, so we used to go to Pizzeria Paradiso on M Street at, like, 6 pm on Sundays."
"It has an amazing bar, and we've had a lot of fun meeting up with friends there."
6."Women House"
National Museum of Women in the Arts, March 9–May 28
This show brings together more than 90 works that are tied to one theme: stereotypes of feminine domesticity. Don't miss the Louise Bourgeois pieces, including a sculpture of a woman's body that appears to be trapped by a house. $10.
7. Philip Glass's 20 Etudes
Kennedy Center, March 9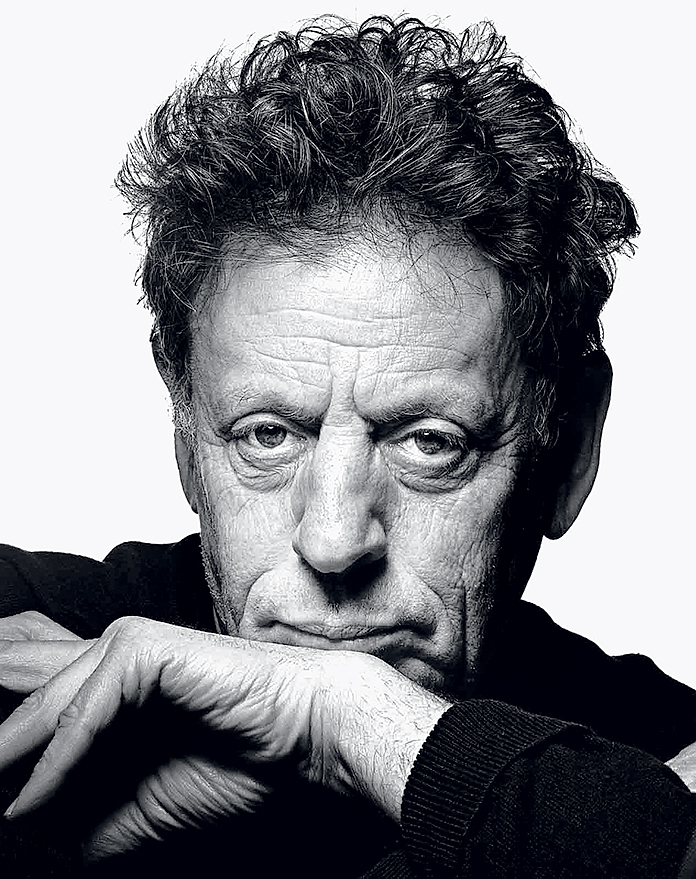 Five distinctive pianists each tackle four of Philip Glass's intimate, wintry solo piano pieces. Jason Moran and Aaron Diehl bring jazz chops, Jenny Lin is a classical star, and Devonté Hynes—who crafts eccentric R&B records under the moniker Blood Orange—represents the pop-music world. Most notable of all is the revered composer himself, who, somewhat surprisingly, is making his Kennedy Center debut. $29 to $79.
8. Tiffany Haddish
Warner Theatre, March 10
Growing up, comedian Tiffany Haddish dealt with an abusive stepfather and ended up in the foster-care system. She often taps that rough background for material, giving her bawdy humor an extra depth. After her breakout last year as star of the comedy film Girls Trip, Haddish is now taking her talent for outrageous storytelling on the road. $45 to $55.
9. Jabberwalking by Juan Felipe Herrera
Politics and Prose at the Wharf, March 13
The first Latino to be named US poet laureate, Herrera is known for powerful depictions of Mexican-American life, which often pull from his experiences as the son of Mexican farmworkers. At this appearance, he'll likely keep things lighter—his most recent work is a how-to-write-poetry manual aimed at teens. Free.
10. Wu Man & the Huayin Shadow Puppet Band
Lisner Auditorium, March 16
The Huayin Shadow Puppet Band is a raucous collective from rural China whose pulse-quickening tunes incorporate startling blasts of percussion and, yes, traditional puppetry. Added to this already bracing mix will be Wu Man, a virtuoso of the pipa—a kind of Chinese lute—who's best known as a founding member of Yo-Yo Ma's popular Silk Road Ensemble. $25 to $45.
11. Repticon
Dulles Expo Center, March 16–18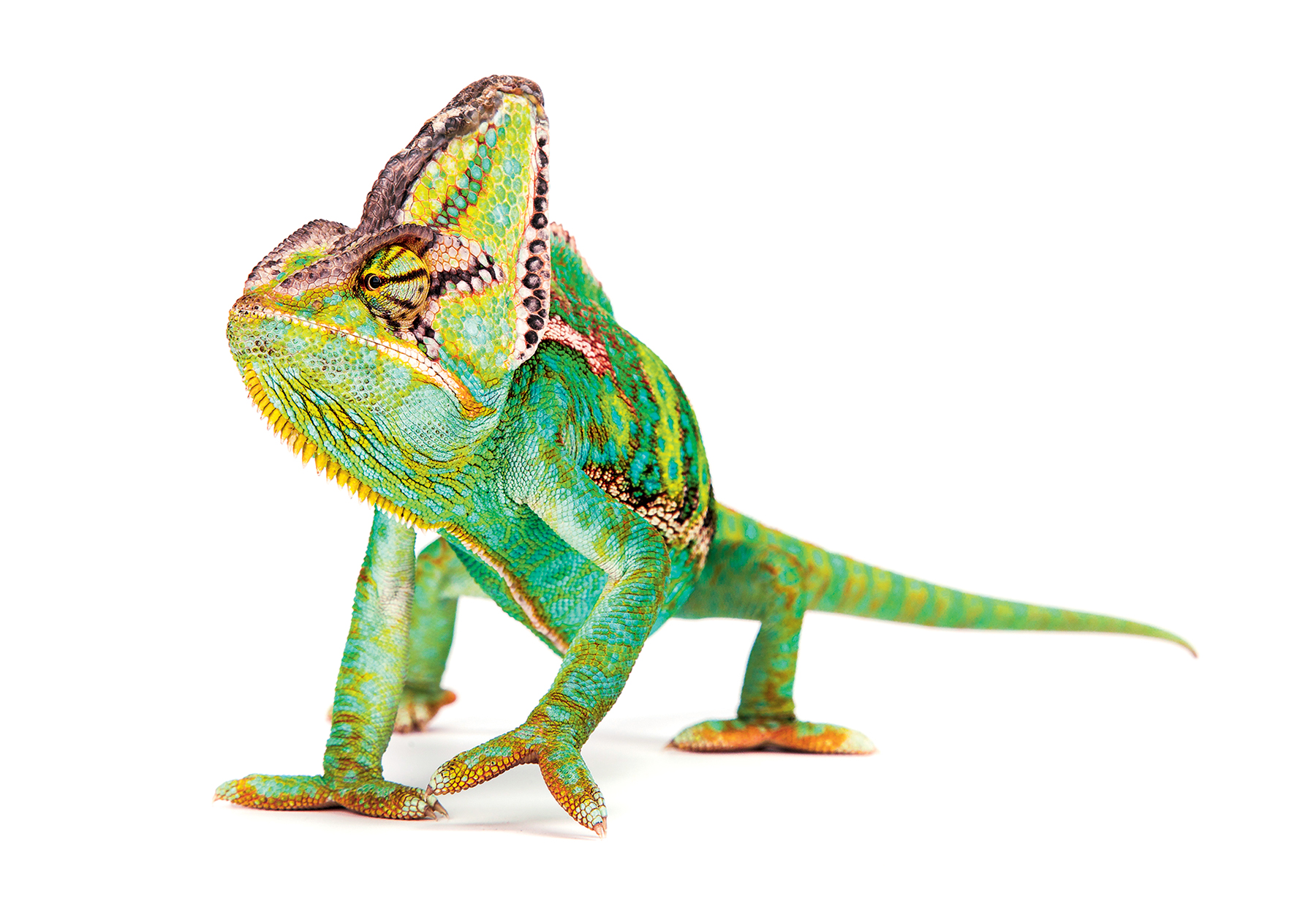 Afraid of snakes? Make sure your weekend plans take you far, far away from this gathering of slithery beasts. Reptile enthusiasts, on the other hand, shouldn't miss the exotic-animal convention, where you're likely to encounter bearded dragons, tarantulas, snapping turtles, and other not-exactly-cuddly creatures. BYOB (bring your own boa) to show off, or sign up for seminars on raising reptilian pets. $12 to $20.
12. "Do Ho Suh: Almost Home"
Smithsonian American Art Museum, March 16–August 5
Korean artist Do Ho Suh creates large-scale installations that explore the relationship between buildings and the concept of "home." If you loved the Renwick's 2015 "Wonder" show, Suh will make you feel right at, well, you know. Free. 
13. Maluma
Eaglebank Arena, March 23
Known for shirtless Instagram pics, Colombian heartthrob Maluma has slowly made his way onto the American pop charts. His performances are as sex-driven as his social media: The star has been known to make out with random women in the audience. $79 to $450.
14. The Americans
FX, premieres March 28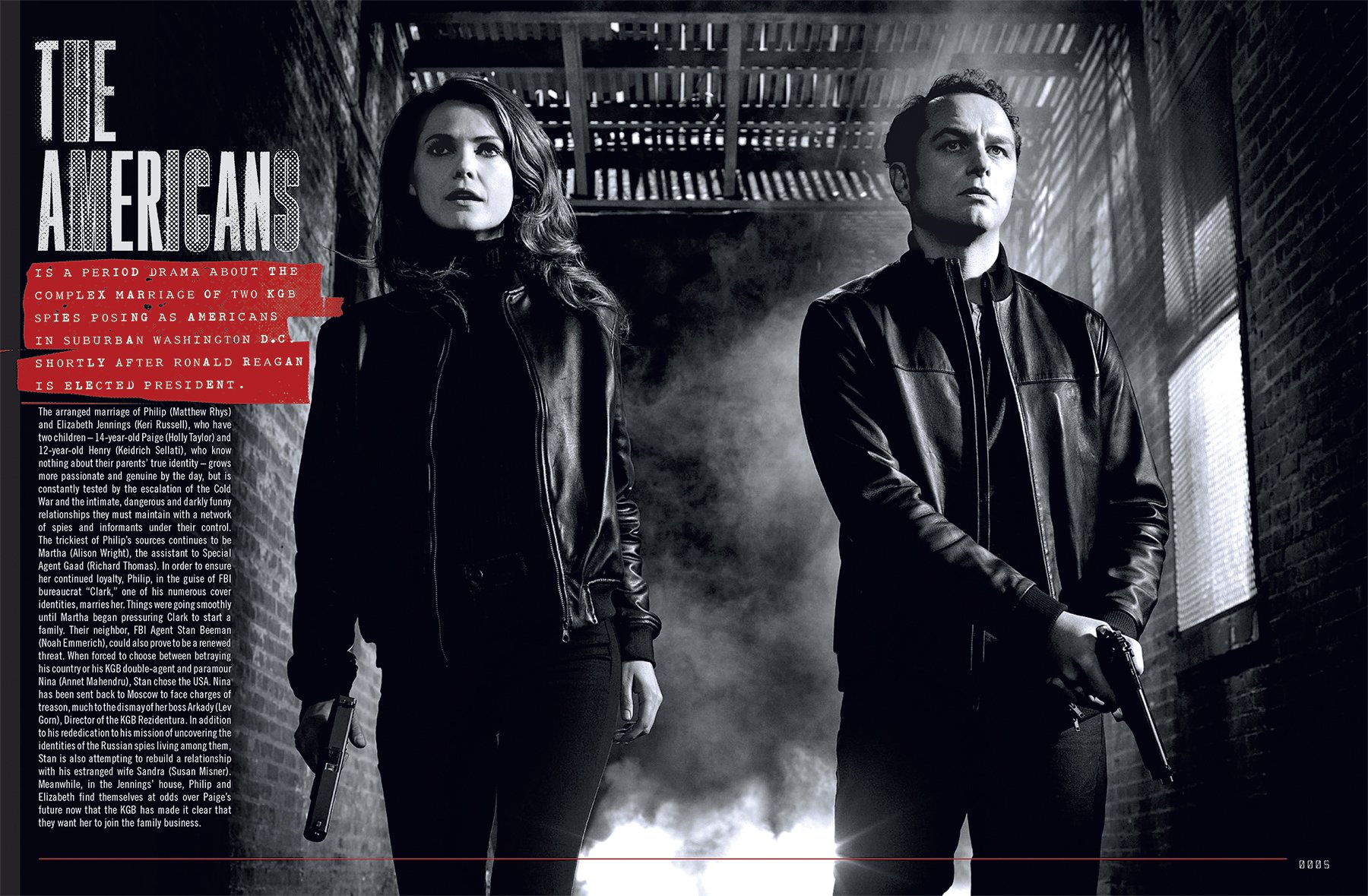 Set in DC in the early 1980s, the spy thriller The Americans offers regular jolts of nostalgia for anyone who lived here during the Reagan era. As the show enters its sixth and final season, we talked to creator Joe Weisberg—who spent time in the area while working for the CIA—and his co-showrunner, Joel Fields, about how they recreate Washington even though the program is mostly shot elsewhere.
You like to work in references that only longtime Washingtonians will get, such as a Jhoon Rhee commercial or a plotline involving the defunct Tenleytown Armand's Pizza. How come?
Weisberg: We shoot in New York, but we can make up for that and more if we drop those little things that make it feel extra DC. When somebody sees Jhoon Rhee and gets taken back to their childhood, we're really there.
Fields: The writing staff talks a lot about this stuff because we're trying to keep the show real, as if these characters had actually been there having these experiences. We sometimes ask our staff to look for those real references for things we have in the script. They come up with Armand's Pizza, or the Bread Oven restaurant, which was on Pennsylvania Avenue and had a see-through grand piano. In season four, we had a TheaterVision ad playing.
Weisberg: We had Tony Kornheiser appear as an extra in a bar. When I was in DC, we were listening to Tony on the radio.
Any good ones in the new season?
Weisberg: I don't think it's too much of a spoiler to say that we have the [long-shittered Georgetown movie destination] Key Theatre – something doubling as it.
You do sometimes see shots of Washington edited into an episode.
Weisburg: A big question for us over six years is: What's the right amount to show the Washington Monument? If you show it too much, you're just trying to prove you're in Washington. We were obsessed over how much to show it, how much to show the Lincoln Memorial.
But on the other hand, there definitely are moments where it's like, come on, that's obviously Brooklyn.
Fields: [laughs] Yeah, there are those moments. There's no denying it.
What do you say when Washingtonians complain about it not being shot here?
Weisberg: We say, "Jhoon Rhee! Jhoon Rhee!" [laughs] The truth is, all the money in the world would not enable us to shoot in Washington DC in the early '80s. You'd need a time machine.
15. Awesome Con
Washington Convention Center, March 30–April 1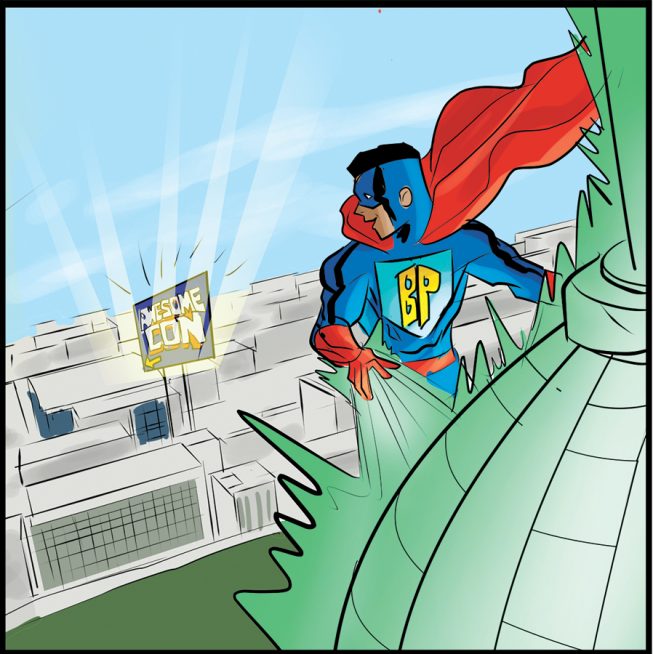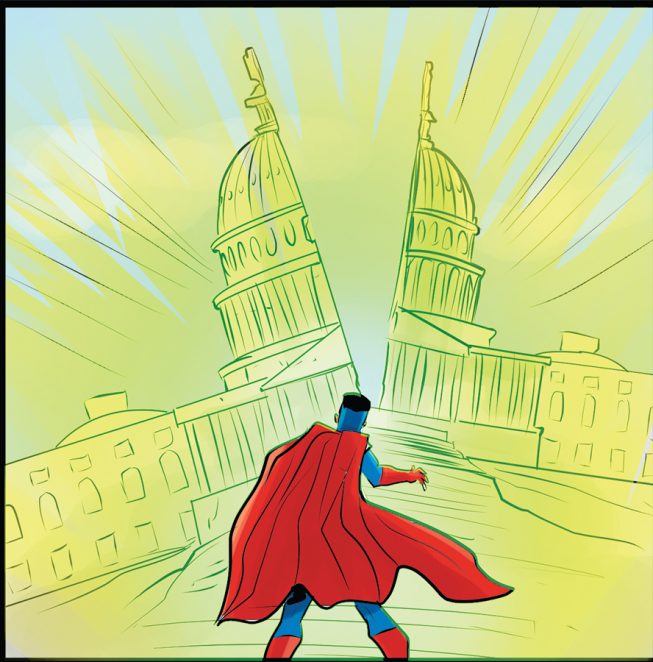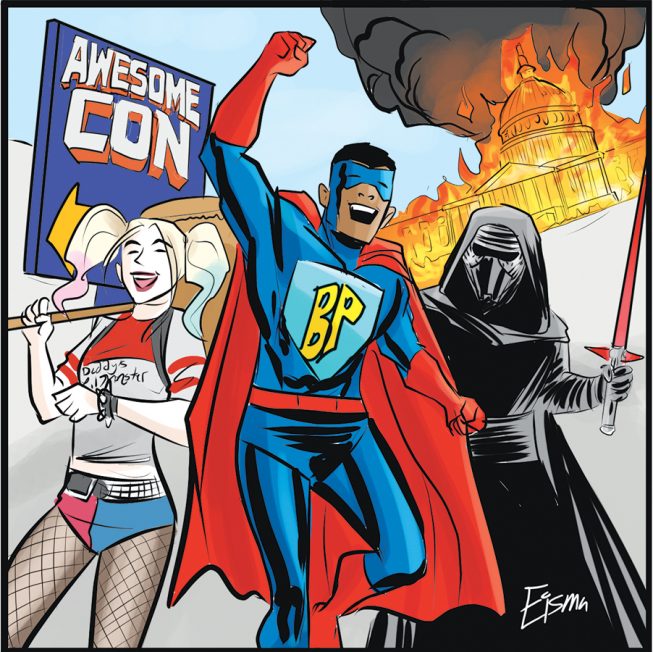 Illustration by Joe Eisma.
Washington's answer to Comic-Con attracts thousands of geek-culture obsessives for panel discussions, signings, and other action-packed events ($35 to $75). But could this year's fest have an even bigger impact than anyone imagined?
16. "No Spectators: The Art of Burning Man"
Renwick Gallery, March 30–January 21, 2019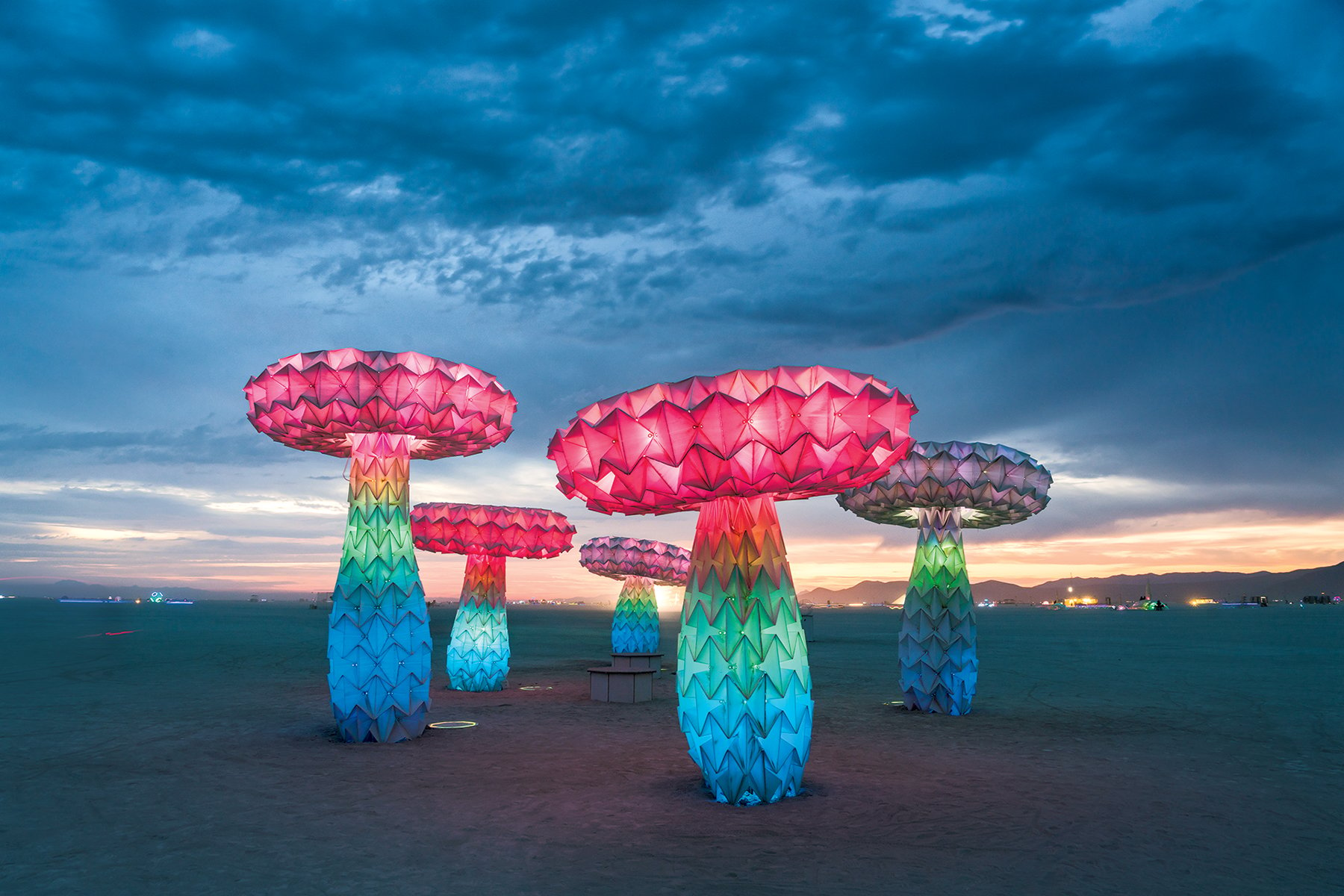 Held each year in the Nevada desert, the Burning Man festival is known for its wild large-scale sculptures and even wilder gaggles of free-spirited attendees. We're assuming things won't get too crazy in the halls of the Renwick, but this exhibit should still be something of a spectacle. Sample installation: an impossibly intricate wooden temple created by David Best, who typically torches his work at the end of each festival. Consider yourself warned. Free.
17. "Community Policing In The Nation's Capital"
National Building Museum, March 31–January 15, 2019
Following the riots sparked by Martin Luther King Jr.'s 1968 assassination, the Office of Economic Opportunity created a federally funded pilot pro­gram in DC to improve how police interacted with African-American residents. This exhibit traces the history of that experiment, which helped spark community policing programs around the nation. Stop by to learn about the change it inspired—and to reflect on how far we still have to go a half-century later. $10.
This article appears in the March 2018 issue of Washingtonian.