Superstar chef David Chang didn't want to serve noodles at Momofuku CCDC. He didn't want the menu to end up a copy-paste collection of greatest hits from his New York-based restaurant empire. Then again, when he opened the eatery in October 2015—a homecoming of sorts for the Virginia native—he didn't seem to know exactly what he wanted. Steak? A buffet? Crumpet sandwiches? Pupusas? Everything was on the table, and yet nothing seemed good enough.
"All the new shit we tried–it's gone," he said in wide-ranging, self-doubting, expletive-laced interview with Washingtonian when the restaurant debuted. "We just can't cook it, we don't know how to cook it." So, he stuck with the crowd-pleasing ramen and buns that helped make him so famous.
Flash forward more than two years. On the phone, Chang isn't cursing nearly as much. He sounds much more assured. Optimistic even? In November, he brought on a new chef: Tae Strain, who grew up in Clarksville, Maryland and most recently led the kitchen at The Progress, a contemporary, seasonally focused restaurant in San Francisco. Over the last few months, Strain has been working to totally gut the menu. This time around, there are no sacred cows. That means no more ramen or buns. Repeat: no more ramen or buns. Really.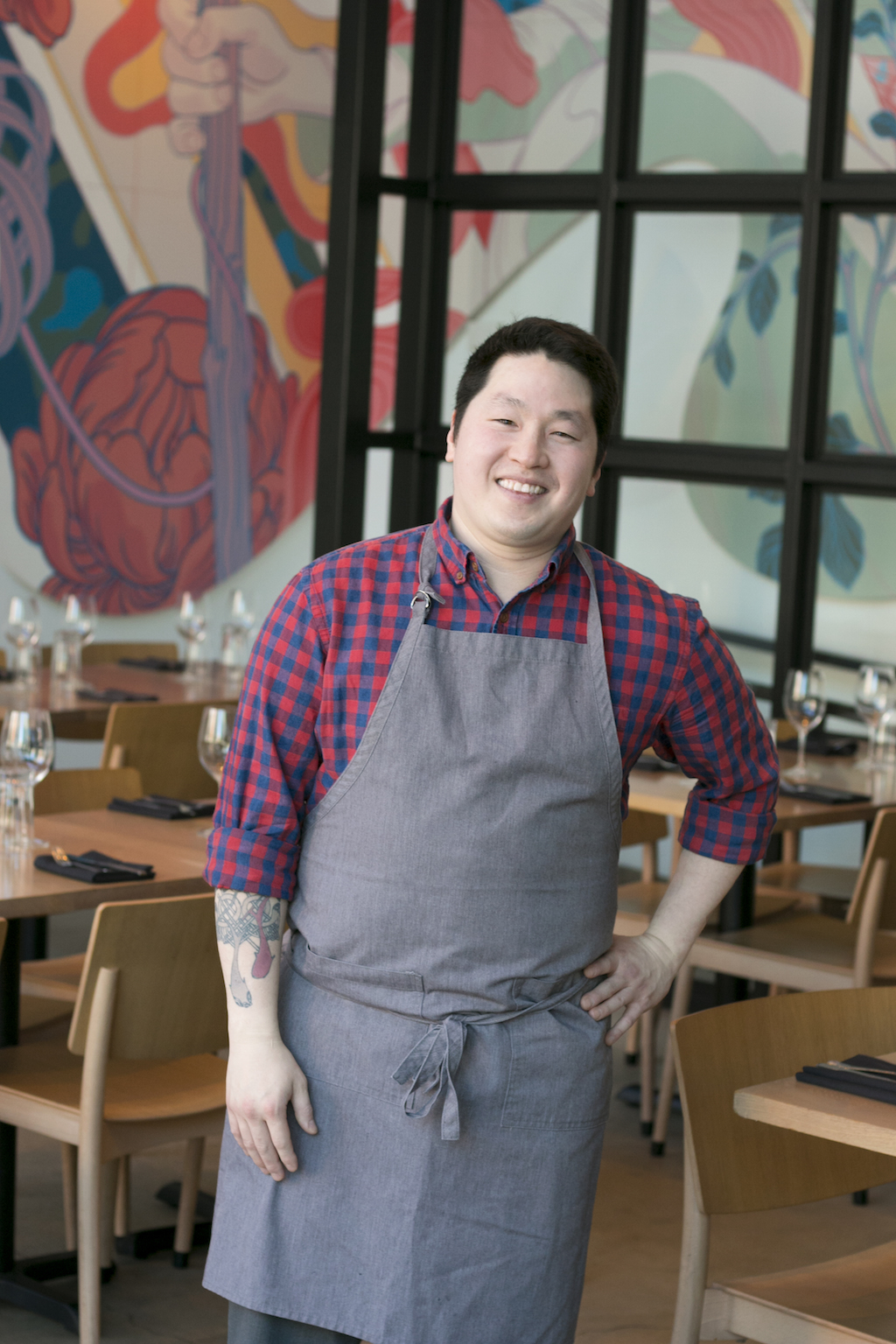 "I was really, really out of my mind. There was a lot of stuff happening. But, oof, man," Chang says now, recalling the opening. Part of the problem, he says, is that he ended up letting the restaurant become what other people wanted. "I don't think I trusted my gut, and I didn't trust where I think the restaurant should have been."
One thing he's realized "most painfully" since then is that he was micromanaging his kitchens and not giving his chefs enough autonomy. "Honestly, I personally was the problem for a lot of the things that didn't go as well—and not just CCDC, but within all of Momofuku."
Now, like many chefs-turned-restaurateurs, he's trying to let go. He's found that he gets the best results when he allows people the most freedom. So for Momofuku CCDC, Chang gave Strain permission to "destroy" everything they've ever done.
"I was like, 'Tae, I want you to fuck it up. I want you to find what you can do,'" Chang says. "DC is more sophisticated in its palate, more worldly in its cuisine than the rest of the nation understands, and they deserve a world-class chef."
Chang says one of the best meals he's had in the past few years came from The Progress under Strain. Meanwhile, Strain, whose career has spanned from California to New York and Baltimore, has been a fan of Chang his entire career. He's labored over Chang's cookbooks. He ate at Momofuku Noodle Bar almost every other week while living in Manhattan. "I've probably watched more YouTube clips of him than anybody else, which is super embarrassing," Strain says. So naturally, he jumped at the chance to work for Chang—and to move closer to home and family.
One big new addition to the menu is bing, a Chinese flatbread that's grilled to order. Patrons dip the doughy discs in pimento cheese with salted chilies or charred eggplant with pickled cauliflower. Strain's favorite of the seven bing dishes is a play on a gratin with roasted Chesapeake oysters, a clam-and oyster-infused béchamel sauce, and chopped spinach. It's buried in breadcrumbs and cheese and baked until golden and melty.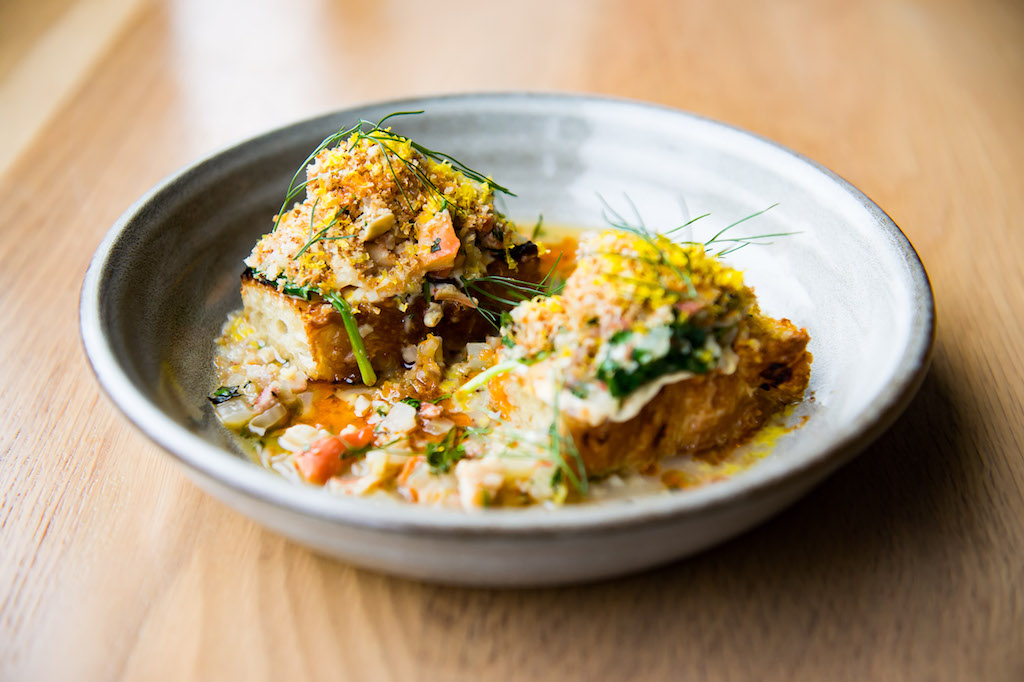 Strain's love of shellfish carries through to clam toast. Szechuan sausage and middleneck clams glazed in smoked butter soak into thick-cut sourdough with a smoked dill mayo, toasted fennel oil, and chili oil. You'll need a fork and knife for this toast.
In addition to a handful of small plates, the new menu includes some entree-sized dishes and larger platters, such as a whole rotisserie chicken brined for two days and then stuffed with herb-garlic butter under the skin. The legs are fried and glazed in a ginger vinaigrette, while the breasts are served simply. The chicken is accompanied by a green olive pickle slaw, a tangy cilantro yogurt, and chicken fat basmati rice crowned with three fried eggs.
"I'm such a stickler for roast chicken, I think it says a lot about a kitchen," Strain says.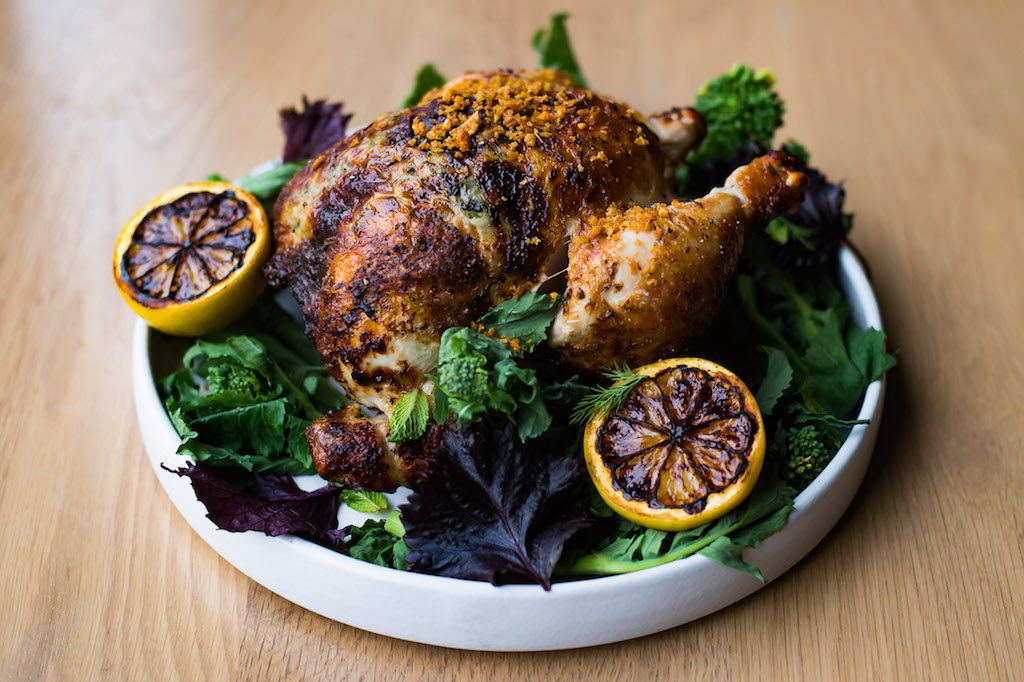 Want something even bigger? Try the "meat & three," inspired by Arnold's Country Kitchen in Nashville. In this case, Strain is serving a full rack of pork spare ribs with jalapeno-cheddar sausage, buttermilk hoe cakes, white-kimchi potato salad, mustard slaw, and black vinegar barbecue sauce. The $78 feast, which feeds three to four, is so big it takes up almost an entire table.
If you really, absolutely must have noodles, the pork ramen is available off-menu by request—for now, anyway. It's also still on the lunch menu, which is still being revamped along with brunch.
"It's such a beloved dish, we don't want to alienate people…," Strain starts to say.
Chang cuts him off: "Tae, let's be honest here. It's the rest of Momofuku internally, like the office, that is scared out of their minds. Tae is trying to make everyone happy—because there's a lot of people at Momofuku to make happy. I was like, 'Dude, I'll deal with these guys. You do what you need to do.'"