Gas station jerky has nothing on the piled-high pastrami sandwiches Corned Beef King is now slinging inside a Liberty on Rockville Pike. Chef/owner Jon Rossler opened a brick-and-mortar spinoff of his food truck inside the service station today, featuring a classic deli menu of hearty sandwiches, matzo ball soup, knishes, and sides.
Rossler is no stranger to the area; his parents operated Celebrity Delly less than a mile away for 45 years (his sister currently runs the lone existing branch in Falls Church). He says his corned beef recipe is based on his father's, though with some improvements to make it "taste like butter." All meats, including pastrami, brisket, and turkey, are cooked in a kitchen on premises and sliced fresh to-order—an improvement over what Rossler is able to do on the truck (now parked in Olney as the site of his former Exxon shop). Patrons can also get meats by the pound to-go.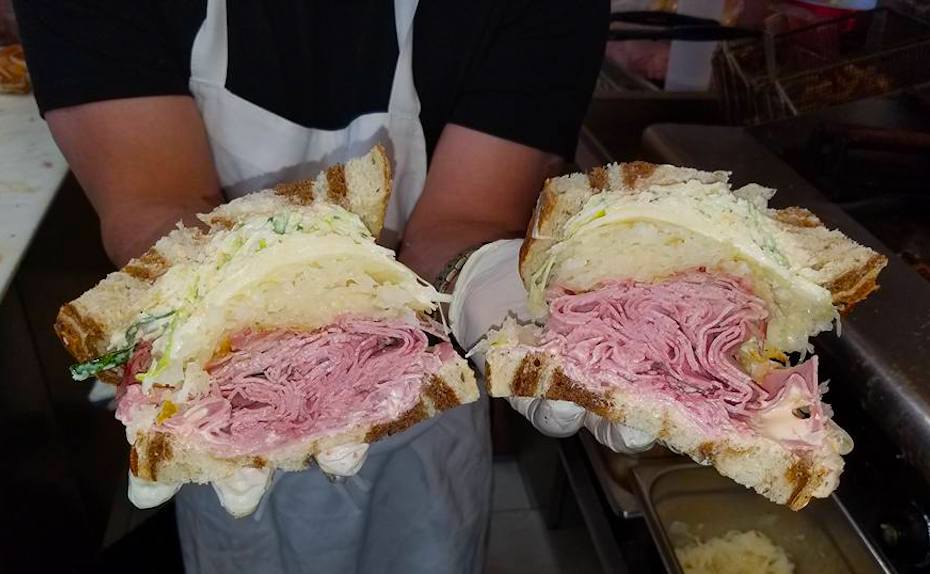 Sandwiches, mostly stacked high on rye bread, include the classics like corned beef with spicy mustard, Reubens and Rachels, plus variations on those themes (i.e., brisket steak n' cheese, fried eggplant veggie Reubens). Patrons can order lunch and dinner combos with Dr. Brown's sodas and sides like dill potato salad, and either take meals to go or grab a table (seating is around ten right now, and Rossler plans to double it). Delivery via Uber Eats is in the works. 
Though Rossler has delis in his DNA—and has been running his deli-on-wheels for over five years—he says the ultimate goal isn't to open a stand alone restaurant.
"It's really costly to run a delicatessen—huge menus for breakfast, lunch, and dinner—and it takes a lot of labor," says Rossler. Better, he says, to home in on sandwiches, and eventually sell meats to other shops and country clubs. In the meantime, expect massive stacks of corned beef served King-style: "With a pickle and love."
Corned Beef King. 1900 Rockville Pike; 301-881-4422. Open daily 11 AM to 8 PM.