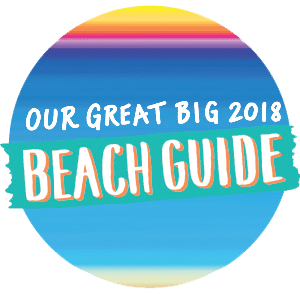 This is part of our great big guide to the DC area's best beaches. From the surf scene in Virginia Beach to Ocean City's expansive boardwalk, we found the best bites and activities (yes, even in Jersey) that'll make this summer by the shore your best one yet. Water you waiting for? Dive in.
With closer beaches just across the Chesapeake Bay Bridge, is it worth the extra time—often in highway gridlock—to get to North Carolina's Outer Banks? It depends on what you love most about the beach.
If you love saving money. Driving those extra 150 or so miles could save $2,000 or more on a rental compared with Rehoboth. A five-bedroom with a pool in Duck, a house or two from the ocean, goes for about $5,000 a week in July. Expect to pay around $7,500 for a similar place in Rehoboth. Plus, you'll have more space to spread out: The average lot size in Duck is three times larger than in Rehoboth.
If you love quieter beaches. It's mostly vacation homes, not hotels, lining the Outer Banks' beaches. No need to rise with the sun to stake a spot for your umbrella—with more than 100 miles of coastline and fewer visitors per square foot of sand, you won't feel on top of your neighbor. One reason to get up early? If you want to be first in line for hot, made-to-order Duck Donuts. While the Outer Banks has a water park (H2OBX), putt-putt, go-carting, and some kitschy beach shops, even its take on a boardwalk is subdued. Instead of carnival rides and lines for fries, Duck Soundside Boardwalk meanders quietly for nearly a mile through a maritime ecosystem. An amphitheater and kayak launch, along with small shops and a few waterside restaurants, accent the walkway—a perfect spot for watching the sunset over the sound.
If you love easy beach access. Forget hungry parking meters or searching for a spot. The narrow geography of the Outer Banks means many rental homes sit within walking distance to the beach. If you do drive, it's all free parking. The Outer Banks prides itself on free beach access—even for dogs. It's one of the East Coast's most dog-friendly stretches of beach.
This article appeared in the July 2018 issue of Washingtonian.