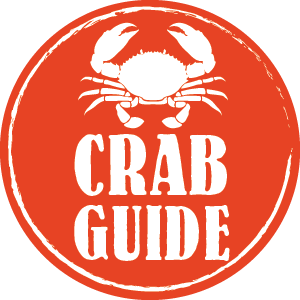 This week, we're rolling out our 2018 Crab Guide, including our favorite spots near and far for fresh crabs, the tastiest crab dishes (that aren't crabcakes), and our pro-tips for how to get the best out of crab season. Let's get crackin'.

Crab season is upon us—here are our favorite places to get cracking, both in Washington and a short drive away.
Close to Home
4958 Bethesda Ave., Bethesda; 301-652-3382
Summer nights tend to be so crowded at this 57-year-old shack that you'll want to call and reserve your crabs. (Our Texas larges were well steamed, meaty, and, at $125 a dozen, Bethesda-pricey.) Still, the place marries an authentic vibe with attentive service. Ice-cold lager and super-sweet corn on the cob are the only accompaniments the crustaceans need.
10195 Fairfax Blvd., Fairfax; 703-560-0060
The Ferris Bueller theme song on the sound system is one of many throwback cues at this seafood spot, a staple since the '70s. The roadside place is still owned by the Pell family and serves a straightforward lineup of dishes including steamed shrimp, hushpuppies with honey butter, and butter-doused corn—all on paper plates. Crabs, particularly extra-large to jumbo, are often from the Gulf but steamed nicely.
1100 Maine Ave., SW; 202-484-2722
"Girls or boys?" the guy behind the counter asks. Most crabhouses serve the meatier, more expensive males, but the female crabs we sampled at this Maine Avenue Fish Market mainstay—fresh from Maryland waters—were among the tastiest we've encountered this season. The sprawling stand is mostly for takeout, although you can crack a few pre-steamed crabs while you wait. And wait you likely will if you want your blues cooked there: Even when we called in our order, we still stood around for an hour. Even so, these well-priced crabs are a delicious deal.
1200 Fort Myer Dr., Arlington; 703-528-2722
The lively patio crowds don't seem to mind the lack of a waterfront view at this laid-back Arlington fixture. Maryland crabs (in season) are always steamed to order. Add to the feast with perfectly crisped onion rings, crab hushpuppies, and panko-coated fried oysters, then save room for a slice of house-made Key-lime pie, served semi-frozen for an ice-cream-like texture.
1356 Okie St., NE; 202-529-3300
Many Washington crabhouses rely on far-flung seafood for their year-round supply. Not so at this restaurant and outdoor dining deck owned by seafood distributor ProFish, which offers crab feasts only when the freshest, mostly local blues are swimming. (Call ahead to ask.) The rest of the menu is sourced or freshly made with equal care, including house-smoked fish platters, fried shrimp or crabcake sandwiches, and sides such as ultra-creamy mac and cheese. The first-floor seafood market is one of the best places in DC to buy live or steamed-to-order crabs.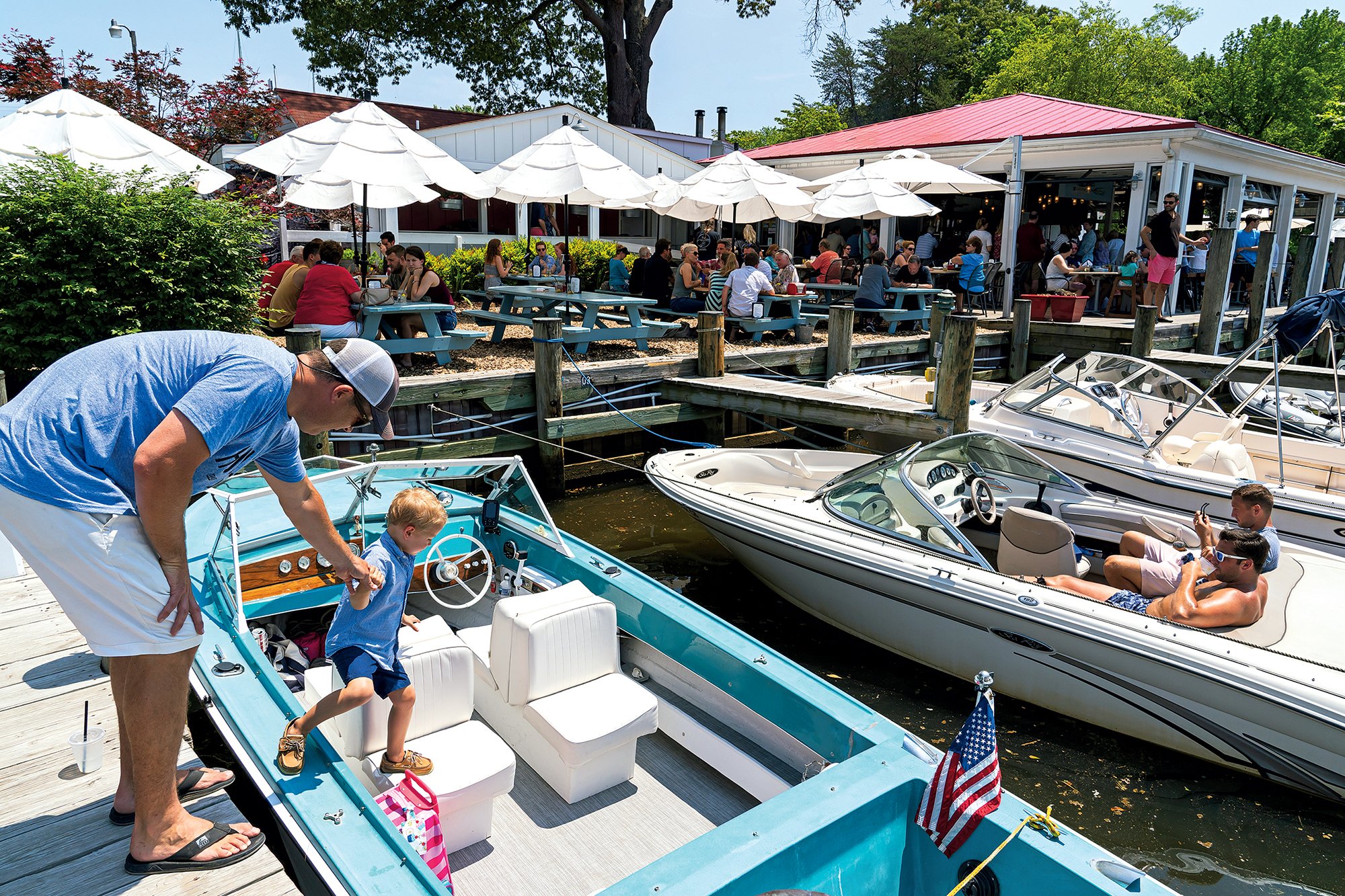 Worth the Drive
458 Forest Beach Rd., Annapolis; 410-757-1311
Waits can reach more than an hour on weekends during peak season at this Annapolis institution. But you can always grab a canned beer and head to the docks to scope out the shedding tanks where the restaurant harvests its soft-shells. In season, Cantler's draws most of its crabs from within a five-mile radius. While lesser crabhouses might not use the good stuff in their prepared foods, this kitchen incorporates prized Maryland blues in everything, including an excellent cream-cheese dip.
While you're there: Head to Annapolis for homemade ice cream at the Annapolis Ice Cream Company (196 Main St.; 443-482-3895).
304 Burns St., St. Michaels, Md.; 410-745-2900
This half-century-old landmark catches as many tourists as crabs thanks to its waterfront location near the Chesapeake Bay Maritime Museum. Two important elements remain local: founders Bill and Sylvia Jones—whose family runs the welcoming, checkered-tablecloth space—and the steamed crabs in season. The best place to get cracking is on a picnic table along the harbor, with extra treats like crab balls and house-made slaw.
While you're there: Visit the indoor/outdoor Maritime Museum (213 N. Talbot St., St. Michaels; 410-745-2916)—great for families and nautical nerds alike—which also runs regular cruises on historic vessels.
104 W. Pier St., Oxford, Md.; 410-226-5550
Doc's, which recently took over from the decades-old Masthead, still seems to be working out its kinks. What's been consistent: the beautiful view over the Tred Avon River, where you can catch the sunset from a wrap-around dining patio and outdoor bar. (Look for bands on weekends.) Go simple when it comes to ordering—gingery Moscow mules, baskets of fried shrimp or oysters, and steamed crabs when the season hits.
While you're there: Grab a cone at the excellent Scottish Highland Creamery (314 Tilghman St., Oxford; 410-924-6298) before riding the Oxford-Bellevue Ferry (101 E. Strand St., Oxford; 410-745-9023), the oldest service of its kind in the US.
9025 Cuckold Point Rd., Sparrows Point, Md.; 410-477-8100
Local crabs are advertised at nearly every roadhouse and restaurant in the area, but hold out for the view at this destination joint. From the dock, you can take in Craighill Lighthouse and nearby Pleasure Island (home to an amusement park shuttered by storms in the 1950s) while enjoying hefty crabs, garlicky soft-shells, and crab dip in a bread bowl. Kids can play on the pirate-ship playground as adults share cocktails served in battleship punch bowls.
While you're there: Hike or bike-ride through 1,300-acre North Point State Park, where you might spot otters, foxes, and bald eagles.
3032 Kent Narrows Way S., Grasonville, Md.; 410-827-6666
Watch boats glide by from the spacious deck of this newer Kent Narrows crabhouse. The indoor/outdoor restaurant perches right at dock level, with plenty of umbrellas for shade. Long picnic tables and portions are both group-friendly—we like rounding out a crab feast with buckets of steamed clams and baskets of anything crispy (beer-battered fries, onion wedges). Indecisive? Steamed-crab pots with Maryland blues, clams, shrimp, and mussels solve the problem.
While you're there: The Chesapeake Bay Environmental Center (600 Discovery Ln., Grasonville; 410-827-6694), a ten-minute drive, rents kayaks and provides hiking maps and bird-sighting opportunities.
433 Kent Narrow Way N., Grasonville, Md.; 410-827-9500
Beachgoers have been making the brief detour to this restaurant near the Bay Bridge for 37 years. Both the menu and the space—with multiple decks overlooking the water—are vast. In addition to steamed crabs, home in on local delicacies such as crisp Chester River white perch, soft-shell crabs and clams, roasted rockfish, and oysters in all forms. The bivalves come from Harris Seafood Co. next door, the last full-time oyster-shucking house in Maryland.
While you're there: Grab a homemade Nutty Buddy ice cream at Harris's dockside ice-cream stand, then drive five minutes to walk off your meal along the boardwalk at Ferry Point Park (600 Swan Cove Ln., Chester).
910 Kentmorr Rd., Stevensville, Md.; 410-643-2263
It's worth the 20-minute detour from the Bay Bridge (and the crowds) for this Kent Island crabhouse. The menu boasts superior house-made dishes, including crab dip and crabcakes, soups, and tangy blue-cheese dressing for salads. It's a place to splurge on big local blue crabs in season—they're some of the sweetest we've had—and don't forget an order of "frings" (half fries, half onion rings).
While you're there: Bring a swimsuit and hit the sand at adjoining Dirty Dave's Tiki Bar, a manmade beach complete with palm trees, hammocks, live music, and a shack serving tropical drinks.
1100 E. Fort Ave., Baltimore; 410-576-9294
This no-frills tri-level dining room isn't quite waterfront, but you can spot a nice expanse of harbor—and the Domino Sugar sign—from a picnic table on the roof. The crabs, from Maryland when possible (other times Louisiana), are hefty and nicely steamed and spiced. Start with peel-and-eat shrimp (thoughtfully deveined) and steamed clams with butter, and grab some Old Bay–dusted fries—or the requisite pitcher of Natty Boh.
While you're there: Wander through Fort McHenry (2400 E. Fort Ave., Baltimore), which inspired "The Star-Spangled Banner"—the shrine and monument are a five-minute drive away.
3030 Riva Rd., Riva, Md.; 410-956-2784
About 40 picnic tables fill the sprawling patio, which sits atop the South River. (The indoor dining room and bar are just as big.) The 60-year-old crabhouse mostly gets its crustaceans from Louisiana and Texas but folds Maryland blues into the mix come fall, when they're extra fat and juicy. Garlicky, bacon-topped clams casino and corn-studded hushpuppies pair nicely with an orange crush, which you can also enjoy from Mike's waterfront tiki bar.
While you're there: Check out the Smithsonian Environmental Research Center (647 Contees Wharf Rd., Edgewater; 443-482-2200), which has cool hikes and a museum for kids.
700 Mill Creek Rd., Arnold, Md.; 410-544-5448
This typically packed indoor/outdoor dining room on a Mill Creek marina draws both kinds of crab lovers—those who could sit for hours and pick 'em and those who prefer that the work be done for them (there's a superb crabcake). Just as enticing: meaty wings dusted in crab seasoning, sherried cream-of-crab soup, cheesy crab dip, and deviled eggs spiked with vinegar.
While you're there: Bum around the beaches at Sandy Point State Park (1100 E. College Pkwy., Annapolis; 800-830-3974).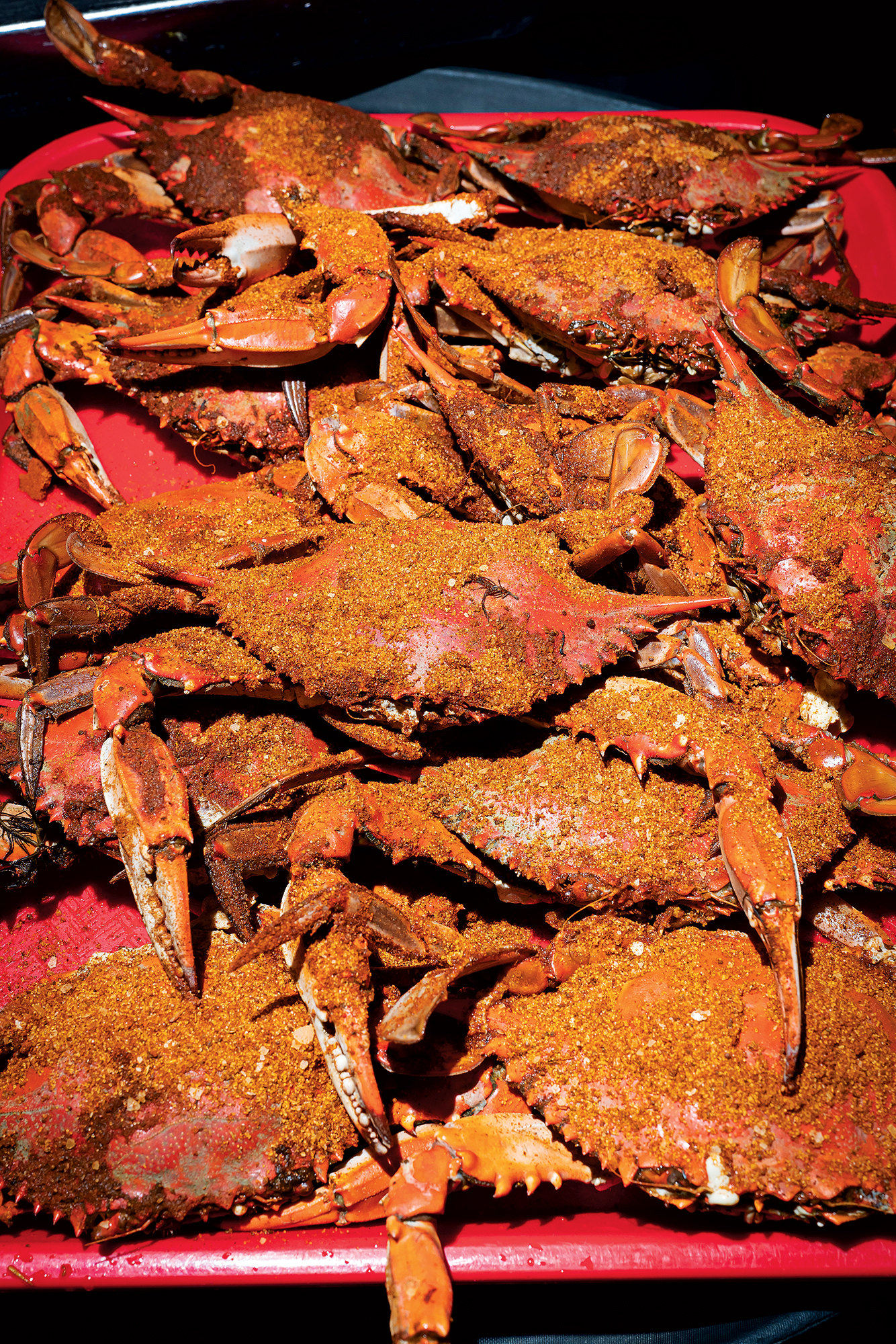 305 Mulberry St., St. Michaels, Md.; 410-745-3737
Locals know to call and reserve crabs at this waterfront spot on busy summer weekends. The crustaceans are often pulled from the nearby Miles River, and even the smaller ones are packed with sweet meat. Chef/owner Eric Rosen takes a from-scratch approach with the menu of seafood, salads, and sandwiches—not always the case in crabhouses. Grab a table on the deck adjoining St. Michaels Marina.
While you're there: Like the menu's local rum and beer? Taste and tour at Lyon Distilling Co. and hit Eastern Shore Brewing's bar nearby (both 605 Talbot St., St. Michaels; Lyon Distilling Co., 443-333-9181; Eastern Shore Brewing, 410-745-8010).
21551 Chesapeake House Dr., Tilghman Island, Md.; 410-886-2121
The crab-shack concept gets a cheffy spin at the newly opened Wylder Hotel Tilghman Island, a boutique revival of a 19th-century property. In the bright waterfront dining room, chef Sean Wheaton—a nine-year veteran of José Andrés's restaurant group—reimagines Chesapeake fare such as fresh-shucked oysters and peel-and-eat shrimp. The outdoor deck overlooking Harris Creek is the place for a mojito and steamed-to-order crabs supplied by the island's watermen.
While you're there: Make a weekend of it at the hotel, which boasts a new saltwater pool overlooking the shore and a marina with charter fishing and crabbing.
This article appeared in the July 2018 issue of Washingtonian.