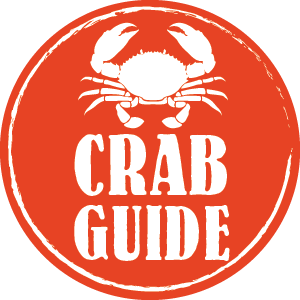 This week, we're rolling out our 2018 Crab Guide, including our favorite spots near and far for fresh crabs, the tastiest crab dishes (that aren't crabcakes), and our pro-tips for how to get the best out of crab season. Let's get crackin'.

If blue crab is this region's Beyoncé, Atlantic deep-sea red crab is the backup singer you've never heard of. Found about 2,000 feet below sea level, these crustaceans are harder to harvest than their Chesapeake cousins. Plus, only one East Coast company is licensed to catch them.
"I've been in business for 22 years, trying to put red crab on the map," Atlantic Red Crab Company founder Jon Williams says. "It's very well received when there's no blue crab around, but as soon as blue crab becomes available, we take a second seat."
Since Williams started running a boat out of Hampton, Virginia, in 2008, there have been pushes to turn the blue state red. Several years before that, red crab was used in Red Lobster's crab Alfredo. However, it was never called "red crab" Alfredo, and Williams stopped supplying the chain when it dropped the dish. "We've been playing in the generic crab business forever," he says.
That said, Asian communities can't get enough of the species. DC's Sushi Taro serves them on its omakase menu. Chef Nobu Yamazaki's purveyors don't carry the crabs; he gets them when he can at Great Wall Supermarket in Falls Church because he likes showcasing lesser-known shellfish. Yamazaki finds the tender, sweet meat similar to snow crab. Still, he admits, "blue crab is better."
This article appeared in the July 2018 issue of Washingtonian.