What happens if a white supremacist walks into a bar? Sounds like a joke, but that's the reality DC business owners are preparing for as hate groups convene in Washington on Sunday for the Unite the Right 2 rally. After last year's violent gathering in Charlottesville, business owners are taking action for potential confrontations with the estimated 400 white nationalists and other attendees—whether that involves beefing up security, as is the case at downtown mainstay Old Ebbitt, training staff to deal with aggressive patrons, or closing altogether. 
In advance of the rally, the Restaurant Association of Metropolitan Washington (RAMW) sent out a toolkit for business owners with legal information about their rights to refuse service to white nationalists and other political fringe groups. A similar document was disseminated in January around Trump's inauguration —fresh off the heels of Pizzagate, when a gunman fired shots inside Comet Ping Pong while investigating the wild conspiracy theory. Still, Founding Farmers restaurateur Dan Simons says Unite the Right is a different scenario altogether for his restaurants, one of which is located a few blocks from the rally.
"For me this isn't political. It's not partisan. I have no comment on the Trump administration," says Simons. "But it's a really big topic. My team, people are nervous. They're offended. They're scared to take public transportation."
Simons operates three Farmers restaurants in DC, and one in Tysons near where the Unite the Right group is organizing to take the Metro (their route is Vienna to Foggy Bottom). His team is treating Sunday's influx of white supremacists like a snowstorm in August. Similar to a weather emergency, any employee who's nervous about getting to and from work safely can expense alternative transportation, ask to be picked up, or take the day off. Simons is also prepared to refuse service to anyone bearing white nationalist or Nazi symbols or attire, or harassing employees.
"Our mentality is we're going to protect each other. This is our city. Our house. Our people," says Simons. "There are times when a guest can be rude to an employee and you swap out the server. We've told our team: this isn't what that is. You don't have to be in a room with someone who's advocating for your death and enslavement."
Other restaurants are shutting altogether. Alan Popovsky, who owns a string of presidentially themed restaurants in DC, will serve Sunday brunch at Lincoln downtown—even though he says business is down 30 percent all weekend due to the rally—and then close for dinner. He said the decision was made after his staff voiced concerns about their safety. In the meantime, Popovsky printed out a message that'll be posted on the doors of all his restaurants.
"We're really trying to bestow our image of these Presidents and what they represented—freedom and equality."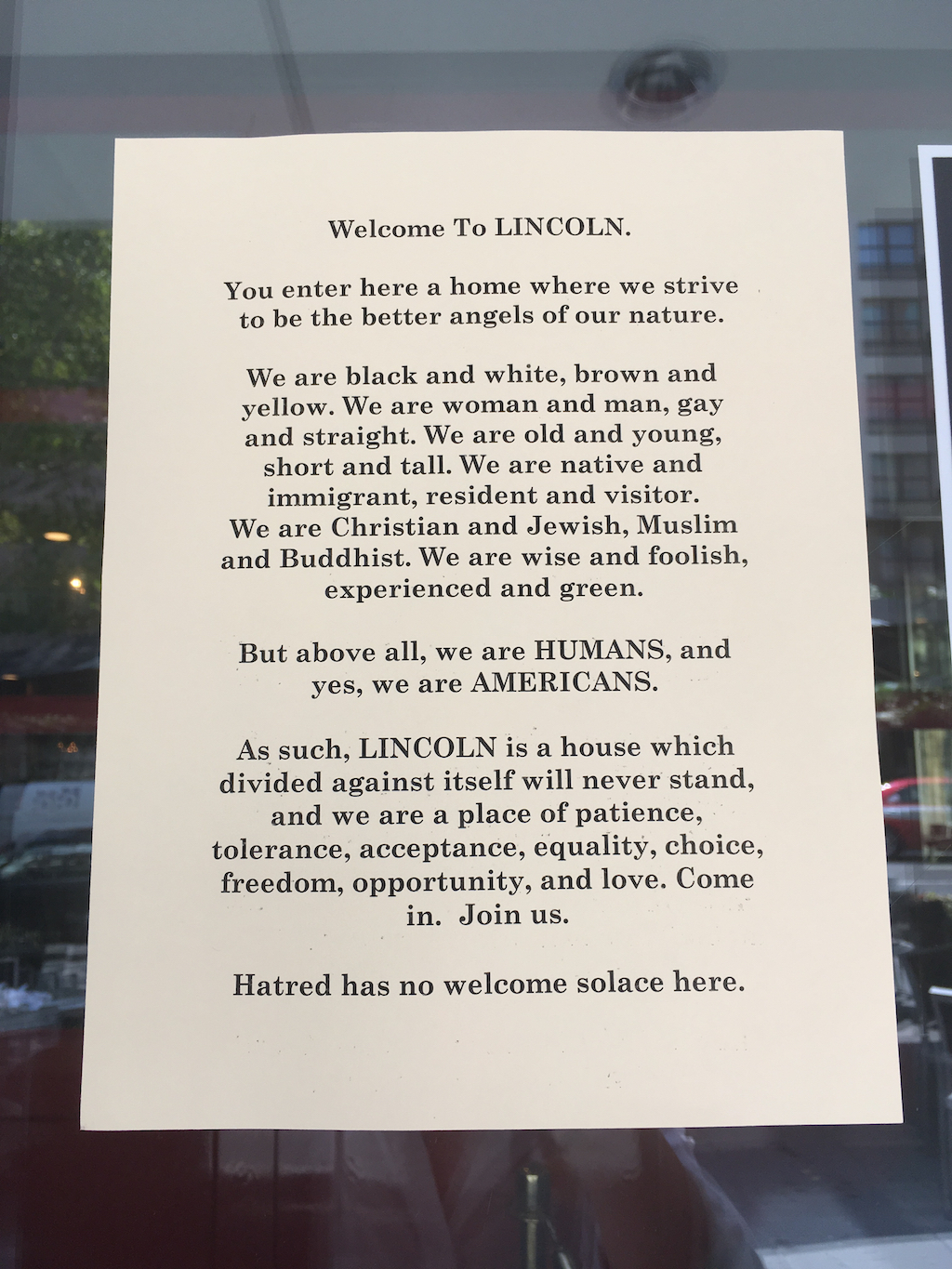 Ellen Kassoff Gray and chef Todd Gray have operated Equinox restaurant near the White House for nearly 20 years and thought they'd "seen it all" when it comes to protests in nearby Lafayette Square. They've never closed during protests, and aren't this weekend—though like other restaurateurs, Kassoff Gray expects business to "severely suffer" this weekend as regular downtown customers avoid the hate groups.
"I'll proudly stay open and serve those who're respectful and kind. But being a Jewish restaurant owner and having a pro-Nazi group come to town, would I refuse service? Yes, I would," says Kassoff Gray. 
Creative political signage is also a specialty of Brian Hill, a native Washingtonian and owner of soul food restaurant Chef Brian's Comfort Kitchen downtown. While the erase-board sign outside his restaurant usually advertises politically-themed specials like a Trump "Impeachment BLT," he's going direct and simple this weekend: "No hate zone."
Hill says he's been training his staff, whom he calls his "young guns," in advance of the rally. He says he's been talking with them about identifying trouble, and avoiding it.
"Don't engage—our meetings are all about 'not engage'," says Hill."Even if someone kicks our sign, whatever, let them go about their business." He adds that even though business is slower downtown on weekends, he'd never consider closing for Unite the Right.
"We were evicted from our home when I was 11. I've been shot at twice. Ask me if I'm worried. I'm not going to be afraid of a man that breathes the same air as me."