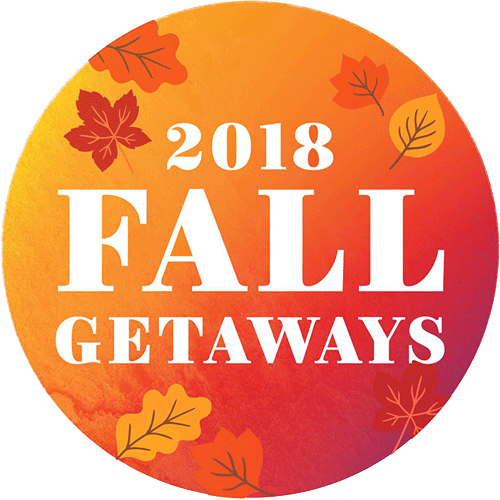 This article is a part of our 2018 guide to great fall getaways, including where to head for colorful foliage, fun festivals, and other glories of autumn.
Does your perfect day trip combine something active with a relaxing lunch or a drink? No sweat, then—these six outings are for you.
A Catered Canoe Trip
"If you don't want to get wet and muddy, golf is your thing—not kayaking," says Mike Dudash, a guide with River & Trail Outfitters, by way of introduction.
We are 15 not-yet-drenched-or-dirty kayakers gathered on the expansive lawn of the Newcomer House at the eastern edge of Antietam National Battlefield. We'll put into Antietam Creek for a leisurely three-hour paddle, punctuated by some adrenaline-inducing rapids, wildlife sightings, and history lessons.
But first, we eat.
A caterer from nearby Sharpsburg, Maryland, has laid out a midmorning spread that would make even a brunch snob salivate. On my June trip (the menu changes each season), there's smoked-trout spread, pillowy Dutch pancakes, Parmesan hash browns, blueberries with whipped cream, and, of course, bacon.
While we're sated and still seated around the weathered picnic tables, Dudash breaks the ice by having us share an interesting personal tidbit. (One guy once outran a hippo.) Then our guide passes around historic photos of places we'll be seeing. Judging from the pictures, things have changed little in more than a century on Antietam Creek.
The place name is synonymous with the horror of war. On a single date—September 17, 1862—some 23,000 Civil War soldiers died in the Battle of Antietam, making it the bloodiest day in the bloodiest four years of American history.
Even the novices among us quickly pick up the knack of kayaking as we glide through calm, latte-colored waters, with an occasional rapid to spice things up. It's a perfect, sun-dappled day. A family of ducks waddles along the bank. A blue heron fishes for lunch. Dragonflies alight on the bow.
After we glide beneath the graceful stone arches of Burn­side Bridge, where 882 souls perished in battle, Dudash directs us to pull over, close our eyes, and listen. "We're floating through history," he declares. "Here, connectivity has nothing to do with the number of bars on your phone."
River & Trail Outfitters offers a variety of active outings. The next kayak brunch at Antietam is September 23. $99; 301-834-9950.
Quiet Kayaking
There are no noisy powerboats on Occoquan Reservoir, a slender 2,100-acre lake in Fairfax County that's edged by forest. You can rent a kayak ($12 or $13 an hour, $37 or $41 a day, with the lower prices for county residents), paddle at a gentle pace, and try to spy bald eagles and ospreys.
Afterward, head to another paradise of sorts—Paradise Springs Winery, less than 20 minutes away (13219 Yates Ford Rd., Clifton; 703-830-9463). There's live music on weekends, ample outside seating and spots for picnics, plus truly nice wines. Tastings cost $15 a person.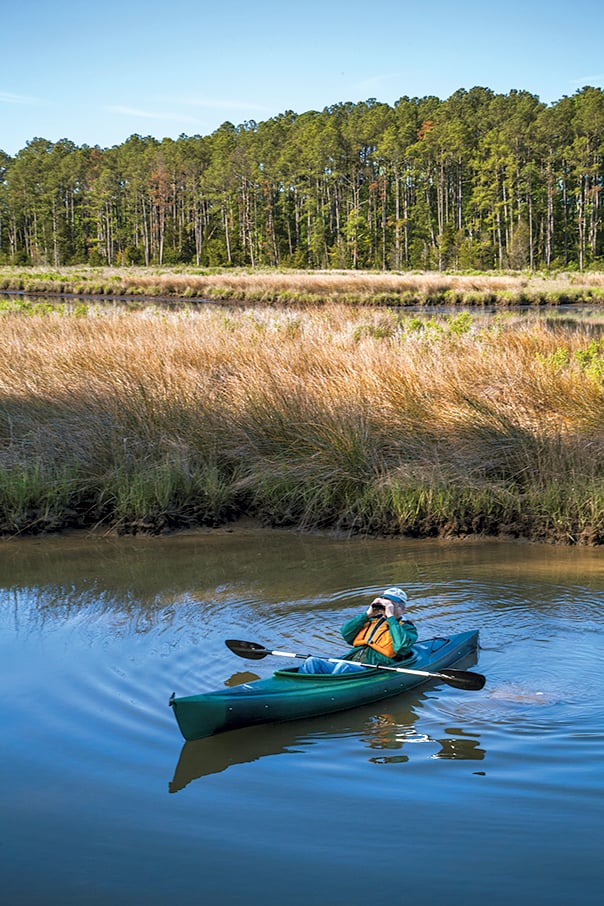 Biking Off the Beaten Path
Cycling country roads sounds lovely—until you realize the roads usually have no shoulders but do have fast-moving cars that won't anticipate a cyclist around the bend. The Bluemont Connection may have one answer: private guided tours on less traveled gravel lanes in and around Middleburg.
"These gravel roads are well maintained. We can ride on a one-lane road shoulder to shoulder, and ride at a pace we want, without worrying about cars," says owner Eric Brewer. The roads run alongside Instagram-worthy horse farms and century-old stone walls. To add to the serenity, the Bluemont Connection offers to pick up and drop off riders and bikes in Georgetown, and to provide a homemade, plant-based, three-course picnic.
The three-hour rides—which average 40 to 50 miles—are better suited for experienced cyclists and accommodate groups of up to 12.
Pre-scheduled tours are $125 a person; $150 a person for private tour and picnic.
Battlefields and Baguettes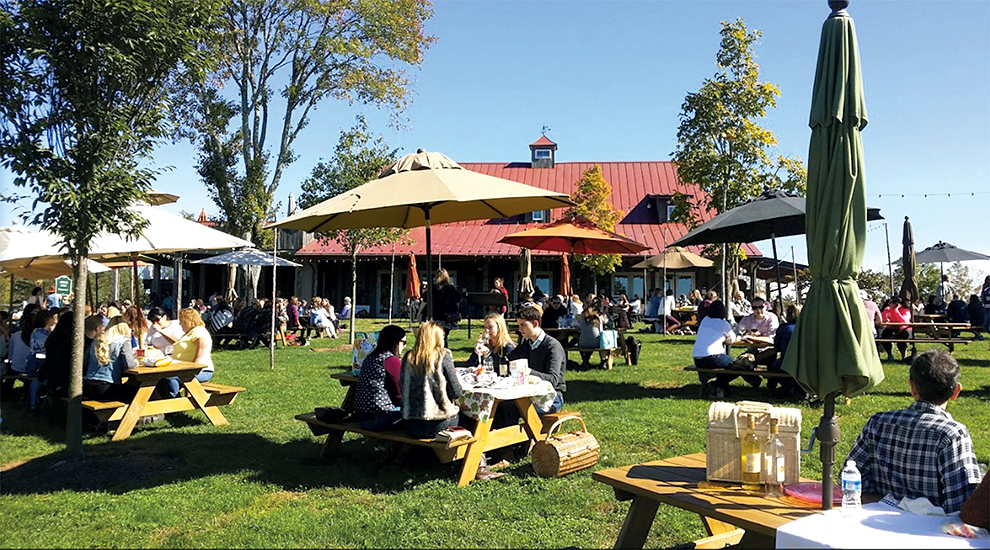 It's not just leaves that change from green to a bright color in fall—so do grapevines. For a front-row view of both golden vines and the first battlefield of the Civil War, head to the Winery at Bull Run. Arrive at opening time (11 am daily) to snag one of the 200 tables on the winery's 225 acres, or pay $150 in advance for a premium semiprivate spot with a $150 gift card that can be used for wine and food, including fresh-baked baguettes, cheese, charcuterie, or pre-ordered gourmet picnic boxes.
After lunch, walk next door to Manassas National Battlefield Park (free; open daily) and stretch your legs on the 1.3-mile Stone Bridge Loop Trail, ground zero for the First Battle of Bull Run.
The Winery at Bull Run, 15950 Lee Hwy., Centreville; 703-815-2233. Picnic-table reservations available in either adults-only or family-friendly areas. 
Paddling and Petit Verdot
You can enjoy the Potomac River bright and early on Lansdowne Resort and Spa's new 7 am sunrise kayak session (two hours for $150; 44050 Wood­ridge Pkwy., Leesburg; 703-729-8400). This guided tour is made for all skill levels—including newbies who need on-water instruction—and focuses on the nature along the waterway, including bald eagles, red-tailed hawks, deer, and beavers.
After, head to King Street Coffee in Leesburg (110 S. King St.; 571-439-0407) to awaken the rest of your body with a cup of Lone Oak java—roasted in nearby Winchester—and colorful scones and mini-pies from Dunn From Scratch bakery.
Then consider a drive to the boutique winery Casanel (17956 Canby Rd.; 540-751-1776) right as winemaker Katie DeSouza opens the doors at 11, and try her two versions of Pinot Gris—the lush Patricia Marie and the citrusy Ellianna—as well as the Virginia Governor's Cup gold medalist 2015 Petit Verdot. Tastings are $10 or $15 Friday through Monday, or Thursday by appointment.
Close out the Leesburg loop back in town with a bacon cheeseburger at Melt (525 E. Market St.; 703-443-2105)—you've earned it after such an active morning.
Hiking, History, and Hops
Warning: The Maryland Heights trail is steep. But it's worth it. The 2.8-mile round trip leads to a postcard-perfect over-look of Harpers Ferry, West Virginia, as well as the confluence of the Shenandoah and Potomac rivers.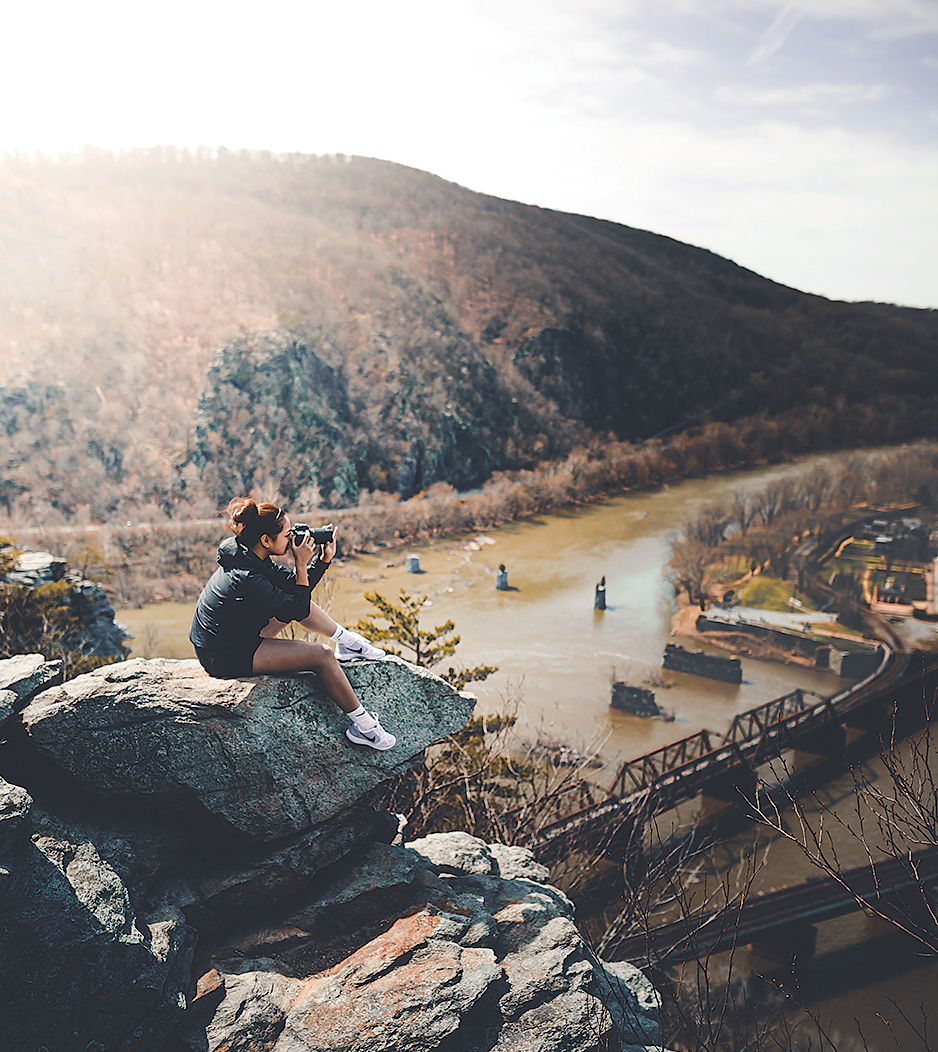 You can park at the Harpers Ferry National Historical Park lot and take the shuttle into town. Then cross the bridge to reach the trailhead. (With the walk to the trailhead, the hike's total distance comes to 4.5 miles round-trip.) For serious hikers, the trip can be extended by 2.5 miles if you follow an additional path that climbs higher, to several views along the Potomac. Do the hike early in the day not only to avoid crowds—this hike can be popular—but also to leave time to visit the town's Civil War landmarks.
Then reward yourself with a pint of ale at the Coach House Grill n' Bar (160 High St.; 540-514-6255), which, along with a variety of beers on draft, serves burgers, panini, wraps, and big potato wedges.
This article appears in the September 2018 issue of Washingtonian.