When veteran bartender Lukas Smith was brought on to create a replacement for beloved cocktail bar 2 Birds 1 Stone, he initially envisioned something dark and moody full of smoked cocktails and heavy spirits. "It was going to be super about how smart and cool I am and all these tricks I can do," says the former Dram & Grain talent, who's also behind the geeky cocktails at rum distillery Cotton & Reed.
But after a bar crawl around 14th Street with a fellow bartender, it occurred to Smith that people in the neighborhood didn't want something so serious. They wanted something fun, something to help them forget all the craziness in the world and country right now.
In other words, people wanted a vacation. And what's the most fun vacation? Smith's first thought: the destination wedding. And so Destination Wedding will be the name and theme of the new bar, which opens today.
"If you think about a wedding, what is it? It's about bringing people together. It's about having fun. It's about celebrating positive things. It's about having a party. It's about drinking. It's about eating," Smith says. "Weddings are like bars."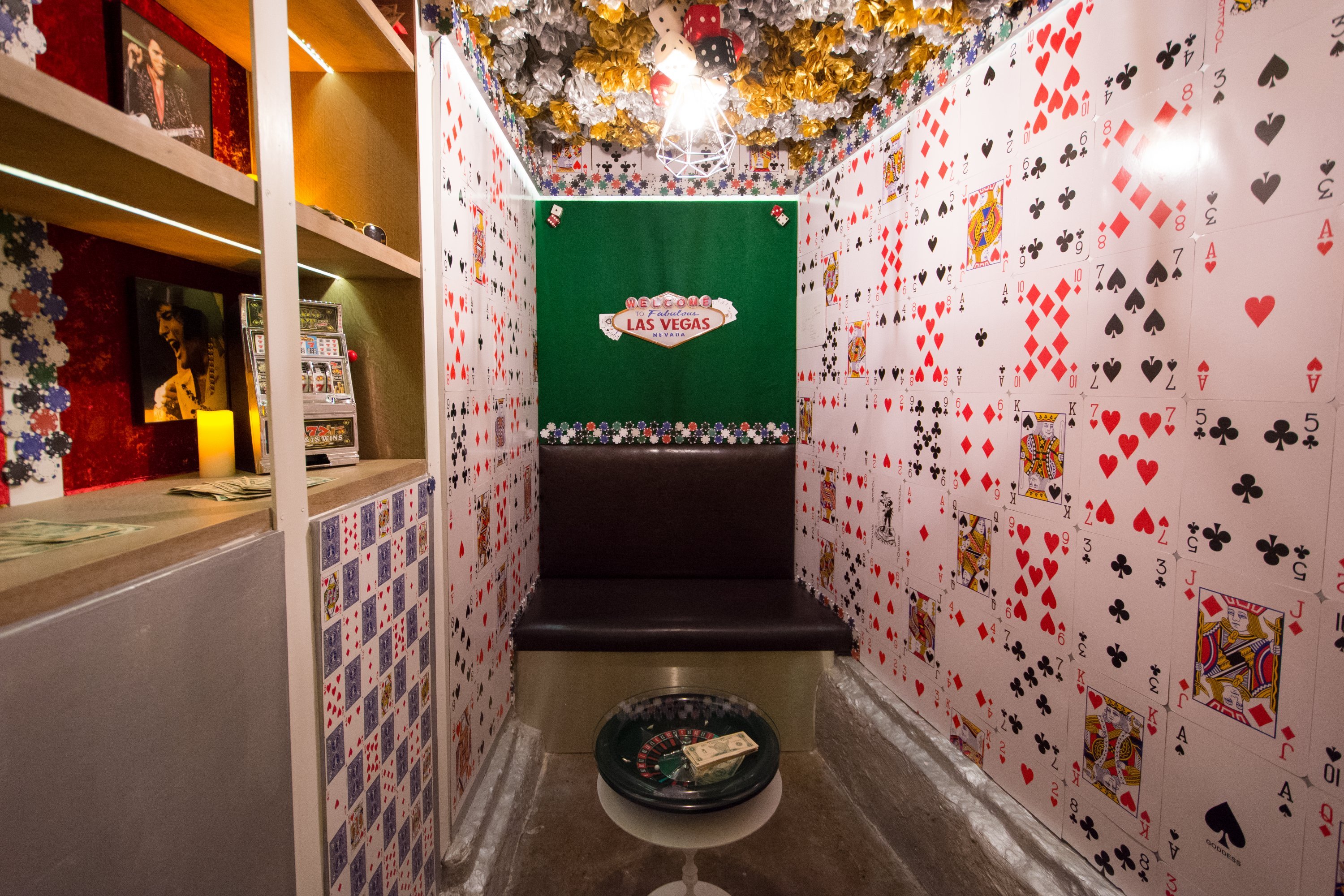 Every nook in the subterranean space is devoted to a different nuptials locale, thanks to the decorating skills of Cotton & Reed co-founder Jordan Cotton. One nook is decked out like Las Vegas with playing cards and Elvis portraits on the walls. Another nods to Jackson Hole with an Aspen wood wall, lots of greenery, and a bird house.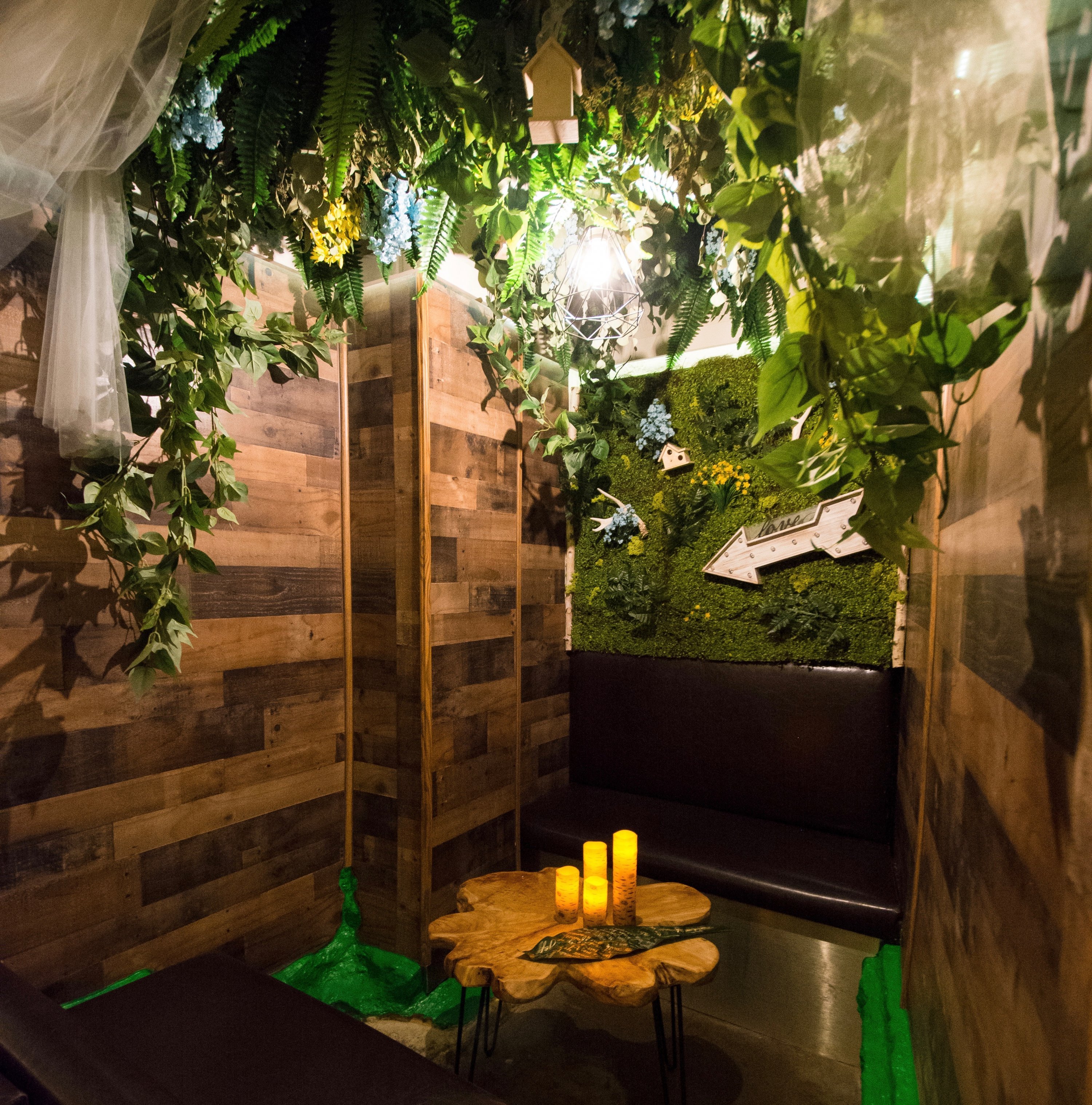 Other alcoves are devoted to Parisian, tropical, and "Moroccan fantasy" weddings. Meanwhile, the former bar's big booths have been replaced by a parquet dance floor with a disco ball overhead.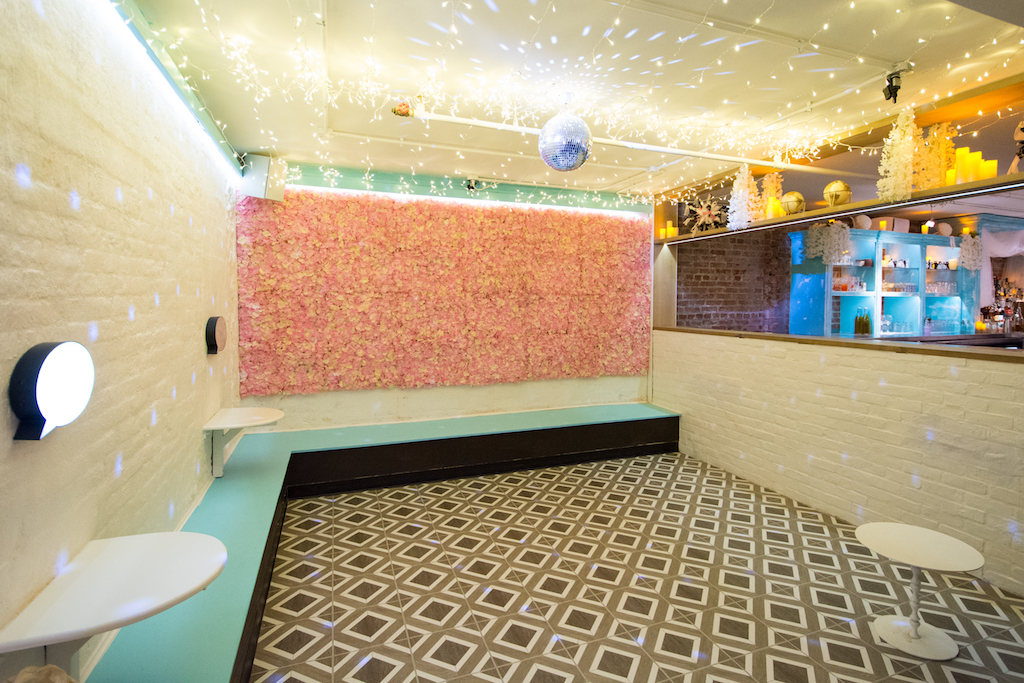 Destination Wedding also pays homage to 2 Birds 1 Stone's artistically pornographic bathroom wallpaper with its own (now more diverse) soft-core photo collage. "It marries with the wedding theme," Smith notes. (Side note: we've never heard anyone giggle so much describing their bar.)
While the whole theme may seem gimmicky, Smith's known for some serious cocktails. And he's brought some bar talent with him, including bar manager Robin Miller, formerly of Espita Mezcaleria. He describes the drinks as "romantic escapist" and "tiki but without the fake Asian-Polynesian stuff" with a focus on carbonated and nitrogenated cocktails on draft.
Smith's twist on the gin and tonic, dubbed "New Spanish Boyfriend," uses a Valencia orange tonic with lemongrass and coriander plus some fino sherry. The J Rickey is a cross between a mojito and a Rickey—but jazzed up with syrup using wintergreen, cardamom, and birchbark. "Any time ever that anyone tried to order a mojito from me, they'd say, 'Can I have a mojito but not too sweet?' I'm like, 'Why don't you just order a Rickey with mint?'"
Another cocktail called the "Fairy Vodmother" offers a compromise between a vodka soda and a glass of rosé by combining the two with lemon seltzer and frozen grapes. It's low-calorie, low-alcohol drink, and Smith swears it's not as weird as it sounds.
What is weird (hopefully in a good way) is his nitrogenated margarita and negroni. The nitrogen gives the drinks a velvety, soft texture—think Guinness beer or cold-brew coffee. It also suppresses bitter flavors, which means more bitterness is necessary to make the negroni taste like a negroni. Smith says he had some bar friends try it this week. "They couldn't figure out what was happening in their mouths. I was like, 'You're welcome," he says. "The whole idea here is not to shock anyone. The more you think about it, it will definitely reward you for applying your mind and palate. But that is not required for enjoyment."
Snacks like meat skewers, spiced cashews, and fried chicken bao are "catered by" Southeast Asian sister restaurant Doi Moi. There will also be a handful of beers and wines. But mostly, it's about the cocktails, which range from $9 to $13.
Sorry, no open bar at this destination wedding.
Destination Wedding. 1800 14th St., NW. Open Tuesday through Saturday.