Washingtonian Today is not just another political news roundup. Instead, this daily morning brief provides local context on national news, catches you up on what's happening at Washingtonian, points you toward super duper awesome things to do around town, and lets you in on some special events going on in-house. Sign up here to receive Washingtonian Today in your inbox every morning.
Good morning sunshines, and congrats on making it to Friday. I think I'll treat myself to a Wawa coffee this morning; you should, too. Last night Washingtonian and Boeing threw a party honoring this year's Tech Titans. Many tech and startup bigwigs in very sharp suits and dresses joined us at the visually stunning Organization of American States main building; there, the Titans (who all seemed quite human-sized) ate disco fries, drank rum-raspberry mules, and rubbed elbows with some of Washington's most influential movers and shakers. I stationed myself firmly at the "make your own waffle on a stick" bar. As the party dispersed, I saw many of our Titans jump into Uber Blacks (no Pools here, folks), others drive off in their ultra-luxury cars, and one guest–a hero among us–blast off on a dockless scooter.
At 10 this morning the Washington National Cathedral will hold a public Service of Thanksgiving and Remembrance for Matthew Shepard, whose remains will finally be laid to rest in a private family ceremony afterward.  Our photographer Evy Mages was at last night's candlelight vigil in Dupont Circle and sends along this photo.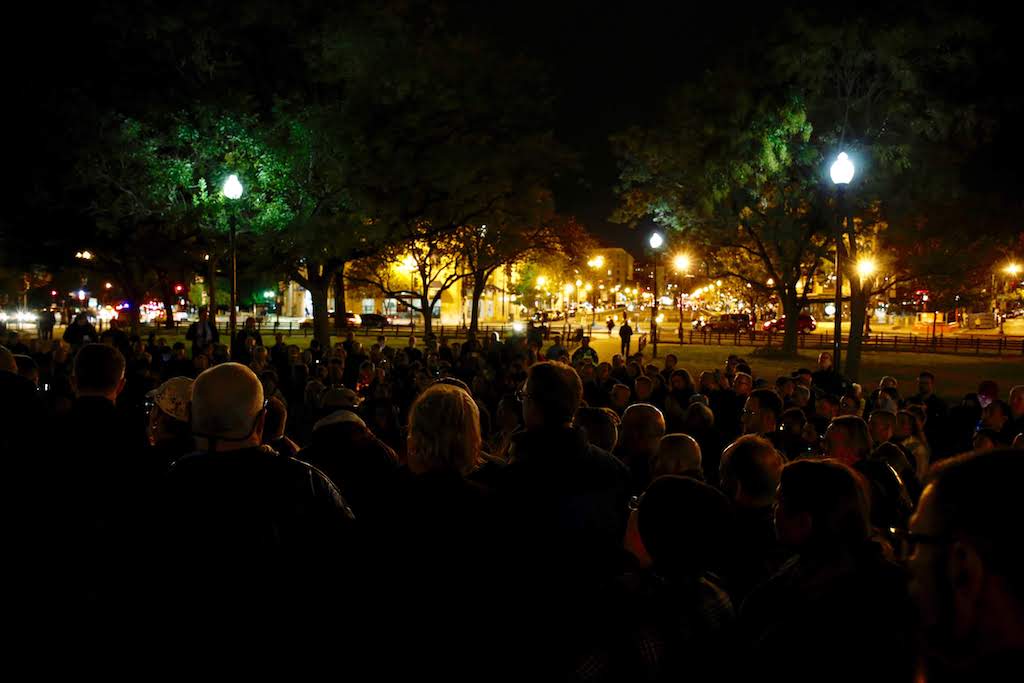 Also this morning, the White House will host a Young Black Leadership Summit. Reminder: after the administration's loss of Omarosa Manigault Newman earlier this year, its team currently has no black senior White House staff.
In more scary robot news: Vespa-like dockless scooters (!!!!!) may be on their way to DC and at this point, I'm curious why we couldn't get that streetcar project to really take off.
What we have cooking at Washingtonian:
Our pick for things to do around the District:
FILM AFI Silver has two different film series starting this weekend. Halloween on Screen features classic scary movies such as 1931's Frankenstein, 1922's Nosferatu (with a live score by Silent Orchestra), and a 4K restoration of 1979's Zombie. AFI's Silent Cinema Showcase kicks off on Saturday and its month-long run includes 1928's The Passion of Joan of Arc, 1923's Salomé (with a live score), and 1911's Dante's Inferno (with live musical accompaniment by Maurizio Guarini of Goblin). Halloween on Screen: October 26-31. Silent Cinema: October 27-November 21. Individual tickets: Free-$20.
Good reads:
Big events from Washingtonian
We're bringing back our Food Money Sex column, and we want it to start off with a figurative and literal bang. Email ideas@washingtonian.com or reach out to me directly if you're interested in learning more. (And check out some of my fav past submissions.)
Would you like to get this post emailed to you (a friend, or maybe even a frenemy) every morning? Sign up! It's free!