This year, DC chef Eric Adjepong became a dad, competed on Top Chef, and was named one of People magazine's top 10 "Sexiest Chefs Alive." So while he might not be widely known yet, he's quickly on the rise.
The 31-year-old Ghanian-American, born and raised in the Bronx, has worked in New York Michelin-starred kitchens and with a Harlem organization that teaches kids and their families about healthy eating. (Adjepong has a masters degree in international public health and nutrition from the University of Westminster in London.) Currently, he and his wife, the decorator Janell Adjepong, operate a DC-based pop-up and catering company called Pinch & Plate, arranging everything from flowers to food for dinner parties.
You can catch Adjepong in action when Top Chef: Kentucky (Season 16!) debuts on December 6. In the meantime, we asked him more about his West African-influenced cooking and his favorite judge from the competition.
How did you get into cooking?
I went to a vocational school during high school. Carrying my passion for cooking into a profession happened around that time. You usually have those conversations with your guidance counselor about what you want to do after school, and I realized a professional sports career wasn't going to happen. I decided to go ahead and go to [culinary] school.
My interest in cooking and food in general started pretty young. I really loved the communal aspect of food, bringing people together around food. Also just watching TV, watching cooking shows, I got enamored really quickly.
Any particular shows? 
Iron Chef, for sure. I was just huge into Food Network.
How would you describe your style of food? 
I've traveled a lot, and obviously as a chef, you tend to pick up certain things. My food is heavily influenced by West African cuisine but then just the African diaspora—the Caribbean, South America, the new-age South, and the old South too.
Do you have any particular signature dishes?
I've done a jollof rice paella before. Jollof is kind of like the paella of the West Africa region. I just essentially used that paella pan and did this really cool rendition on it with plantains and roasted tomatoes and scallops. What else? Waakye is kind of like the original rice and peas, and it's made with sorghum leaves. But I've done it with grains and wheat berries and quinoa and bulgar wheat. It feels like such a cliché thing to say, but I really do take a lot of traditional flavors, and I try to either flip them on their head or elevate them somehow.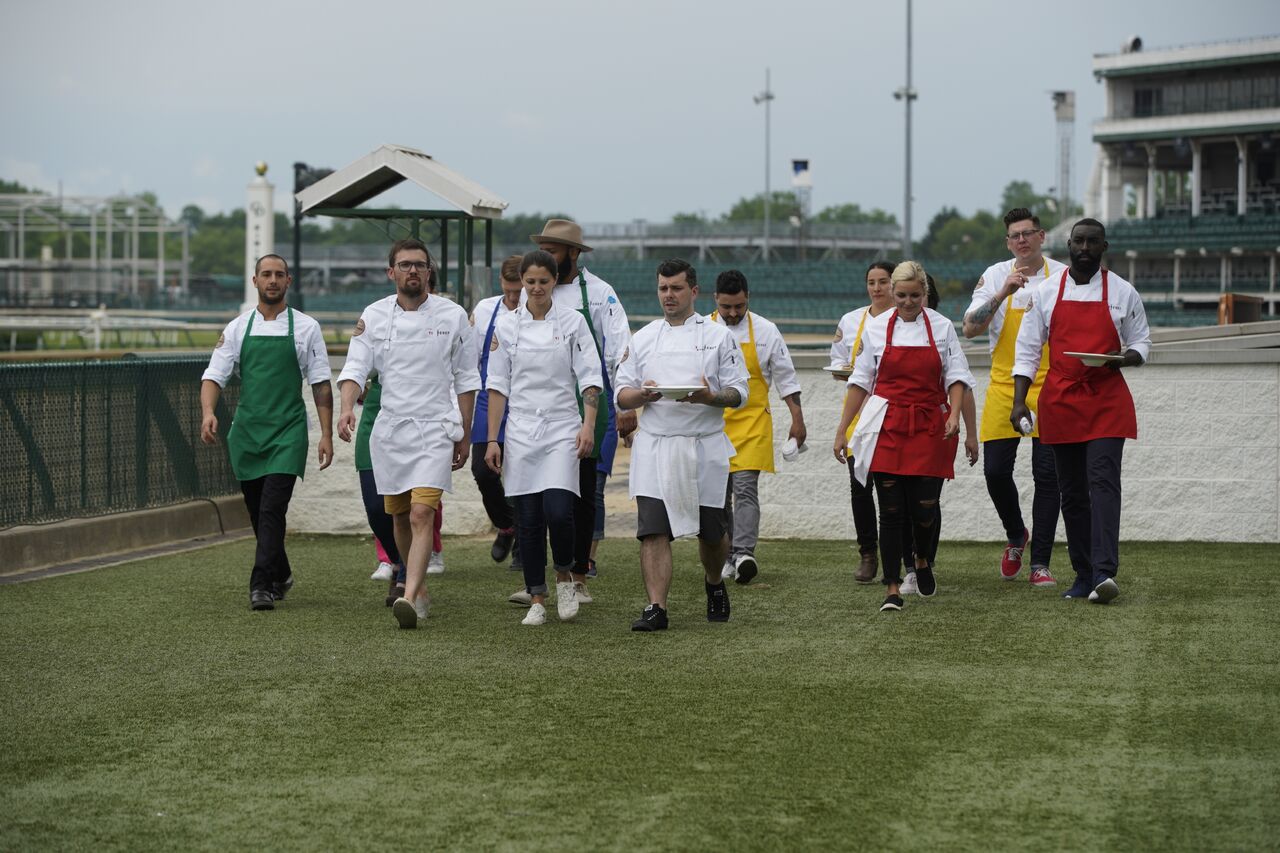 Why did you want to go on Top Chef? 
I think it was always a goal. I definitely admire so many of the chefs that were on previous seasons before me, and seeing their careers and how they really used that platform to speak their truth and to talk about the food that they like to cook. And also, I wanted to challenge myself. It's humbling when you can bring your food to some of the best palates in the entire world and have them critique your food.
Who's your favorite former Top Chef contestant from DC?
That's an easy one. It's Bryan Voltaggio. During his season with his brother, some of the best cooking I've ever seen. So inspirational as far as his mentality and the way he philosophizes around food, I think it's pretty damn genius.
And you also worked with chef Kwame Onwuachi at one point?  
I did. I helped open Kith and Kin at the Wharf. I was one of the executive sous chefs there. It was a great way for me to showcase a little bit of that bigger African diaspora palate and that cuisine. And then obviously working alongside Kwame was really cool as well, because he's done everything that I'm going through right now.
So did Bryan or Kwame or anyone else give you advice before you went on the show? 
No, not really. I didn't want any. I wanted to just do it on my own. It was really just me wanting to take it as my moment and really run with it.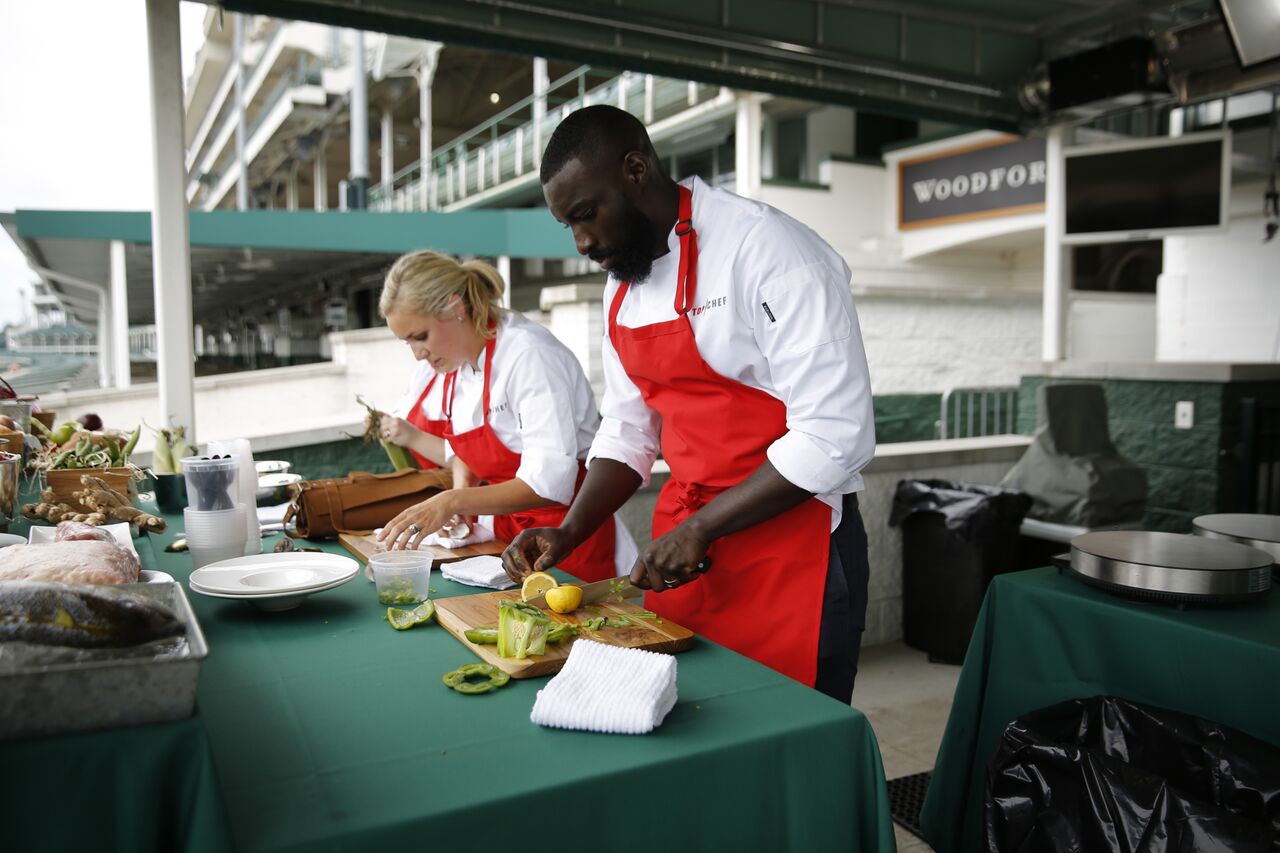 Did you do anything to train or prepare in advance?
It was fun because it was brushing up on things that you haven't done in so long. For me, it was kind of like going back to my culinary school days and really going back to those fundamentals—things I wanted to improve on, flavor profiles I wanted to combine and mess around with. But I think ultimately, and above everything, my number one thing to prepare myself was just to get mentally ready. I knew it was going to be tough. So I kind of braced myself for that and really tried to train my mind for the long haul and for expecting the worst.
What was most surprising about going on the show?
I knew Kentucky was going to be really hot, but not how hot. Kentucky around the summertime was, oh my gosh, what a beast. I didn't go into the competition with too many expectations, to be honest. I think my mentality was whatever happens is going to happen, you just need to work at it and adjust accordingly. I truly didn't care about what was going to be thrown at me.
Who's your favorite Top Chef judge?
Aw, man. I love Graham [Elliot]. I love Padma [Lakshmi]. I love Tom [Colicchio]. You know what? I love them all.
That's a cop-out answer! You've got to pick one.
Ok, ok. Can I tell you why I love them all? Tom has forgotten probably more than I will ever remember. He's so, so smart. He's very thoughtful with everything he says. Tom takes a pause and really thinks about what he's going to mention. I think—I hope—I mimic myself off of that. Padma's just like your aunt, legit. Padma's like an old auntie. I love that about her. She's so relatable. She's so down to earth. She is a very, very sweet and humbling person to be around. Graham is awesome. So much energy that comes out of this guy, it's ridiculous, and he's always quick to joke. And then Nilou [Motamed] is just an amazing, amazing thoughtful person.
So a very long answer, if I was going to hang out at a basketball game with one of them, it would be Padma.
I think that's the right answer. In other exciting news, you were recently named one of People's "sexiest chefs alive." How did that come about?
Your guess is as good as mine. They reached out and they mentioned that they, one, admired the work that I do, but two, apparently think I look decent enough to be considered. It was a very flattering gesture. It's a cool opportunity to get my face out there in an interesting way. A little bit embarrassing all in all, but I'm very grateful.
When end up on a sexiest chef list, what happens? Do you start getting scouts offering you modeling contracts? 
Modeling contracts? Yeah right, I wish. I'm going to try to stay in my own lane. I'm good with a knife. I'm good in the kitchen. I'd probably trip over myself if I was on a runway. Hopefully, I can do an appearance here and there, if I was ever asked, or some sort of modeling. I wouldn't turn it down.
Are you getting recognized on the street yet?
A little bit. It's been cool. And even folks just reaching out saying, 'I was getting my nails done and I was flipping through the magazine and I saw your photo on it.' So people are kind of reaching out on different mediums.
Now that you're getting all this attention, do you have any interest or plans to open your own restaurant? Or is it more about growing Pinch & Plate? 
Right now, we're still growing, and I think it's really smart for me to take care of everything that's in my power right now. The same mentality I had with Top Chef, to be honest—take care of everything you can take care of, and the good will still come to you. We're hoping to do some pop-ups relatively soon that would be open to the public. We do this thing called "Run Our Course," and we invite some people to come sit down. Obviously, we ask for allergy restrictions and things like that, but we essentially just feed them the stuff that's been floating around our heads.
And to answer the other question, I'm always willing to listen. But I think right now, I wouldn't want to move until it's the right move. Everything needs to be right. I'm thoroughly enjoying the position I'm at right now.
This interview has been condensed and edited for clarity.