On a Saturday in September, a Jack Russell terrier named Charlie hopped up the stairs at Arena Stage and trotted out to the terrace to await his turn. He was at the theater in Southwest DC for his first-ever audition—to play the role of Cheeky, a pompous dog in the Cole Porter classic Anything Goes.
But once his name was called, he struggled to follow the judges' directions to sit or stay, squirmed in their arms, and scurried under the table. It seemed a safe bet he wouldn't get the part. (He at least got to enjoy the consolation prize: a dog-friendly Sprinkles "pupcake.")
Luckily for Arena Stage, Charlie was just one of 20 dogs who turned out to the theater's first canine casting call. Arena has put on other shows with four-legged actors, including a pig in a 2011 production of Oklahoma!, but those didn't have to compete for their roles—they belonged to human cast members or other friends of Arena. This time, artistic director Molly Smith and casting director Victor Vazquez decided it would be more fun to conduct a full-fledged talent search.
"This is a total first for me after 30 years of directing," said Smith, who described the ideal Cheeky as "swanky-looking" because the animal belongs to a super-rich heiress.
Ashley Valm, the Humane Rescue Alliance's shelter behavior manager, also sat on the panel of judges. She was tasked with assessing the dogs' temperaments to determine whether they could handle the stress of performing for hundreds of theatergoers. "It was important to have a behavior specialist," said Vazquez. "I don't have a pet myself, so I wouldn't even know how to evaluate a dog other than by its cuteness."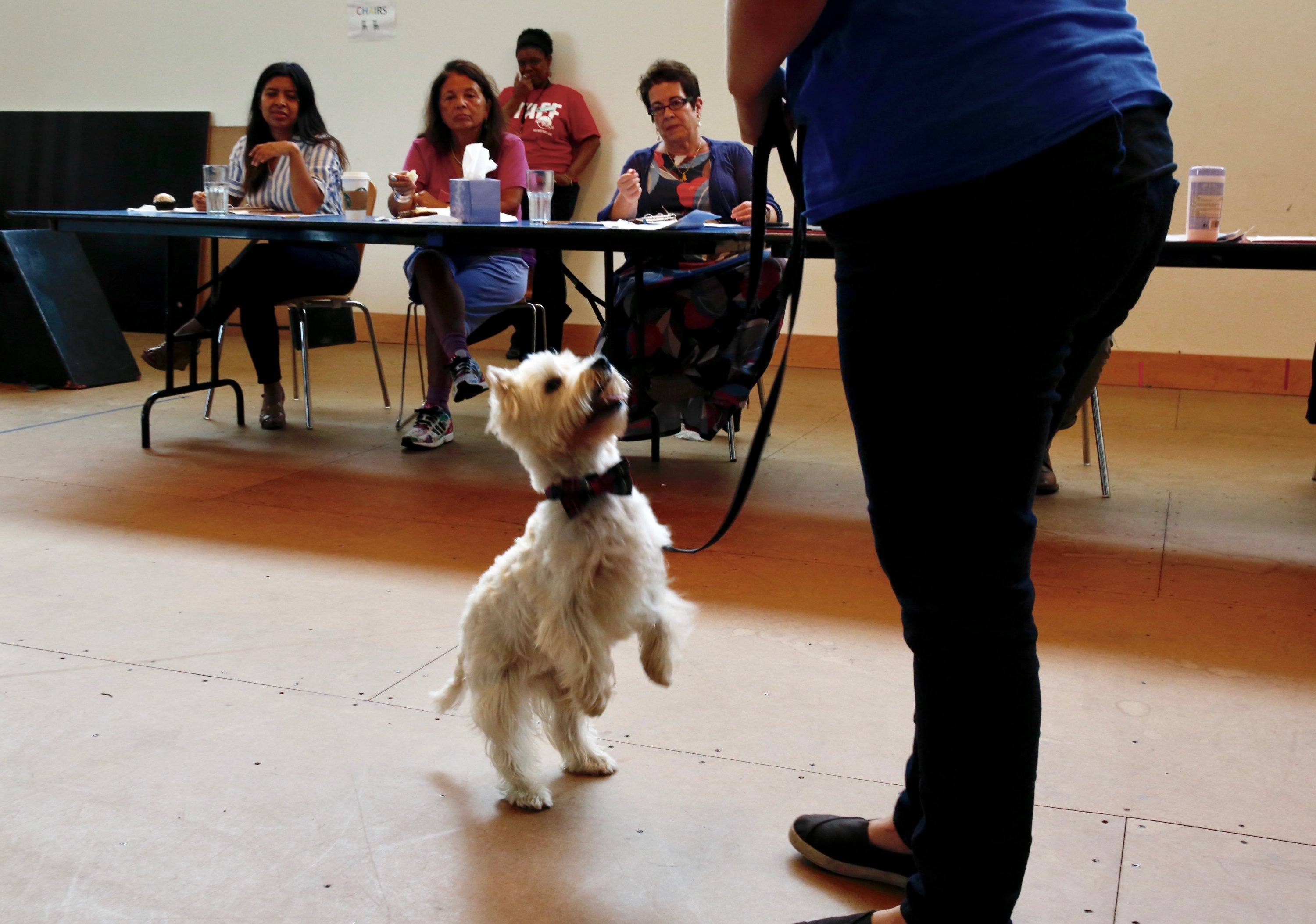 Outside the audition room, dogs milled about while their owners filled out an unconventional audition form: Any bite history? What things does the dog chase? Cinderelli's owner dressed her for the occasion in a pink ruffled outfit. Gabby, a long-haired Chihuahua, has the personality of a "librarian or hall monitor," her owner said. Gumbo, a rescue from a high-kill shelter, knows French, according to her guardian. The only professional show-biz dog was Charlie, a Westie in a bow tie who played Toto in a Ford's Theatre production of The Wiz last spring. Unlike the Jack Russell by the same name, this Charlie strutted unfazed in front of the panel—and wooed them all when he gave Valm a kiss on the nose. The only downside to the business, says his owner, T.C. Benson, is the weight gain from all the backstage treats. Halfway into Charlie's 32-show run as Toto, she said, "he was setting the alarm off in the car for the seatbelt."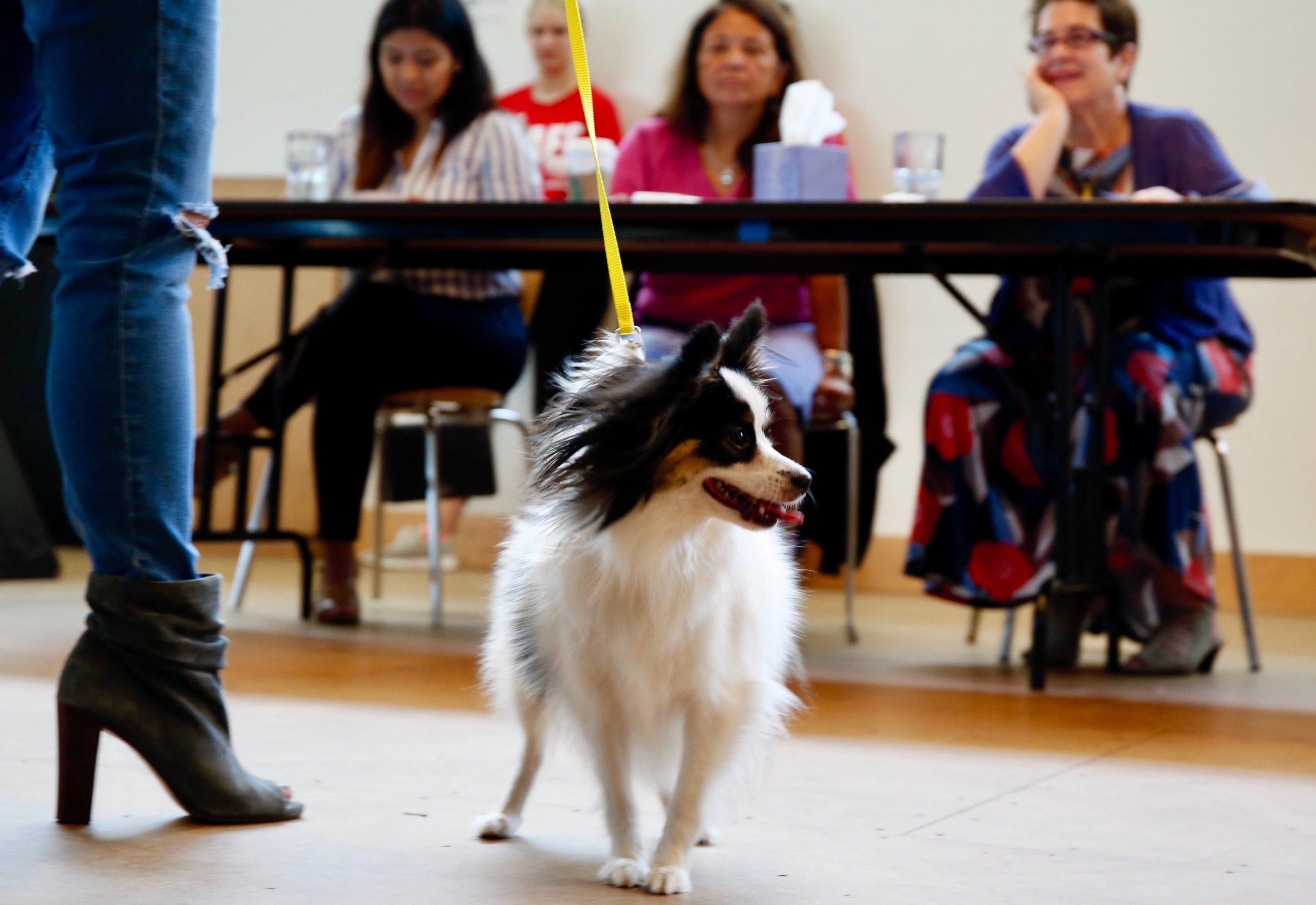 To evaluate the animals, Valm put them through a few tests that are standard at the Humane Rescue Alliance. She stomped her feet and threw down a binder to judge how the animals handled loud noises. She touched their lips to make sure they could tolerate "invasive behavior" (and didn't get bit once). After just 15 minutes of deliberation, the judges decided to cast two dogs to keep up with the intense seven-week production schedule. Surprisingly, they bypassed Charlie the Westie for two amateurs: Maximilian Moonshine, a fluffy-eared papillon from Ballston, wowed the panel with his ability to jump into his owner's purse—a trick that will play well to an audience. Olly, a dachshund mix from Adams Morgan, impressed the judges with his willingness to be held by everyone. Smith herself fell in love with him and didn't want to put him down.
You can catch them in Anything Goes November 2 through December 23. And don't worry, they're getting paid with more than pupcakes. "The dog and parent will enter a contract just like any performer would," says Vazquez. "It's part of the process. We want to pay our artists."
This article appears in the November 2018 issue of Washingtonian.