Air Canada is currently hosting a pop-up poutinerie in Dupont Circle, featuring 10 international takes on the Canadian staple. Each poutine nods to an Air Canada destination available from local airports, and proceeds from the $5 dishes go to local non-profit Martha's Table. Hungry for the word on the curd, our team braved an hour long wait in the around-the-block line to sample the full menu before the pop-up closes on November 15. Our Drake ratings (hey, he's Canadian) from best to worst:
Mumbai's Baked & Buttered
Butter chicken, paneer cheese and diced tomatoes on a layer of hand-cut fries. 
The tender butter chicken garnered unanimous cheers from our taste testers. Spiced, sauce-coated fries are as close as office lunch gets to cozying up in flannel pajamas and diving into Indian take out. 
Rating: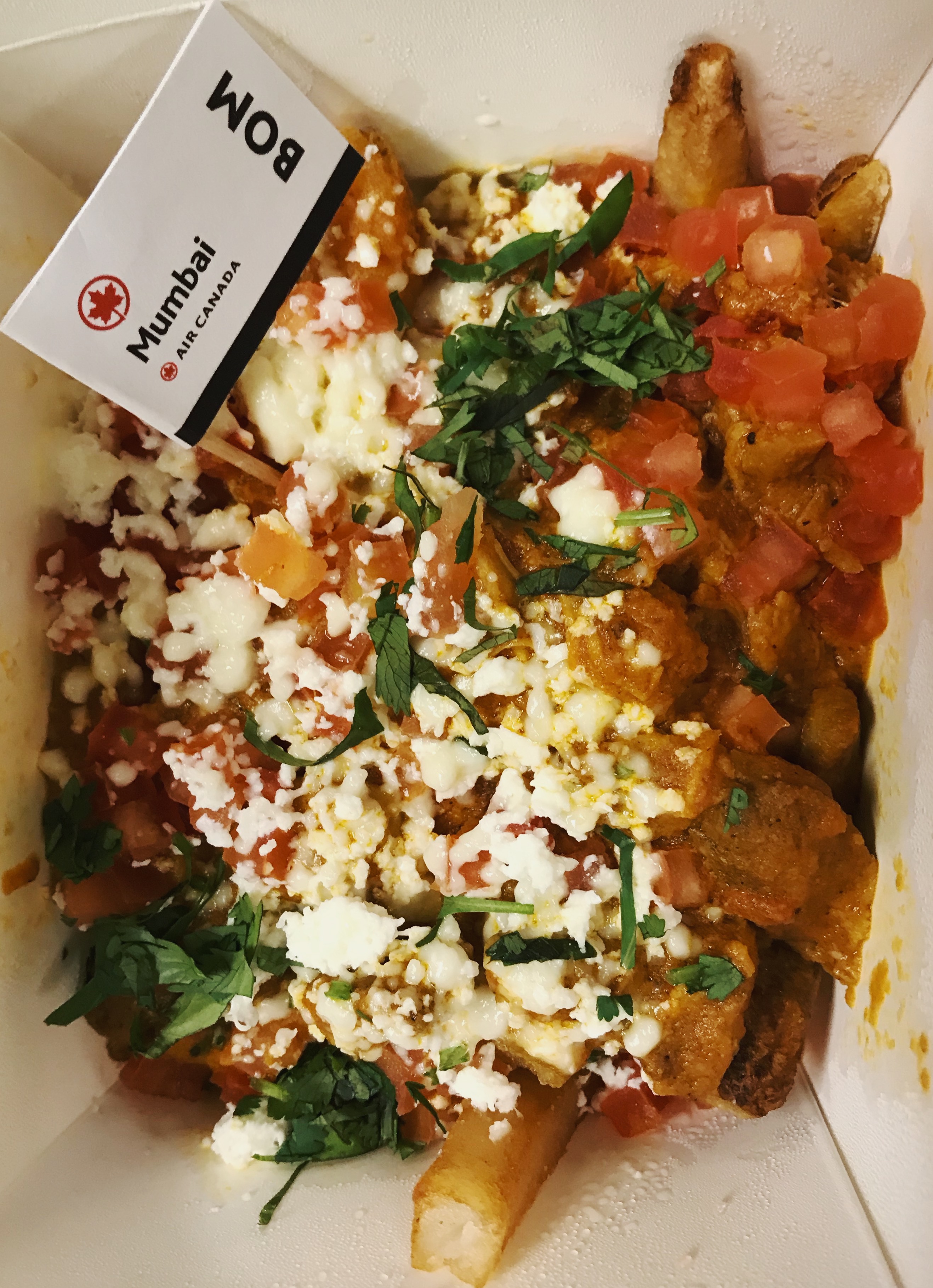 Shanghai's Neon Street BBQ
Shoestring fries topped with Asian BBQ pulled pork, hoisin gravy, and a veggie slaw.
We could've used more hoisin, but we were fans of this poutine. The pork was tender, and the slaw gives the dish a nice crunch.
Rating: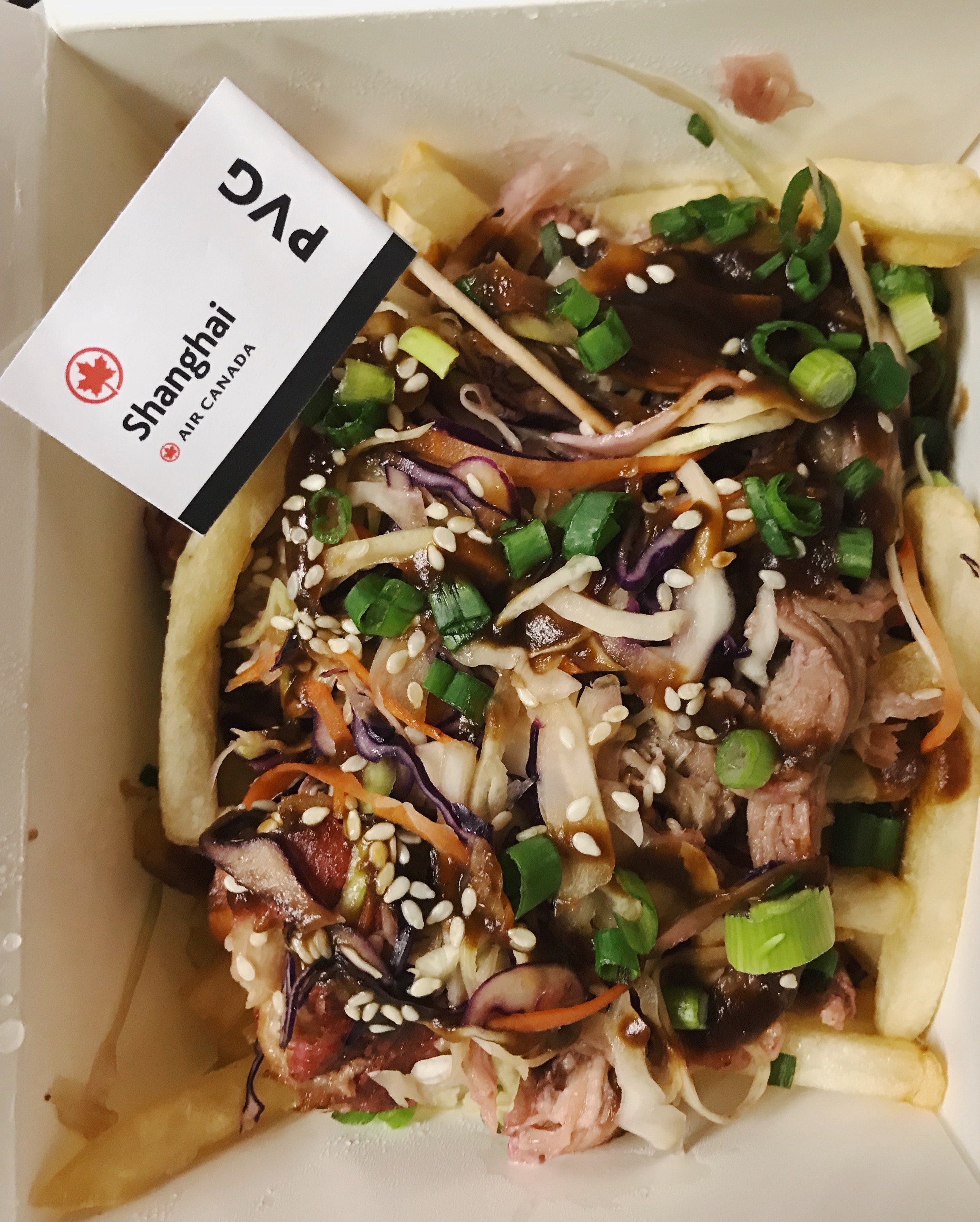 Montreal's Classic
Hand-cut fries topped with the classic cheese curds and gravy.
This traditional rendition served as the control group for our poutine experiment. The squeaky curds earned an A+, but we wished for a more even coating of gravy.
Rating:

Paris' Brasserie-Born Braised Beef
Braised beef with a hearty portion of mushrooms and horseradish cream.
Nobody was expecting this one to be a winner (hello, horseradish cream and mushrooms?), but the gravy had a strong wine flavor and carried some complex notes. Horseradish for the win!
Rating: 

São Paulo's Sweet Chimi-Churrasco
Grilled carne asada sprinkled with green chimichurri and queso blanco on a handful of sweet potato fries.
It looked like a top-notch sweet potato adaptation of poutine, but it lacked enough chimichurri to keep us wanting more.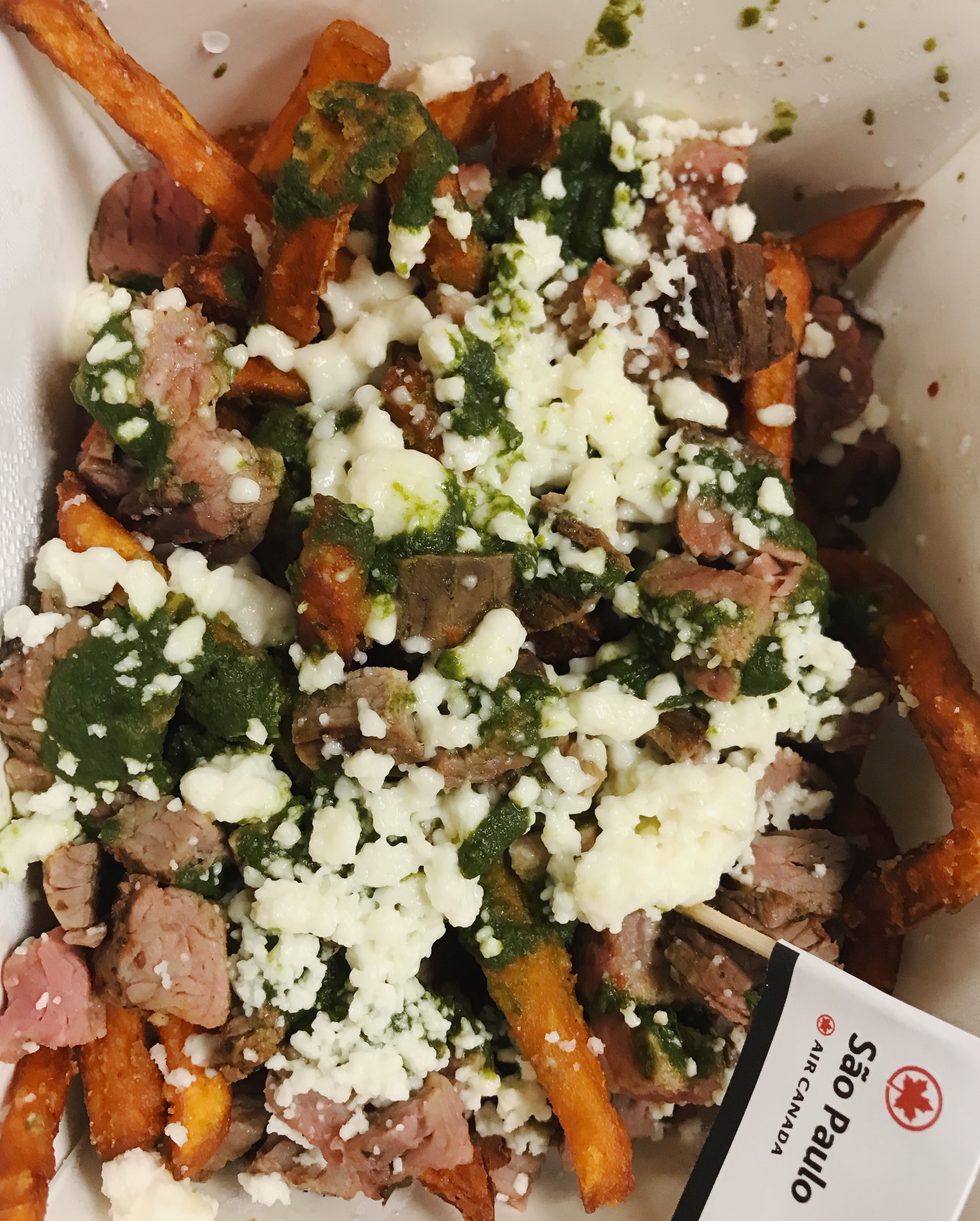 Rating: 

Dubai's Late Night Shawarma
Chicken shawarma and a cucumber-tomato salad tossed with shoestring fries and drizzled with tzatziki.
The fries were flavorless with only a dribble of tzatziki, but the crisp cucumber and fresh cherry tomatoes redeemed this lighter take on poutine.
Rating: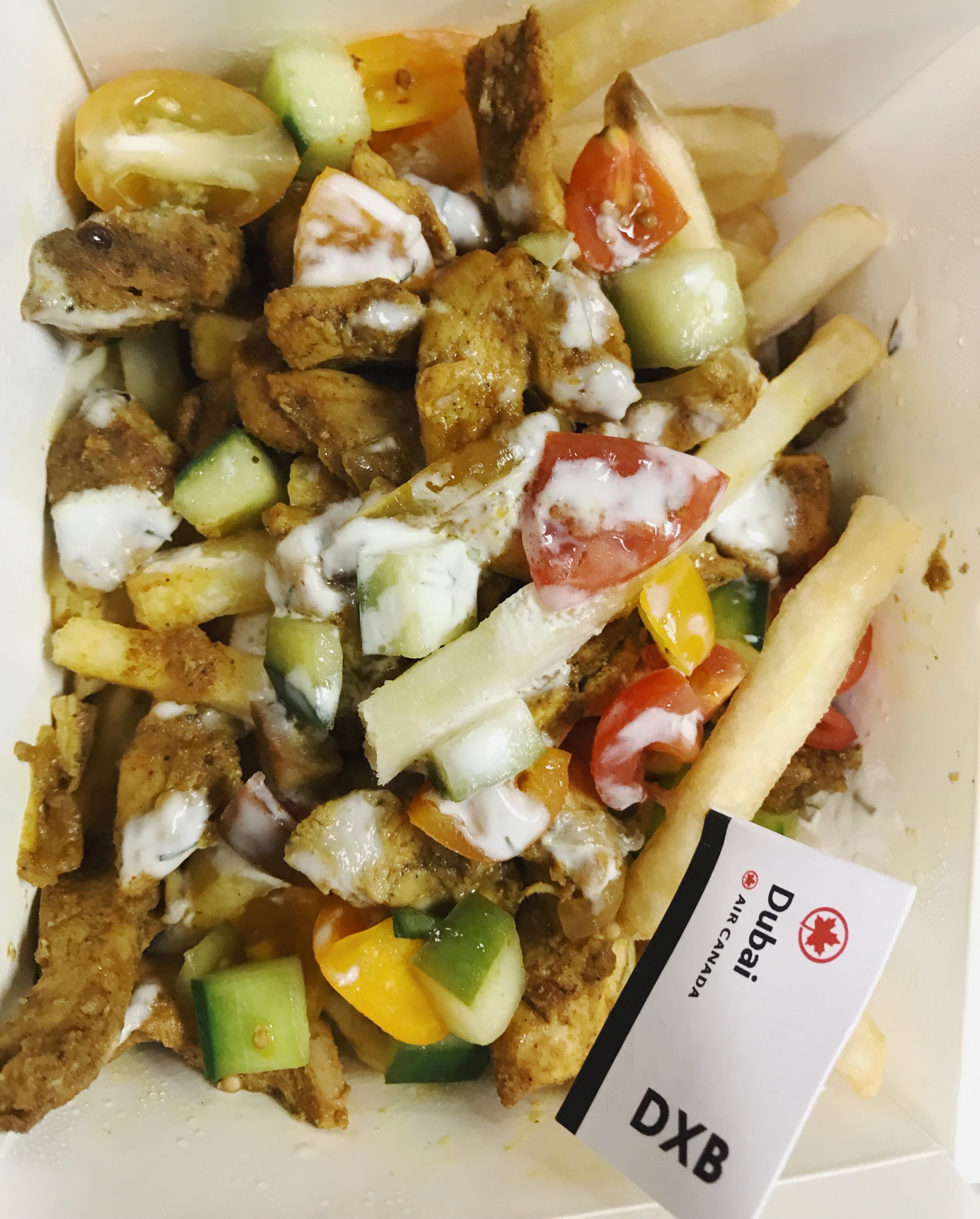 Toronto's The Six
Sweet potato fries, with cheese curds, pork belly bits drizzled drenched with a maple mustard
If this was supposed to be a shoutout to Drake's nickname for Toronto, it tasted like a whimper. The maple mustard overpowered the dish (and tasted cheap!) and there's so little pork belly you can barely taste it. It might have been 2.5 Drakes, but we had to dock Air Canada for messing up something named after a city in their homeland. Drake wouldn't approve.
Rating:

London's Corner Pub Fish & Chips
Malted vinegar fries and fried cod topped with a dill and caper tartar sauce.
Dill and caper gravy sounds like a stellar idea, but the mushy mockup of a pub favorite needed a crispier fish. 
Rating: 

Seoul's Twice the Spice Kimchi
A kimchi and sriracha slaw–not really a gravy in any shape or form–with German turnip and Asian pear chunks thrown on steak cut fries.
We wanted to like this one. We really did. But the sriracha "gravy" overpowered the delicate sweet notes of the pear and earthy turnip–our tongues were on fire after just a bite!
Rating: 

Rome's Eternal City Eggplant
Eggplant ragu-soaked garlic fries with mozzarella and basil.
We were nauseated two hours later thinking about this. The ragu tasted canned, the basil was nonexistent, and the eggplant was slimy.
Rating: Just like Pusha T's wedding, zero Drakes.
Pop Up Poutinerie by Air Canada. 1351 Connecticut Ave., NW. Open Friday, November 9 to Thursday, November 15 from 12 to 10 PM.