Confession: I make an annual pilgrimage to Colonial Williamsburg, the living-history theme park of sorts about three hours from Washington. As nerdy as the costumed blacksmiths and tavern keepers might seem to some, I'm a sucker for it all. My now 12-year-old daughter and I have visited in the heat of summer and the crisp of fall, but there's nothing quite like the holiday season, when it resembles a greeting card sprung to life. Candles in windows, dangling lanterns, horse-drawn carriages, and the Grand Illumination—a dramatic show of gunfire and fireworks (this year on December 2)—all of it exudes the spirit of this time of year.
Still, it isn't exactly the place it was just a few years ago. The beautifully restored 18th-century buildings so central to American history remain, as do the costumed interpreters, but an infusion of energy (and, yes, cash) has amped up the offerings. Now visitors can hear the stories of enslaved Americans of African descent and learn about the role of women, two groups that lived there without some basic rights. Its new mobile app, Colonial Williamsburg Explorer (free on Apple's App Store and Google Play), makes it easy to navigate the park, order digital tickets to shows, and trace the footsteps of historical characters such as Thomas Jefferson.
Do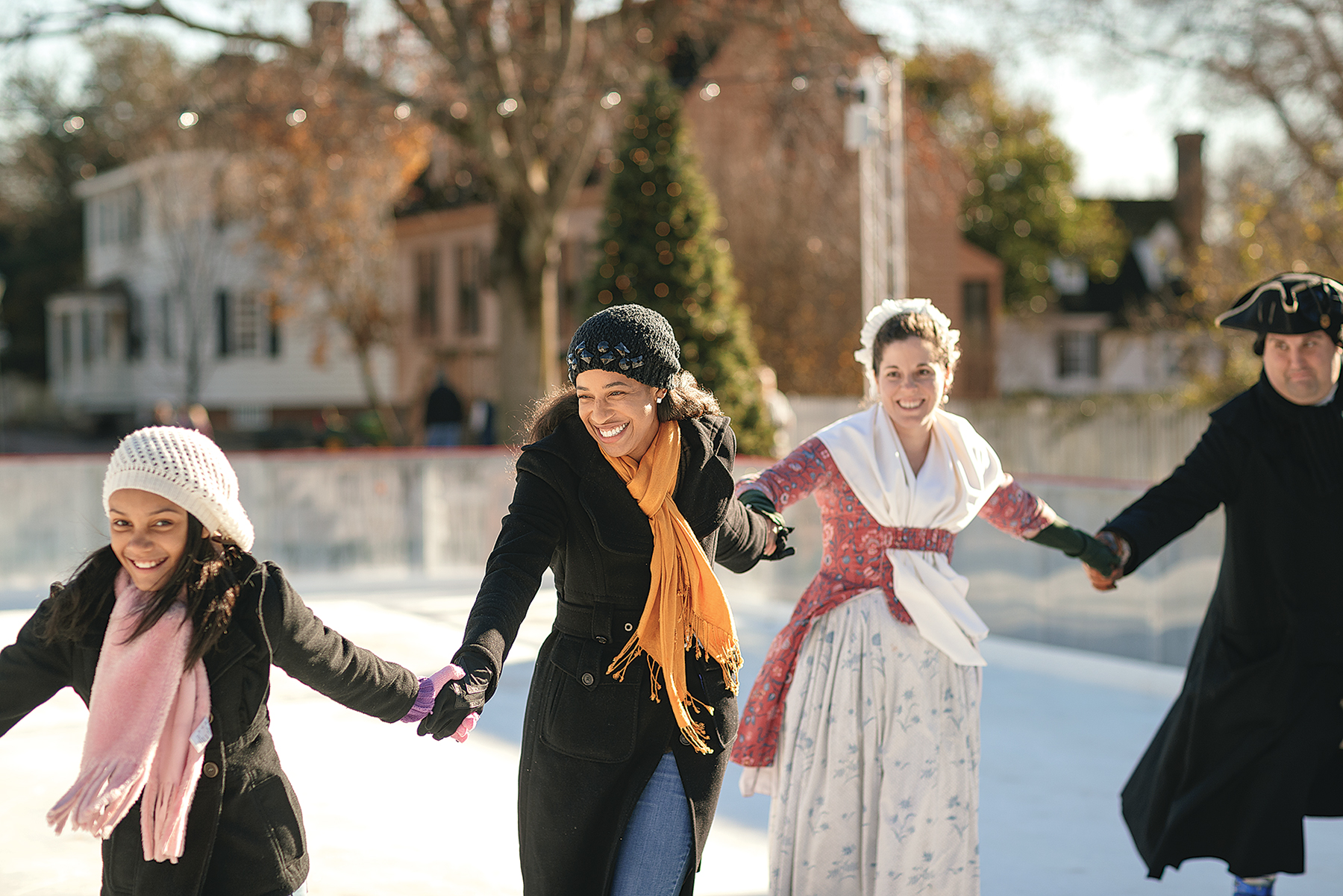 You won't need a car to visit anything within Colonial Williamsburg. You can simply wander cobblestone streets flanked with historic houses, taverns, schools, theaters, and shops and be immersed in the American Revolution.
A quirky new way to throw yourself into history is to try Escape Room: Escape the King (Public Gaol, E. Nicholson St.; 888-965-7254),where visitors ages ten and up are locked inside a historic building and must gather clues to outwit the British and free themselves.
Two often overlooked museums are worth a visit. The Abby Aldrich Rockefeller Folk Art Museum (326 W. Francis St.; 757-229-1000) houses one of the country's largest collections of American folk art and is currently home to a trove of significant 19th- and 20th-century Navajo rugs on loan to the museum through 2020. The DeWitt Wallace Decorative Arts Museum (326 W. Francis St.; 757-229-1000)has a particularly strong collection of 17th-, 18th-, and 19th-century silver, glass, and clothing, all plucked from pre–Civil War plantations.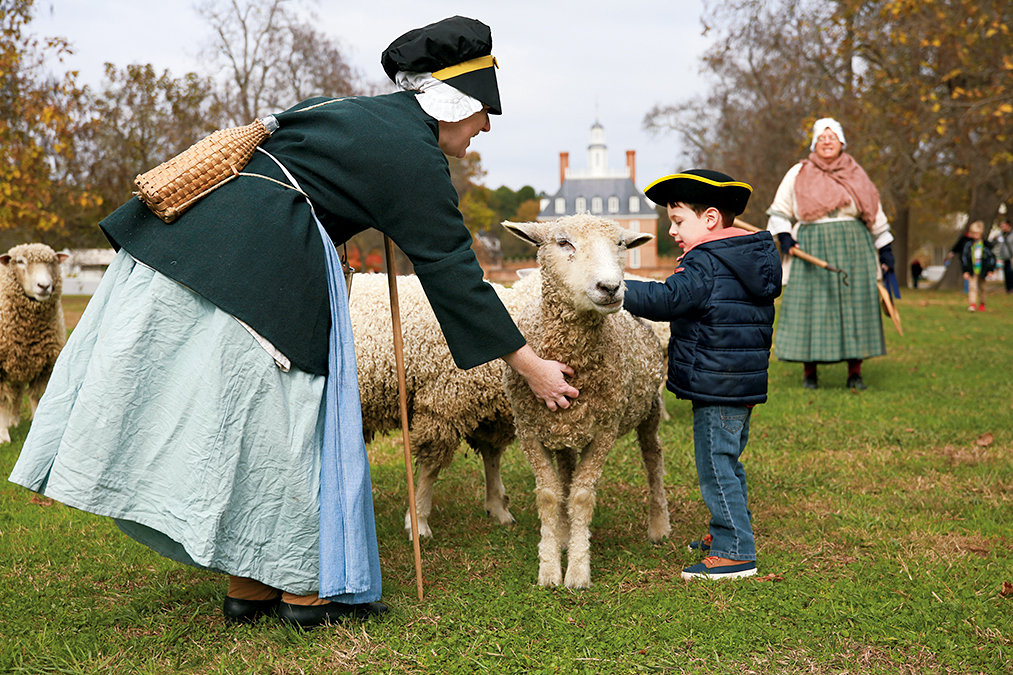 History even makes its way into spa treatments. The Spa of Colonial Williamsburg (307 S. England St.; 757-220-7720), hailed as one of Virginia's best spas by Forbes, makes use of 17th- and 18th-century ingredients such as ginger root and sarsaparilla.
All winter, families can grab hot cocoa and gingerbread cookies after a brisk ice-skating session at Liberty's Ice Pavilion (W. Duke of Gloucester St.).
A few miles away by car, you can pop into Alewerks Brewing Company (189-B Ewell Rd.; 757-220-3670), where you can nibble a warm German-style pretzel and sample 16 beers on tap. Also nearby, Busch Gardens (1 Busch Gardens Blvd.; 757-229-4386) puts on a glittery holiday show with millions of lights, a cavalcade of holiday concerts, and of course, amusement-park rides.
Shop
There are 40 shops in and around Colonial Williamsburg where you can pick up gifts such as locally crafted stout, hand-dipped candles, and sleeves of replica Colonial money, ideal for stocking stuffers. Select a sweets-filled Advent calendar and perhaps a slab of fudge at Wyeth Candy and Gourmet Shop (414 W. Duke of Gloucester St.; 757-229-4406). At the College of William & Mary Bookstore (345 W. Duke of Gloucester St.; 757-221-1651), bibliophiles can prowl two floors in search of everything from poetry to breezy bestsellers to glossy art books.
Eat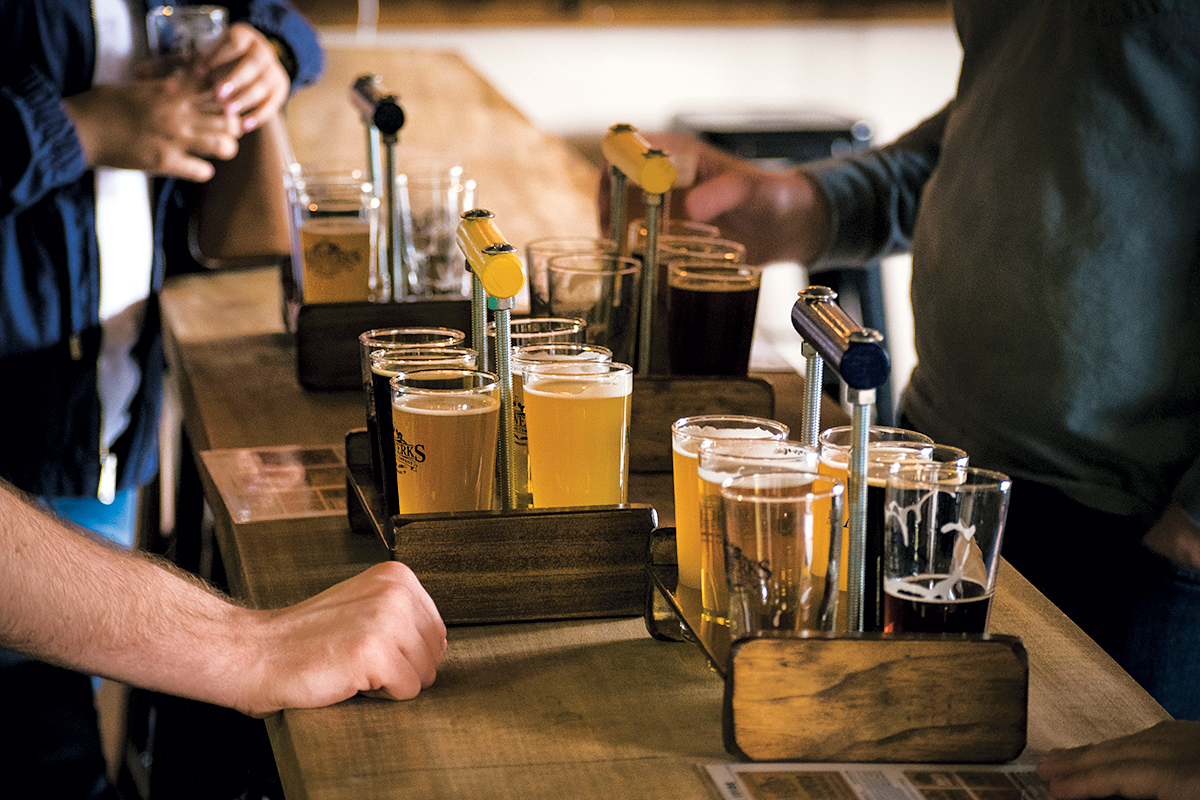 The Goodwin Room (136 Francis St. E.; 855-321-7240) is a terrific morning outpost where kids can indulge in pancakes with whipped pecan butter, while adults will find healthy cold-pressed juice, including my favorite—a tasty beet-carrot-and-apple combo.
The upscale but unfussy Rockefeller Room (136 Francis St. E.; 855-321-7240) serves locally sourced dishes such as Tangier Island oysters laced with caramelized lemon.
Peanut soup has been a Southern tradition for generations, and the King's Arms Tavern (416 E. Duke of Gloucester St.; 757-229-1000) makes it thick, sweet, and simple. Or dine by candlelight at Shields Tavern (422 E. Duke of Gloucester St.; 855-268-7220), a restored 18th-century clapboard building where the menu features a few dishes with Afro-Caribbean influences such as a hearty black-eyed-pea soup.
DoG Street Pub (401 W. Duke of Gloucester St., 757-293-6478), at the edge of town, serves black pudding, fish and chips, and other authentic British bar food.
Stay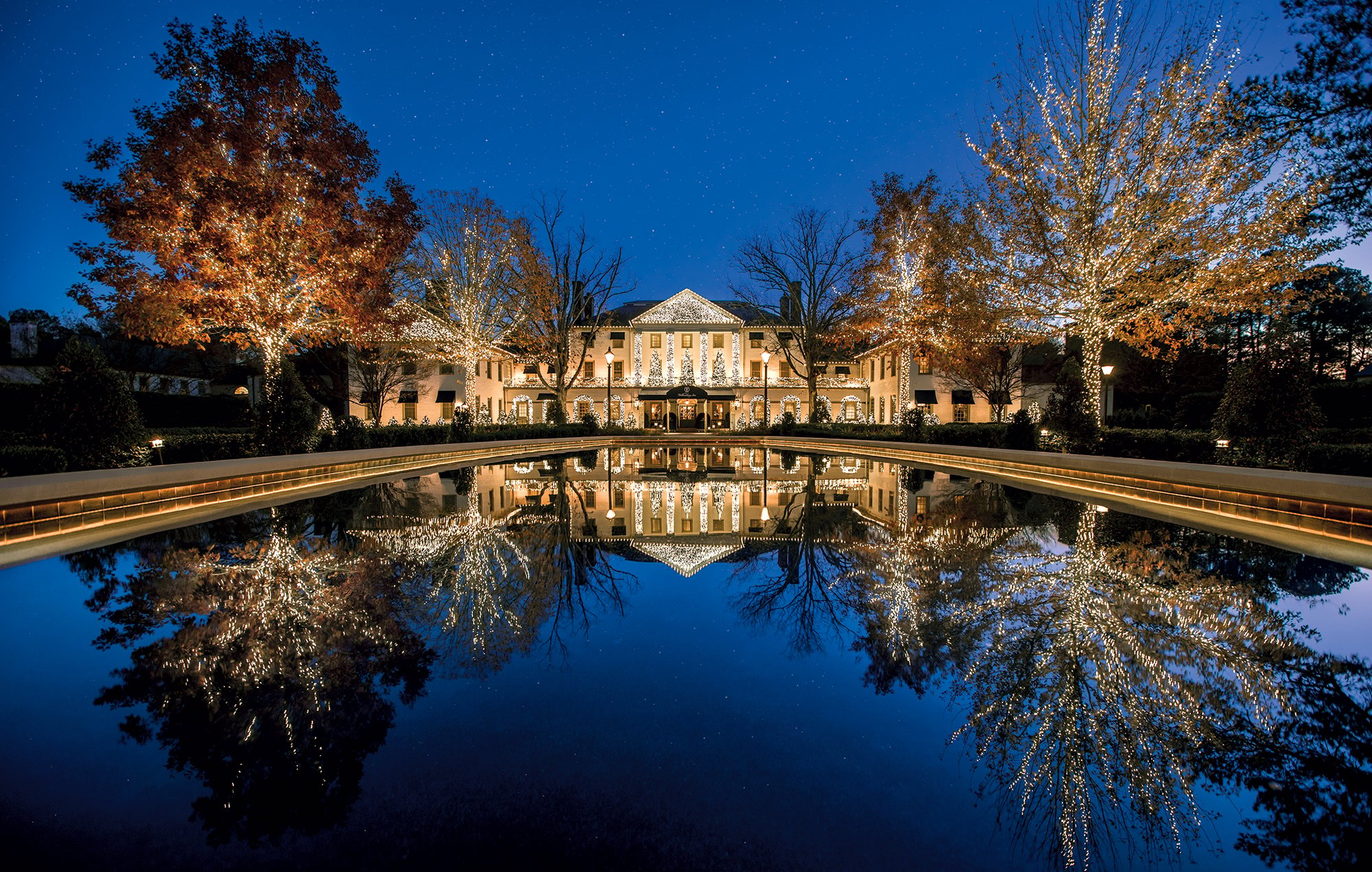 The most luxurious place to stay is the Williamsburg Inn (136 E. Francis St.; 855-321-7240), where a recent overhaul earned it five out of five stars from Forbes Travel Guide. During the holidays, the lobby is decked out with a towering Christmas tree. Splurge on a room with a wood-burning fireplace. (Staff will start the fire for you.)
Larger groups might consider Kingsmill Resort (1010 Kingsmill Rd.; 800-832-5665), five miles outside town, which has modern cottages on the James River, complete with kitchens and gas fireplaces.
---
Along the Way
Fredericksburg
One hour from DC
Fuel up with a flat white at Agora Downtown Coffee Shop (520 Caroline St.; 540-369-8180)—part cafe, part used bookstore, and part showcase for locally made gifts, housed in one of Fredericksburg's oldest buildings, circa 1787. If you spot a weathered shark jutting from a brick building a few blocks away, you've found Blue Shark Antiques (904-908 Caroline St.; 540-373-5873). Amid its two showrooms is an excellent stash of vinyl—from Bob Dylan to Fats Domino.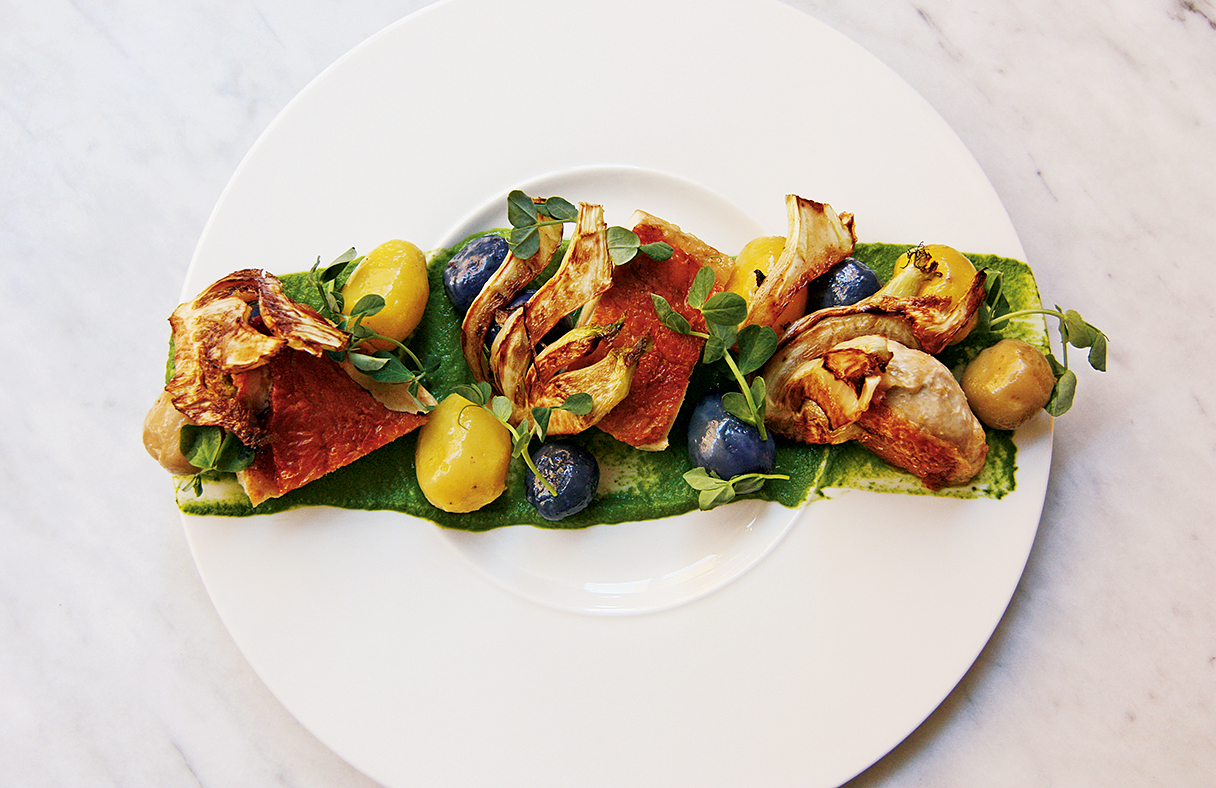 Richmond
Two hours from DC
Stretch your legs in the gardens surrounding Maymont Mansion, a Gilded Age house museum (1700 Hampton St.; 804-358-7166). A tour of the interior doesn't sugarcoat the hard work and sacrifice of servants who maintained follies such as a day bed carved in the shape of a giant swan. Plan on lunch at Maple & Pine (201 W. Broad St.; 804-340-6050), where you can share small plates such as panzanella salad or local oysters nestled on a tangy Bloody Mary sorbet.
This article appears in the November 2018 issue of Washingtonian.