I walk into Compass Coffee in Shaw on a Tuesday afternoon. In the cafe full of mostly white twenty- and thirtysomethings staring at their laptops, it's easy to spot the man I'm here to meet, seated in the corner. As an African-American senior citizen, Bernard Johnson stands out amid the hipsters.
Johnson lives a block away at City Market at O. The modern development is known mostly for its luxury apartments, a Giant grocery store occupying the old O Street Market, and high-end eateries such as Convivial. But among those places, you'll also find Hodge on 7th, a 90-unit complex for seniors 55 and older. The building, partially financed by the city's Low Income Housing Tax Credit, began accepting applications in 2014, just as Johnson learned that his single-family home in Shaw was slated for renovations and a hefty rise in rent.
Hodge on 7th is the only building precisely of its kind in Shaw—a neighborhood that, perhaps more than any other, has come to symbolize the rapid gentrification coursing through the District. Once the cultural heart of black Washington, it's now a mecca of millennial-targeted shops, bars, and restaurants, where the median monthly rent for an apartment is $2,650—$150 higher than the citywide figure, according to the real-estate research firm Delta Associates. One-bedrooms at Hodge on 7th, by comparison, range from $1,020 to $1,240. Those prices mean it's a "below market rate" building. To live there, single seniors can't have an annual income that exceeds 60 percent of the area's median, or about $45,000.
With the nation's 65-and-older population on track to double in three decades, the need for this type of housing is quickly growing. Elsewhere in Washington, work has begun on the Parks at Walter Reed—a 66-acre redevelopment of the former Army Medical Center campus—which will offer 200 units specifically reserved for veterans and seniors. A new assisted-living facility for both low- and moderate-income seniors is planned for a site at the Old Soldiers' Home in Petworth.
But I'm curious to know what it's like for a retiree to live in a place where everything new seems geared toward young people with disposable income. As we sip hibiscus sweet tea, Johnson tells me this Compass location used to be a laundromat. When I imagine aloud the loss of a convenient community service, he points out all the people employed by the shop, plus the revenue brought in by each customer willing to pay a premium for espresso. He assures me that two other laundromats are nearby.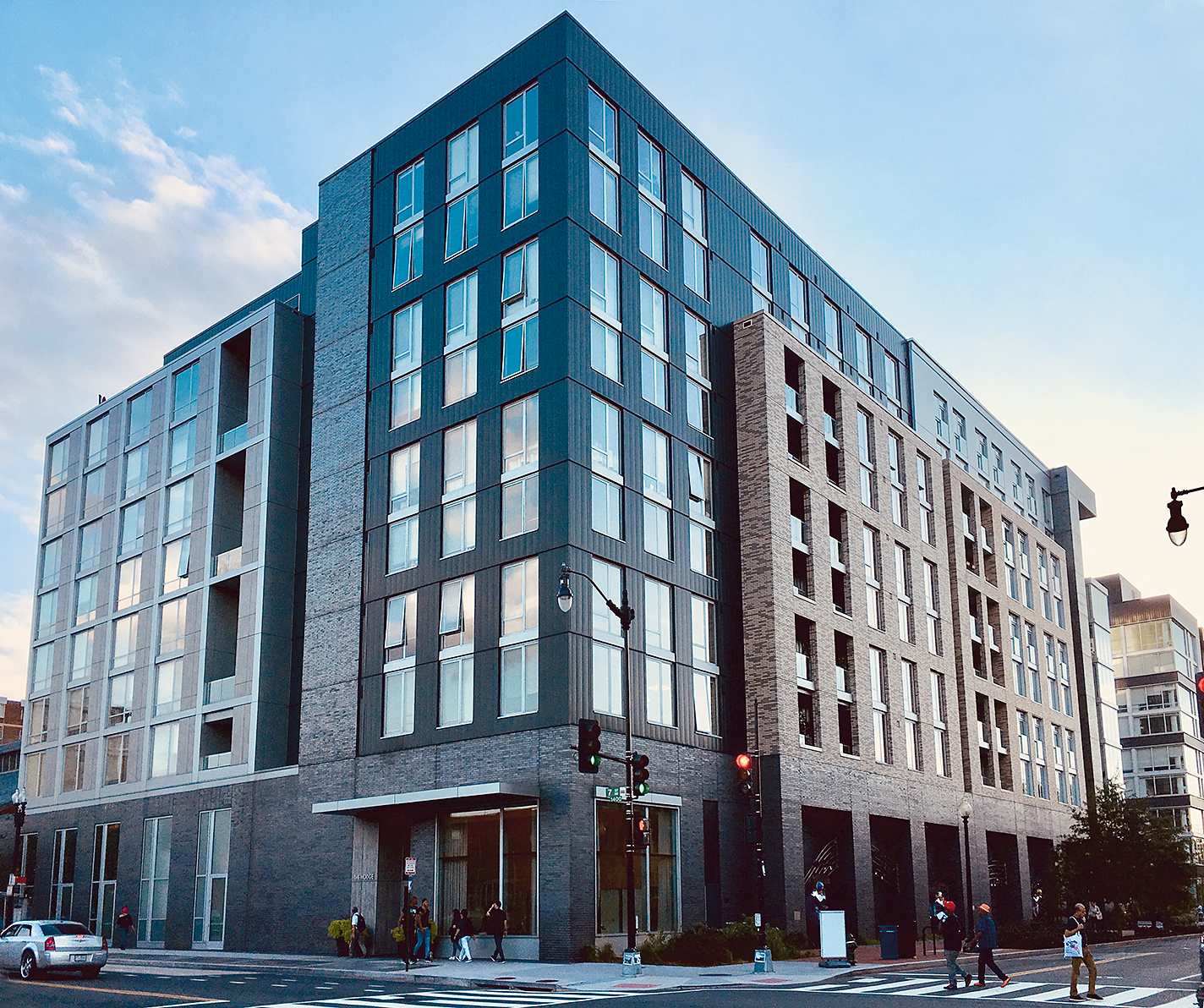 Not that Johnson doesn't recognize the challenges inherent in the city's changing demographics—after all, the rising rent at his previous home is the reason he moved to the Hodge. But he says he's learned to navigate his neighborhood on a retiree's income: "I have everything I need without spending a fortune. It's all logistically right here."
He subscribes to e-mail lists that keep him apprised of various events: "Once you get on the list, you get in touch with all sorts of different things in the area, many of which are complimentary." He stops in at the art gallery around the corner and attends exhibits at the Washington Convention Center. He recalls a recent gelato festival and mentions an upcoming art festival—all free to browse. He says he's found reasonable happy-hour menus at stylish spots such as Espita Mezcaleria and the Bird.
At the Hodge, we take the elevator to the second floor, touring a common room, business center, and fitness room. Johnson leads me outside to an elevated green space with lighted brick pavers. "There's a camaraderie you get living in a complex like this," he says. "As I'm maturing, that's important to me." The amenities make the building feel nice enough to be market-rate. Still, it has no concierge with dog treats or rooftop pool and firepit, as enjoyed by City Market at O's other 549 units. As we look toward one of those adjacent buildings, Johnson says he has adjusted to the concentration of young high-earners who make up his neighbors. He says it's a matter of figuring out "how do I fit into the scheme of things?"
The big problem, of course, is that there simply aren't enough apartments like the ones at Hodge on 7th to meet demand. The building was full within five months of opening and has a waitlist to move in that's a few months long."You have 90 units, which is better than zero, but there needs to be more attention to addressing issues of displacement before it happens in neighborhoods," says Brian McCabe, an associate professor at Georgetown University and author of No Place Like Home: Wealth, Community and the Politics of Homeownership.
McCabe, who is himself a Shaw resident, acknowledges that while City Market at O has been recognized as "a real trendsetter for high-end development," it's among the new projects that have pushed up housing costs throughout the neighborhood, making it tough for many long-term residents to stay. He sees his neighborhood as not only a destination for restaurants and bars but also a platform to wrestle with meaningful issues. "It offers serious questions about social justice and how to gentrify in socially responsible ways. It's a challenging neighborhood in that regard, and people living there should think about those questions."
Roadside Development bought the land that became City Market at O in 2001 and broke ground in 2011. "If we were talking back [then], I probably wouldn't believe what would happen with the property," says Roadside cofounder Richard Lake. His memories of the neighborhood—and O Street Market in particular—stretch back to when he was a boy running errands for his grandparents and his restaurateur father. He remembers Shaw as an area where he didn't hang out longer than necessary. Of his development, he says, "I would hope it's seen as a thoughtful, sensitive design respecting the number of layers which came before it."
The day after our meeting, Johnson calls me. He says he forgot to mention Shaw's award-winning library. After we parted ways, he says, he walked there to pick up a magazine and then stopped by Grand Cata—a Latin wine shop that opened in 2016—for its daily free tasting. He adds: "My friends come from out of town, and they ask how can I afford to live here?"
This article appears in the November 2018 issue of Washingtonian.