What do a rustic axe throwing lodge and Palm Beach-chic cabana bar have in common? Not much, unless you're in the mind of Ginger Flesher-Sonnier. The DC-based entertainment entrepreneur is known for building "the Disney World of Escape Rooms," and is about to open Kick Axe Throwing and Throw Social DC, a two-story fun-plex in Ivy City that's part alpine-themed, part beach, and full of games and Instagram-ready cocktails.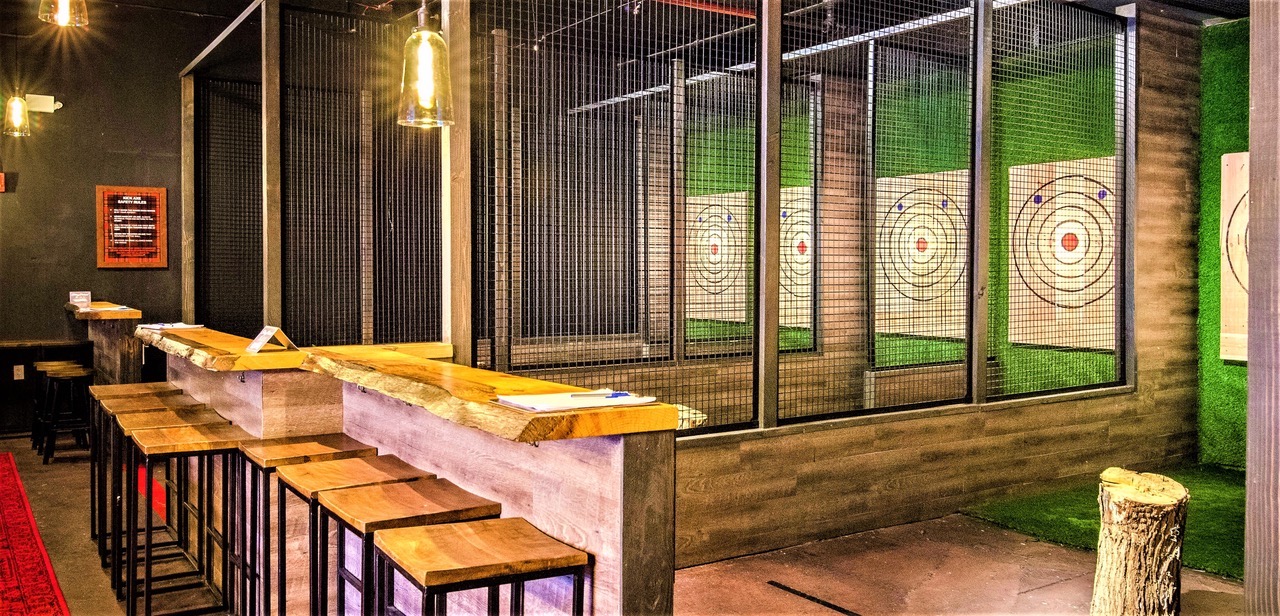 Flesher-Sonnier, who's behind six interactive entertainment operations including Escape Room Live and Kick Axe, planned to open a location of her blade-throwing operation in Ivy City two years ago. Construction delays meant a Brooklyn branch came first, and also led her to tweak the concept, creating a double-theme venue. The first floor of the massive 22,000 square-foot former warehouse is Kick Axe, which calls to mind a Canadian lodge: "All warm tones, plaid, leather, fireplaces, moose taxidermy, mixed in with punny modern neon signs to create that photographic moment," says Flesher-Sonnier, who designs all of the elaborate interiors herself (her secret: "I'm a Wayfair, Target, Overstock [Furniture] freak, I save things for years").
For fun, Kick Axe boasts a dozen axe-throwing ranges. Guests can reserve them for $29 per person, per hour—all overseen by "axe-tructors" who'll show you how to safely chuck the blades at the target. Warm drinks and lumberjack-worthy eats are also on offer.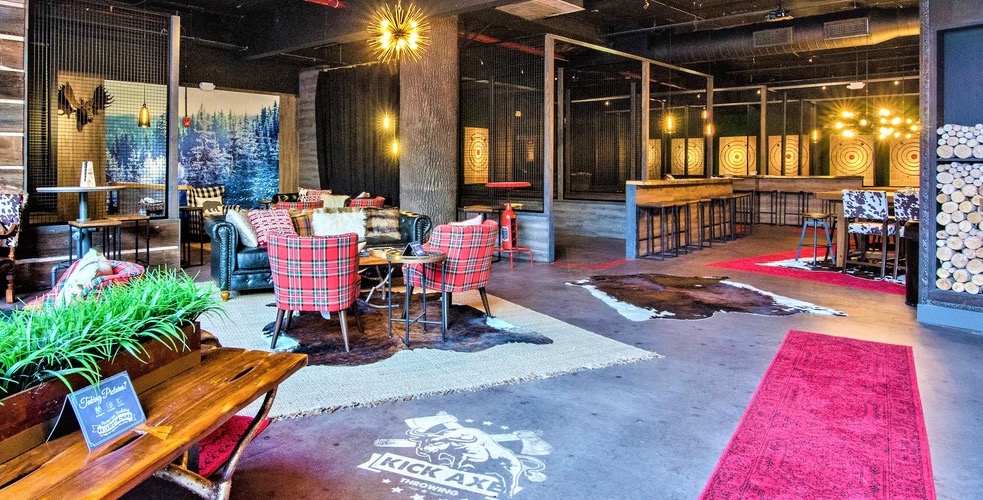 For less edgy entertainment, there's Throw Social upstairs. The new concept is modeled after a beachy hangout with colorful cabanas, faux greenery, and lots of fruity cocktails and poolside snacks like satays and hummus. Group-friendly games here (priced the same as above) include five iceless curling rinks—we're told it's a thing—and six "footbowl" lanes, which are like bowling set-ups, but with footballs. Guests can reserve a ten-person cabana for $350 an hour (prices drop with additional time) and opt for special packages like bottle service.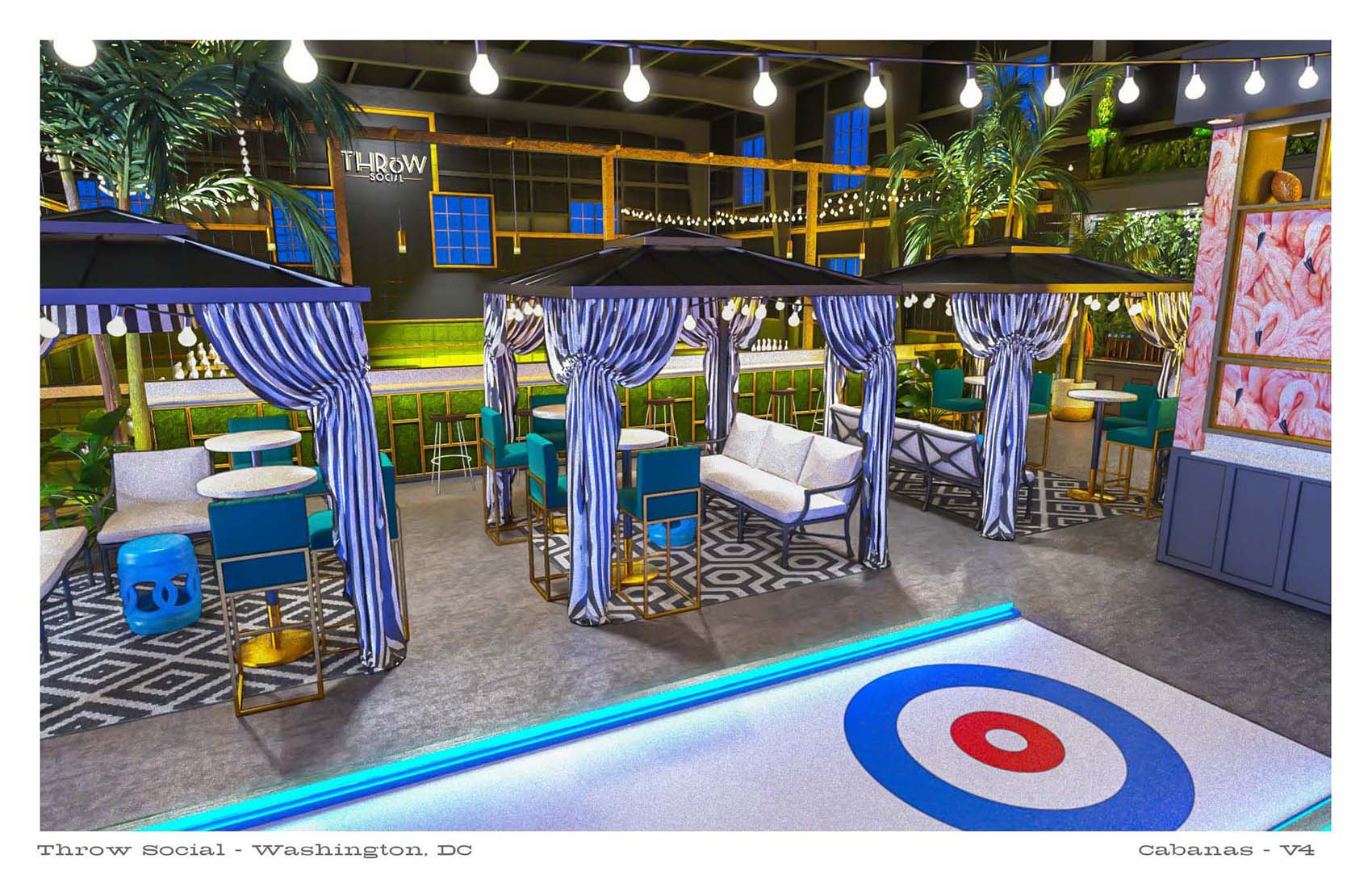 A large patio and rooftop will open come summer. The latter will have more games, more cabanas—and igloos in the winter—plus an outdoor bar and kitchen.
"Ever since I was a child I was enthralled with things that were immersive. I love spaces that change the way you feel," says Flesher-Sonnier. 
Both are slated to soft-open in late January with limited hours and menus as well as customer discounts. A grand opening is set for February 6.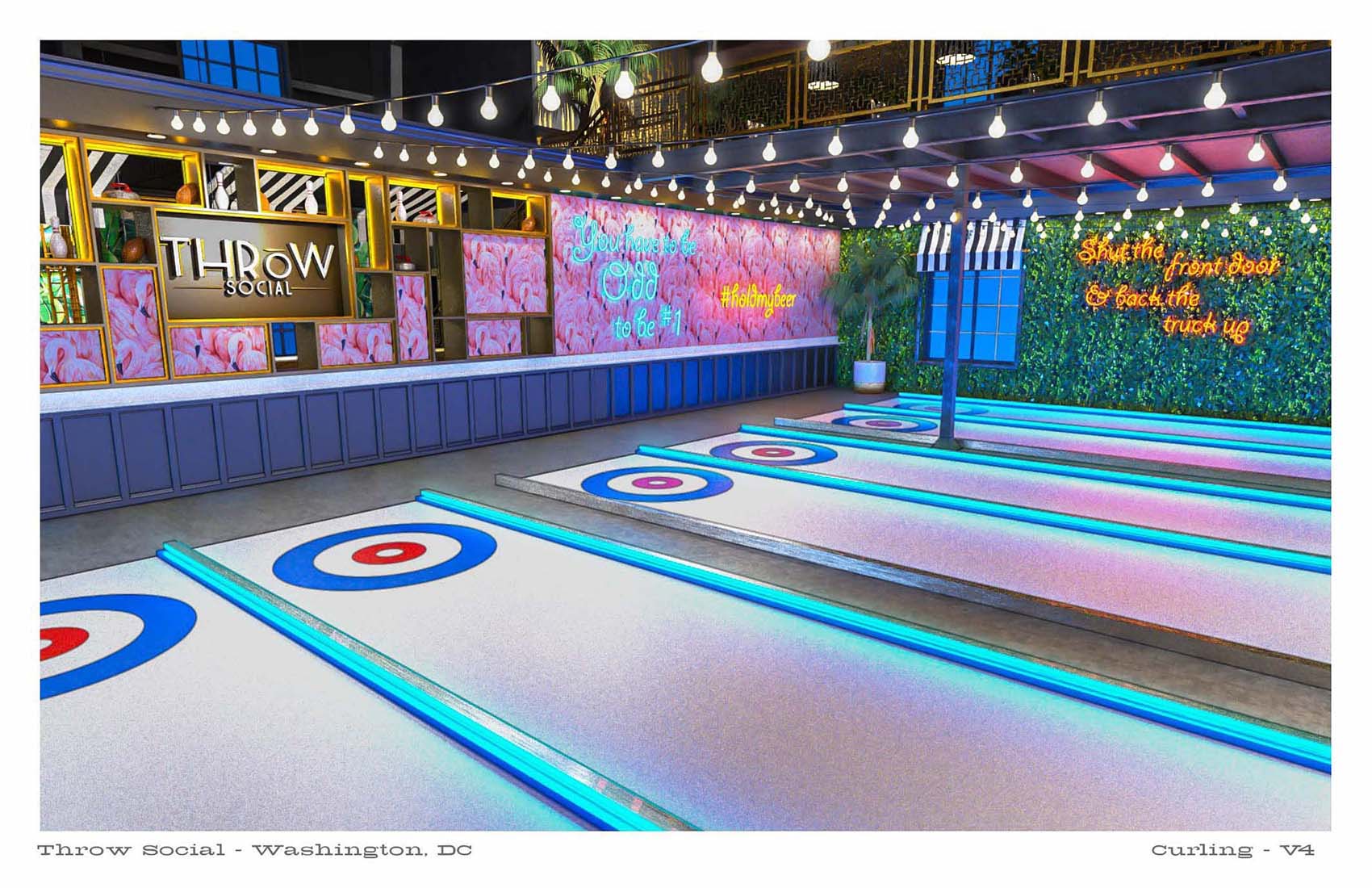 Kick Axe Throwing and Throw Social DC. 1401 Okie St., NE.