Navy Yard's high-end streetwear and coffee store has launched a new way of shopping amid the Covid-19 pandemic. Somewhere®,
which opened back in October
, is providing Washingtonians a way to shop locally in person, but in an inventive (and socially distant) way. "We are a physical retailer, first and an online retailer, second," say co-founders Dom Adams and Will Sharp. "Covid-19 has forced us all [to shop] online, but we wanted to find a new, exciting, and creative way to still keep the physical experience of retailing alive." So, the duo created the Somewhere® Window Shop where buyers can walk up to the Navy Yard storefront, scan a QR code, (which can be downloaded on any type of smartphone) and peruse items that are available for purchase.
"In the window they will see the actual physical products, and on the QR code page they will see those same products available for purchase," says Adams and Sharp. Then customers can pick out their preferred size, checkout, and have the items shipped to them all while staying outside of the store, and (more importantly) six feet away from anyone while shopping. The company's motto: "Long live retail. Stay safe. Don't loiter."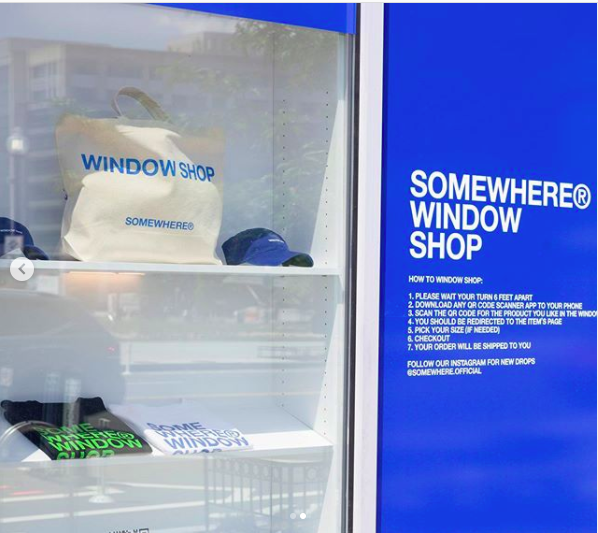 Somewhere® Window Shop will release new items weekly. "We have a handful of big-name brands we will be doing products with in the coming weeks," say Adams and Sharp. Their best-selling item right now? Custom tote bags. To see what they're offering right now, check out their QR code
here
.