Brass + Blue
Two kitchens, both created for young families, show the versatility of this classic combination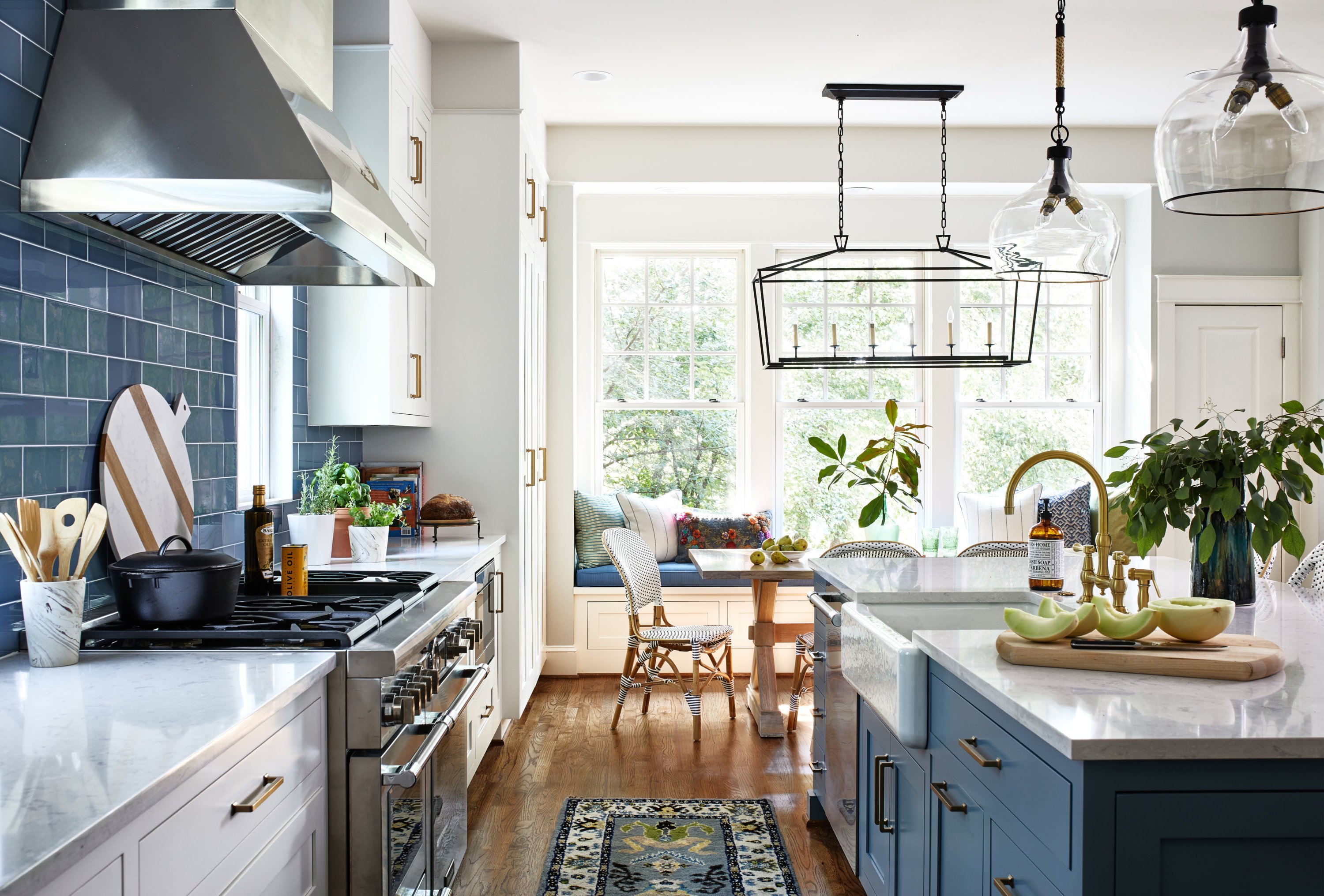 In the first kitchen (above)—a space in McLean designed by Pamela Harvey—a denim-blue island and hand-glazed tile backsplash set the stage for a more laid-back composition. The Serena & Lily barstools, for instance, are made of woven rattan and plastic. They're so durable they can be hosed down if the kids make a mess. Another element adding to the casual-cool aesthetic: light fixtures in understated oil-rubbed bronze.
Though she has always loved the finish—and was actually pretty sad when it went out of style for a time—Harvey says she "didn't overdo the brass" in this project, deploying it only in the faucet and the cabinet hardware. Mixing metals, she advises, is "very similar to mixing modern pieces and antiques—there's a bit of an art to it." But as long as you don't go overboard with either, she promises that satin brass and oil-rubbed bronze are a nearly fail-proof pairing.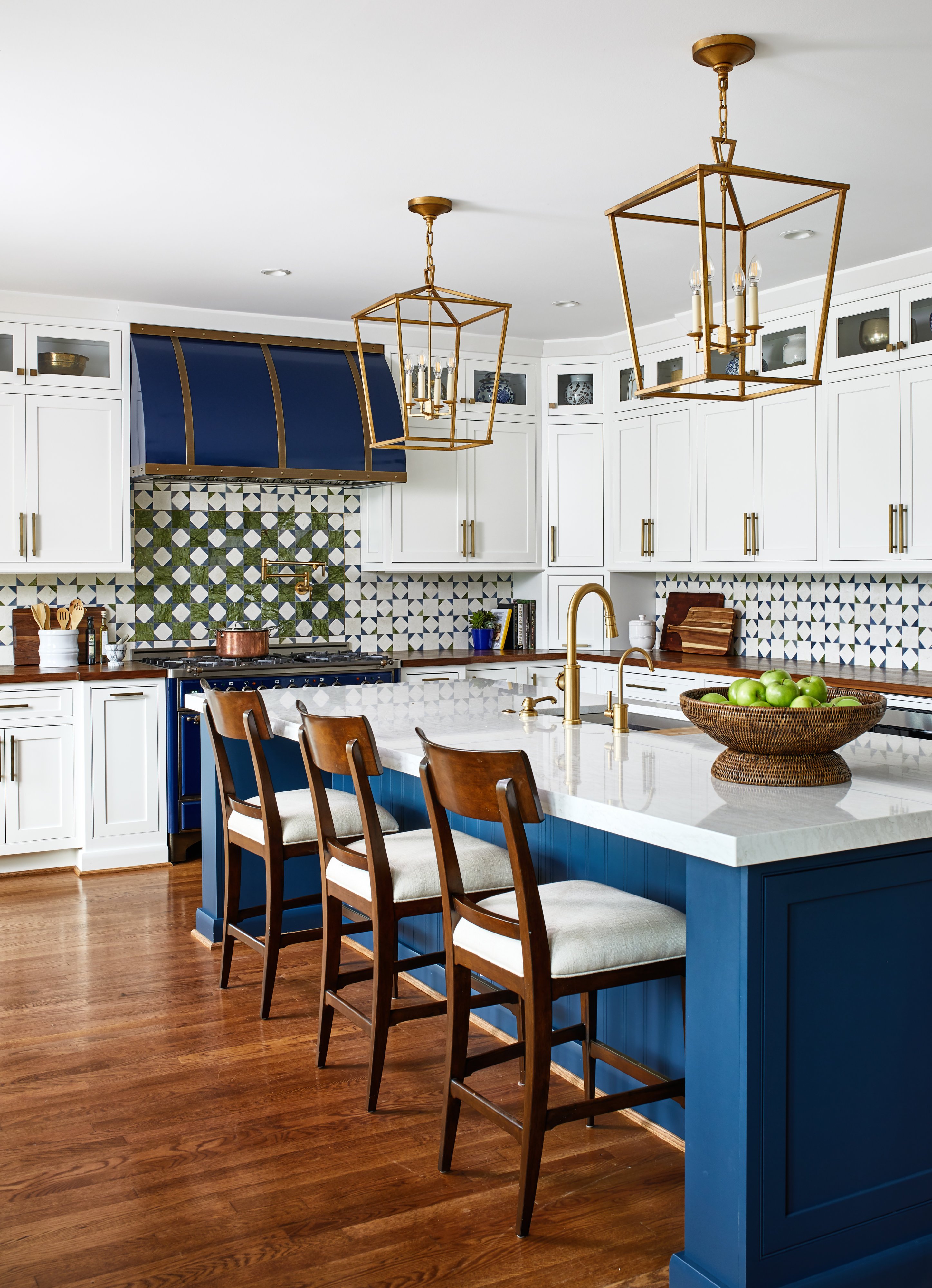 In the second kitchen (above)—a project in Potomac designed by Annie Elliott—bright royal blue and bold hits of brass show that even family-friendly spaces can lean opulent. Elliott and her client had already brought in plenty of drama with the Ilve range, matching hood, oversize brass lanterns from Circa, and brass hardware. But the designer was adamant that the kitchen needed one more showstopper. "I was very determined that we not just do a white marble backsplash or white subway tile," she says. "That's pretty, but it's in no way special."
After months of searching, she found the perfect option in a colorful mosaic from Waterworks, made of blue, chartreuse, and white marble. With three children in the house, the backsplash was an ideal spot for natural stone. The ten-foot island, on the other hand, has an all-but-indestructible engineered countertop.
Brass + Black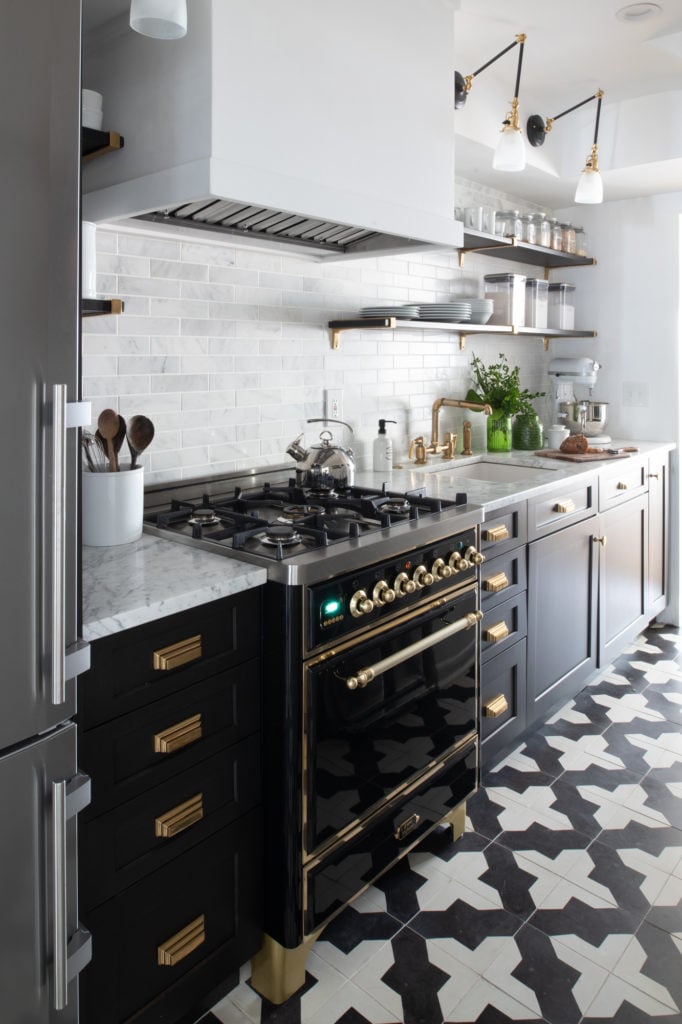 The plan for this galley kitchen in a Georgetown rowhouse started with the graphic cement floor tile and the black range—both of which the homeowner had chosen before inviting Aidan Design's Nadia Subaran and Kelly Emerson to handle the rest. Going dark and moody in such a snug floor plan might seem counterintuitive, but the designers relied on some smart tricks to prevent the space from feeling like it was closing in.
They did away with upper cabinetry, installing open shelving against a light marble backsplash instead. The solution, they admit, won't work for everyone. "This isn't going to be a fit, necessarily, for a young family," says Subaran. But for the "meticulous" single woman they were designing for, it was just fine. They also streamlined several strange, angular bulkheads in the original ceiling and gave purpose to the remaining one over the countertop by putting in the library arm lights.
The brass elements, meanwhile, keep the black-and-white palette from turning cold. Says Subaran: "The hardware's like jewelry."
Brass + Olive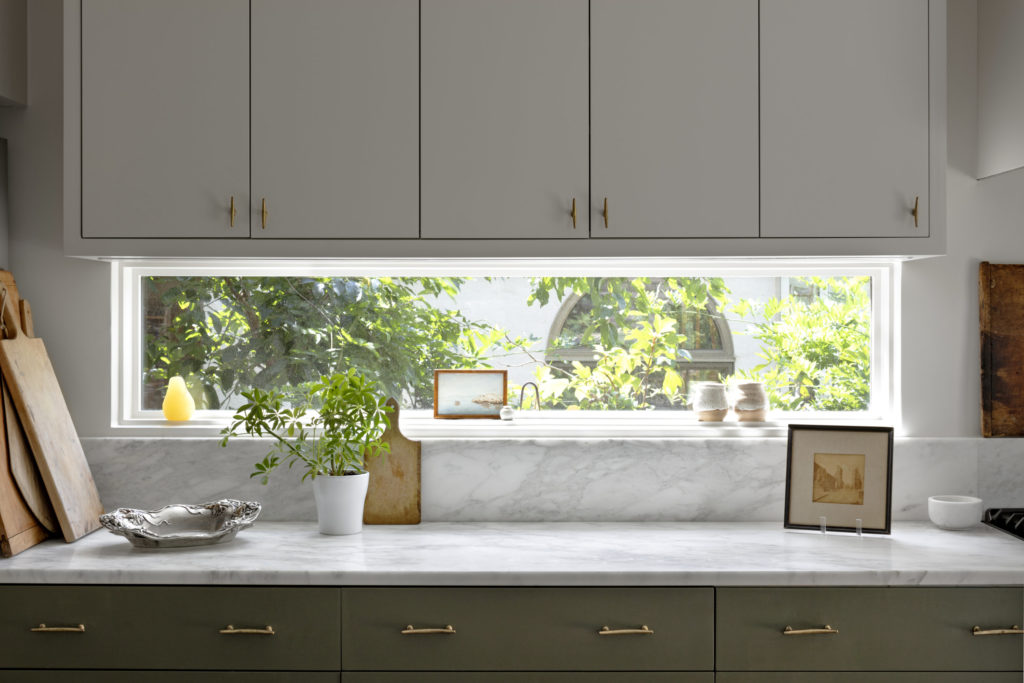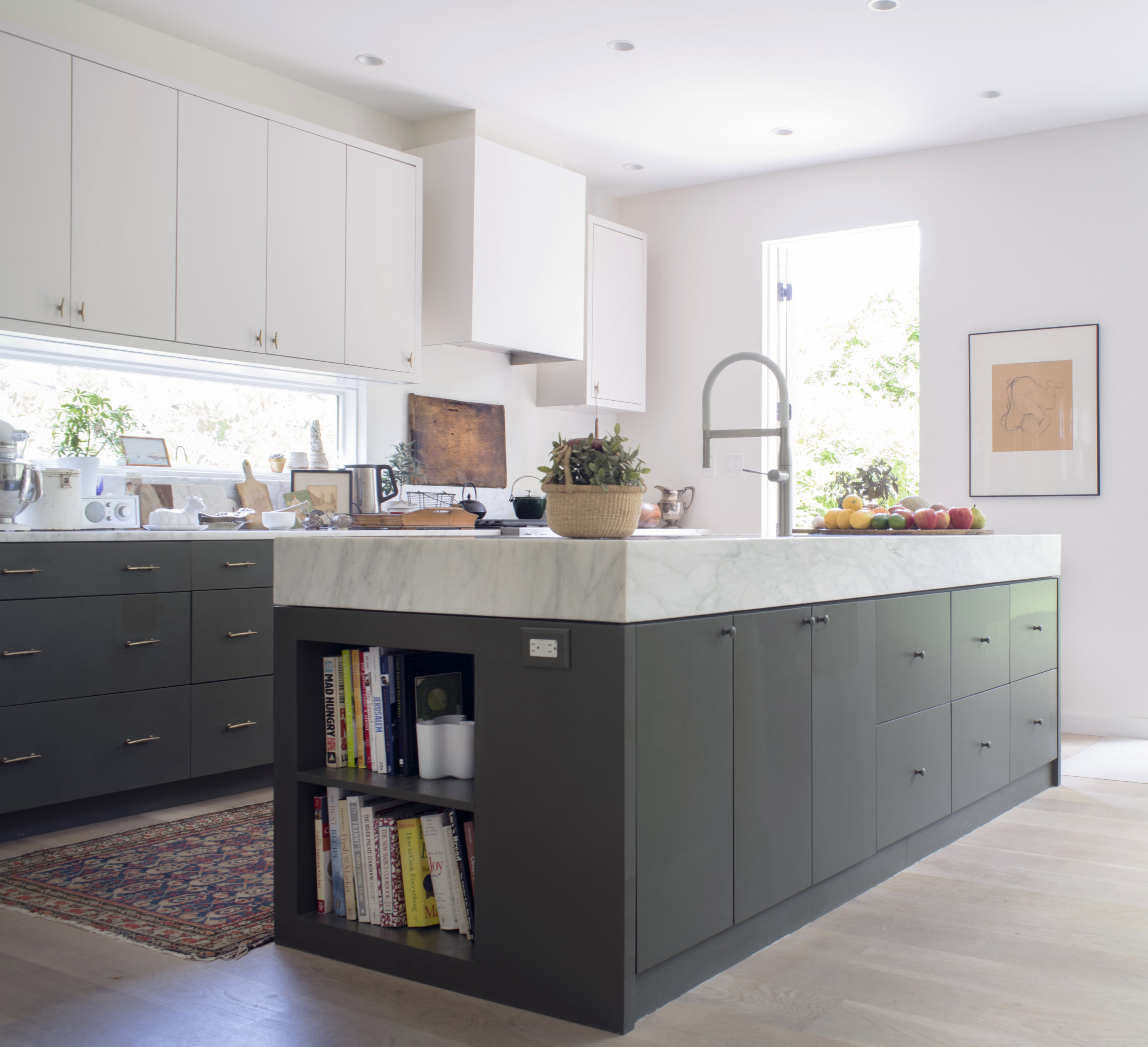 On first glance, this kitchen in American University Park appears effortlessly modern and simple. But look closer and you'll notice subtle complexities: upper cabinet doors that are framed, lowers that are not; painted-wood knobs on the island, brass pulls on the perimeter; the way that only the marble on the island turns down. "I don't love matching," explains homeowner Catherine Fowlkes. Her husband, V.W. Fowlkes, echoes: "It's controlled eclecticism."
Both architects­—they helm the firm Fowlkes Studio—they say renovating their own house was refreshingly low-pressure. Plus, it allowed them to try things their clients aren't willing to. "We suggest it all the time, but this is the first olive-green kitchen we've done," says Catherine, referring to the lower cabinets, painted "Garden Gate" by Sherwin Williams. The brass hardware—Anthropologie's "Streamline"—has a distressed finish. A vintage runner and an old bread board serving as a backsplash for the range add to the space's lived-in vibe. As V.W. puts it: "Catherine is, like, allergic to fussiness."
Brass + Cream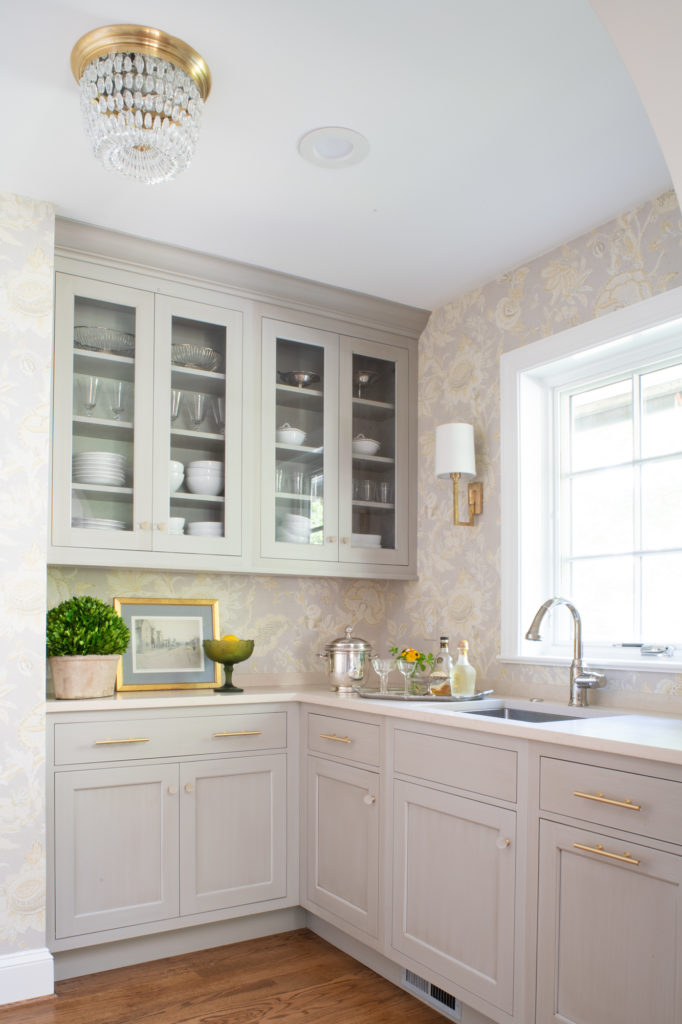 At first, Nadia Subaran and Kelly Emerson intended to use brass in only the butler's pantry of this Chevy Chase kitchen. "We love butler's pantries as an opportunity to do something a little bit glamorous," says Subaran. To the designers' delight, their empty-nester clients loved the idea so much that they asked for it in the rest of the space, too.
Paired with the pale-gray cabinetry and linen-hued countertop and backsplash, the finish reads classic and feminine. Subaran hopes the creamy palette might inspire more homeowners to try something other than white: "People are really wanting kitchens to feel like living spaces. White cabinetry and moldings just feel so sterile. This feels soft."
Though clients sometimes worry that stainless-steel appliances will clash with brass, Subaran says the finishes work well together. (The designers stuck with a stainless fridge and double ovens in this space.) "It's more important to coordinate hardware and lighting," she says. "The stainless almost becomes a non-element."